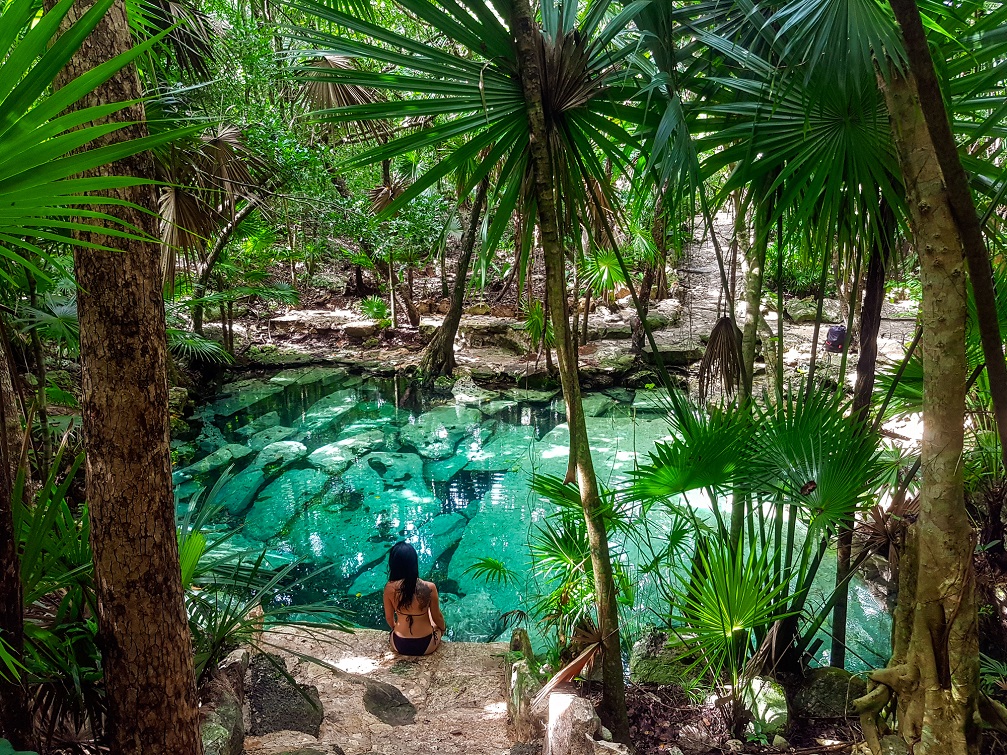 With stunning aqua-marine coasts, Mayan ruins, verdant jungles, exotic cuisine, and colonial cities, there's a slew of trails to explore and experiences to absorb in Mexico. 
If you're looking for tourist places to visit in Mexico, begin with the Mayan Riviera, a cluster of resort beaches viz. Cancun, Cozumel island and Playa del Carmen. Located at the edge of the Yucatan Peninsula, it draws in millions of visitors each year. From snorkeling and scuba diving to dolphin swims and submerged sculptures, this area has a number of exciting adventures in store for you. It is also home to the epic Mayan ruins, with the spectacular Chichen  Itza and Tulum located in close proximity. 
For quieter moments, head to the beach coastal city of Puerto Vallarta. Then, make your way to Cabo San Lucas and San Jose del Cabo, which are known for their translucent waters, sports, and fishing. Don't forget to catch a glimpse of the El Arco de Cabo San Lucas, a world-famous landmark. 
Head further up North to Chihuahua state, and visit one of the country's most famous attractions, the imposing Copper Canyon, which is actually bigger and greater in-depth than even the Grand Canyon. This area can be explored by bike, rail, or horseback, whichever you prefer. 
For a city tour, drop by Mexico city, the capital of Mexico, which is chock full of museums, galleries, and world-class attractions. The center of the city is a UNESCO World Heritage Site. It is home to a fifteen square km stretch that houses around 1400 historic buildings dating back to the 16th century. Make your way through a host of popular landmarks like the Constitution Square, the Metropolitan Cathedral, the National Palace, and the Templo Mayor. Not to forget, do visit the volcanic mountainscapes of Popocatepeti and Iztaccihuatl, which stand over 5000 meters tall. 
Guanajuato city is another UNESCO World Heritage site worth exploring. It has sublime attractions like the Jardin de la Union plaza, which houses the San Diego Church and the Juarez Theater. You'll also come across a number of cafes, restaurants, fountains, gardens, tunnels, and art galleries. 
For a dose of authentic Mexican culture, visit Guadalajara city. From scenic parks and ancient buildings to mariachi music and captivating Charreadas (a kind of rodeo), it offers travelers a festive ambiance with some great cuisine. 
The "white city" of Merida, the capital of Yucatan, is also a fine area to cover. Its citizens take special pride in maintaining its tidiness and dressing in white. You'll find traces of European influences in its architecture, plazas and city squares. 
Want to get a real taste of Mexico? Detour to Oaxaca and the colonial Morelia, both UNESCO World Heritage Sites. While Oaxaca is a confluence of Spanish and Indian culture; Morelia houses around 200 historic buildings, along with plenty of cafes, shopping options, statues, gardens and fountains. 
Rich in history, culture, colonial influences, vibrant festivities, stunning beaches and tropical jungles, Mexico is a destination that leaves an indelible imprint on your senses.