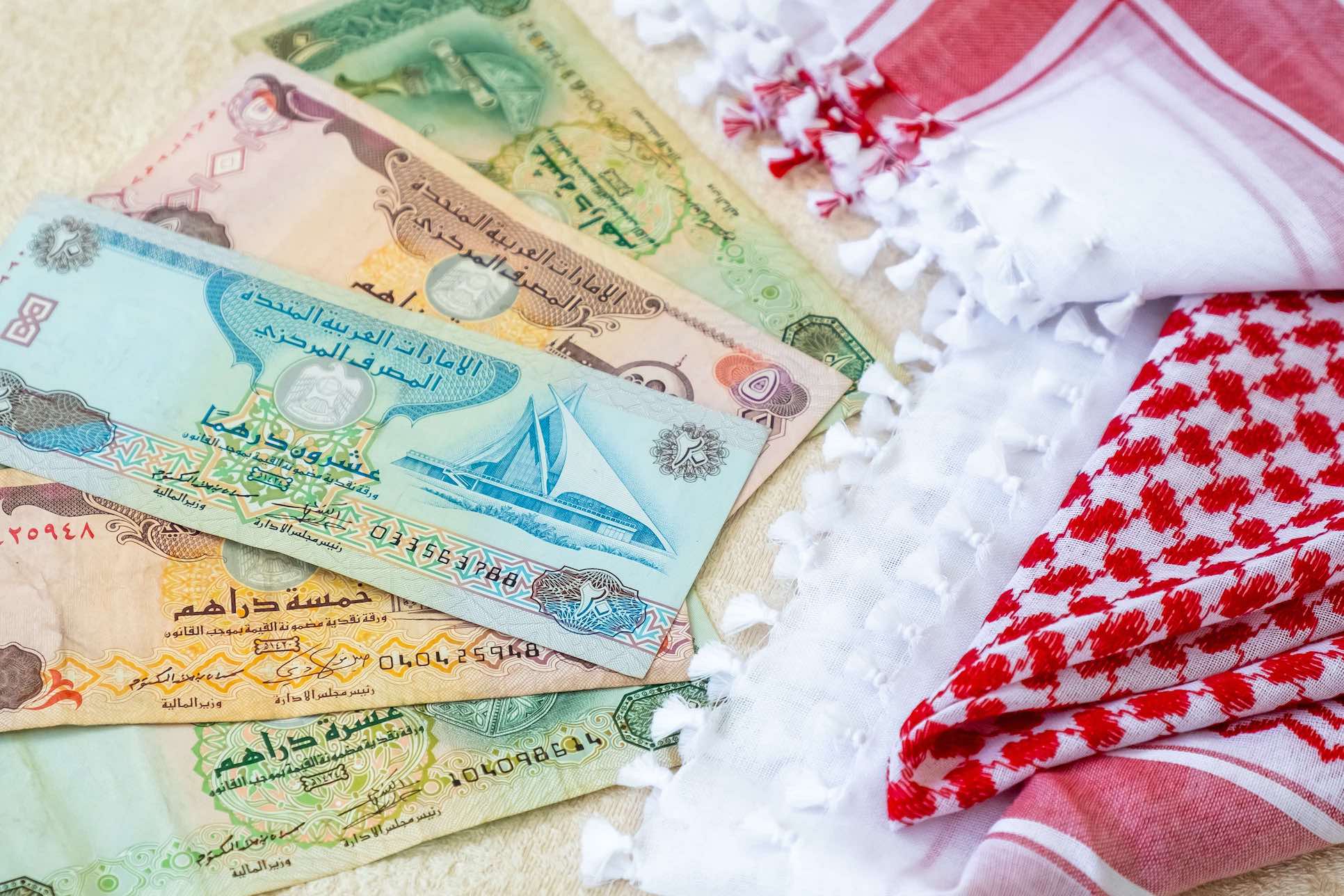 The AED (United Arab Emirates Dirham) is the currency abbreviation for the United Arab Emirates dirham, the official currency of Dubai and other Emirates. It is often presented with the symbol Dhs or DH. The United Arab Emirates Dirham has been used since 1973, when it replaced several currencies, such as the Dubai riyal and the Qatar riyal.
Basics of AED
The United Arab Emirates dirham is made up of 100 fuloos, which is plural for fils. A fils is also the sub-unit for the Kuwaiti dinars, Iraqi dinars, Bahraini dinars, and the Yemeni rial. The dirham is available in denominations of 5, 10, 20, 50, 100, 200, 500, and 1,000. The 1 dirham unit exists in coin form only.
The Central Bank of the United Arab Emirates issues the country's banknotes. To combat counterfeiting, a watermark of the national emblem appears on the obverse of each note. The emblem is the Hawk of Quraish, a golden falcon with a disk surrounded by seven stars in its center and seven feathers to represent each of the Emirates.
Pegged to US Dollar
The UAE dirham is considered to be among the world's most stable currencies in terms of exchange rate stability. It has been pegged to the United States dollar since 1973. Since 1997, it has been set at a rate of 1 U.S dollar to 3.6725 AED. For UK visitors, the exchange rate will be determined by the strength of the Pound against the Dollar.
Exchanging Money
All the Shopping Malls in the country will have multiple Foreign Exchange Bureaus. These offer much more competitive prices for exchanging cash when compared to forex bureaus in the UK. Credit cards (Visa, Mastercard and American Express) are widely accepted in shops, hotels and restaurants. There are cash machines at hotels, malls and various other on street outlets across the country. Most ATM machines are free to use, so you will only be charged the fees applicable to your account from your bank.