While neighbouring Dubai has become the shopping mall and pleasure dome of the world, Abu Dhabi has successfully made a bid to become the Emirates' cultural hub and a major tourist destination in the Middle East. Like Dubai, Abu Dhabi offers the pre-requisite luxury beach resorts to establish as your base and ensure you come back with great tan lines. Beyond the beach, there are of course many reasons to visit this, the largest of the UAE emirates, but here are five of the best.
1. Louvre Abu Dhabi
When it opened in November 2017 after a ten-year building project, this island complex of galleries received worldwide acclaim. The Abu Dhabi museum celebrates art and civilisations from around the world, going back to Egyptian and Mesopotamian antiquity, and featuring some of Le Louvre's famous collection. More than a simple offshoot of the Paris institution, the Louvre Abu Dhabi is a work of art in its own right.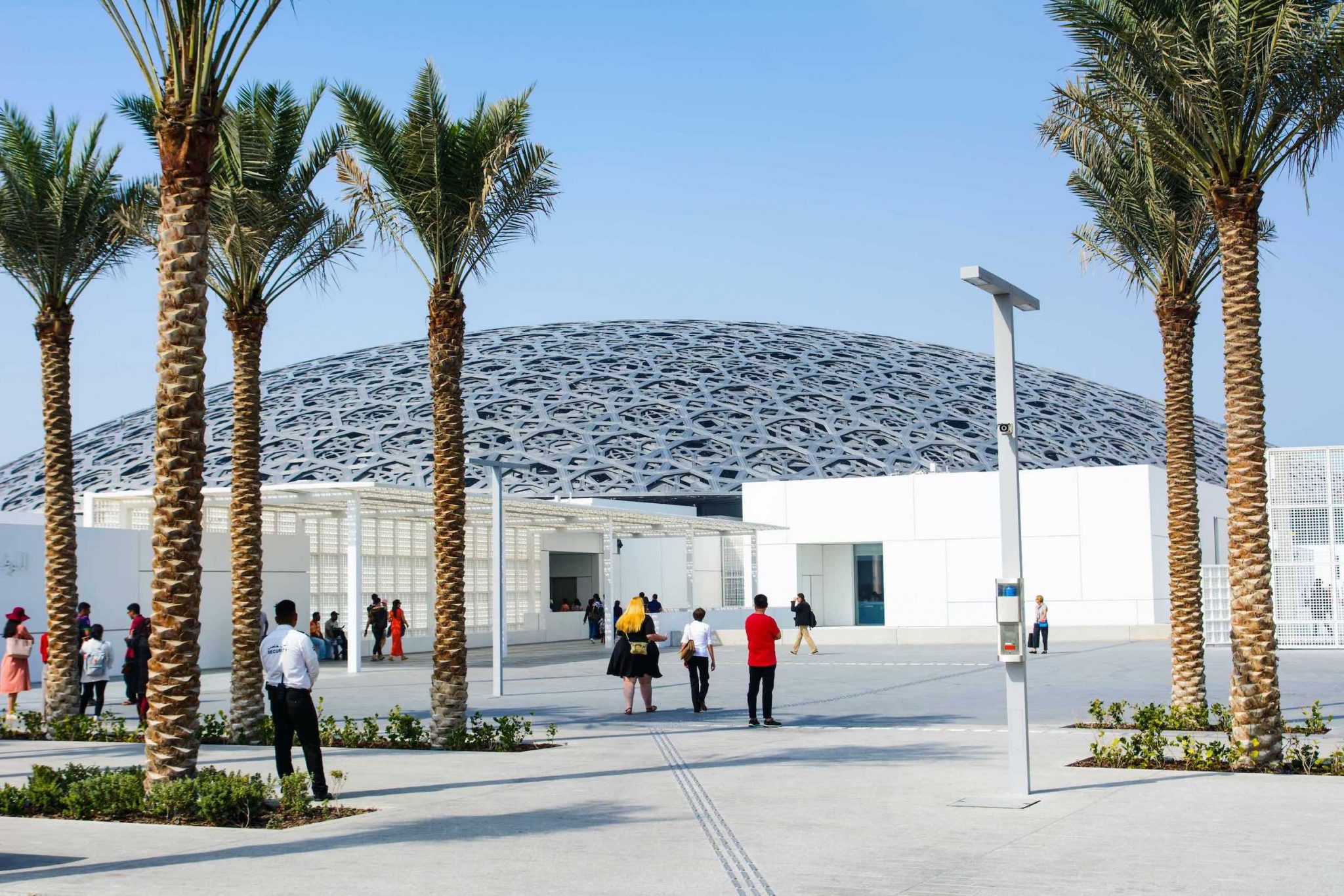 Architect Jean Nouvel designed it to fit into the Saadiyat Island Cultural District and the surrounding waters of the Arabian Gulf. At its centre is an immense filigree dome, through which sunlight filters like droplets of gold. Medina-inspired white galleries develop from the central dome into sequenced pathways of discovery.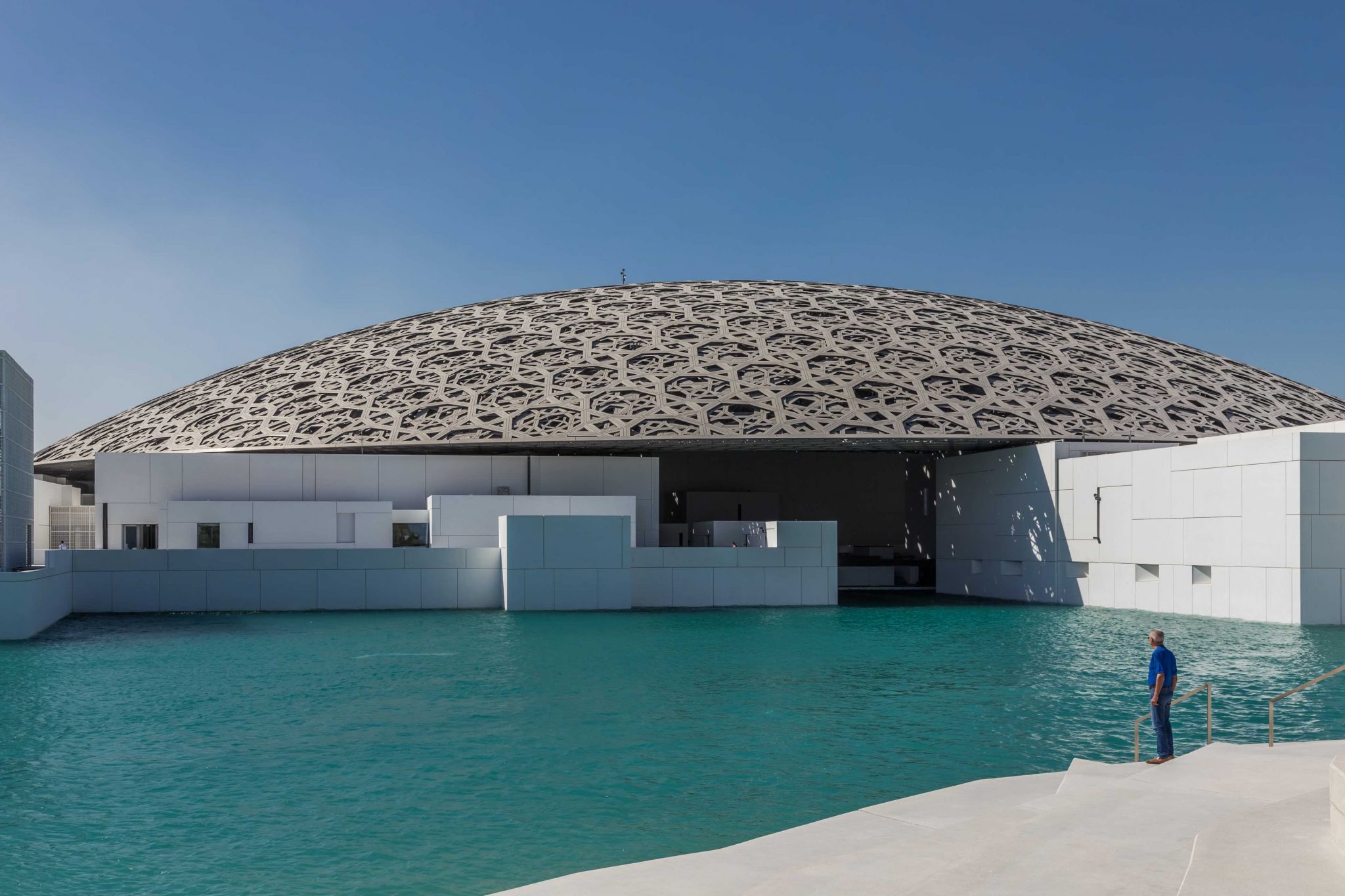 2. Sheikh Zayed Grand Mosque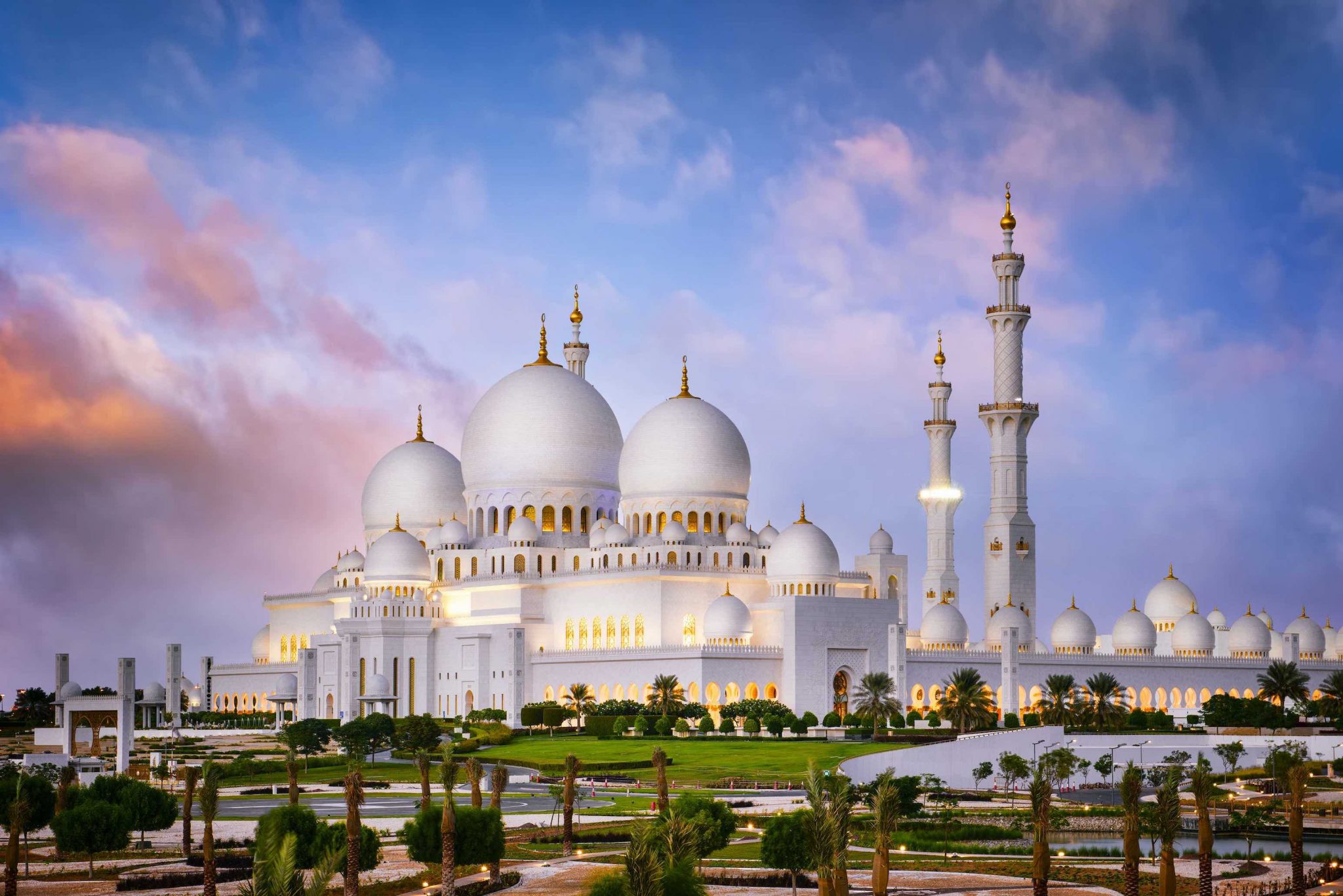 The brainchild of the President of the UAE, Sheikh Zayed, and designed by Syrian architect Yousef Abdelky, this grand white mosque represents the meeting place of Islamic worship, diverse Middle Eastern traditions and modern design and architecture. It is one of the few mosques open to non-Muslims in the region. As well as a holy place for visiting and local Muslims, it has become popular with tourists.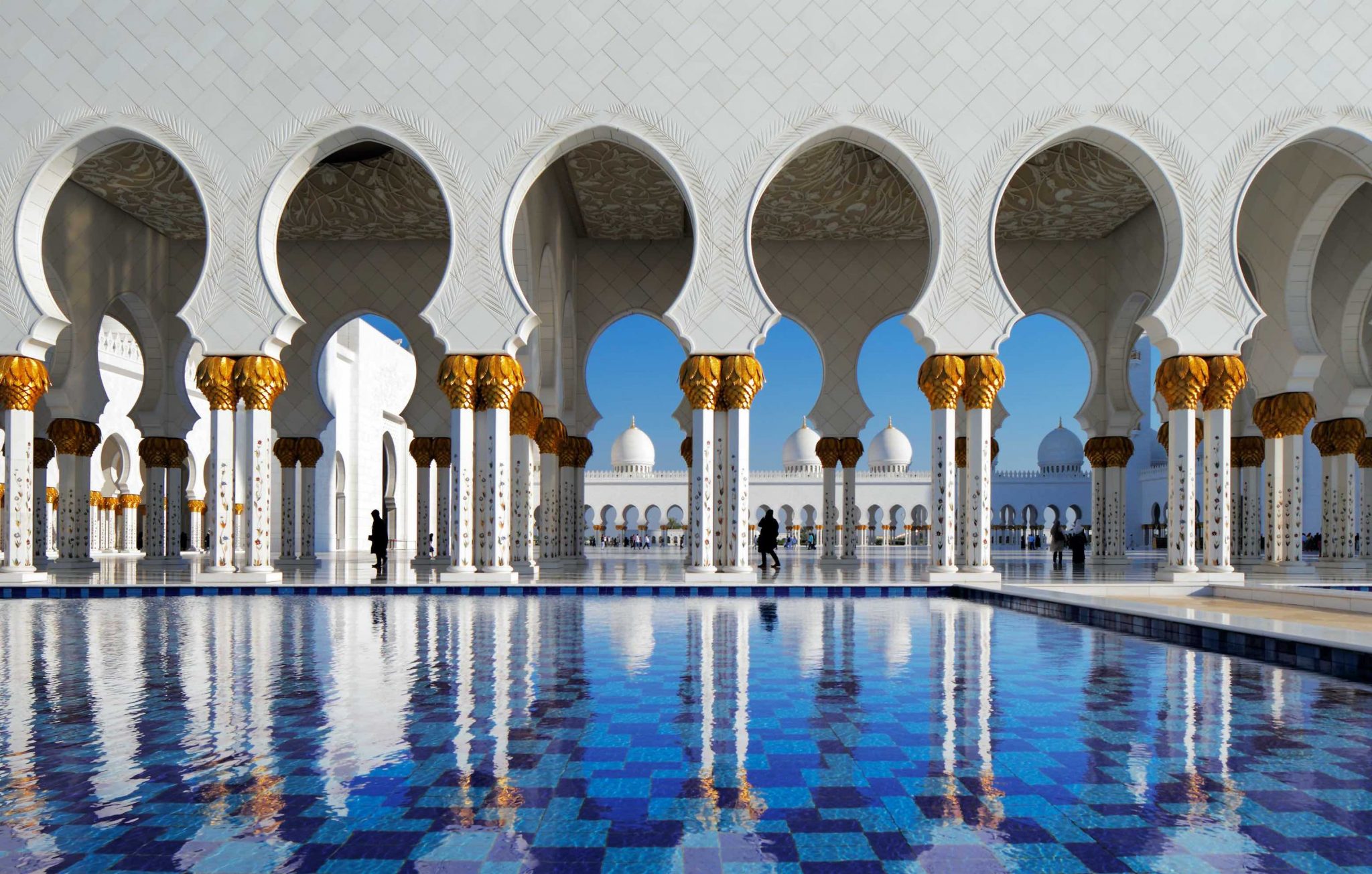 Notable are its Swarovski crystal chandeliers, floral courtyards, walls and columns inlaid with mother-of-pearl, succession of pools that reflect the phases of the moon, and the largest hand-knotted carpet in the world, designed by Iranian artist Ali Khaliqi. The Qibla wall bears the 99 Names of God in Kufic calligraphic style, one of the three types of calligraphy featured in the mosque. Alas, Sheikh Zayed didn't live to see his dream finished, but he rests in the courtyard of the grand mosque.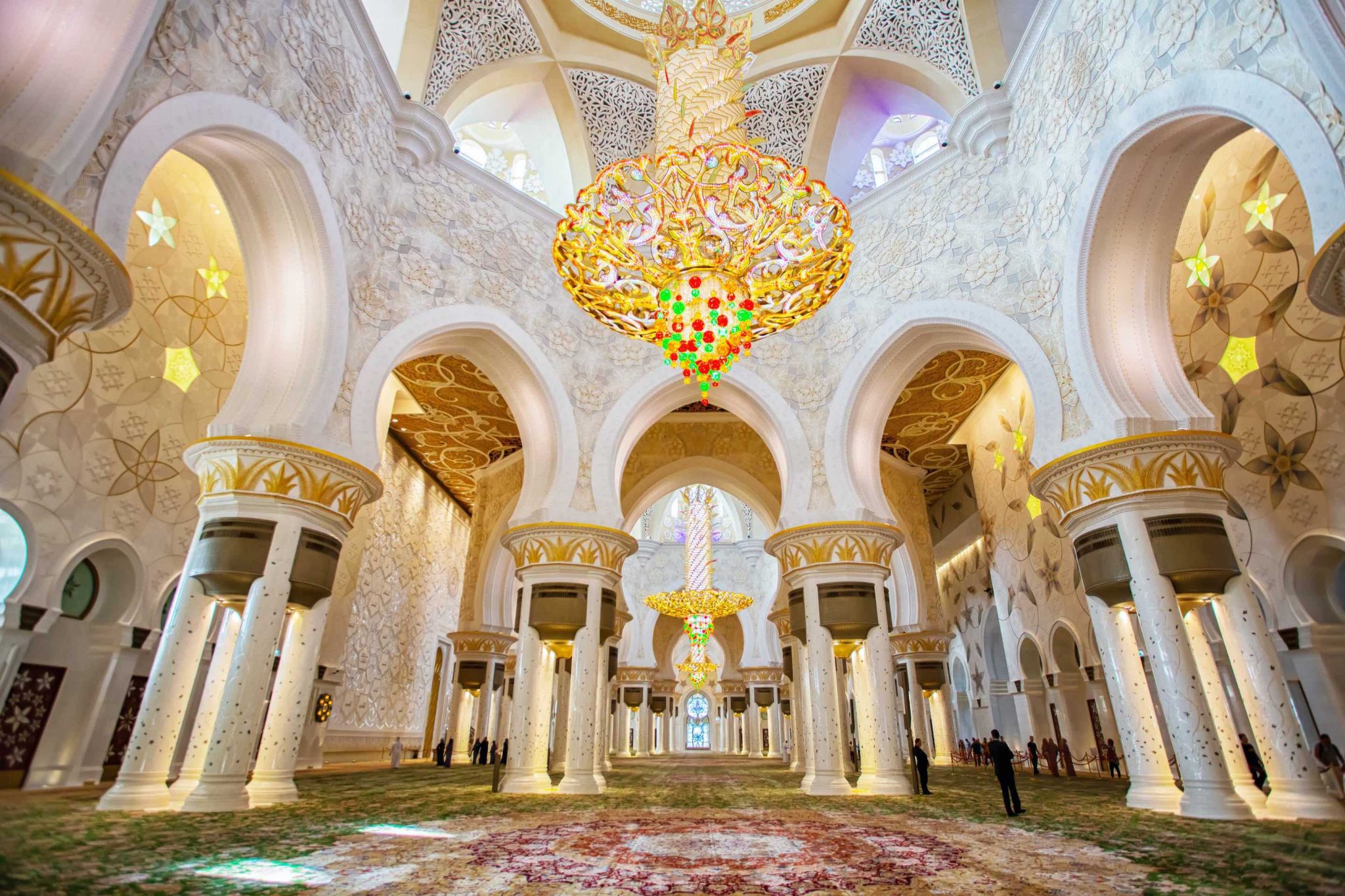 3. Emirates Palace
Both a five-star hotel and a buzzing Abu Dhabi institution, Emirates Palace looks like a castle from the Thousand and One Nights. Its blue domes sprouting around a large, patterned dome, and its fine-latticed windows, would not have disgraced the venerable Caliphs of old. The edifices – a massive central structure and several outbuildings – are all built out of sand-coloured material. Beyond the buildings, fountain courtyards and stately gardens, pools and groves, add to the enchanting sight.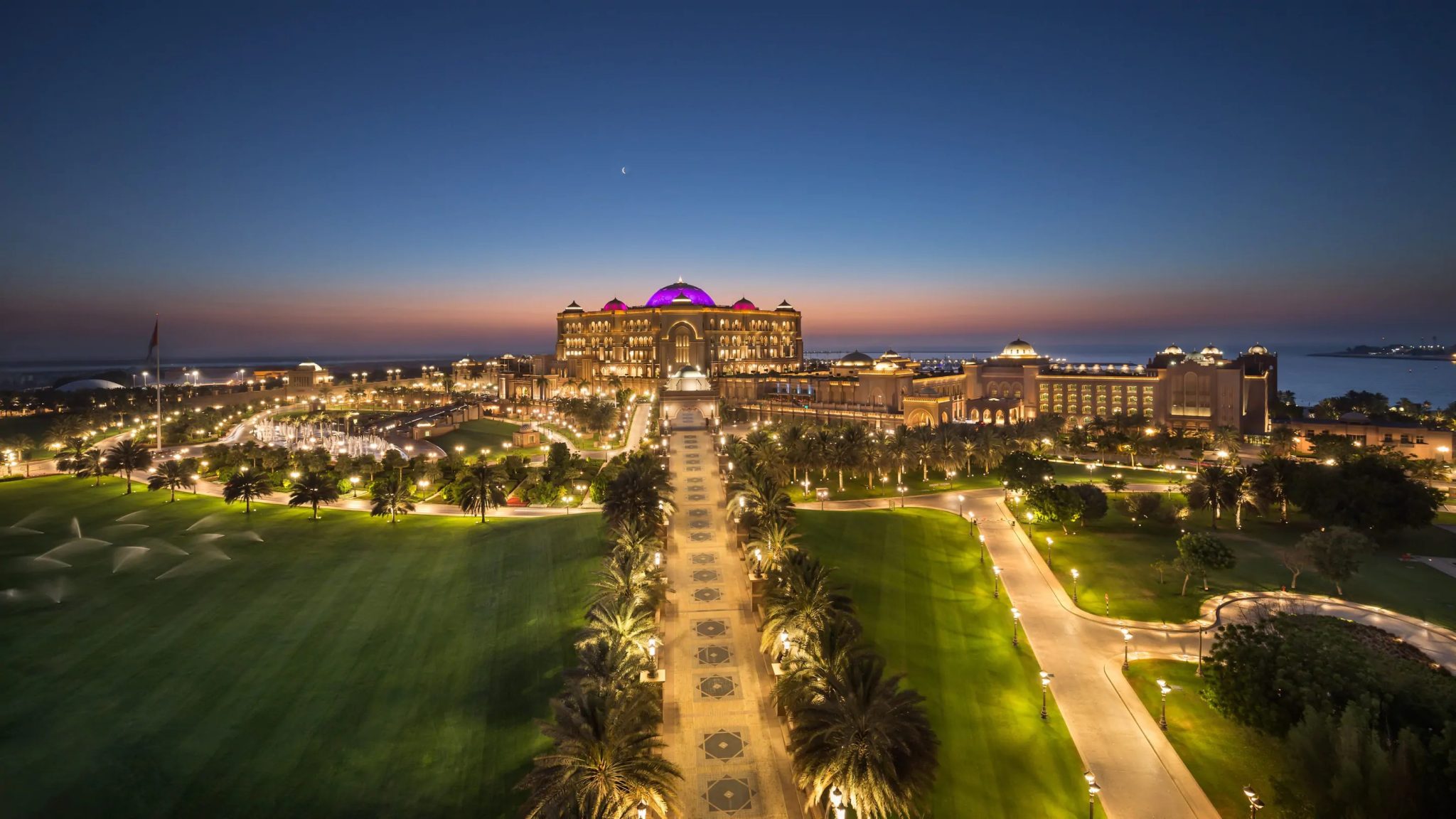 Situated by its own private 1.3 km beach and marina, it includes a concert venue and ballroom, spas, restaurants, cafes, and conference facilities. No need to be staying at the hotel to enjoy this grand complex! It draws Emiratis and foreign visitors, who appreciate its unique and relaxed luxury. If you're not coming to listen to one of the international musicians performing here, you might meet up with friends at Le Café to try the Gulf equivalent of English high tea or taste seafood at Sayad.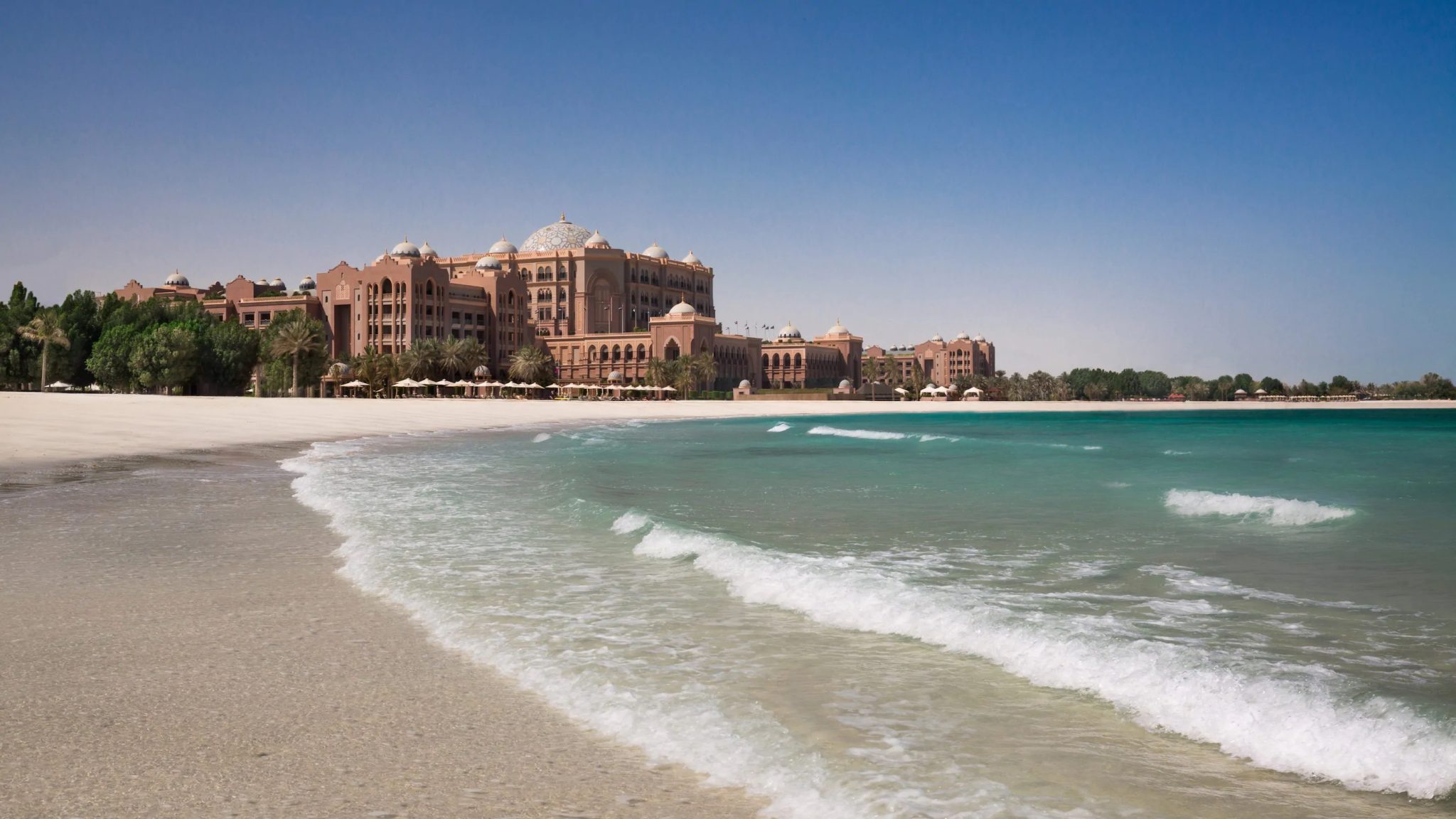 4. Shopping
Although less famous for shopping than Dubai, Abu Dhabi more than holds its own in the emporium stakes. From Norman Foster's modern souk at the World Trade Centre to the Yas Mall by the Ferrari World amusement centre, via the traditional Mina souks near the main port selling fish, fruit, vegetables, dates and carpet, Abu Dhabi city has a shopping experience for everyone.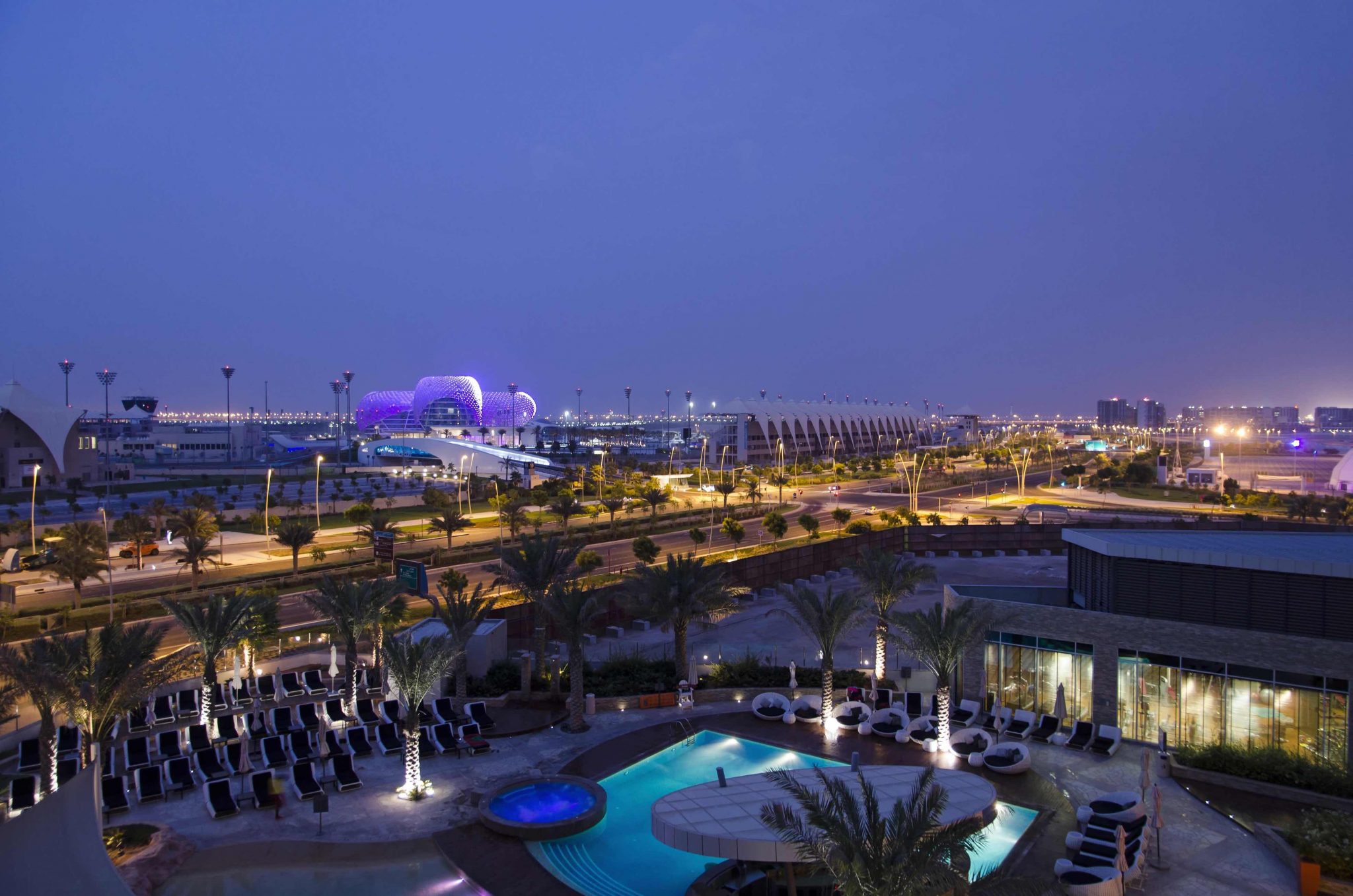 The goods on offer are equally varied and adapted to all budget: fine antique jewellery from Oman, Indian pashminas, carpets from all over the Middle East, cut-price electronics and swanky cars. Market stalls sell fresh fruits and nuts or cool sherbet drinks, and in between your shopping frenzy, you can rest at the many cafes and restaurants that dot the city's malls. Don't miss Mushriff Mall, with its immense food court, the largest in Arabia and a festival for all five senses.
5. Al Ain
Al Ain, known as the Garden City (Madina al-Hadiqah), Al Ain lies some 160 kilometres east of the capital city, by the Omani border. With nearly 800,000 inhabitants, it's a large, bustling city. For the visitor, it offers many discoveries.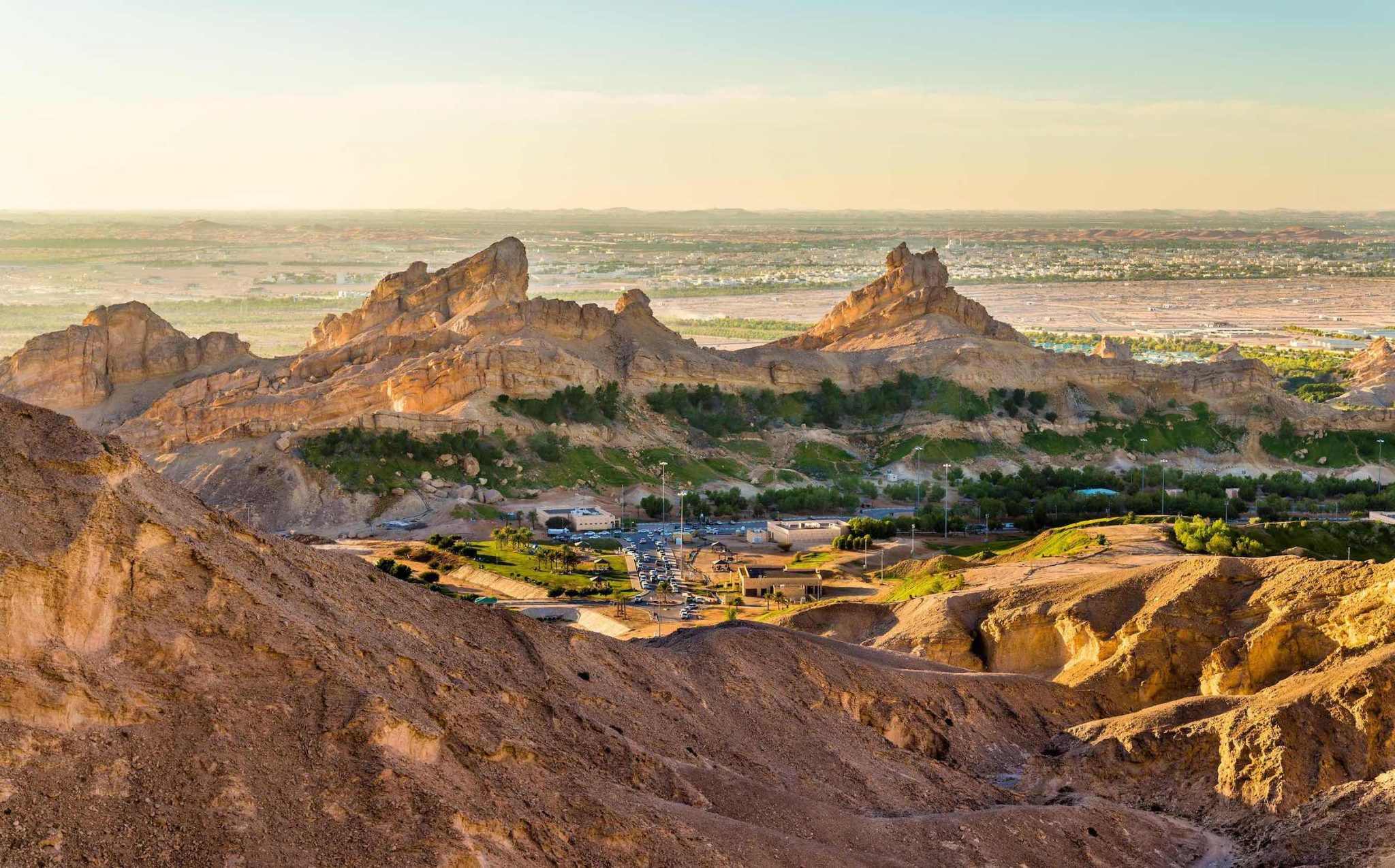 Al Ain Oasis, a UNESCO World Heritage Site, is a delight for nature lovers or anyone wishing a break from the surrounding desert. It's a 1200 hectare park, with date palm groves irrigated by traditional falaj, walkways, bridle paths and bicycle lanes, and an air of going back hundreds of years into the era of the desert caravans.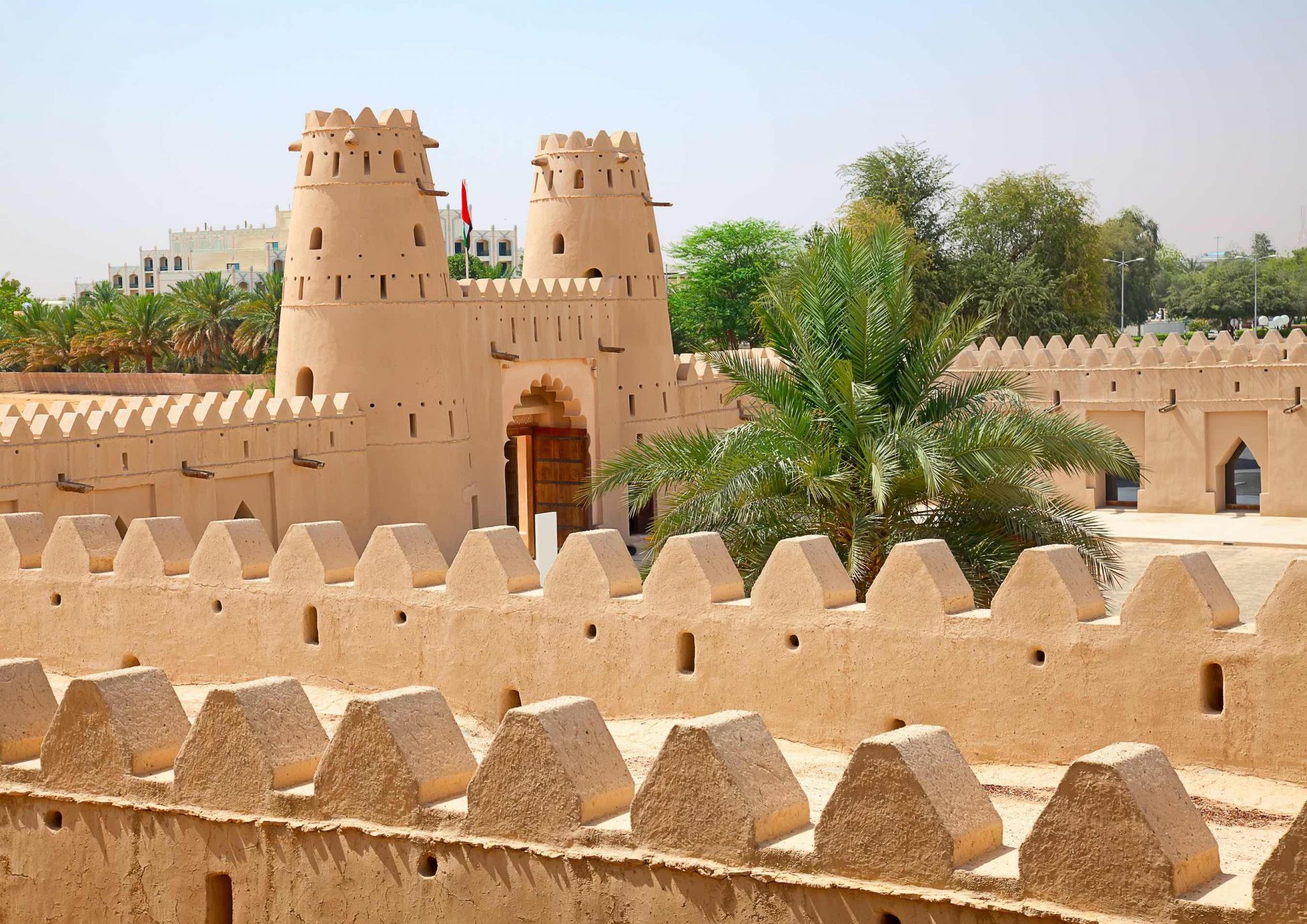 It's an oasis in every sense – which you might well need to restore yourself, as another speciality of Al Ain are its souks, its traditional markets and its shopping malls. Alongside those shoppers paradises, you will find several museums (the National Museum, the Palace Museum), an archaeological park and concert venues. If football is your thing, Al Ain is home to the successful Al Ain club.