A cultural melting pot, Dubai is a city known for many superlative things. A global society rich in entertainment and lifestyle experience, Dubai is also a shopping haven. In fact, this Middle Eastern city hosts two shopping festivals every year.
Shopping in Dubai is not merely an activity to purchase your wants and needs— but the shopping places themselves are an attraction. From mega-shopping malls with themes that are architectural wonders to bustling traditional souks to outdoor malls, Dubai satisfies every shopaholic's wildest dreams.
Here are 12 shopping places in Dubai that are every shopaholic's dream!
Meena Bazaar
If you're on the hunt for Dubai's oldest gold shops, traditional textiles, handicrafts, jewelry, ceramics, and spices, then make a beeline towards the rich and colorful Meena Bazaar. This traditional market is known as Bur Dubai's Little India.
Located in the Bur area, between Al Fahidi Street and Khalid Bin Waleed Road, Meena Bazaar, which transforms into a moody, dreamy place at night, instantly transports you to the past. Go crazy with literally hundreds of shops peddling just about anything under the sun— perfumes, bags, clothes, and traditional snacks.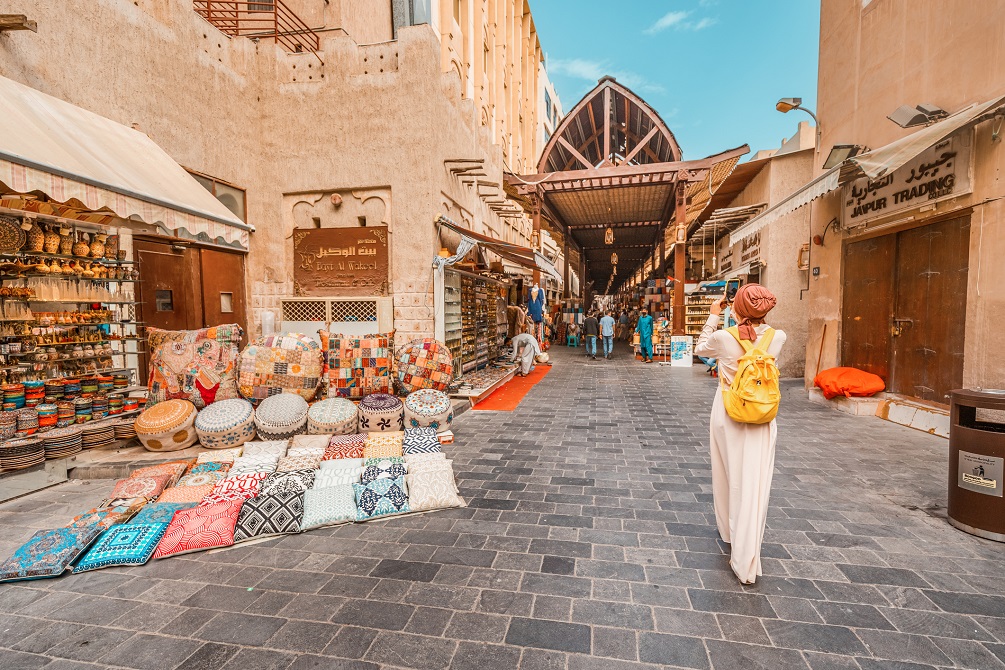 Ibn Battuta Mall
The iconic Ibn Battuta Mall is the largest themed shopping mall on planet Earth. With over 400 outlets, a 21-screen cinema, and nearly 5,000 parking spaces, Ibn Battuta treats the shoppers to their culturally designed 6 shopping courts:  Andalusia Court, China Court, Egypt Court, India Court, Persia Court, and Tunisia Court.
The mall was built and inspired by the travels and adventures of Ibn Battuta, a 14th-century Moroccan explorer. This stunning and expansive— and utterly magnificent mall— is known for its collection of high-end, luxury goods, electronics, as well as arts and handicrafts.
D3 (Design Dubai District) 
Known as Dubai's design, art & fashion hub, the Dubai District Design, or D3, is the unconventional shopper's paradise. The contemporary urban design shopping place is home to extraordinary fashion boutiques (such as Amato), fashion studios, novelty cafes, and exciting art galleries.
If your stomach grumbles in between your shopping galore, you can head straight to D3's quirky Craft Cafe for their thrilling twists on the menu. Try out their "royal egg," a delectable concoction of smoked salmon, poached eggs, and hollandaise sauce on rustic bread.
Wafi City
Established in 2001, the Egyptian-themed complex is a place for shopping— and art appreciation. The complex includes a pyramid-shaped mall as if you'd just stepped inside Egypt. The place is crawling with Egyptian elements, including Cleopatra's Spa.
You'll be delighted to find that the mall has over 250 shops— from apparel, gadgets, toys, crafts, decor, furniture, perfume, jewelry, and accessories. It is an expansive shopping mall. You can also visit the Khan Murjan Souk, for a vibrant marketplace steeped in Arab heritage.
Spice and Textile Souks
Experience a more cultural atmosphere in traditional souks— most notably the spice and textile souks. Hidden behind Dubai's narrow lanes is the magical Spice Souk, a series of stalls trading a huge collection of spices: cinnamon, cumin, cardamom, vanilla pods, mustard seed, black pepper, nutmeg, and anything you can think of. 
Meanwhile, if you're looking for a traditional abaya, Kashmir pashminas, Indian saris, Persian carpets, and a thousand other authentic fabrics, visit the Textile Souk. It's a carnival of colors, and fabric, and truly a textile haven.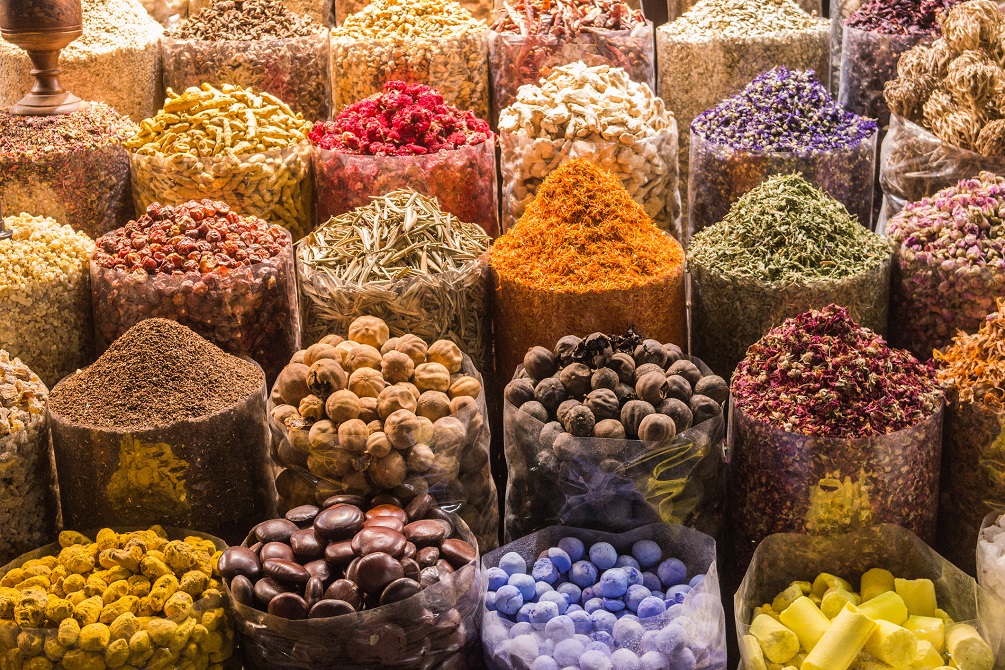 Mall of the Emirates
This is the supremo of all shopping malls in Dubai. Located at interchange four on Sheikh Zayed, the Mall of the Emirates is a multi-level shopping mall that houses over 630 retail outlets— enough to send a shopaholic crazy. Named the World's Leading New Shopping Mall at the World Travel Awards in London in 2005, it even has an indoor ski resort and snow park.
Some of the premium stores in the Mall of Emirates are home decor, sports, fashion, electronics, lifestyle, magic planet kid's play zone, and a multiplex cinema. The place is also famous for excellent Arabic goods.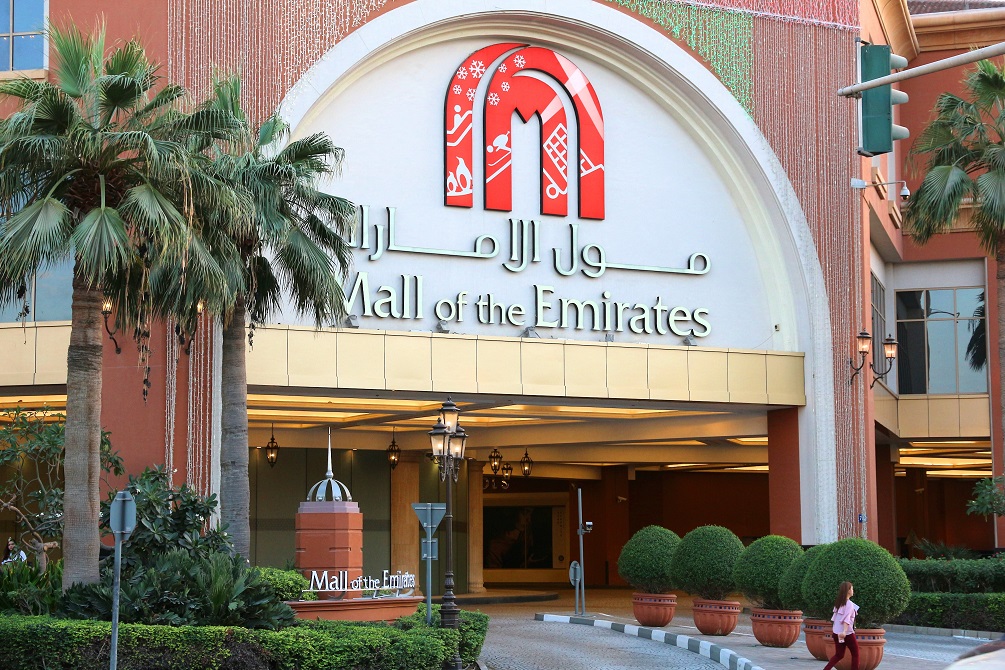 Dubai Flea Market
 Take street shopping on a whole new level in Dubai Flea Market. Brimming with second-hand or pre-loved items such as gorgeous furniture, books, ceramics, gadgets, games, toys, and more. 
The Dubai Flea Market is hosted by the iconic Zabeel Park and is an exciting microcosm of the nuances of Dubai. Bursting with energy and excitement, it's where you can get beautiful items at cheaper rates. To get there, take the metro station nearest to Burj Khalifa and get off at Zabeel Park.
Dubai Outlet Mall
Truly a dream come true for a shopaholic's fantasy, the Dubai Outlet Mall is the place to get designer clothes at jaw-droppingly low prices.  Tourists and locals alike flock over to the mall for their clearance sales. End-of-season sales, for example, will give them a chance to get their hands on clothes from Givenchy, Tods, Stella McCartney, and more.
The mall is also a hub for the previous season's stock of Bloomingdale's, Boutique 1, and Harvey Nichols. Apart from branded apparel and footwear, the mall is also a source of interior home decor products.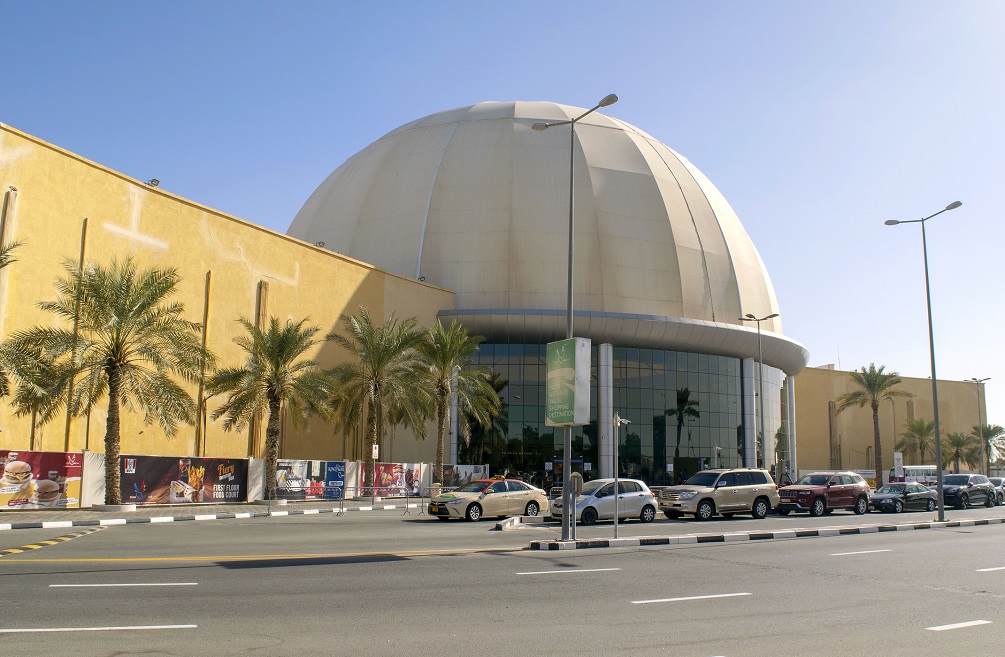 Mercato Shopping Mall
While in Dubai, easily slip into the European charm of Italy through the Mercato Shopping Mall. "Mercato" is a "market" in Italian, and this shopper's paradise evokes an enchanting Mediterranean town from the Renaissance period. 
Weave your way through cobbled streets and romantic piazzas as you shop in any of the 130 retail outlets in the mall. To get to the mall, just hop on to the nearest metro train and get off at Jumeirah Beach Rd.
Souk Madinat Jumeirah
A more relaxing— not to mention atmospheric— traditional souk-shopping experience, Souk Madinat Jumeirah is located within the Madinat Jumeirah Resort, which bears an incredible resemblance to markets from ancient times.
This gorgeous souk transforms into an Instagrammable place at night, with restaurants, cafes, and bars coming to life. This souk is the go-to shopping place for locals looking for jewelry and high-quality handicraft products.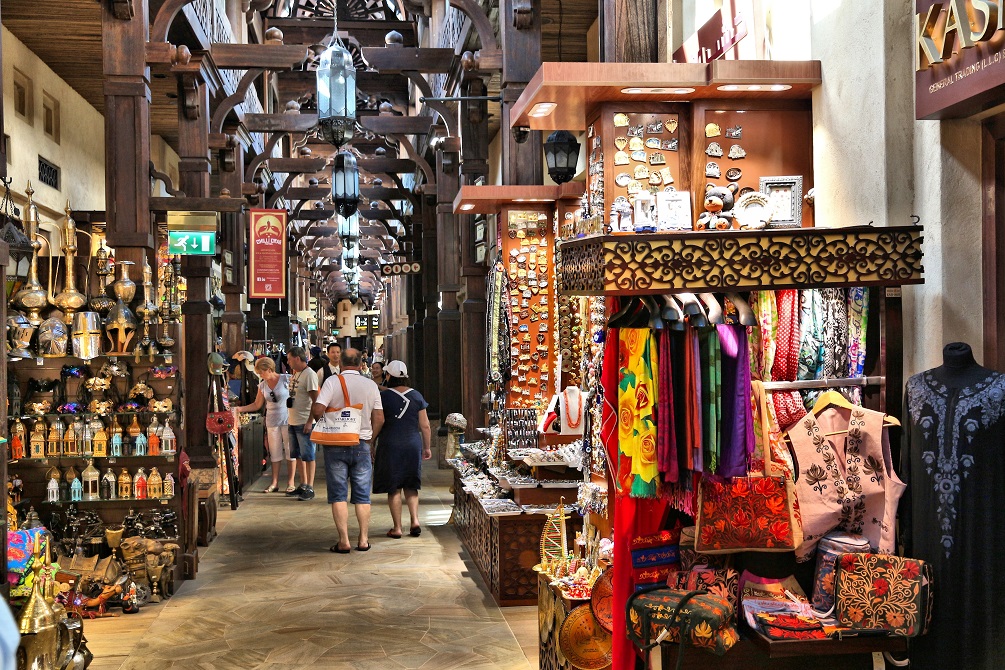 Naif Souk
Known for its vibrant kiosks, the Naif Souk offers a stunning array of shoppers' delights. From the regular market products for your souvenir needs to authentic Arab goods.
You can also get yourself a henna tattoo here, or purchase personalized clothes. To get here, you can take the metro, bus, or cab.
Dubai Mall
Right next to the world-renowned Burj Khalifa is Dubai Mall— a palatial mall that houses not just a thousand luxury and designer-brand stores, but also attractions for the whole family.
Inside this colossal mall, there is an ice rink, cinema,  a theme park, an underwater zoo, and a constant favorite— the Hershey's Chocolate World.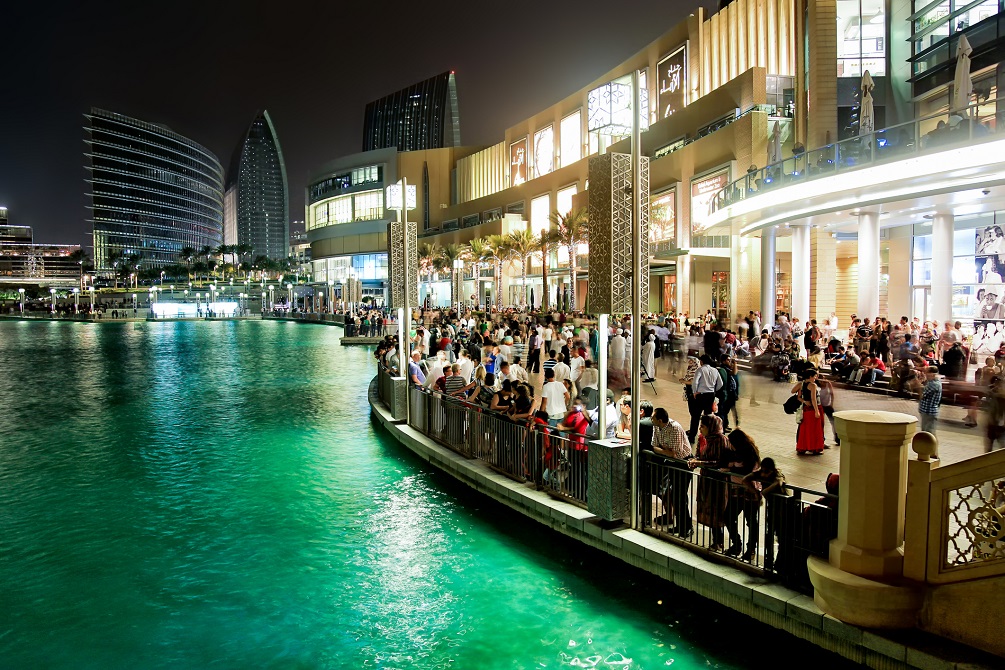 Intense Shopping Experience
Nowhere in the world can you get thrilled just by the word "shopping" but in the city of Dubai. Merging Islamic customs with futuristic and modern sensibilities, Dubai offers a truly extraordinary shopping experience.