Dubai has now been in a perpetual state of transformation for decades. Every year it adds unbelievable architectural marvels, new business avenues, and entertaining family-friendly attractions to its repertoire. Consequently, millions of travelers visit this oasis in the desert to work, play, and enjoy the good life. 
While the city is famous for its fancy hotels, desert safaris, water parks, and shopping opportunities, a different side of Dubai awaits those in search of offbeat adventures. Ardent travelers will find that one of the most luxurious destinations in the world also has an equally engaging and appealing traditional side. 
One of the best ways to indulge in the local Emirati culture is through its culinary offerings. Of course, the city takes pride in hosting several Michelin-starred chefs who now have their restaurants in Dubai. But to savor regional cuisine, one must head over to Dubai's homegrown eateries. At these hidden gems and iconic establishments, you'll find delectable comfort foods that are sure to impress even the most passionate of epicures.
Al Marhabani
What better way to start an offbeat culinary tour of Dubai than with the drool-worthy meaty delight known as mandi? Al Marhabani is the most popular place in town that serves this famous Yemeni dish. Focusing on intense, authentic flavors, mandi is rice served with chicken or lamb cooked in an underground oven. Always prepared to perfection at Al Marhabani, the meat that forms an integral part of mandi literally falls off the bone. At the same time, the long-grained rice adds a fragrant element to this succulent recipe.
A half-lamb mandi banquet costs £65 at Al Marhabani. It is usually eaten family-style, with everyone dining from the same plate. Mandi portions are enormous, so order accordingly. 
Al Marhabani has two outlets in the city. The original restaurant in Deira dates back to 2000, whereas the one in Jumeirah has been operational since 2010. Both locations have table seating as well as separate private rooms for families.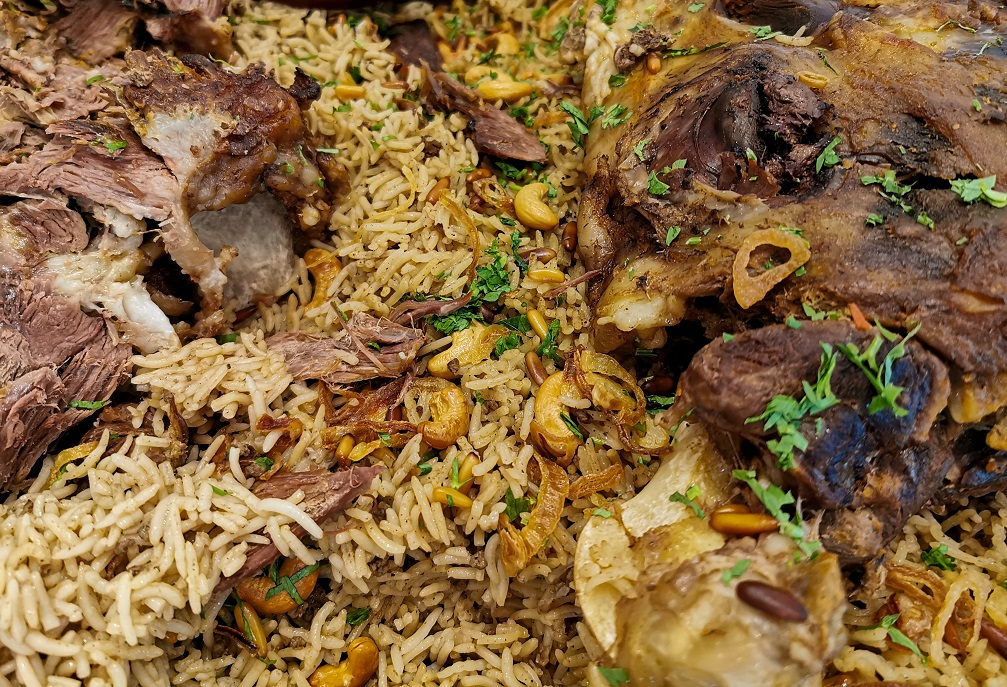 Bu Qtair Restaurant
If fried food is your kryptonite, a visit to Bu Qtair, one of the best restaurants in Dubai, is a must. Located in Umm Suqueim 2 Marina near the Burj Al Arab, Bu Qtair is a local institution that started plating delicious seafood way back in the 1980s. Formerly a beach shack, it is now a proper restaurant with indoor and outdoor seating that upholds its modest character. 
Famous for its deep-fried shrimp and fish, Bu Qtair operates like a fast-food joint. Visitors first select their fish and prawns, marinated in special masala, and then pay for it by weight. Rice and salad are complimentary with the seafood. After placing the order, it takes roughly 30 minutes for the dish to arrive on the table.
The fish and shrimp fry sell at £15 and £30 per kilogram at the restaurant. Therefore, a meal for two at Bu Qtair comes to around £30. The most endearing aspect about Bu Qtair is that you'll find people from all walks of life eating here together, no matter the time of day or night.  
Al Labeeb Grocery 
An odd choice to add on the best places to eat in Dubai list, but Al Labeeb Grocery is no ordinary destination. A blink-and-you'll-miss shop near Sunset Mall in Jumeirah, Al Labeeb is like any other convenience store from the outside. But look carefully, and you'll notice a small stall out front serving the famous regag bread.
Regag resembles the French crepe or the Indian dosa. It's a thin crispy bread cooked within minutes over a hot, flat griddle. Sometimes known as Irani crepe, egg and cheese are standard additions to the bread. 
However, things get eccentric with some of the other regag fillings. Locally made fish sauce is a favorite among Dubai residents, as is the combination of cheese and Chips Oman – a local brand of potato crisps crumbled and added for an extra element of crunch to the crepe. Food lovers with a sweet tooth will find the Nutella regag to their liking. A light snack you can have at all hours, regag bread costs less than £1.50 a piece.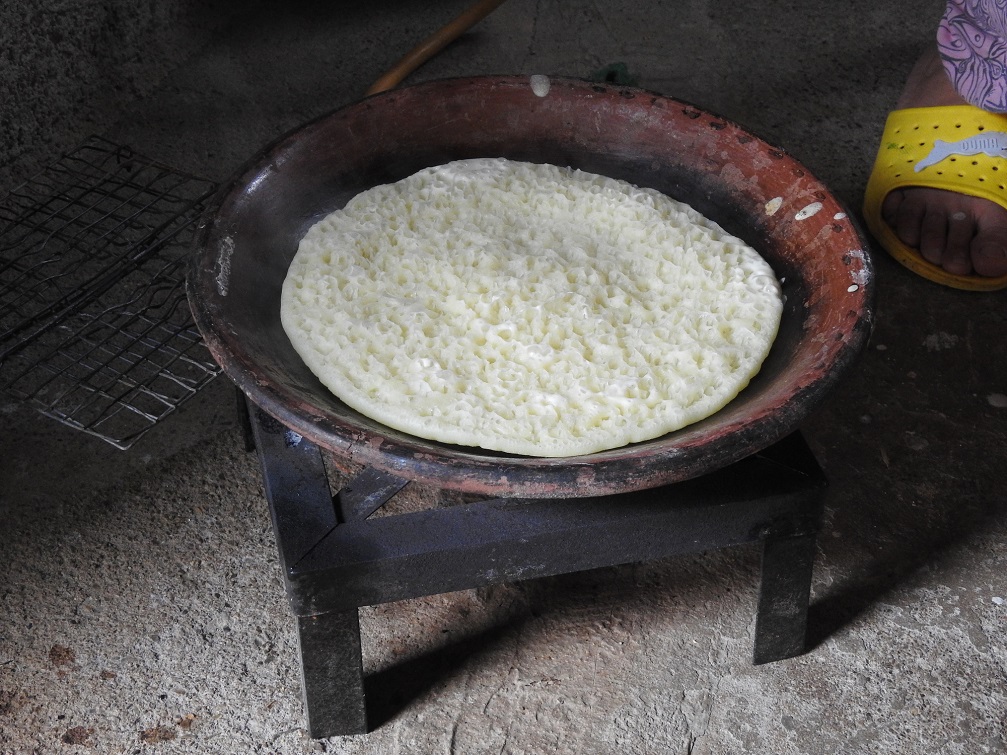 Al Ustad Special Kebab
An iconic Iranian kebab restaurant in Dubai, Al Ustad is also among the city's oldest. Situated in Al Mankhool, the family-run eatery instantly fascinates first-timers with its walls full of photographs and curios. The likes of antique currency notes and mobile phones from decades ago hanging in a golden frame give the place a quirky ambiance. The pictures, featuring the royal family as well as Bollywood and Iranian celebrities who have eaten here, celebrate the restaurant's legendary status. 
The three brothers who now run the restaurant are amiable and love to mingle with guests. Al Ustad's specialty, though, is their yogurt marinated kebabs. For many, this is the best place to eat in Dubai when craving tender and succulent pieces of chicken and mutton, along with yummy khorak biryani or naan bread. 
Among the must-eats at Al Ustad are joujeh kebab – boneless chicken marinated in saffron, and khorak Bahraini – mutton marinated in dry lemon. Delicious and filling, most kebab plates at Al Ustad cost between £6 and £8.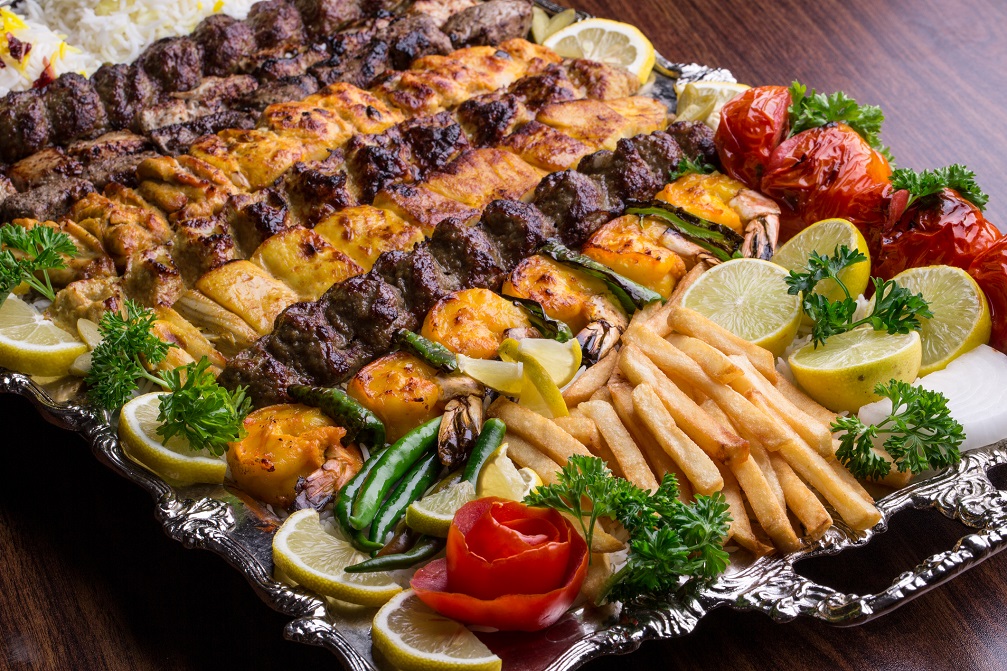 Al Rajwa Restaurant
A pure-vegetarian restaurant in Dubai is almost unheard of, which is why Al Rajwa is all the more special. A tiny eatery in Meena Bazaar, it essentially serves budget-friendly snacks inspired by Mumbai street food.
A self-service cafeteria, Al Rajwa has hardly any space to sit. You can, however, stand and eat outside, provided the weather is bearable. When dining here, you must pay first and get individual food tickets for the dishes of your liking. Once you hand over the tickets to the kitchen counter, the service is quick. Although the food is simple in its presentation, it promises a mouth-watering mixture of exotic Indian flavors and textures. 
If it's your first visit to Al Rajwa, do try their usal pav – curry with sprouts, onions, salty snacks served with soft pav buns, pani puri – tangy water balls, masala idli – South Indian rice cakes, cheese grill sandwich, and samosa. At the end of this snack fest, finish with either the masala chai or their thick and creamy mango lassi – yogurt drink. Best of all, with most food items costing below AED 5, you can have a tummy-filling meal at Al Rajwa for less than £5.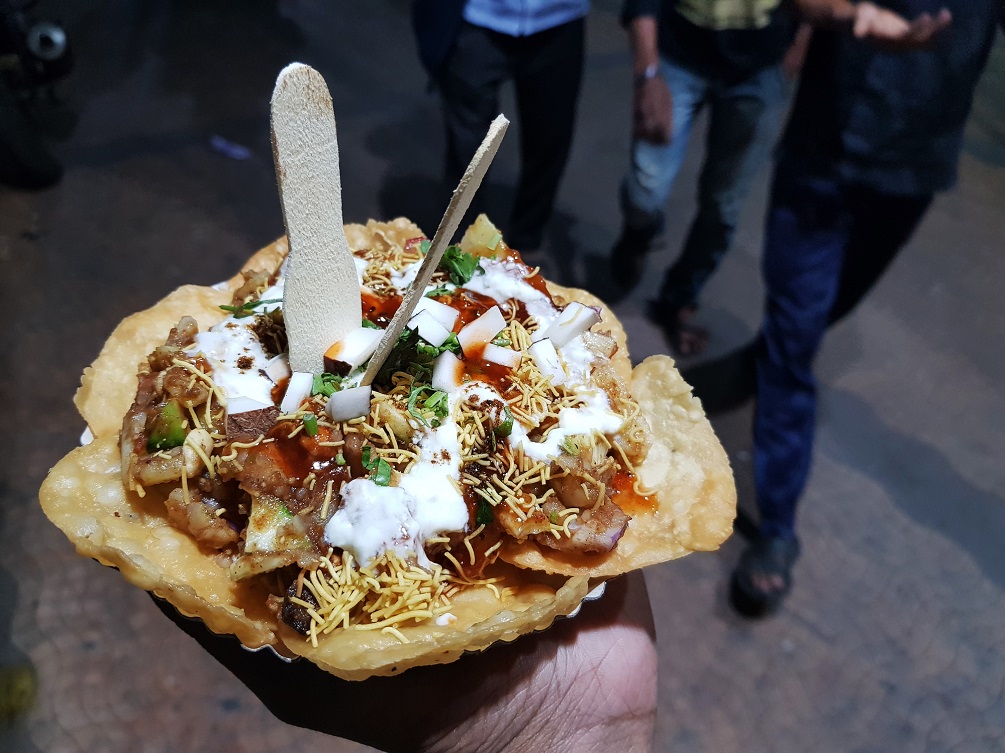 Farisian Cafeteria
Another unmissable stop on a culinary tour of Dubai is Farisian Cafeteria, also in Meena Bazaar. Established more than 40 years ago, this hole-in-the-wall corner shop boasts of selling the cheapest sandwiches in Dubai. 
On the menu of this vegetarian eatery are only falafel, samosa, and potato rolls. An almost ready-to-go snack, the staff assembles the rolls within seconds of you placing the order. Patrons of Farisian either get their sandwiches packed for later or else stand outside and eat on the street. 
The falafel sandwich, consisting of pita bread filled with chickpea fritters, Arabic green chutney, and salad, is their biggest seller. Even with limited ingredients, the soft and crunchy textures of the roll make it a joy to bite into. As for the price, the sandwiches cost less than a dollar each.