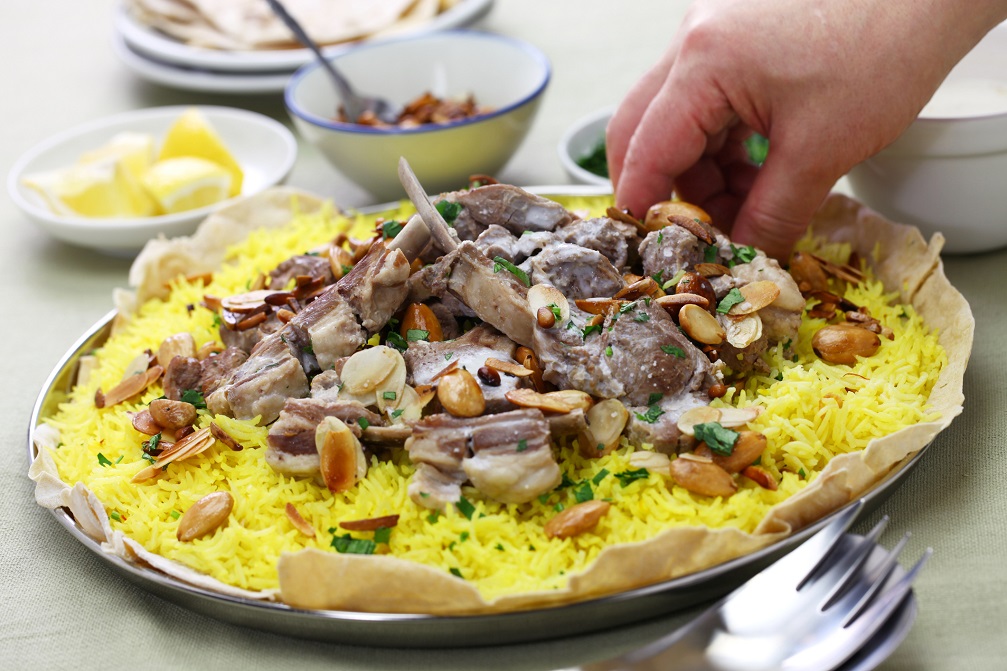 Jordanian food is a potpourri of flavours inspired by its cultural links with the Middle East, Europe and Asia. 
Meals begin with mezze plates that are commonly served prior to main dishes. They are usually a combination of savouries such as hummus, falafel, kubbeh nayyeh, taboulleh, fattoush and kebabs. The main courses generally comprise chicken, lamb or mutton dishes like mansaf, musakhan, magloobeh and kofta.  
It is rare to find good fish and consuming pork is frowned upon by Islam. 
Jordan's signature dish is the Mansaf. It consists of a lamb stew with jameed, a pungent yoghurt, served over a bed of rice and sprayed with pine nuts.
For a traditional Jordanian breakfast, tuck into a bowl of hot full – boiled fave beans blended with
lemon juice, diced chilis and olive oil. Mop it up with some freshly baked pita.
Craving a snack? Falafel is the street staple, but you'll also find shwarma stands all across the
country.
For those with a sweet tooth, Arabian sweets are an explosion of sugar, syrup, butter and honey.
While tea is Jordan's national drink, strong Turkish coffee is quite popular and you'll probably find yourself sipping it more frequently.
Jordan's diverse food culture can be attributed to the influx and blending of different cultures over the centuries.