British Airways has worked with some very innovative partners over the last few months to launch initiatives that are designed to really enhance the passenger experience in the new covid era of travel. Once such initiative has been launched in partnership with Verifly to certify all covid related travel documentation prior to flights so that passengers benefit from a fast-track experience at the airport. I like fast-track experiences at airports so decided I would download the app and sail through to the departure lounge to enjoy maximum relaxation time before my flight.
My return flight was on British Airways flight BA313 from Amman to London Heathrow on 3rd August 2021. Two days before my flight, I completed my lateral flow "fit to fly" test using the test kid I had ordered from Qured which is a necessary first step before you can use the app. More about Qured later.
How to use the VeriFly App for British Airways flights
British Airways to commence trial of digital health passport mobile app from 4th February
Once downloaded, the process starts off a little confusing. You have to select the destination you are travelling to and on the initial list, there is no option for the United Kingdom. If you scroll down, the last destination on the list is Greece. There is a search box, and I typed in "United Kingdom", "Great Britain" and "England" but got no results. Then after about 30 seconds, more destination options loaded on the screen. I scrolled down to the bottom of this second list and then waited. After a few more seconds more destinations loaded. On this 3rd scroll down, I finally saw "A Trip to the UK".
UK?!!?! Why UK and not United Kingdom?
Anyway, after this initial frustration, the process is actually very straightforward. The app is well designed and the user interface is clean and easy to follow. Firstly, you are required to enter your flight information followed by your basic personal information including a photo of yourself which you must take on the app using the phone camera. The only airline options you get on the app are British Airways and American Airlines, so I assume the app has not been adopted by any other carriers at this time.
Once you have completed the basic information you move to uploading your documents. These are:
– Covid Test Certificate
– Vaccination Certificate
– Passenger Locator Form
There were 6 of us travelling comprising 2 adults and 4 children under the age of 10. The app allows you to upload documents for all your travelling companions within your app. A slightly annoying requirement was having to take photos of each person using the app rather than just uploading an image of them. The app's camera function is not great as the software seems to skew the image and makes everyone look like they might in one of those circus mirrors you find at funfairs. But no one was going to see the photos other than one or two airport staff and as they would have the pleasure of seeing the real unadulterated me, it didn't bother me too much!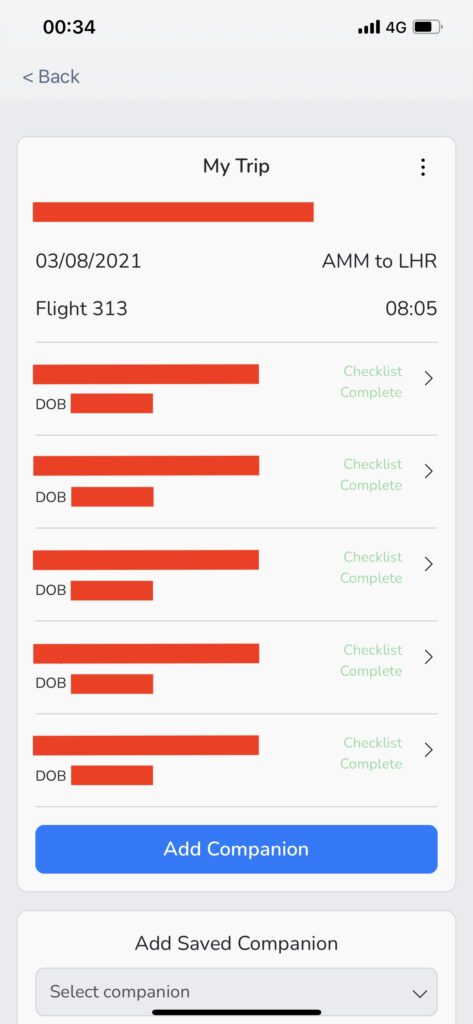 The whole process from start to finish took me about 30 minutes to complete the information for all 6 of us. I was a little annoyed having wasted half an hour of my holiday on this exercise but took solace by reminding myself that our flight was ay 08:10 and that I would be happily sailing through the airport at 06:00 and relaxing in the lounge rather than spending an age at the check in desk.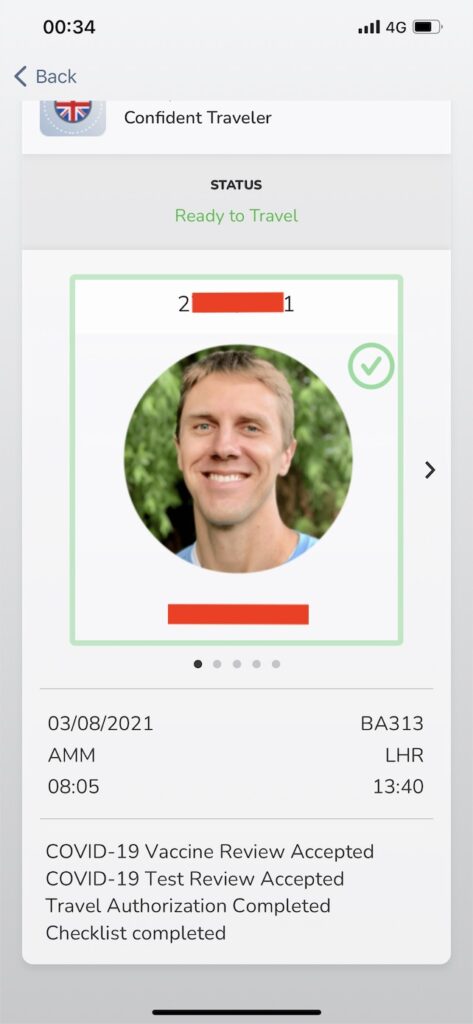 I don't think Fast Track means the same thing in Jordan!
The day of departure arrived and we headed directly to the Club Europe check in desk (yes BA flights to Amman are now Club Europe and not Club World!). Though I have been downgraded from Gold to Silver as a result of not flying much during Covid, I still had access to the business class check in desk. There was 1 person in front of us and within 3 minutes, we were checking in.
Just before being asked to lift our bags on to the belt, the check in agent asked to see our paperwork. Feeling rather smug, I took out my phone, opened the app and proudly displayed the READY TO TRAVEL status on my VeriFly app. The check in agent looked confused and in a pronounced and stereotypical Arab accent said "I need the BCR and Bassenger Locator Form". There is no letter P in the Arabic language so P becomes B (Bebsi, Bizza, Batato) and there is a rather hilarious story about a Saudi tourist asking a rather confused London police officer on Edgware Road as to whether he could "park" on the yellow line outside a popular Lebanese restaurant!
I informed the agent that the VeriFly app had checked all my papers and he was good to check me in. Without another word, the agent called the supervisor to find out what this VeriFly app was and whether he could check me in. I was told to step aside whilst the supervisor checked with London as to whether the VeriFly app status allowed him to check me in.
After 10 minutes, we were still waiting and so I returned to the desk, by now rather annoyed that I had wasted 30 minutes on the app and another 10 at the airport trying to enjoy the fast-track benefits that the app would offer me. The agent was very polite, personable and keen to help but simply hadn't been informed about the app. Nor had the supervisor it seems and unfortunately British Airways does not employ a local station manager in Amman and instead relies upon the local handling agent for representation.
I pulled out our printed passenger locator forms and our covid test certificates and told the agent not to bother with trying to investigate my VeriFly status and instead just check us in with the papers I had printed just in case of an eventuality like this.
You couldn't make this up!
And here came the next moment of comedy. Our Qured "fit to fly" certificates showed that they had been issued in London on 1st August 2021. The check in agent said we needed to have PCR tests from Jordan. I explained that British Airways were promoting Qured as a more efficient and cost-effective method of certifying covid status for passengers returning to the UK. I told the agent that you pay for the test before leaving the UK and then take the test by video link. Once the test has been completed under the supervision of a clinician, a test certificate issued. The agent looked at me like I had escaped from an asylum. With a confused frown and in with the next few words coming out of his mouth very slowly and in a higher pitch tone, he asked me, "how they put stick in your mouth and nose for BCR by video?!?"
So out came the phone again, google search for the BA – Qured press release, an explanation about how lateral flow tests work, and how the clinician supervising the test by video ensures it is done properly, and, 7 minutes later, the agent was on the same page as me and ready to accept our luggage. I first arrived at the check in desk at 05:53 and it was now 06:24 and I was starting to lift my first bag on to the belt. In this time, I think about 5 groups of passengers had had their manual documents checked, local PCR tests verified and completed their check in formalities on the check in desk next to the one I was at. My route to fast track using the app and product recommended by British Airways had taken me over half an hour to complete the check in process! I was not a happy customer.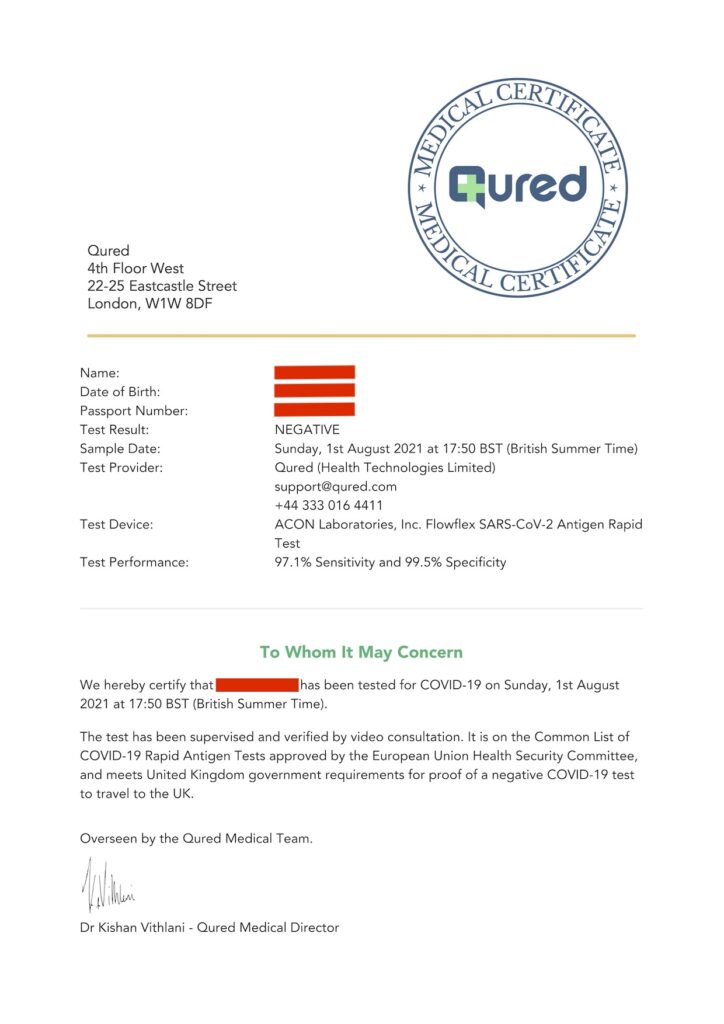 At 06:29, the agent handed me our boarding passes and off we headed to immigration.
My thoughts
I think my experience flying from Amman was probably very different to someone who has used the VeriFly app and Qured test on a flight from a destination like New York to London. The main issue in Amman as I see it was that British Airways had either failed to communicate information about the Qured test and Verifly app to its airport handler or the local handler had failed to communicate the information to their own staff handling BA check ins. The issue was exacerbated by the fact that British Airways does not employ any directly employed British Airways station manager or supervisor at its Amman station and instead relies entirely upon a local ground handler. So, when someone like me turn up, no one knows what to do and tries to call London at 06:00 UK time but can't get through to anyone!
The idea behind the VeriFly app is brilliant and the fact that I didn't have to waste any time or even stress about getting a PCR test locally during my holiday really was priceless. If only the agent had been informed about these initiatives- my check in experience and this review would have been very different!