If you're looking for an alternative to your standard seaside holiday for your next international adventure, consider booking a trip to one of these breathtaking desert destinations. These renowned, yet under-explored deserts from all around the world pack a big punch with lunar landscapes and sand dunes tall enough to reach the sky.
No matter what your travel style is, you'll be certain to find a desert getaway that has you ready to get packing- from high-end luxury to glamping, adventure and cultural retreats.
Atacama Desert, Chile- Tierra Atacama Hotel & Spa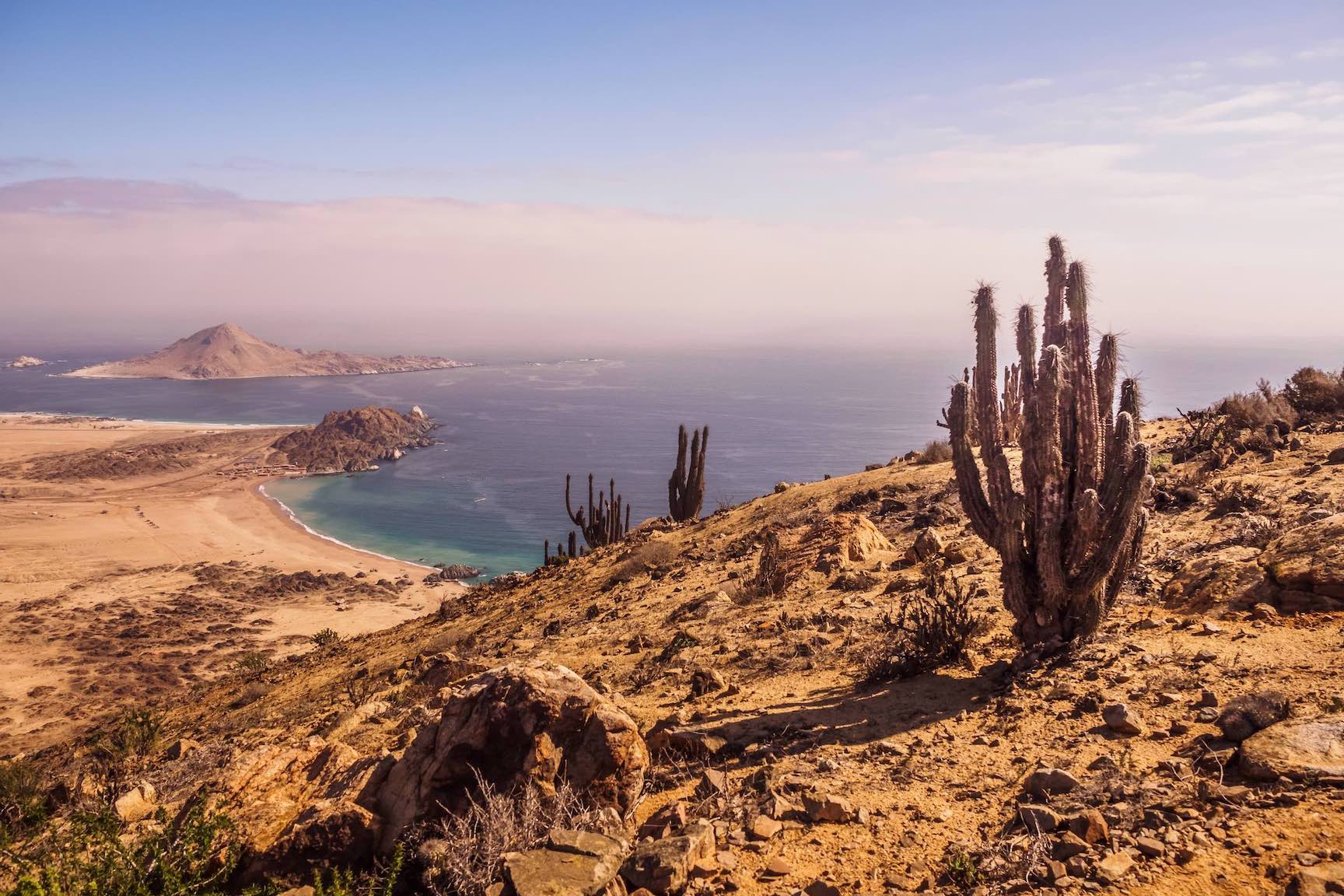 Located in deep in the Atacama desert, this eco-friendly Tierra brand resort is surrounded by lagoons, red-sand hills, craters and valleys. The Atacama desert has pockets of desert that are particularly high-altitude, and is also considered to be the driest non-polar destinations, making these lagoons somewhat of a natural anomaly. Nestled between these desert mountains, Tierra was designed to imitate its moon-like surroundings, with exquisite stonework and natural textiles.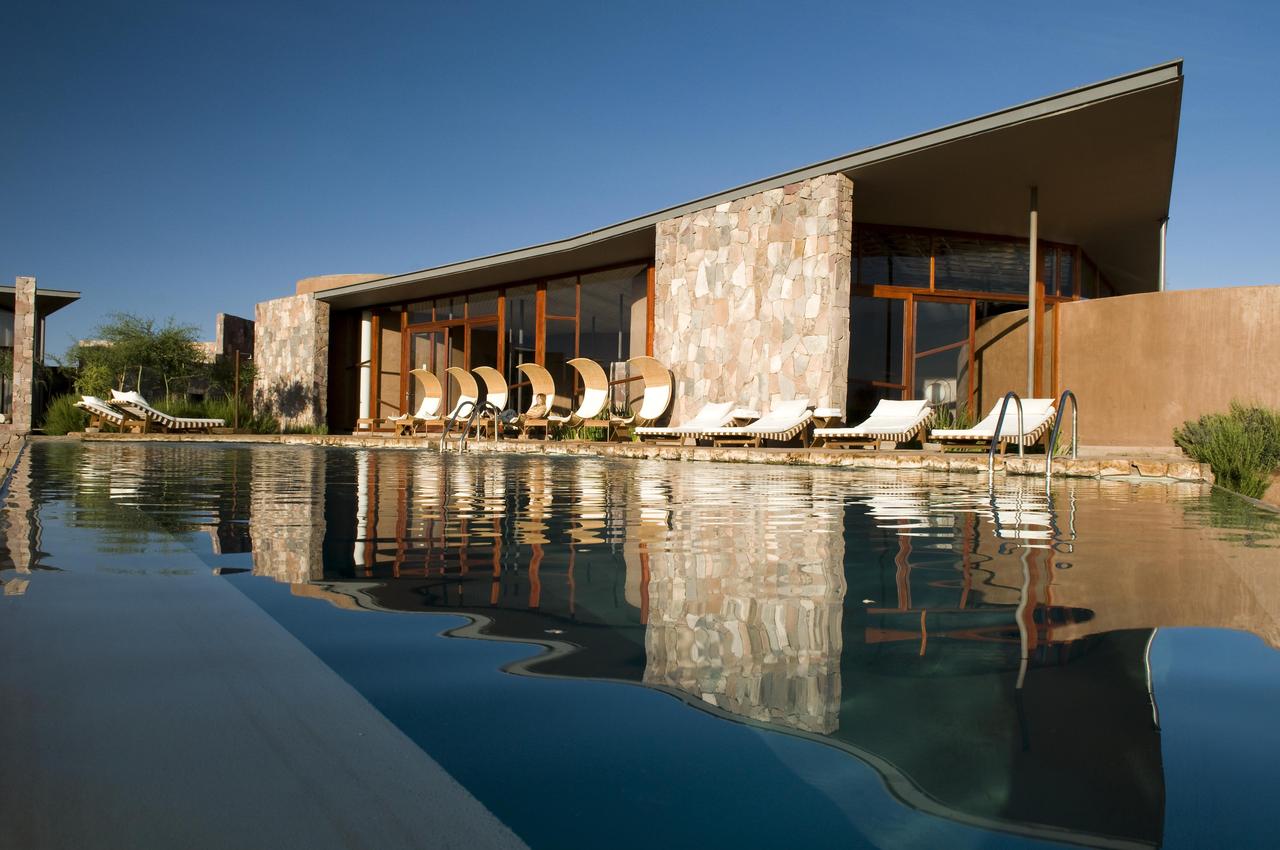 If you start to feel a little restless during your time at this luxury resort, no need to fret. You will have the opportunity to explore lagoons, search for ancient petroglyphs, take adventurous desert walks and visit famous geysers. However, one of the most popular activities at the resort is the full moon hike. Besides being an amazing place for stargazing, away from city light pollution, the Atacama desert becomes illuminated under the full moon; a phenomena that visitors describe as "magical".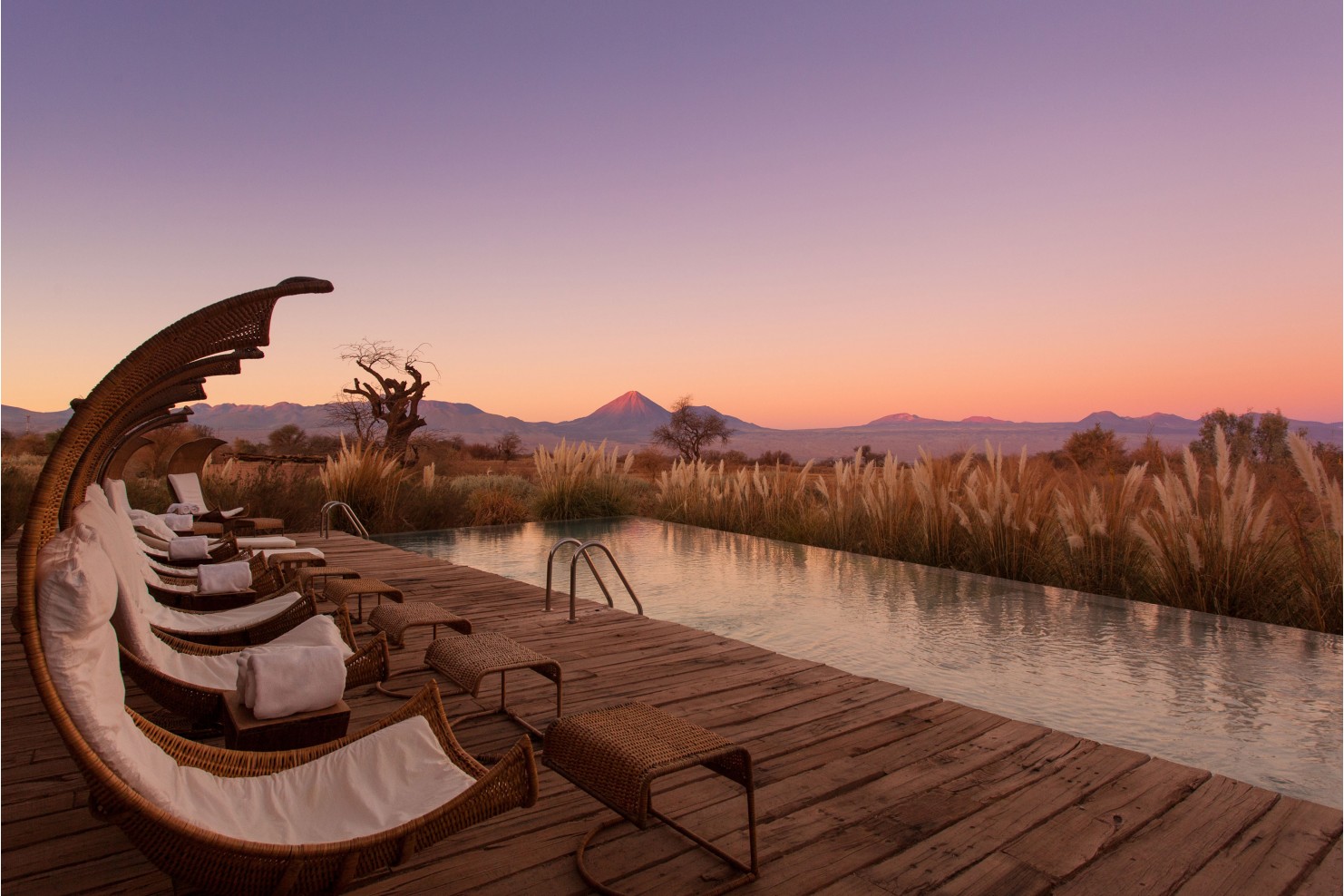 Mojave Desert, USA- Miracle Manor Boutique Hotel & Spa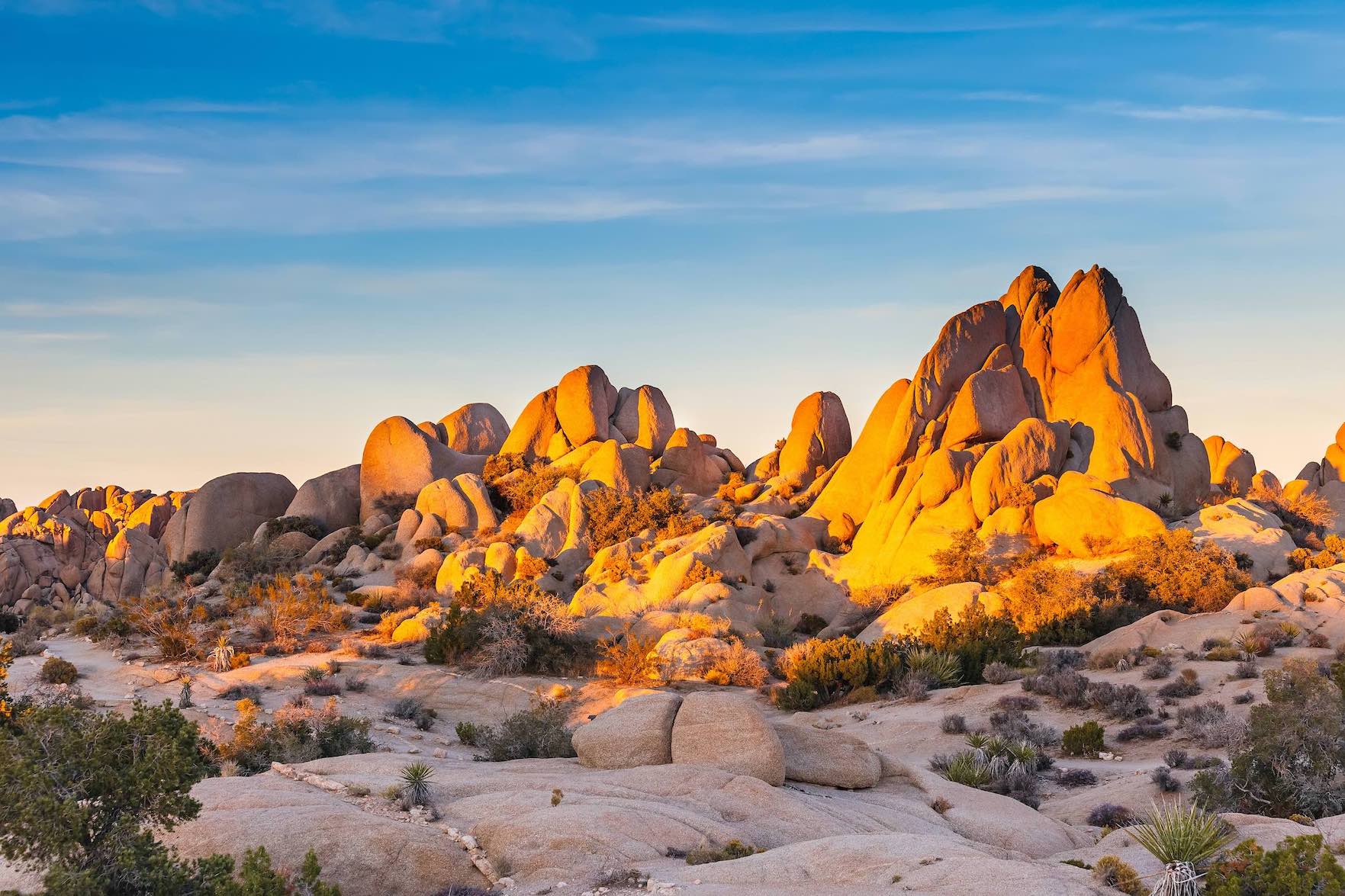 This hidden gem in the Mojave desert is a classic Californian hotel with vintage, bohemian flare. Set against a backdrop of palms, cactus, boulders and tumbleweeds, Miracle Manor is a little boutique hotel that packs a big punch. Natural design elements help guests to feel at one with nature and a private yoga deck will nurture your spiritual side. Take a soak in the natural hot springs, or learn about the natural energy vortex surrounding the Mojave desert after a long day of nature hikes- it's really up to you.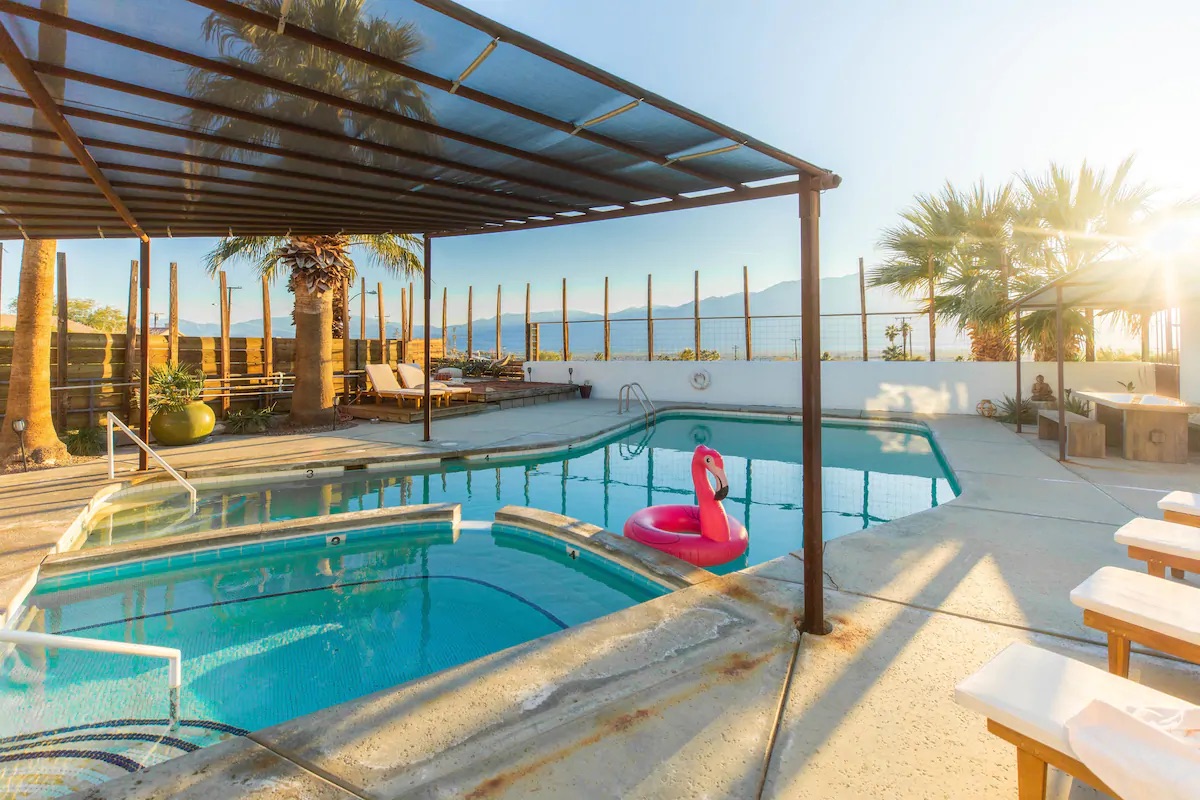 Huacachina Desert, Peru- Hotel & Hacienda- El Carmelo
Huacachina is a secret oasis in Peru- a tiny village on a lake in the middle of the Ica Desert. While there aren't many luxury accommodations right in Huacachina, a short drive will lead you to other desert accommodations with easy access to Huacachina's activities. Located only 4km from Huacachina, El Carmelo provides colourful, hacienda style accommodation with an inviting courtyard and a lush environment, amidst the desert.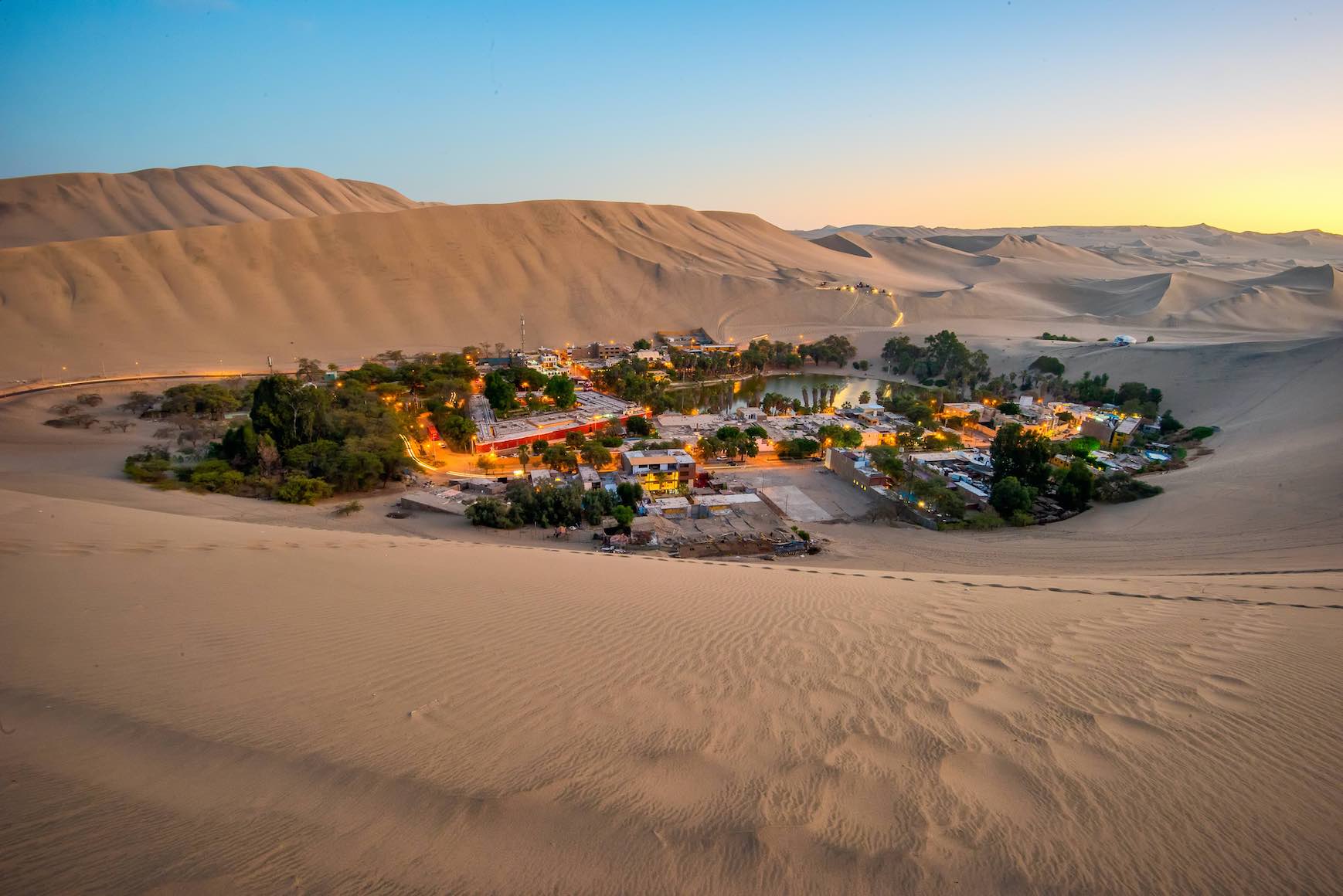 The hotel is full of traditional Peruvian style, and though the rooms are modest, an upgrade to a suite will provide you with everything you're looking for as far as desert accommodation is concerned. While you are here, you may wish to take advantage of dune buggy tours or a peddle boat ride on the lake- just don't forget to ask a local about The Legend of Huacachina- the story itself is worth a trip to this mystifying natural phenomenon.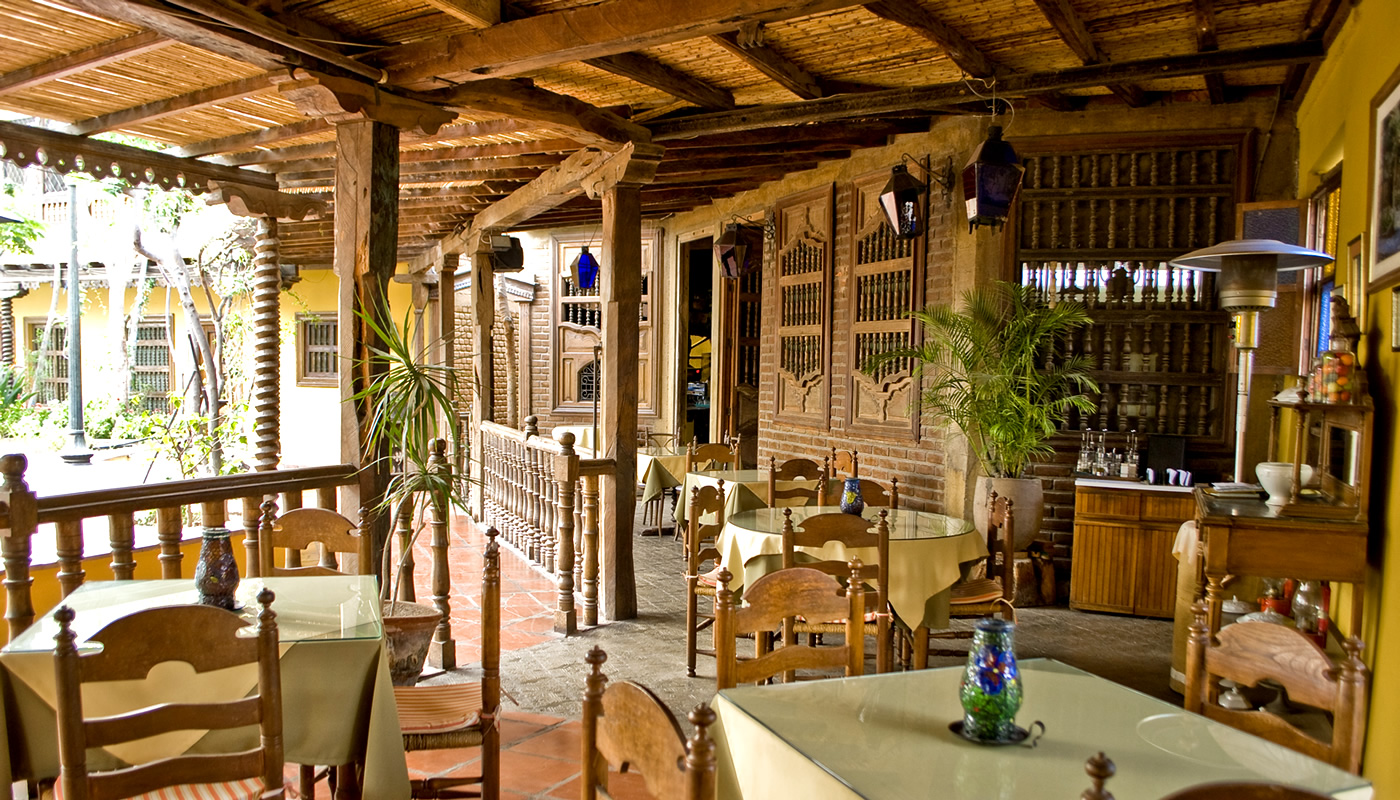 Jordan- Wadi Rum UFO Luxotel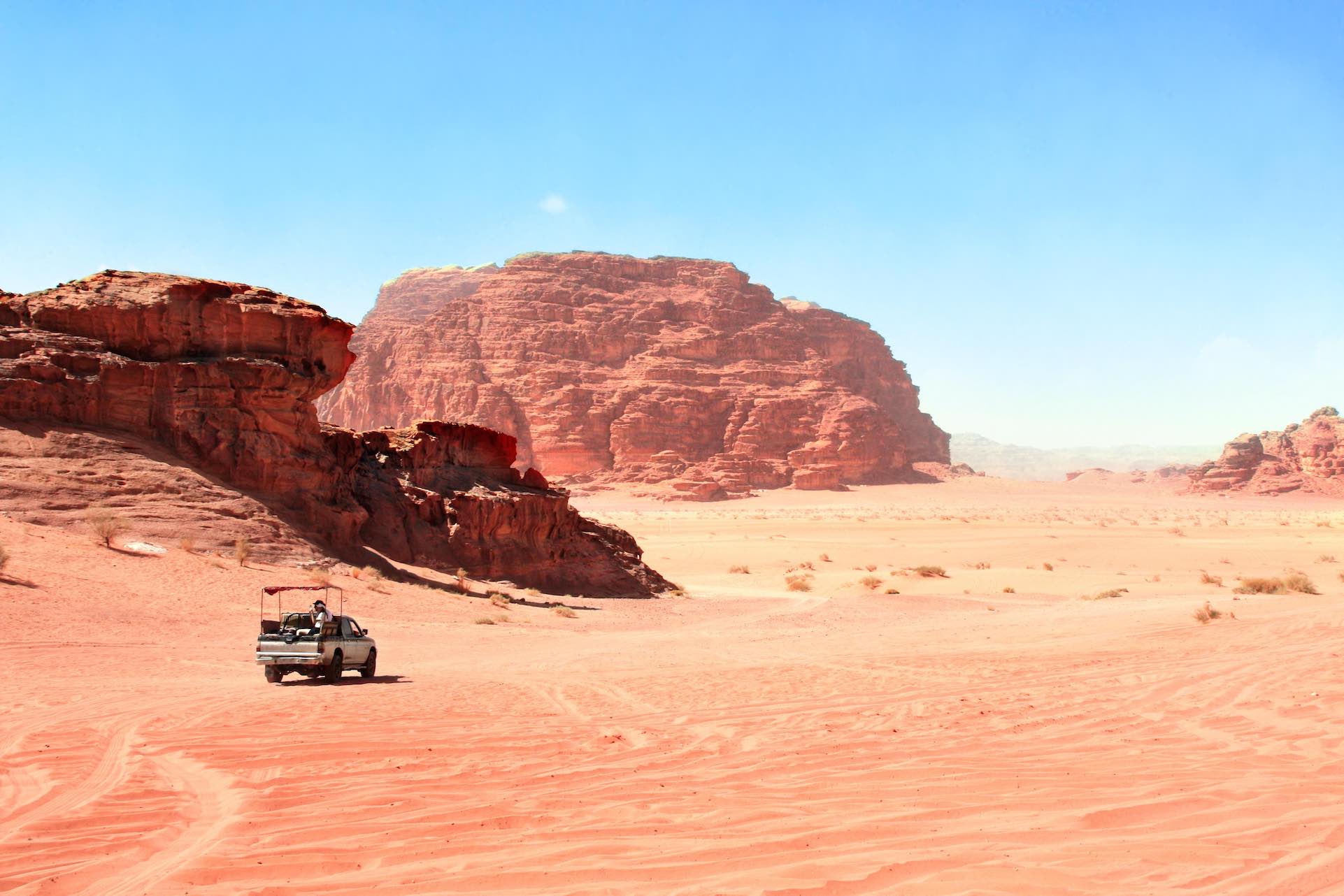 Wadi Rum UFO is the luxury desert camp of your dreams. Fully furnished glamping pods provide a private desert experience with the option to participate in cultural experiences alongside a Bedouin guide. The most popular thing to do at camp is to go stargazing. With desert and sky stretching on for miles without interruption, there's not a star you won't be able to see.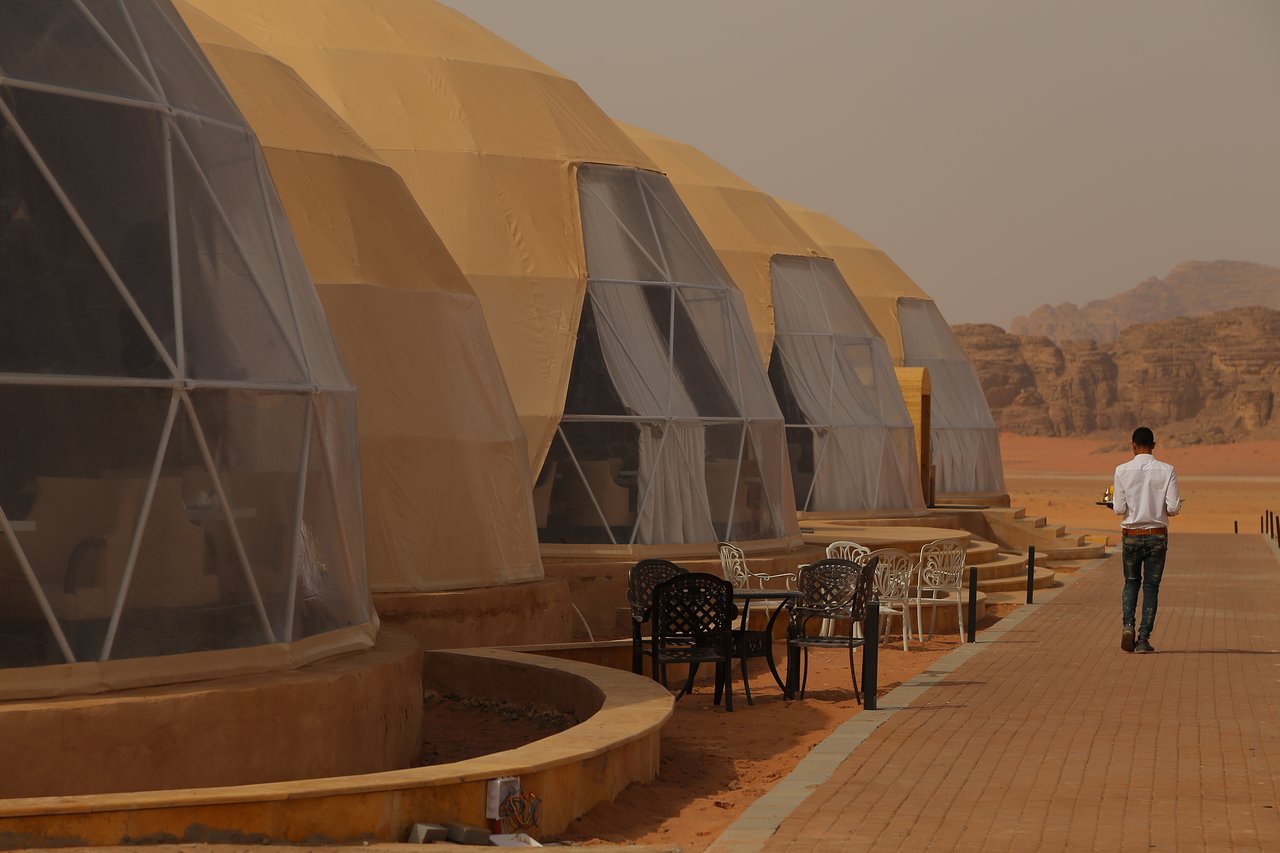 The resort has partnered with Dark Sky Wadi Rum to provide massive portable telescopes to guests and on-site astronomers to answer your burning questions about the universe. Whether you are an astronomy aficionado or a looking for a romantic evening with your loved one, stargazing in the desert is the best of the best.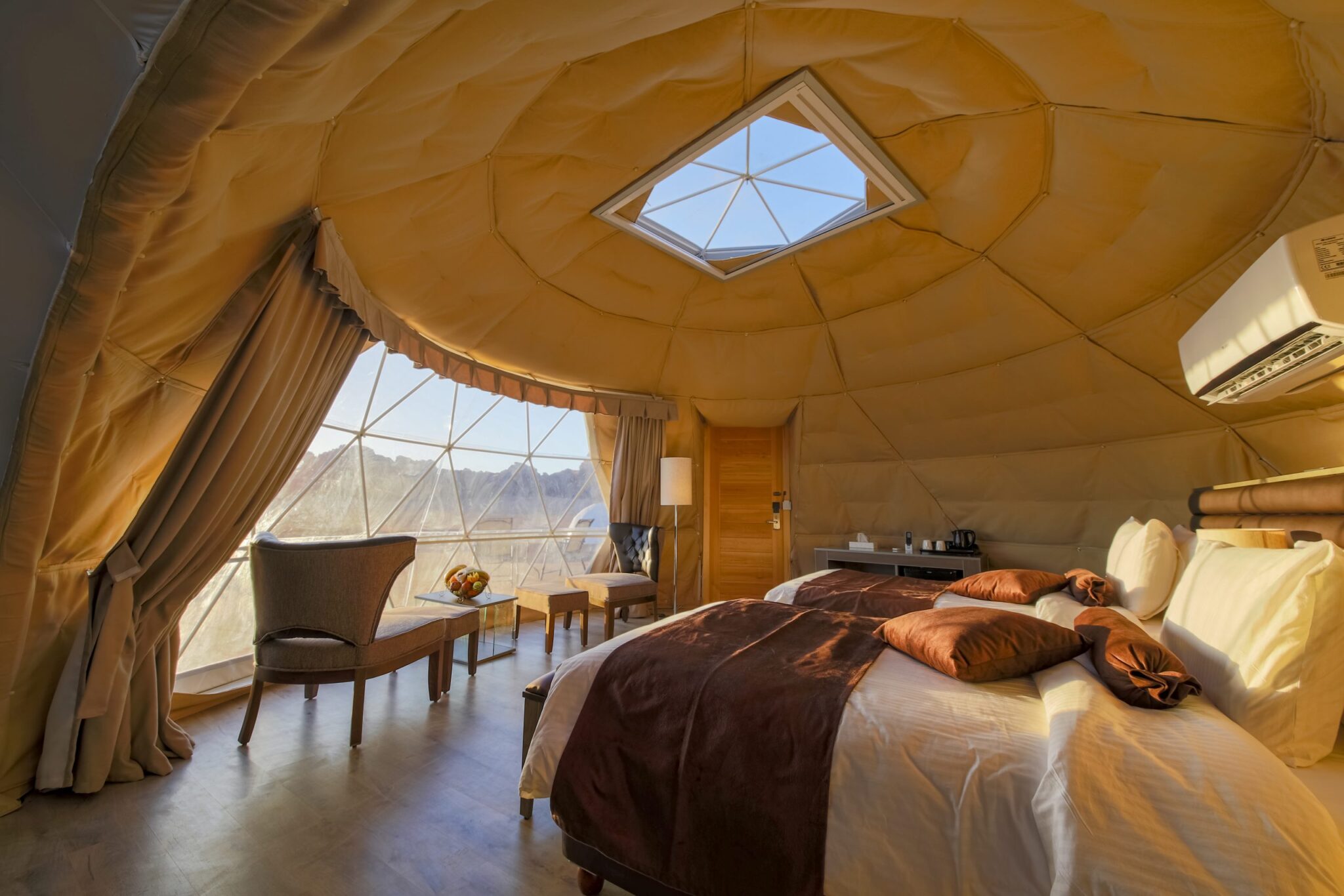 Egypt- Adrère Amellal & Siwa Oasis
This is an eco-lodge like nothing you have ever seen before. This picturesque luxury hotel is constructed entirely of mud, salt and stone and does not have any electricity. That's right- the entire lodge is lit only by fire and candlelight once the sun sets over the desert. The sanctuary's architecture is quite biblical in nature and aims to honour cultural Berber tradition.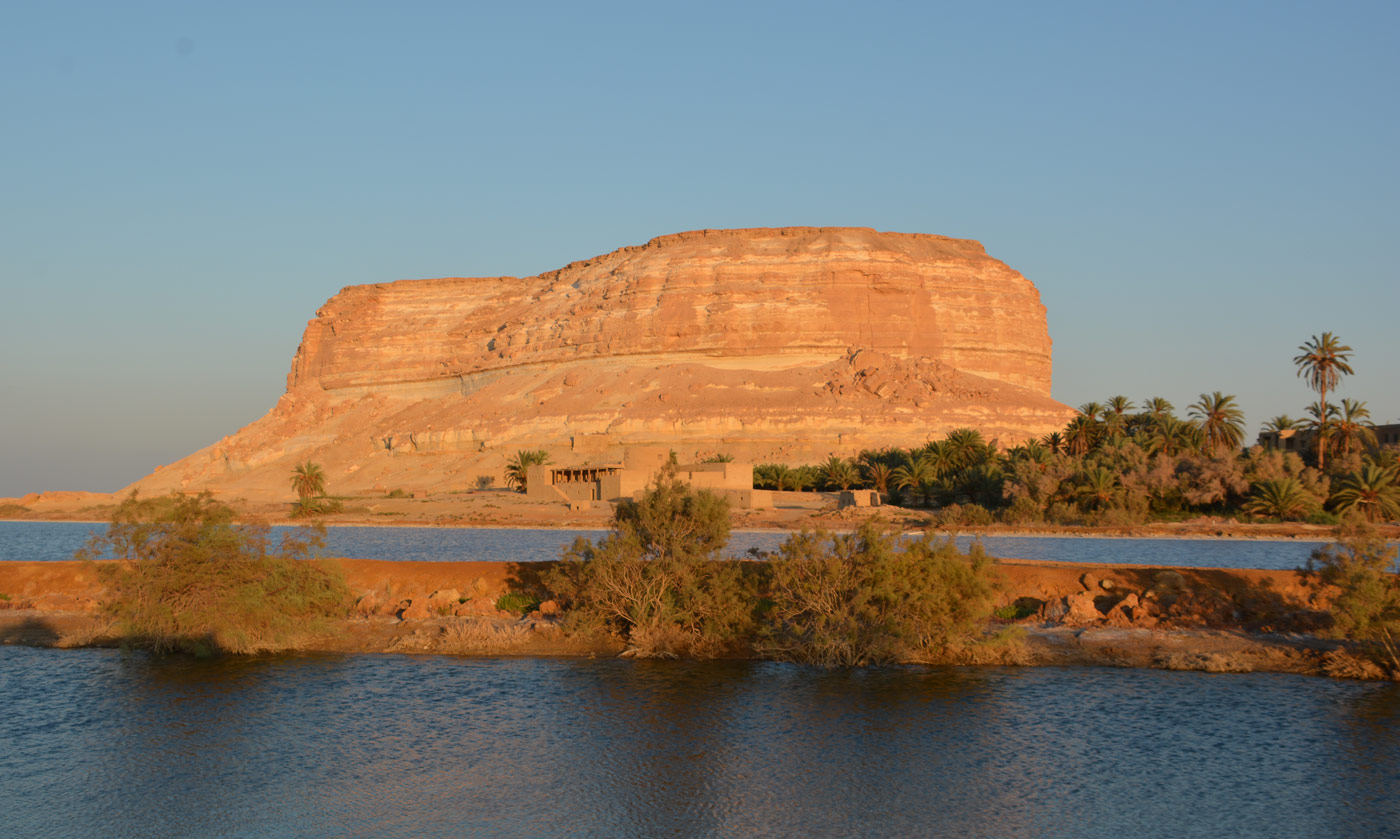 Despite being located in the middle of the desert, the lodge is also perched beneath a mountain, beside a salt lake, and amongst a palm forest. If you're a gastronomy fiend, you will certainly adore the dining options at Adrère Amellal. Not only do they serve mouth-watering Egyptian-European cuisine, but they also create a dining journey throughout the resort grounds: breakfast is served on a stone patio, lunch is served al fresco in the middle of the palm grove and dinner is served in a candlelit cave.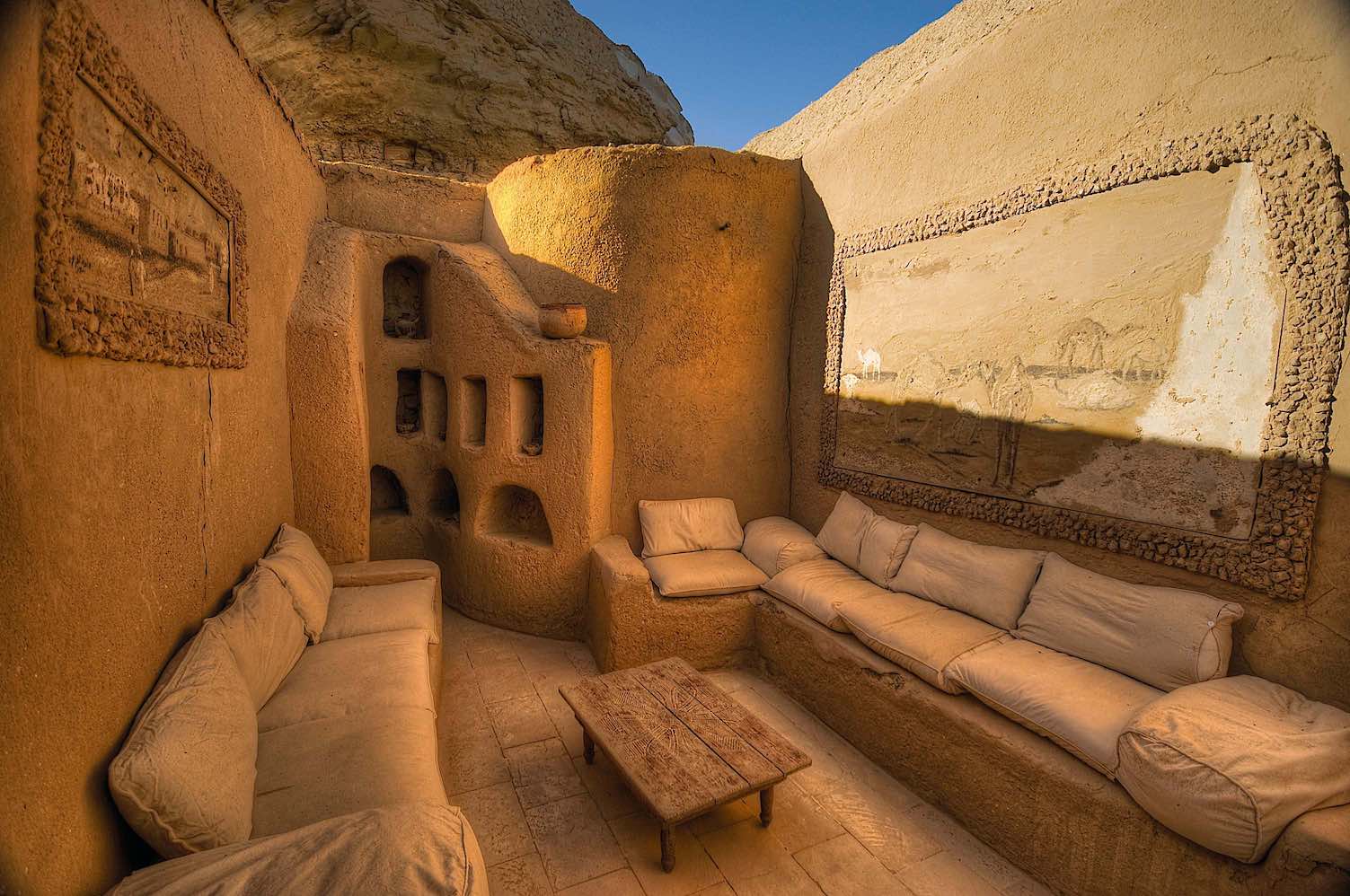 Israel- Isrotel Exclusive Beresheet
Isrotel Exclusive Beresheet is reinventing the classic desert holiday experience in magnificent, world-class style. These modern stone guest villas are in a league of their own, topped only by the resort's infinity pool overlooking the expanse of the desert (it was even named the most beautiful pool in the world!)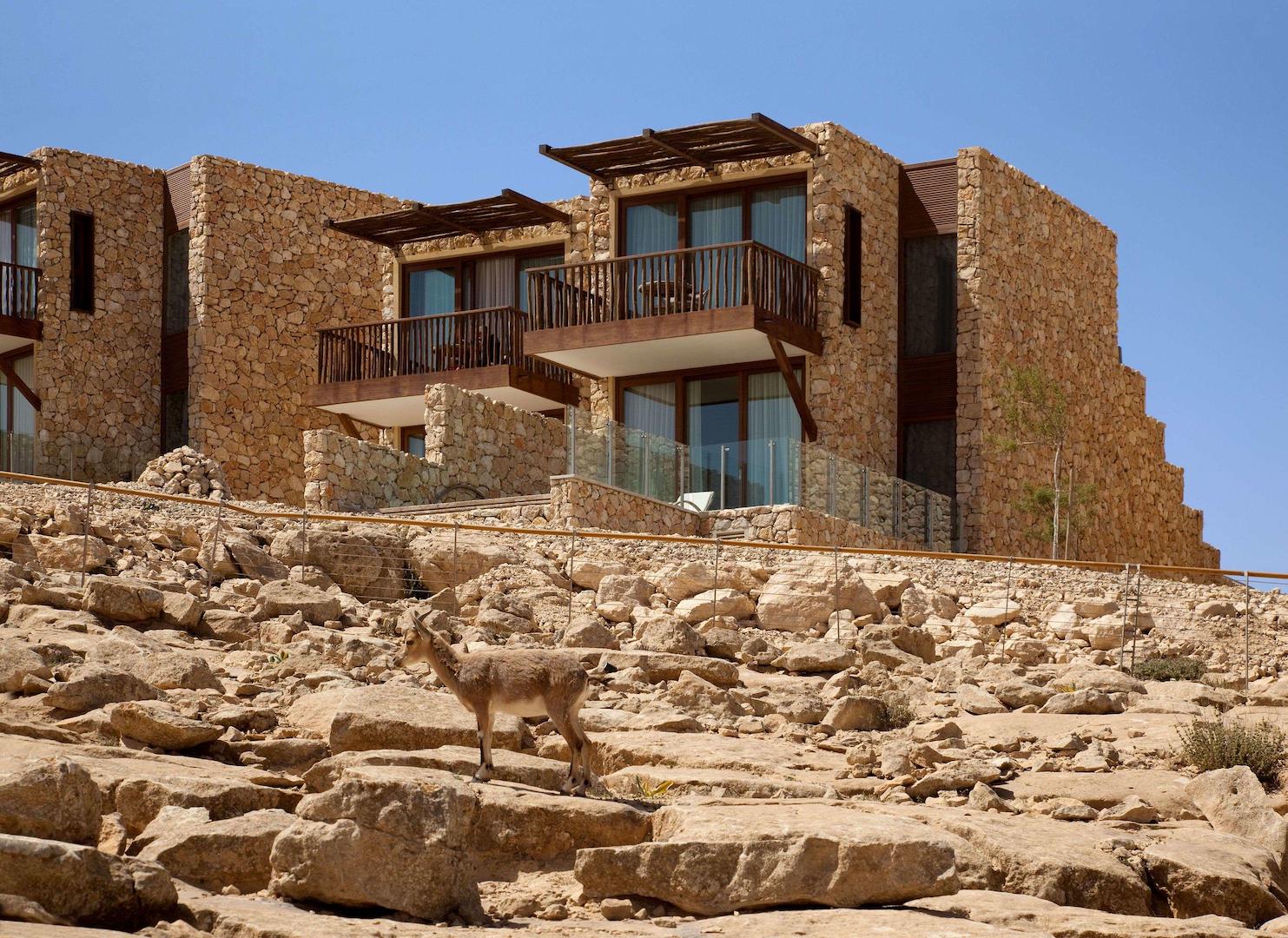 You can participate in any of the typical desert activities such and hiking and camel excursions, but you may want to consider booking one of their hot air balloon rides at sunset to really take in the the vast, moon-like landscape.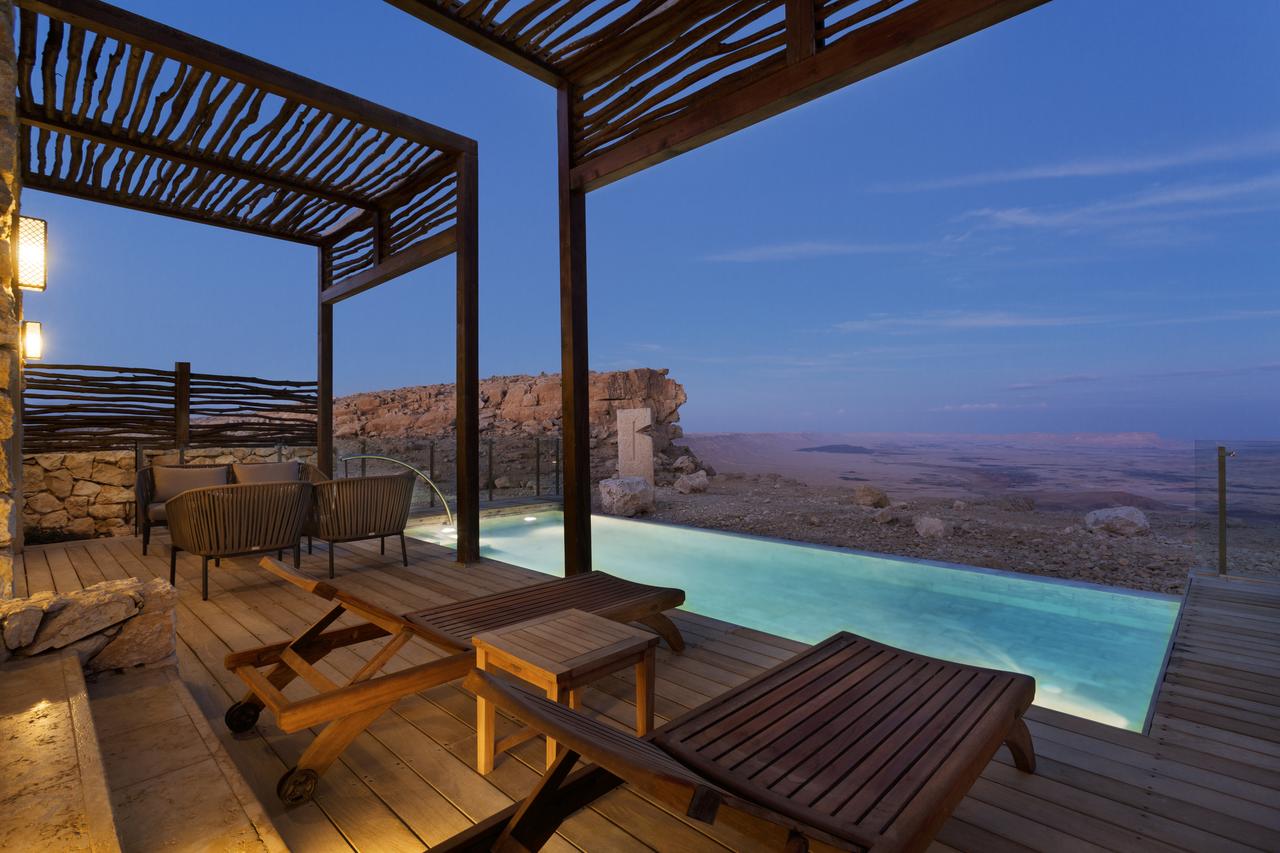 Palacio de Sal- Dali Desert Bolivia
Perched between the Uyuni Salt Flat (white desert) and the Dali Desert of Bolivia, Palacio de Sal is a hotel made of, you guessed it-salt. Even a majority of the indoor furniture here is made of a salt base. The hotel's spa features many indigenous wellness treatments and floor-to-ceiling windows to panoramic views of the Uyuni.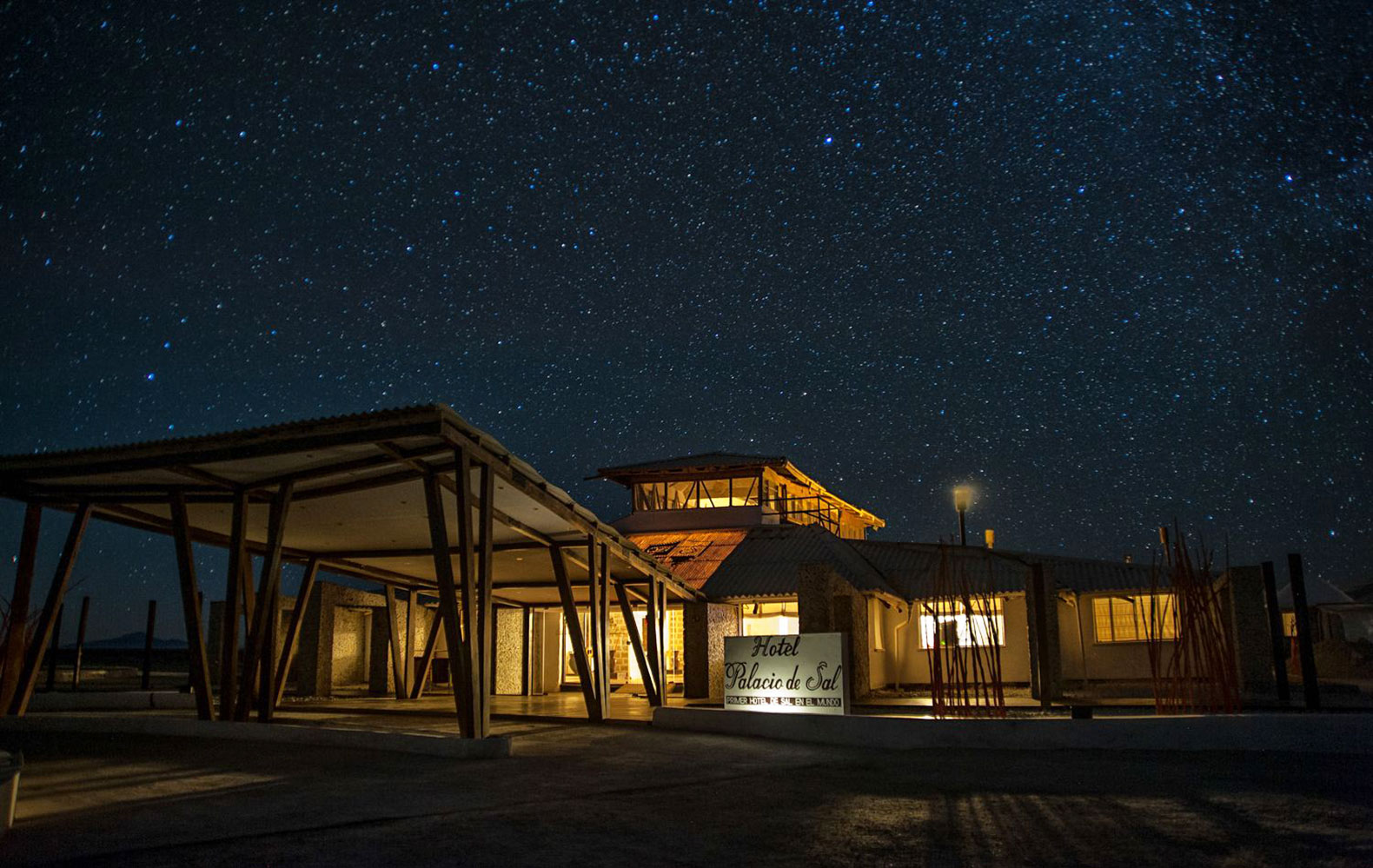 Communal lounge spaces are abundant and diverse, with a space to suit your every mood, but my favourite is the hammock room. Nearby, you will be able to explore two separate deserts, the Dali and the Siloli desert (part of the the Atacama desert, straddling the Chilean border). You'll also be able to visit the Celeste Lagoon known internationally for its enormous flocks of flamingoes and Potosi, the world's largest silver mine.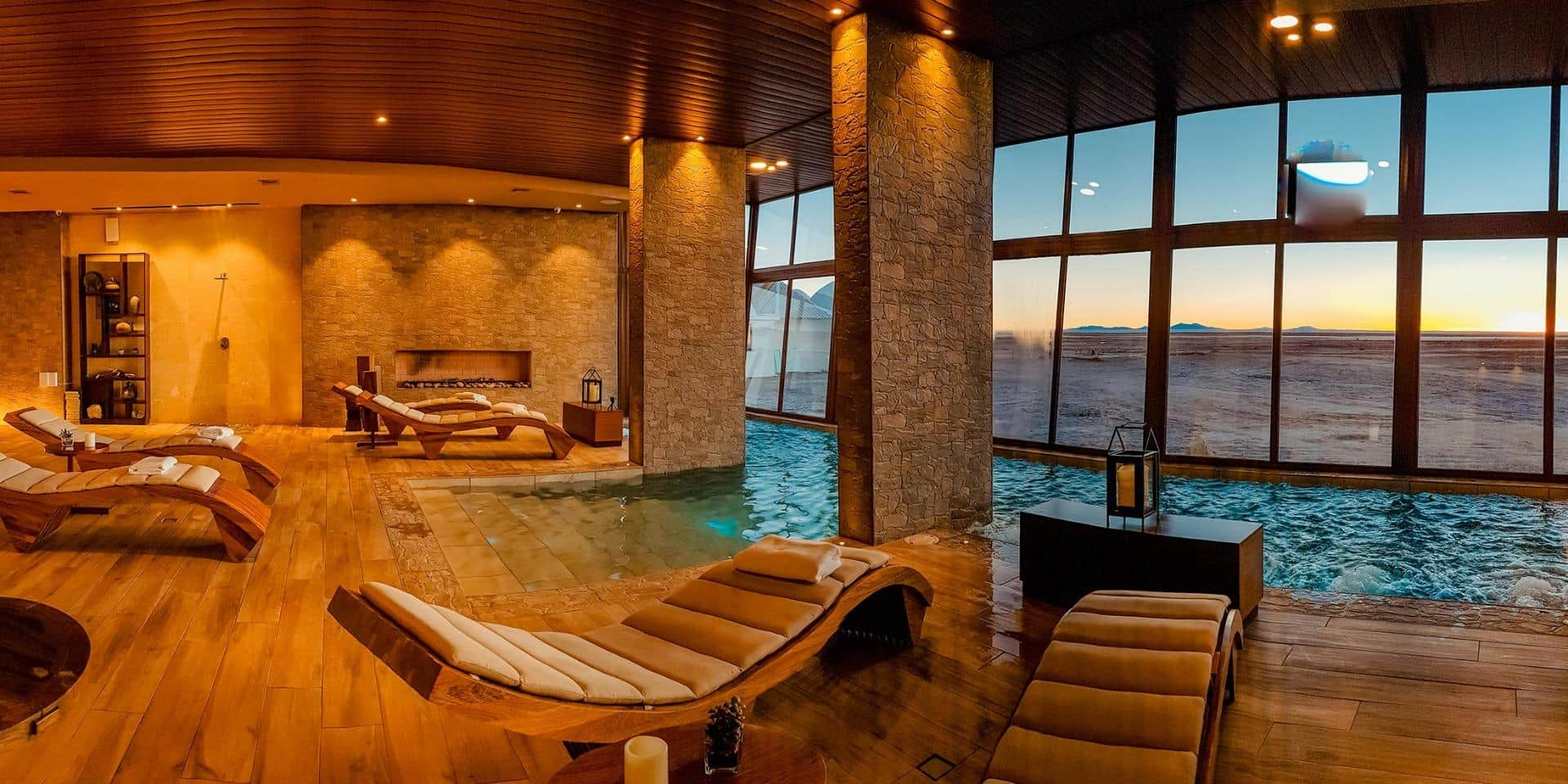 Sahara Desert, Morocco-Riad Serai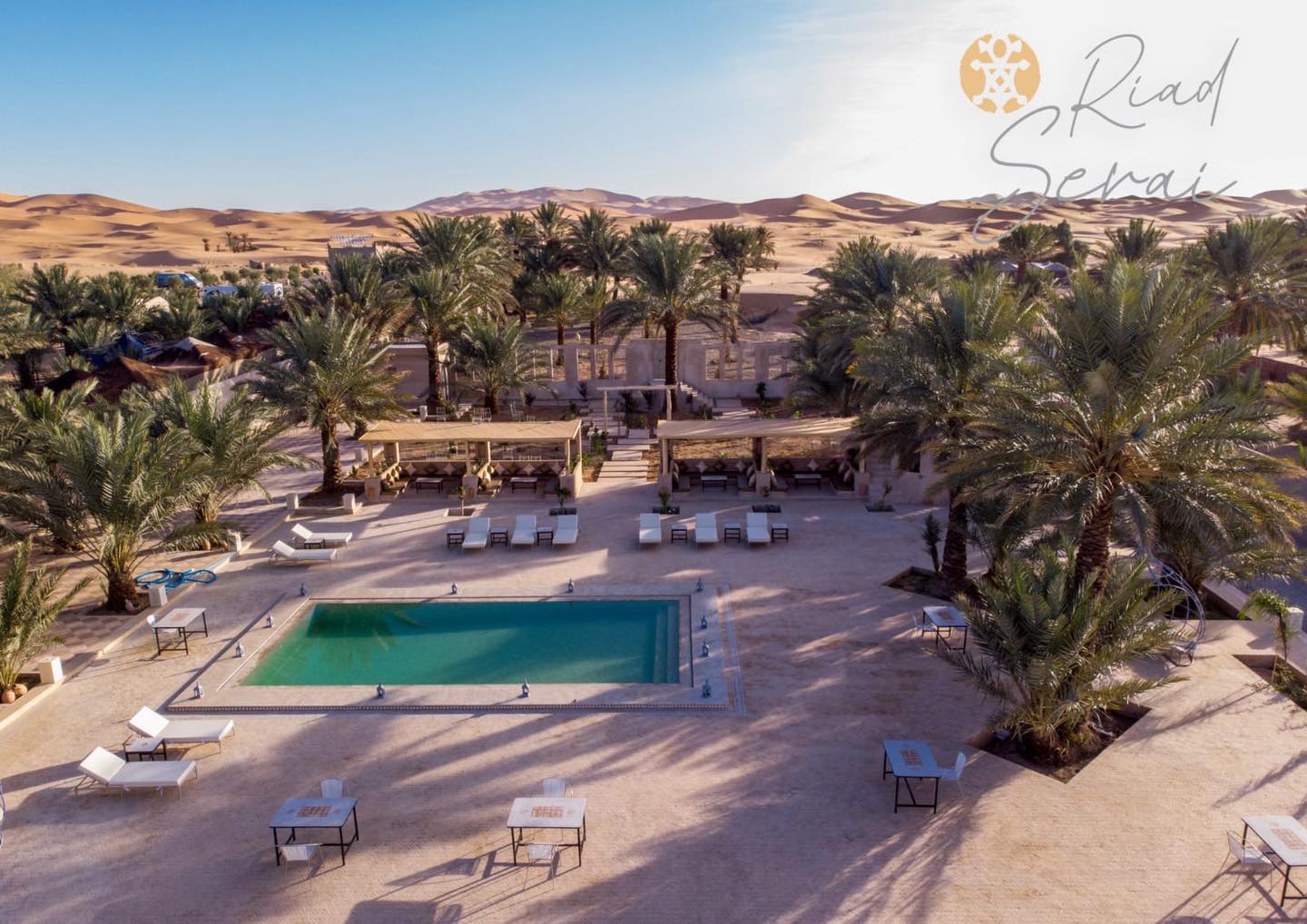 Hidden amongst the sand dunes of the Erg Chebbi desert is one of the most luxurious desert retreats you will ever find- Riad Serai. Warm light and local textiles give this Riad a classic Moroccan design, while the guest suite interiors feature major Andalusian influence and decor that expertly combines bohemian style with high-end luxury.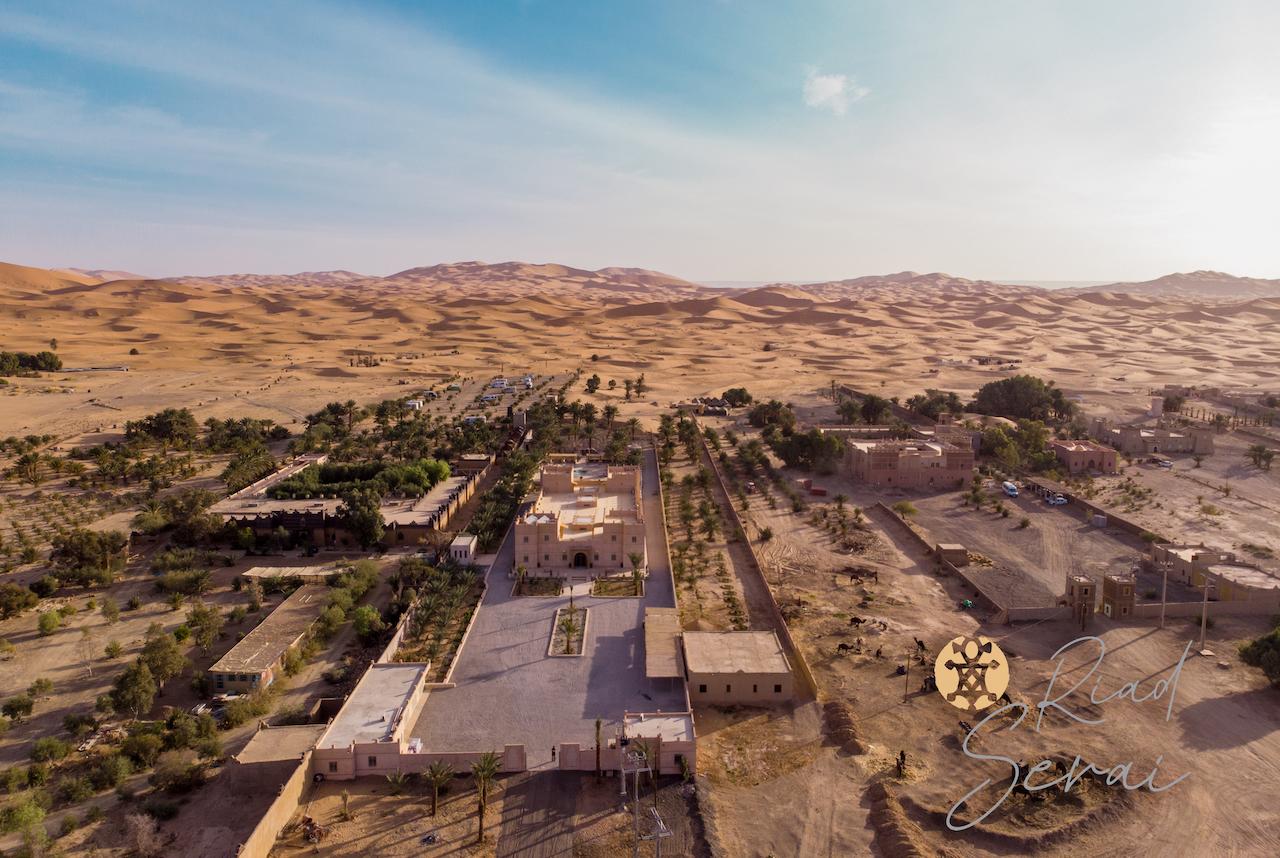 Serai's in-house restaurant is lounge-style, highlighting all-local cuisine and ingredients and is strictly chef's choice-you'll never eat the same thing twice here. You may choose to add a private oasis picnic, a sleep under the stars, or a camel trek to your vacation, or you can simply lounge on a daybed by the pool, looking out over the dunes.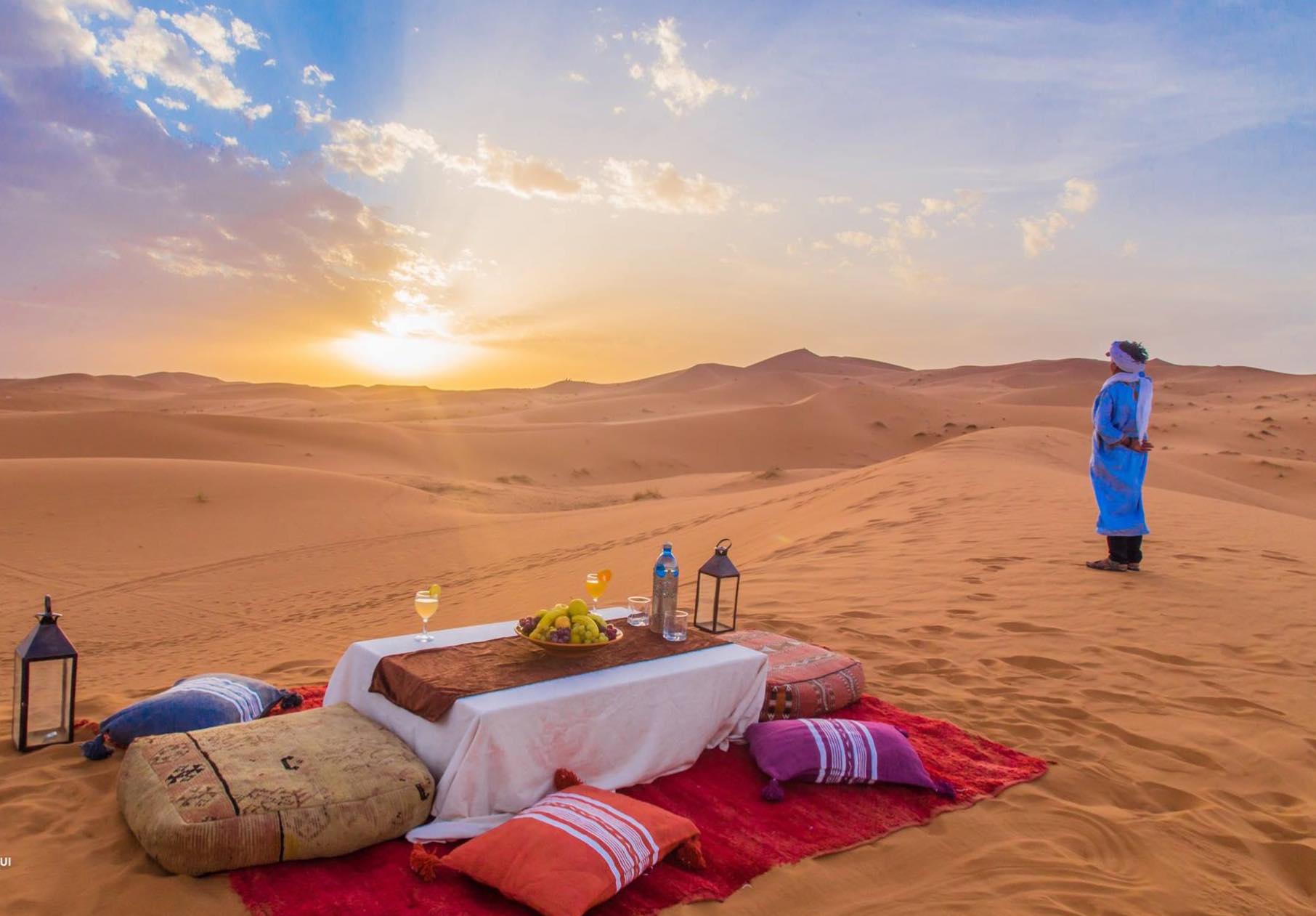 Oman- Dunes by Al Nahda
If you've been waiting for a desert destination that boasts mega-modern design and an amenity-forward approach to "glamping" look no further. These hard-walled tents hardly qualify as camping with their television, air conditioning, wifi and extravagant interior design, but you'll be closer to nature than ever.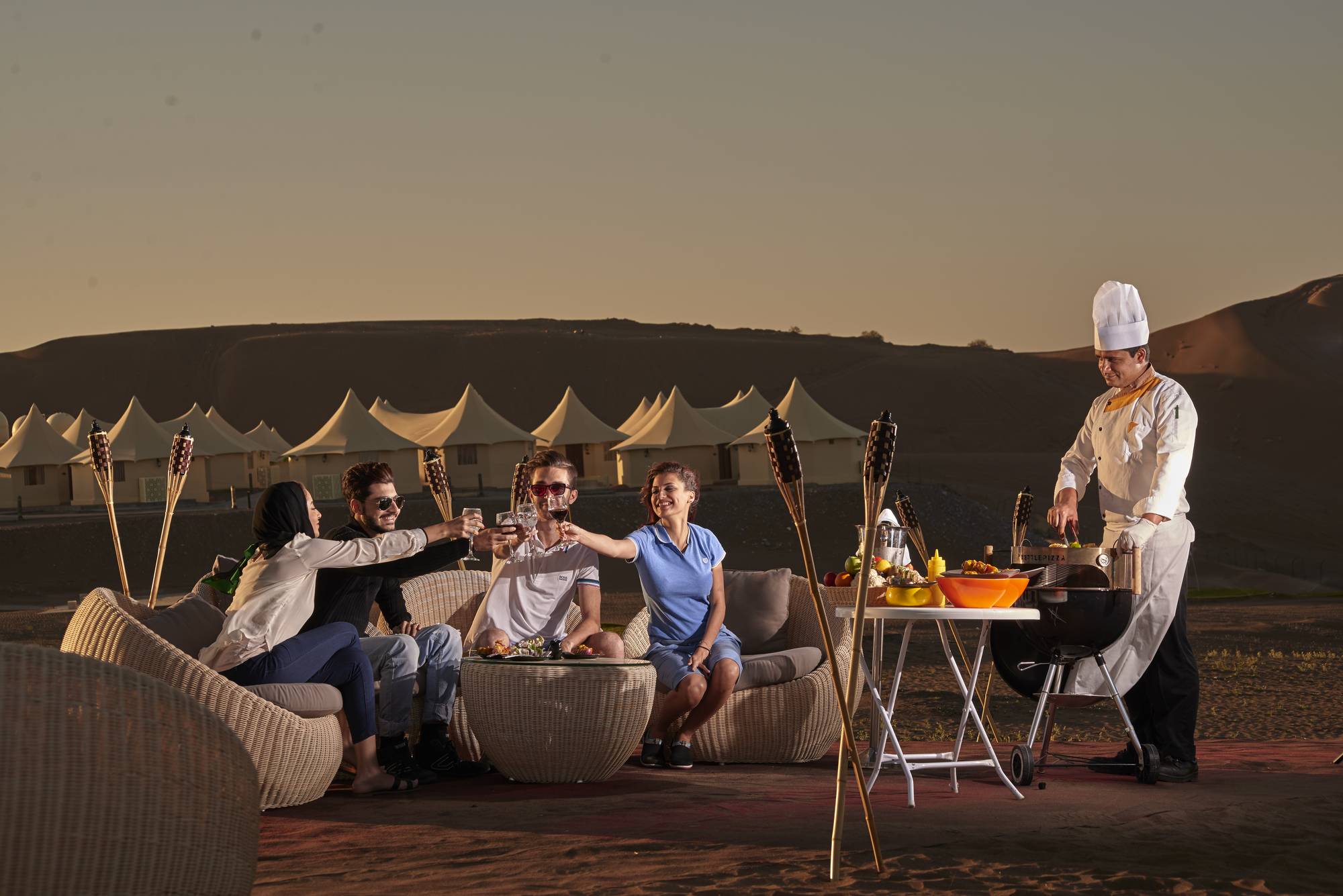 Believe it or not, Dunes actually has a desert-sand golf course on-site and guests frequently rave about their range of high-intensity and slow travel activities. Whether you want to fly down the dunes on a sand-board, fly a kite with your family or have a barbecue under the stars, you'll never find yourself battling boredom. We highly recommend a trip to their Egyptian sand spa, where you can take a traditional sand bath known for relieving pain and muscle tightness.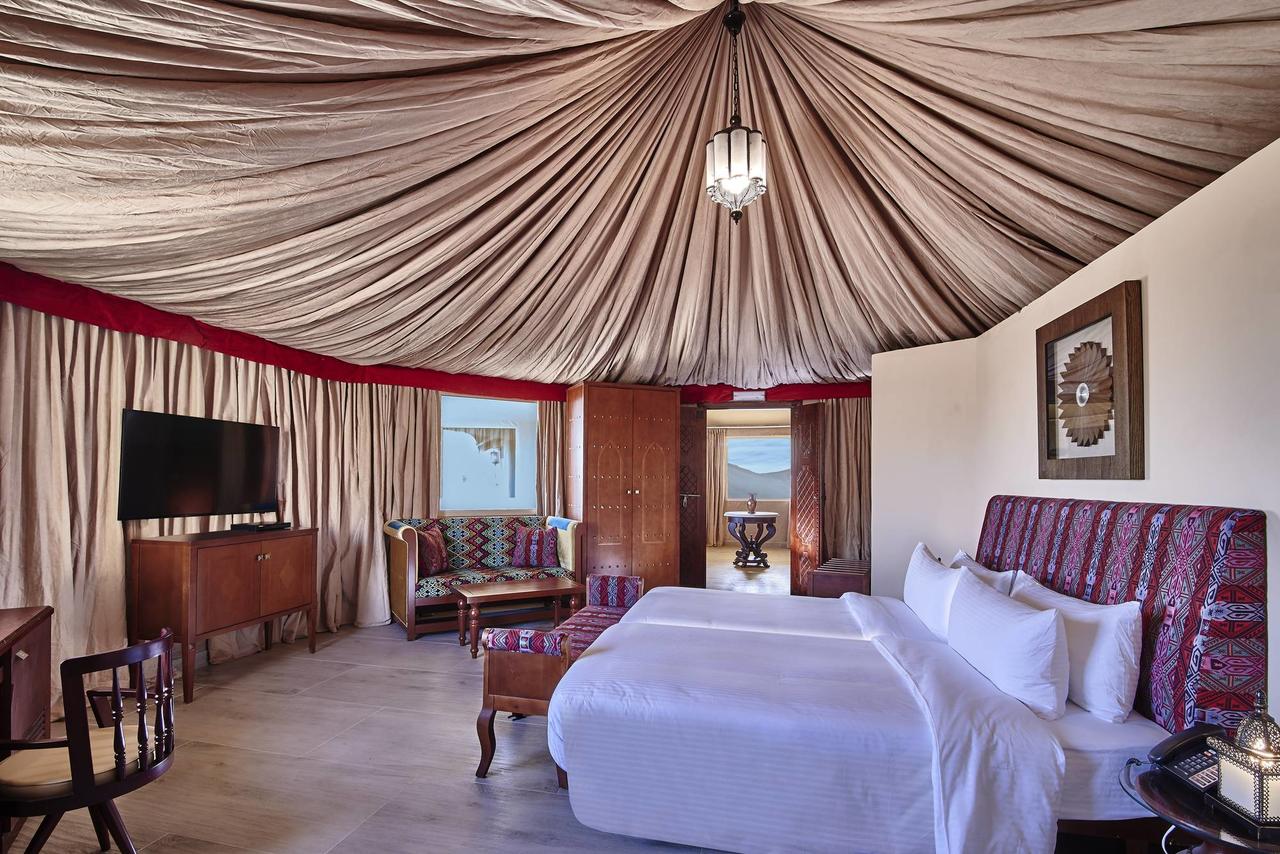 Namibia- Mowani Mountain Camp
Mowani is the eco-resort you've been waiting to fall in love with, tucked into the prehistoric boulders that are a natural stable of the Namibian desert. Those looking for out-of-this-world luxury should upgrade to the mountain suite, where you will be treated to an open-air room, a secluded outdoor bath/shower area and the best views in the entire resort.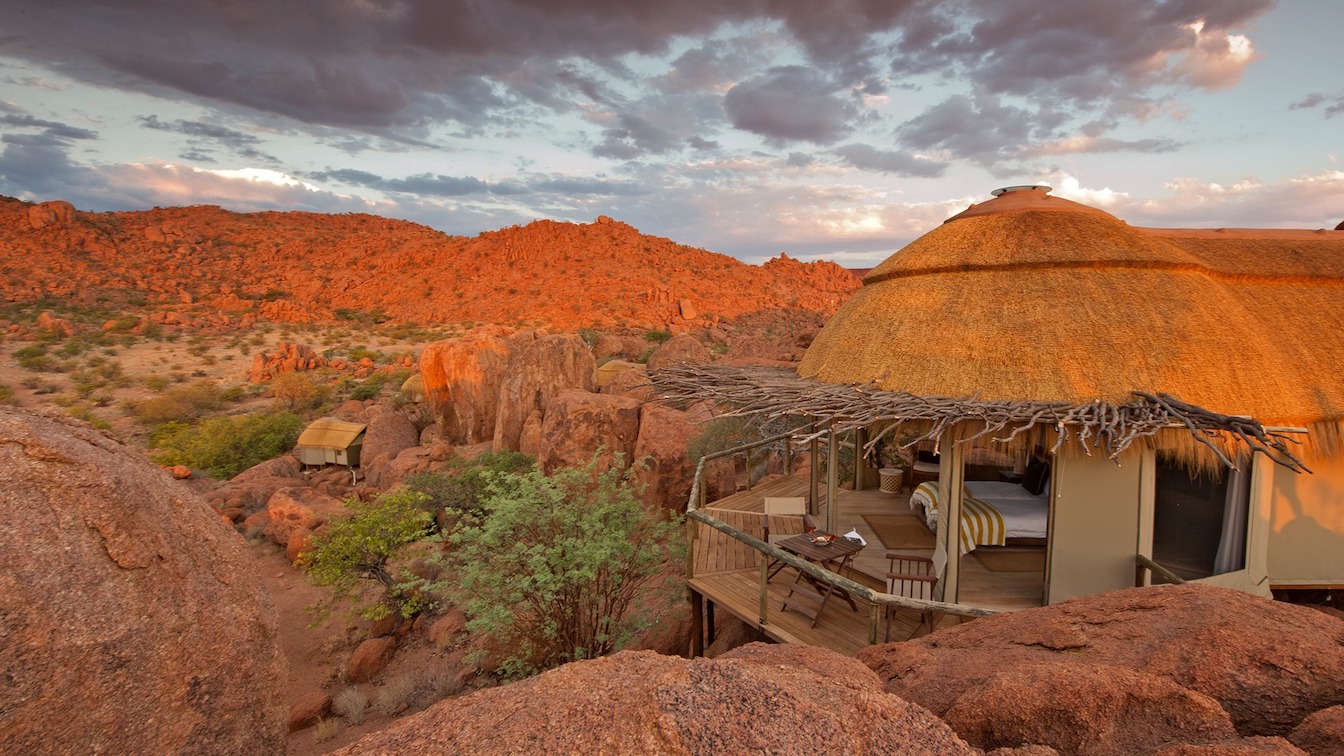 Perhaps the treated feature of this desert destination is that it is also a private game reserve! If you're lucky, you might catch a desert-adapted elephant or rhinoceros wandering past the viewing deck. Otherwise, you can always sign up for a nature drive with the resort, where the experts will lead you right to them.