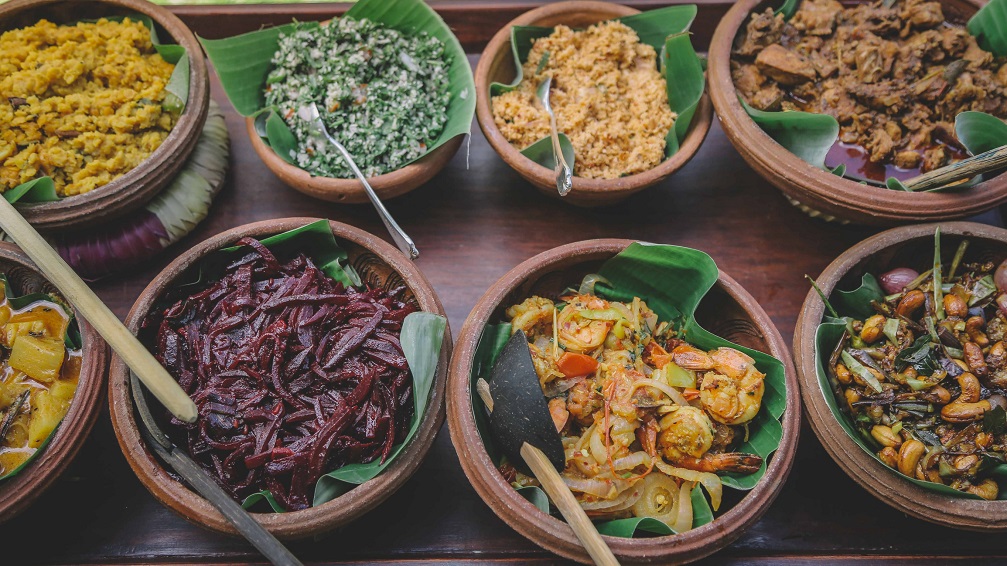 Sri Lankan food is for the adventurous eater, with its scorching curries, spicy pickles and onion relish. Most Sri Lankan cuisine is quintessentially boldly flavoured and pumping hot. 
Rice is an integral part of every meal and "rice and curry" is a staple and available everywhere. 
Seafood is also given supreme importance in Sri Lanka, considering that it is an island country. 
Try some Fish ambul thiyal, a kind of sour fish curry, made from fish like Maldive fish-tuna, cooked with spices and dried goraka, a fruit that gives the dish its sourness. On the other hand, the Parippu or dhal curry is the most common type of curry and is created out of red lentils, spices and coconut milk. You can't miss Polos, which is a delicious green jackfruit curry, cooked with spices, garlic, ginger, onions and coconut milk.  
Your trip to Sri Lanka isn't complete without trying hoppers or appams. An appam is like a wafer thin pancake, which is whipped up from a batter of rice flour, coconut water or milk and a tinge of sugar. Sop it up with some curry for maximum effect. String hoppers, which are noodles made of rice-flour, are also quite common. 
Apart from curries, pickles are also savoured as an accompaniment to most main dishes. Taste 
the Wambatu Moju, an eggplant pickle, with a contrast of sweet, salty and sour flavours that tease the palate. 
Coconut is the main ingredient in many Sri Lankan dishes, and the Pol Sambol, a kind of coconut relish is one dish that pays it a fitting salute. A mix of grated coconut, chillies, fish and salt, it is served as a side dish with almost every main. It is best relished with rice and curry, paratha, appams or rotis. 
If you're walking through the streets of a bustling market, you'll come across the Kottu, which is a type of Sri Lankan hamburger. It is made with a godamba roti, fried with your choice of ingredients, and served with some piquant curry sauce. Another popular snack is the wood apple, a coconut sized fruit, with a hardened shell exterior and a brown paste inside. It can be eaten or drunk and has the texture of a smoothie. 
Ceylon tea, which is produced in Sri Lanka, is widely drunk all across the country and is a representation of its identity, heritage and culture. 
To sum up, Sri Lankan food isn't for the fainthearted. But, if you're willing to be slightly brave with your food choices, your taste buds are in for a delectable treat.