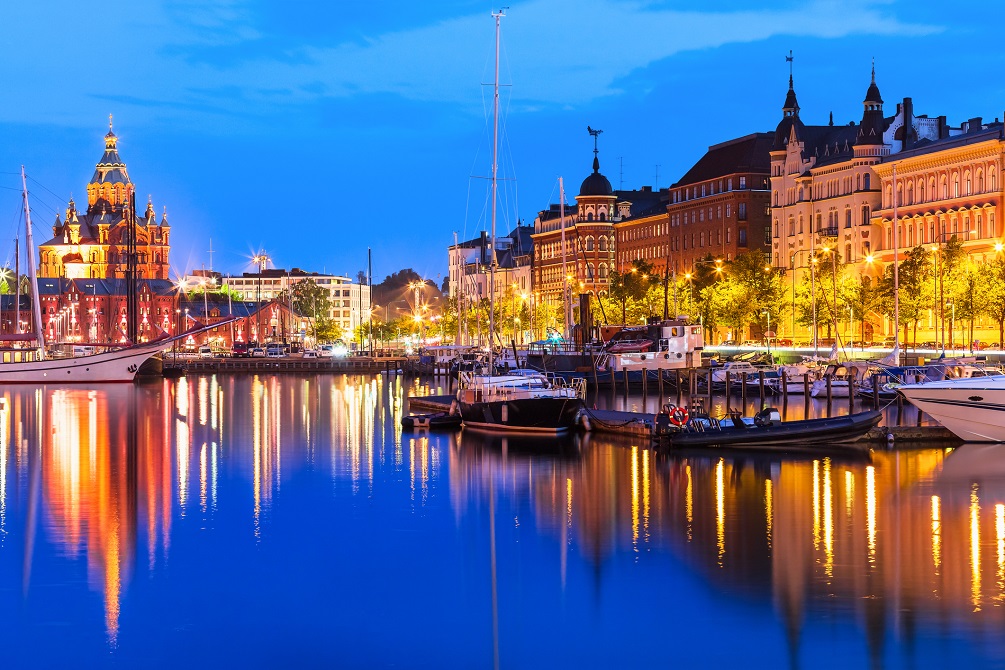 If you're craving pure unadulterated air, picturesque lakes, and dense forests, Finland is the place for you. With some of the best hiking trails and kayaking adventures, along with an abundance of national parks, you can catch a glimpse of bears and elks in their natural surroundings. 
How you experience Finland depends on when you visit. Winter has a charm of its own. In Winter, you can take a snowmobile or charter reindeers and dogs for a ride along the snowy paths.
Of course, the main attraction is the aurora borealis, The Northern Lights. Other activities include sauna baths, skiing, ice fishing, and staying in an ice hotel. In Summer, Finland comes to life with abundant produce, art exhibitions, music, and midnight sunlight. 
While much of Finland is covered with immaculate wilderness, it also has some pulsing cities. Its capital, Helsinki, is quite cosmopolitan and contemporary with stylish restaurants and bars. Apart from Helsinki, you must visit Tampere and Turku, which are also spirited and engaging. 
Drop into The Suomenlinna Fortress, which is one of the biggest sea fortresses in the world, and is minutes away from Helsinki's Market Square. You can't miss a visit to Helsinki's harbor which is a fundamental part of the city and has a busy marketplace with local fishermen, farmers, and food vendors. Much of the city folk gather in the promenade of Esplanadi during the summer.  
You can't leave without stopping by Rovaniemi, famous for being the home of Santa Claus. It is also a great place for skiing and sledding on reindeers. Another must-visit is the second oldest town of Porvoo, which has redwood buildings, a scenic waterfront, quaint streets, and a hilltop cathedral. 
Finland is abound with water bodies like rivers, ponds, and lakes. Lake Saimaa, which is 1300 square kilometers in the area is the main lake of the region. Other interesting places are the town of Vaasa which was built in the 1300s, the Lemmenjoki National Park, the village of Oullo, and Hameenlinna.