How many people can say they've traveled to the arctic? Not many. Talk about bragging rights. If you've been looking for an off-the-beaten trail destination with a significant wow factor, look no further. Go where few men have gone before and consider one of these stunning luxury hotels located in remote Arctic and Subarctic destinations (situated near the edge of the arctic circle) across the northern hemisphere. With glaciers, mountains, ice-crusted oceans, and some pretty rare wildlife encounter- trust us- you'll be regaling the tales of these holidays for the rest of your life. 
Ultima Thule Lodge
Location: Anchorage, Alaska
Price: Starting at 750 GBP/person for a 4-night stay, all-inclusive
Guests: Up to 14
About: If you're looking to truly get away from it all, you'll be hard-pressed to find a location more remote than the Ultima Thule Lodge- You'll feel like you're living at the edge of the world. Would you believe us if we told you that from top to bottom, everything here (furniture, decor, wood stoves, etc.) was created on-site due to its secluded location? By the same nature, everything served to you in the dining room was caught, grown, or harvested locally. All your beverage needs will be well taken care of with premium house wines, local Alaskan microbrews, and made-to-order espresso all day long. If you really need a chance to unwind, you can enhance your stay with days spent in the Ultima Thule meditation yurt, flower gardens, wood-fired sauna and spa tub, or the Alaskana library. 
This lodge is so lovely, it's even won an award from National Geographic for being one of the best places to stay in the entire world, and we must admit, that's quite the recommendation.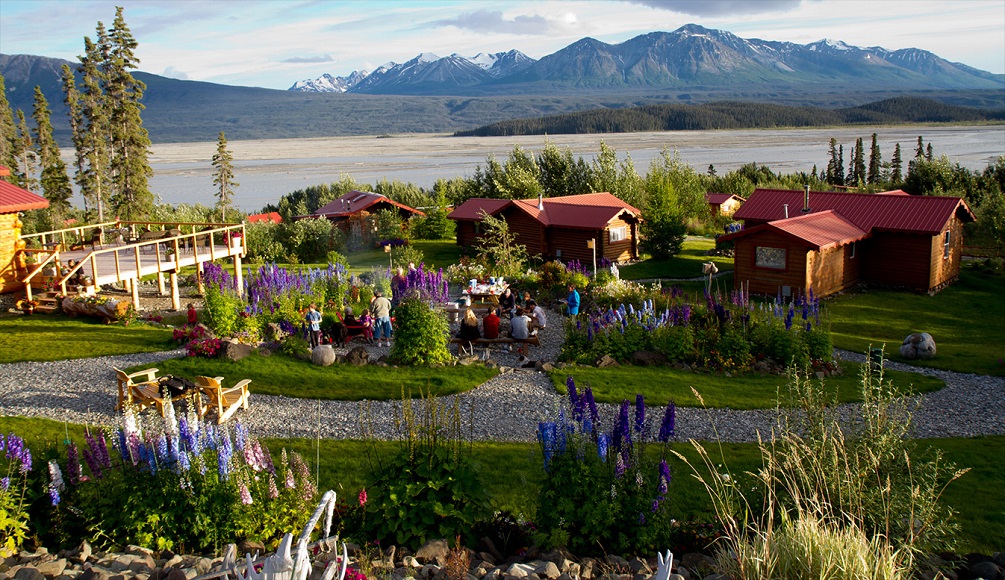 Photo credit to http://www.ultimathulelodge.com/
Storfjord Hotel
Location: Glomset, Norway
Price: Starting at 225 GBP/night
Guests: Up to 2
About: A wilderness-based hotel in coastal Norway, The Storfjord wants to introduce you to the concept of slow living. What does the perfect day look like? Wake up with an icy morning dip in the frigid lake to recalibrate your senses. Then, prepare to start your day with freshly collected quail eggs for breakfast. Take a trip to an authentic fjord farm to view the ingredient source and inspiration for the hotel menu. Here, you can learn about their cultural heritage through storytelling, take a Norwegian cooking class or simply enjoy a food tasting. On the agenda for the afternoon? Peruse the great works in the Storfjord library and curl up in a fluffy resort robe with your best find, then refuel with provisions from local cheesemongers and ales from the region's best microbrewers. As the sun sets, spend your last moments before crawling into bed sitting around a fireplace (by the sea or from the comfort of your room) or soaking in a mountaintop hot tub- the choice is yours.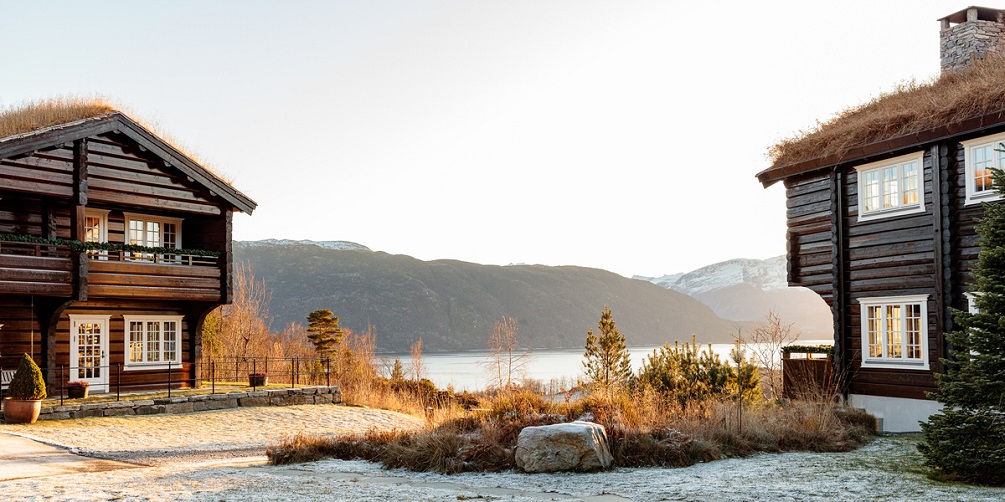 Photo credit to https://www.storfjordhotel.com/
Umi Hotel
Location: Hvolsvöllur, Iceland
Price: Starting at 335 GBP/night
Guests: Up to 2
About: Umi lies a bit below the arctic circle, but for an easily-accessible subarctic experience, you can't do better than this. Only a few short hours from Reykjavik, this Icelandic luxury hotel is surrounded by unspoiled wilderness: think never-ending icy fields, mountain ranges, and a striking view of the Westman Islands off the coast. For the full arctic experience, we definitely recommend a visit during the winter months where the snow will be blowing and the northern lights will make their remarkable appearance. The in-house restaurant serves a unique fusion of Nordic, Icelandic, and Japanese cuisines and serves an exclusively-local menu that changes with the seasons. With the perfect blend of remoteness and prime location, you'll feel like you've been transported straight to the North Pole, without sacrificing the luxuries that come with a prime, central location.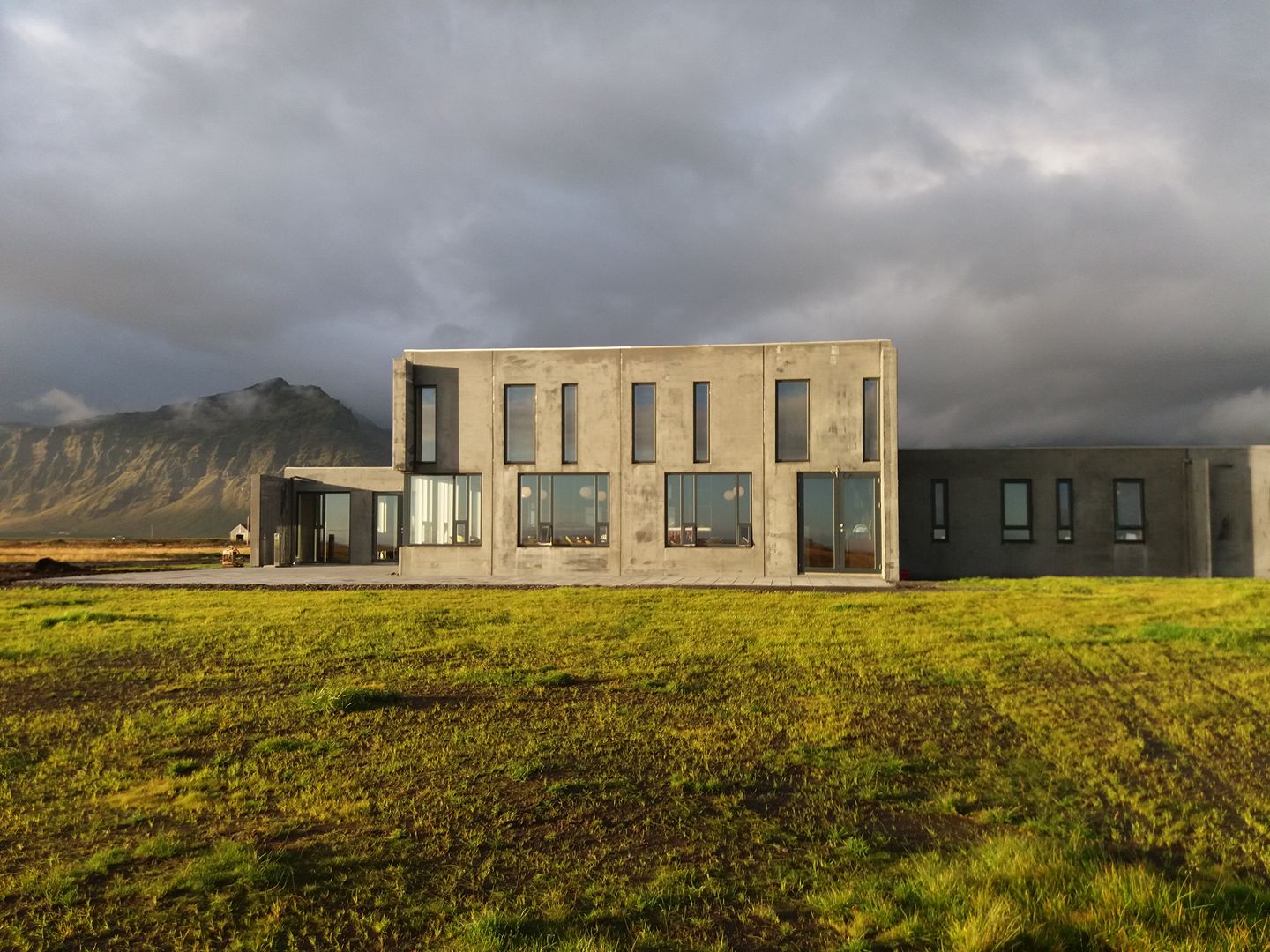 Northern Lights Ranch 
Location: Köngäs, Finland
Price: Starting at $765 GBP/person for the first night, $190 GBP for the second person 
Guests: Up to 2 adults, plus small children
About: Don't let the word "ranch" fool you. This hyper-modern luxury resort resembles nothing of the sort; it might just be the most romantic destination on this list. Take a midnight skate together under twinkling lights (on an outdoor, heartshaped rink, we may add), rent a private hot tub in the snow, or make reservations by the fireplace at the hotel restaurant serving up reinvented northern cuisine- the date night possibilities are endless. Oh, and by the way, the "ranch's" resident reindeer can be seen grazing from the restaurant windows.  If you think it can't get more romantic than that, think again. Each private guest cabin has a glass ceiling for viewing the northern lights and cuddling up under the stars.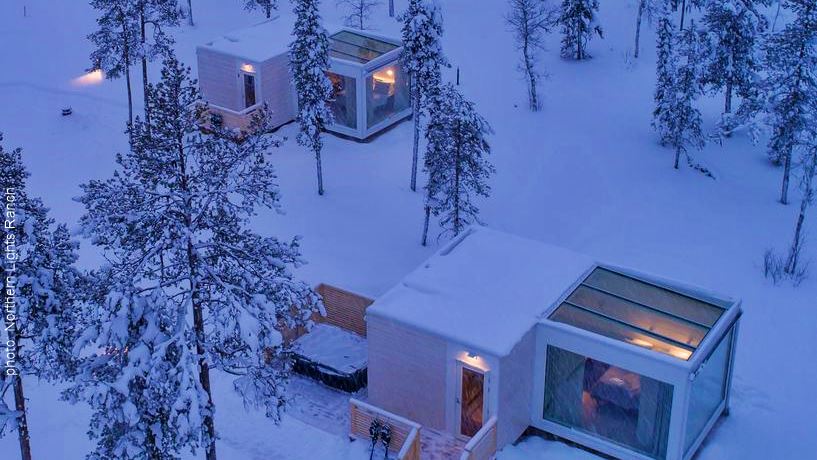 Photo credit to https://www.activity-holidays-europe.com/
Arctic Bath
Location: Harads, Sweden
Price: Starting at 1990 GBP/unit
Guests: Up to 5
About: Arctic Bath is comprised of a collection of Scandanavian guest cabins with an eco-resort approach to sustainability. Some are elevated on stilts above dry land (well, snowy land at least) but the true stars of the Arctic Bath resort are the overwater (ice) cabins with floating boardwalk access. The hotel itself is named after a key guest experience- A traditional cold bath followed by a relaxing trip to the sauna to warm up, included with your stay. 
Arctic Bath truly embraces local culture with integrative activities and inspired cuisine. During the day, you can go spin fishing, ice fishing, dog sledding, embark on a moose safari or meet the local Sámi people and their reindeer, the latter of which is always gets rave reviews. Many guests, especially those with kids, fondly remember this experience as their favorite travel memory, EVER. For your big meal of the day, take a gastronomic journey as the resort's restaurant serves you a bespoke 5-course menu of arctic specialties. In contrast, breakfast is served a la carte, and lunch is described as a light selection of dishes "inspired by northern classics" To us, it sounds like every meal is ready to impress.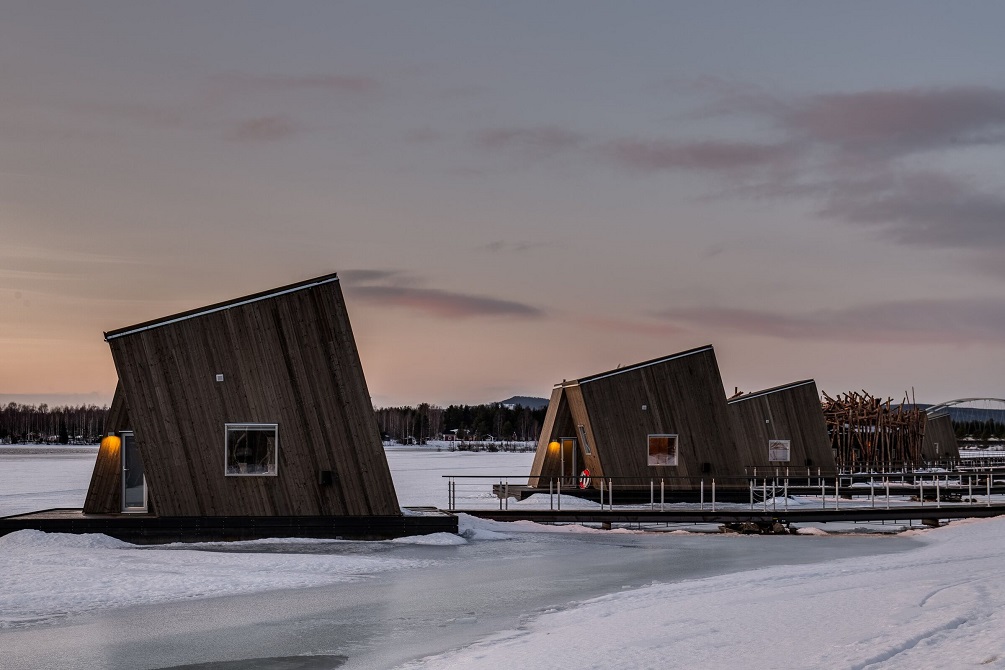 Wolf Lodge
Location: Bardu, Norway
Price: Varies, all- inclusive
Guests: Up to 6 (8 if 2 are young children)
About: Completely unexpected, the Wolf Lodge may just be Norway's best-kept secret; tucked away into the world's most northernmost animal reserve.  Situated well above the arctic circle, the Wolf Lodge promises you a real arctic experience through and through, with a little twist. You see, Polar park is home to hundreds of wolves that are accustomed to human interaction. This reserve-based lodge was built with floor-to-ceiling glass windows in every room, so you will feel like you're living in the forest yourself.  You'll have the Aurora Borealis painting the sky each night, but that view pales in comparison to the opportunity to observe the wolves living in their natural habitat- with you in it. The wolves are known for coming up to the window, meaning you'll get closer to the wildlife here than you ever would have imagined possible. To ensure you have the most extraordinary wolf-viewing experience, the owners recommend booking your stay in line with the cycles of the moon. The design of the lodge itself is surprisingly extravagant and luxurious and your stay is all-inclusive meaning you'll never have to leave. Talk about a unique and relaxing retreat.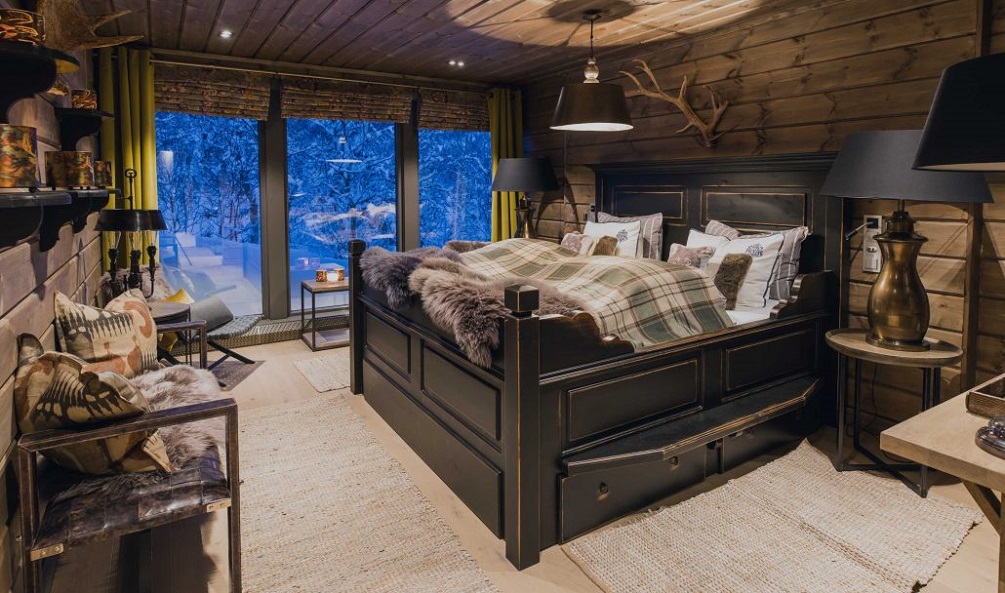 BONUS! Antarctica: White Desert
Location: Antarctica
Price: Varies
Guests: Up to 12 with a complete buyout
About: Okay, okay. So this one isn't in the arctic. In fact, it's the polar opposite. See what we did there? 
All jokes aside, White Desert is definitely one of the most unique, luxury glamping experiences in the world. Take advantage of this once-in-a-lifetime opportunity to explore Antarctica like a renowned scientist, but with a little more style and much better amenities. After spending your first evening at Wolf's Fang, perched on a glacier, you'll then fly to Whichaway, where the White Desert experience all began. Both camps have award-winning chefs, long-table dining (so be prepared to make some new friends), luxury lounges (with post-card writing stations), and the finest selection of Cape Town Wines. Importing fresh ingredients and expensive liqueurs might not be easy, but White Desert simply does not skimp on part of the luxury experience.  Wolf's Fang is home to the "world's most remote ice bar" where you can sip craft cocktails in the Antarctic snow, and at Whichaway, you can experience your first glacial alfresco meal with the adventurers' picnic. From there, you can pack on as much activity as you'd like from ziplining and ice climbing to zodiac penguin tours and scientific presentations.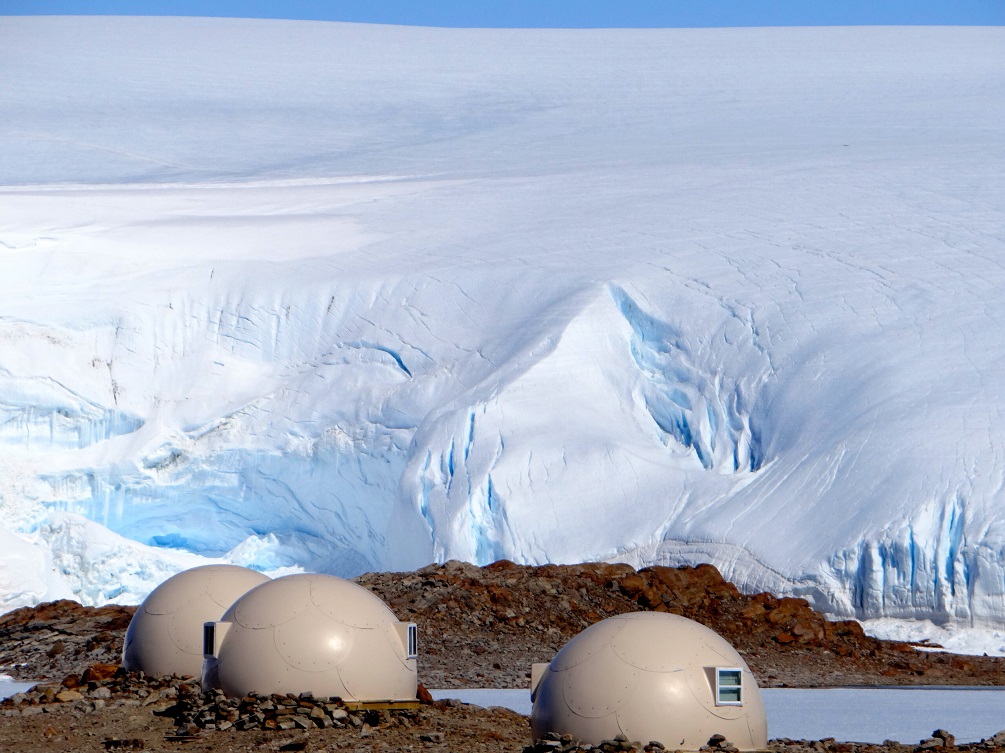 Photo credit to https://globetrender.com/