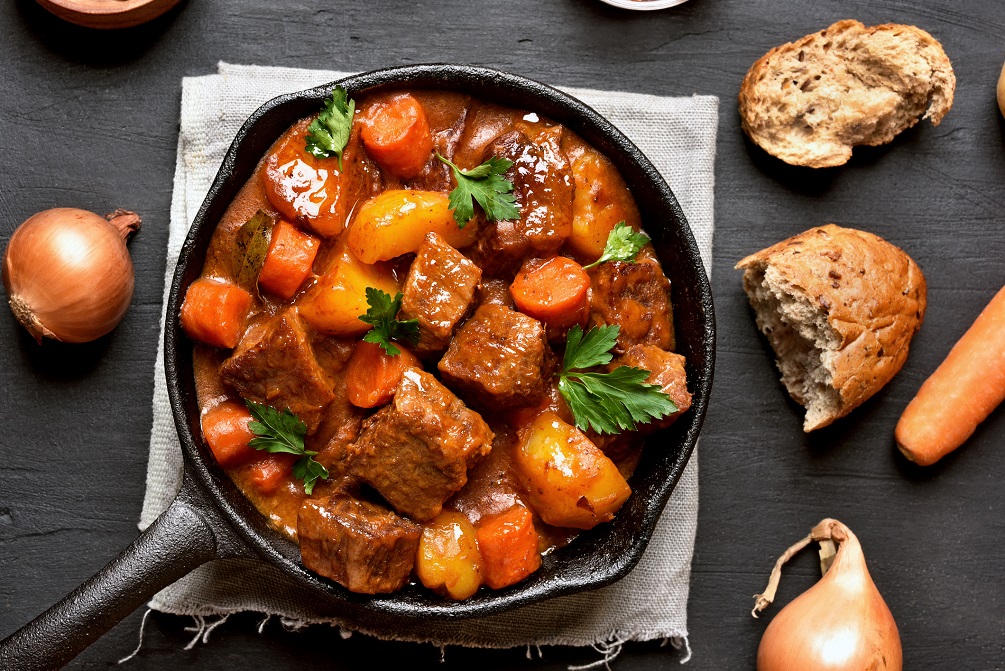 Czech food requires a re-evaluation of taste and mindset. With an abundance of fat and grease in most dishes, it isn't food for the faint-hearted. Located at the crossroads of Europe, the cuisine reflects the influences of its bordering countries.  
With imports like a roast goose from Germany, schnitzels from Vienna, and pickles and sour cream from the East, Czech food is heavy but not spicy or laden with herbs. The table is always full with generous servings of meat and starchy dishes. 
Veprova s knedlikem a se zelim is one of the Czech staples. It is typically a roast pork dish accompanied by dumplings and sauerkraut. Another classic is the Svickova na smetane, which is beef sirloin in cream sauce. Svickova is a sauce created out of vegetables and cream and made dense with roux. 
Goulash, also called gulas is consumed in plenty and is almost always served with a side of dumplings, garnished with onions. 
If you need a quick pick-me-up, grab the Bramborak, a kind of potato pancake seasoned with garlic. The parek v rohliku which is essentially a hotdog can be easily picked up from kiosks that dot the country. 
For drinks, you can't leave without trying Czech beer brands like Pilsner Urquell and Budweiser Budvar. Wine aficionados will like the Moravian wine varietals and the wine that comes from the Melnik vineyards. 
Desserts are sweet and full-flavored. Spoon up some Mazanec which is a sweet Easter bread created with a dough that is kneaded with lemon zest, raisins, and rum. Sink your teeth in some soft Livance, which are circular and soft crisp pancakes.