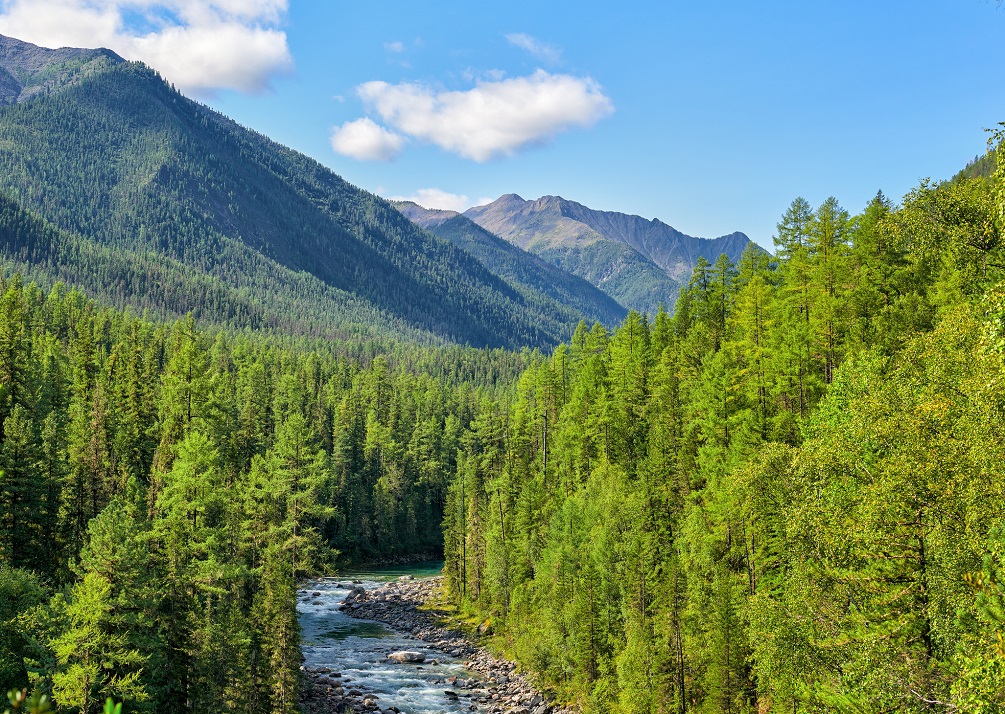 Russia spans northern Asia and the eastern part of Europe.
The country shares a border to the south with Mongolia, China, North Korea, Georgia, Kazakhstan, and Azerbaijan. Finland, Norway, Estonia, Ukraine, Belarus, and Latvia bound the country to the west and southwest.
Russia has a border along the Arctic and Pacific oceans to the north and east, respectively, and over thirteen marginal seas. Its coastline is about 37,653 km (23,396 mi) long.
The detached Russian region of Kaliningrad is Russia's westernmost point on the Baltic Sea, which Poland and Lithuania border. Big Diomede Island is the country's easternmost port in the Bering Strait.
Because of its wide expanse spanning two continents, Russia possesses various geographical features.
Arctic deserts dominate the extreme northern regions, which extend southward to the tundra, a treeless, snowy region with a cold and windy climate.
Forestry covers about half of Russia's landscape, giving it much of its charm. The forested grassland and savannah lie south of the forest zone, giving way to small parts of semidesert on the northern coastline of the Caspian Sea.
There are nine major mountain ranges along the southern regions of the country. These share a significant portion of the Caucasus Mountains, which lie at the intersection of Asia and Europe. The highest peak in Russia is Mount Elbrus, which is also the highest peak in Europe.
The Yenisey River roughly divides the country in half, resulting in two geographical zones. To the west, the land comprises lowland plains with low hills and plateaus. To the east, most of the landscape is mountainous, although there are some areas with lowlands.
Most of the population lives in the European portion of Russia, especially in the capital city, Moscow. 
Russia has one of the world's largest surface water resources. There are dozens of prominent lakes and rivers, such as Lake Baikal, which is the world's biggest and deepest freshwater lake and the oldest and purest.
Europe's longest river, the Volga, runs through the western regions of the country. And the continent's largest lake, Ladoga, is also in Russia.