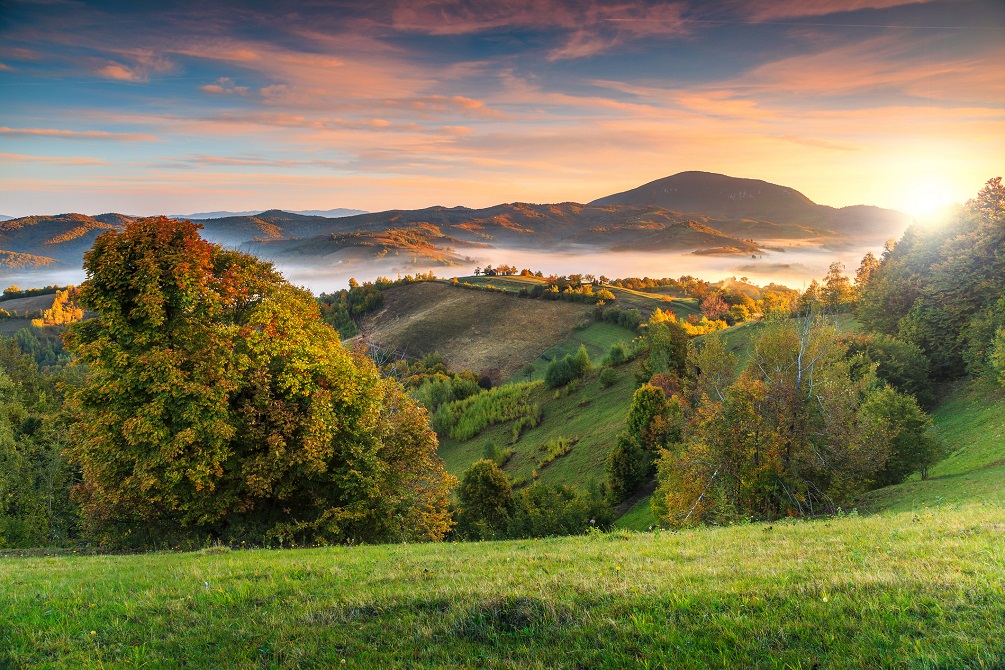 Romania shares a border with Bulgaria to the south, Serbia to the southwest, Hungary to the west, Ukraine to the north, Moldova to the east, and the Black Sea to the southeast.
The country has various topographic features that are roughly equal in coverage, from mountains and hills to forests and plains.
Central Romania is mountainous; the Carpathian Mountains cross the country from the north to the southwest.
There are 14 mountain ranges found in this area. The highest is Moldoveanu Peak at 2,544 m (8,346 ft.). The Moldavian and Transylvanian plateaus, the Carpathian Basin, and the Wallachian plains surround the mountain ranges.
One of the largest undisturbed forests in Europe covers about 30% of Romania. And six terrestrial ecoregions form part of the country, including the Balkan mixed forests, Pontic steppe, and the Pannonian mixed forests.
Romania has many geographic regions, namely Walachia, Dobruja, Moldavia, Banat, and Transylvania.
The Walachia runs south from the Southern Carpathians (Transylvanian Alps) to the Bulgarian border. The Olt River divides this region.
Dobruja, which is also part of Bulgaria, lies in the southeast between the lower Danube and the Black Sea.
On the Ukrainian border, Moldavia stretches from the Eastern Carpathian Mountains to the Prut River.
In the west, Banat is surrounded on the north by the Mureș River. It extends south and west into Hungary and Serbia.
Transylvania is bordered on the south by the Southern Carpathians, on the north and east by the East Carpathians, and on the west by the Bihor Mountains.
Roughly one-third of Romania is plains, which are fully developed in the south and west.
The Danube River lies on the Serbian and Bulgarian border. It's Europe's largest river that empties into the Black Sea, forming the Danube Delta. Bucharest lies north of the Danube.
Several branches of the Danube flow through Romania, notably the Prut, Mureș, Olt, Siret, Ialomiƫa, and Someș rivers.