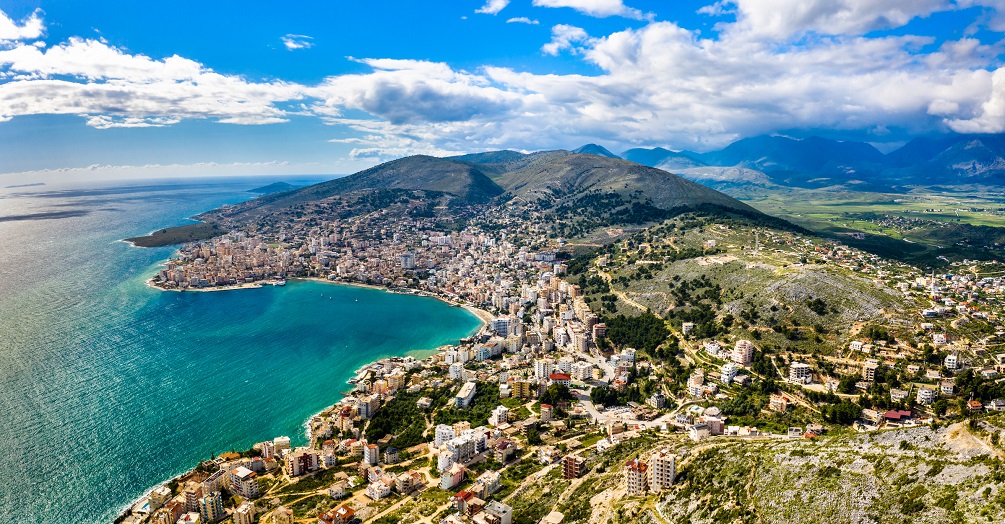 Albania is neighboured by Montenegro to the northwest, Kosovo to the northeast, Greece to the southeast, and Macedonia to the east. The Adriatic and Ionian seas lie to the west and southwest; Italy lies beyond the Adriatic.
Most of Albania's landscape is mountainous and hilly. The North Albanian Alps, which is an extension of the Dinaric Alps, covers the northern regions of Albania.
Dense forests dominate the Albanian Alps. The highest peak found here is Mount Korab (2,753 m) on the Albanian-Macedonian border.
The mountains in the southern parts of the country aren't as heavily forested as those of the Alps. They are bare and covered with Mediterranean shrubs, oaks, and pines.
Albania's coastline extends for about 450 km (280 mi) along the Adriatic, which runs south from the Montenegrin border to the Bay of Vlora, where the Ionian Sea begins.
The Ionian coastline features a narrow coastal strip characterized by rocky coves and steep cliffs extending directly from the water. There are several caves along the base of these cliffs.
The Adriatic coast is low-lying, with fertile alluvial plains that formed from several rivers flowing into the sea. These plains contain wetlands that are a hotspot for many species of migratory birds and waterfowl.
The Adriatic coast also has large protected bays, such as Vlora and Durrës. 
There are several lakes and rivers in Albania.
The most notable lakes are Lake Shkodra (Skadar) in the north, Lake Ohrid in the southeast, and Lake Prespa along the eastern border, the latter two of which are between two and four million years old.
The longest river in the country is the Drin (roughly 175 miles [280 km]).
There are also many waterfalls in Albania, namely Grunas in Theth, in the Albanian Alps, Kokotraf in Konispol, and Progonat in Kurvelesh.