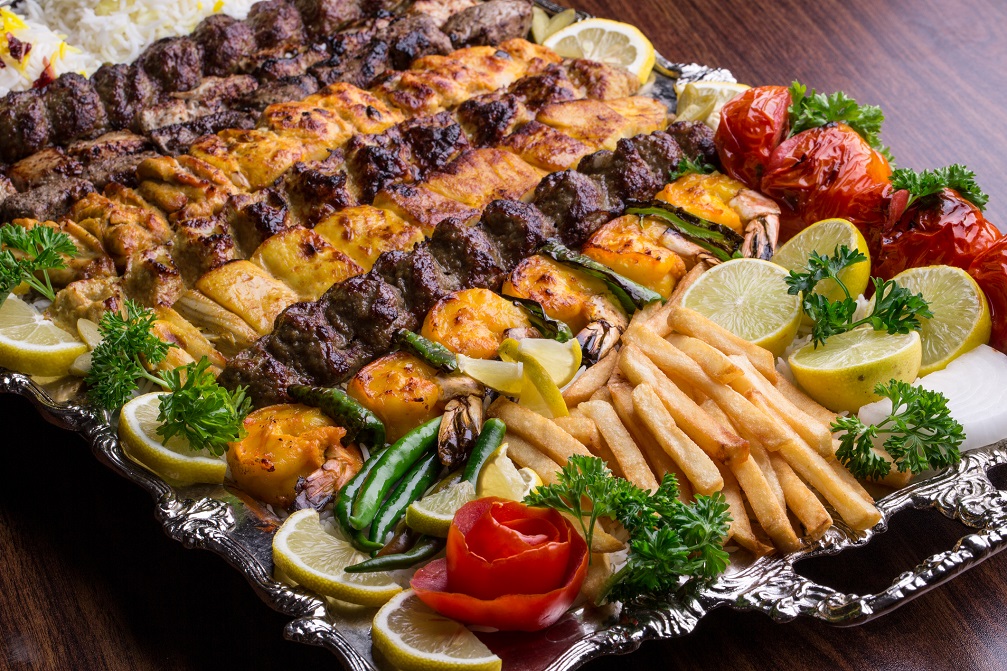 There's no doubt that Iranian cuisine is memorable and mouth-watering. Honed over three millennia, Iranian cuisine is a depiction of the country's varied landscape and history. From dates and kebabs in the desert to a plethora of vegetables, meat and fish along the coast, the cuisine reflects the fertility of the land, the dryness of the desert and the abundance of the sea. 
Kebabs and fast food are the most commonly consumed dishes across Iran. The types of kababs you'll come across are Bakhtiyari kabab, Chelo kabab, Juke Kabab and Kubide Kabab. 
Meals in Iran are incomplete without bread, rice or both. The bread is called nun and rice is called berenj. 
Looking for something that doesn't feature kebabs? Try some of these delicious local favourites. Ghorme sabzi, is a mix of beans, veggies and meat and is usually green in colour. Craving some chicken? Try the Zereshk polo ba morgh, which is chicken served with rice cooked with barberries. 
For a budget meal, scour through the many downmarket eateries that feature a kind of stew-soupy meal called dizi. If you like stews, you may also want to try the khorest, a meaty stew cooked with nuts and vegetables and served with fries or rice. 
Add some Persian flavour to your meal by trying the fesenjun, a rare delicacy made with a puree of eggplant, pomegranate, walnuts and eggplant and accompanied by rice and roast chicken.  
If you're visiting the Western Gulf Coast, you can also enjoy some delicious chelo mahi, which is rice and fried fish. 
Fruit is often consumed as dessert after a meal, but there's also some heady stuff you could indulge in like the Esfahan Gaz, a candy flavoured with rose water and pistachio; Kerman Kolompe, a biscuit filled with soft dates; Orumiyeh Noghl, nuts that are sugar-coated and Baghlava, a kind of thick baklava.
Lipsmacking and indulgent, Iranian cuisine is as rich as its culture and as varied as its terrain.