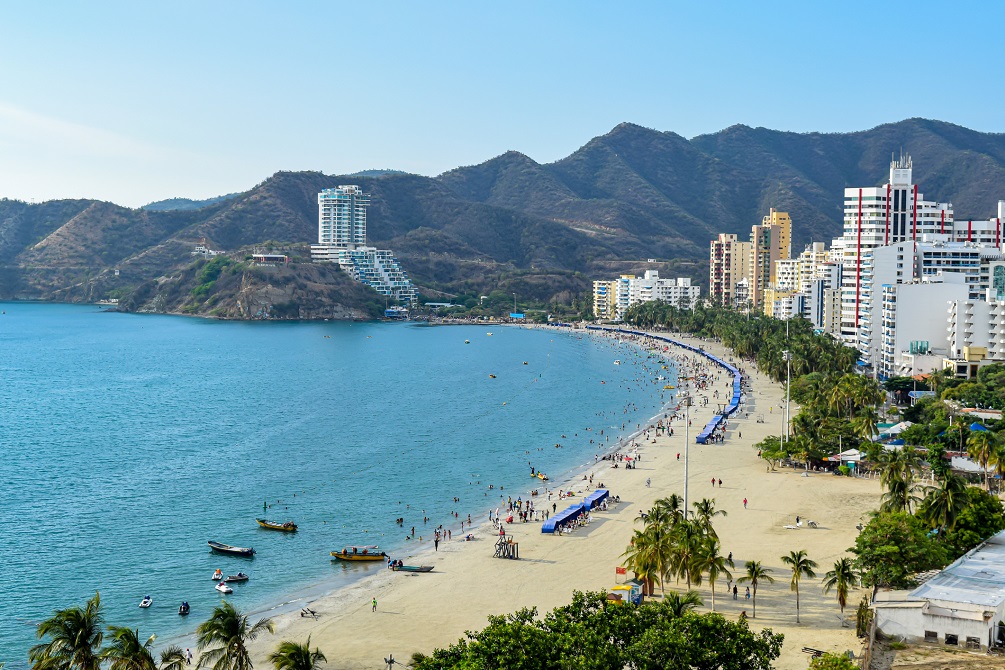 Colombia lies in the northwestern region of South America, right at the southernmost point of the North American landmass.
Two bodies of water lie along Colombia's north and western border: the Caribbean Sea and the Pacific Ocean, respectively. In the northwest, nestled between the Caribbean and the Pacific, is Panama.
Colombia shares its eastern border with Brazil and Venezuela, while Peru and Ecuador are its neighbors in the south.
The San Andrés y Providencia archipelago forms part of Colombia. The group of islands is located off the coast of Nicaragua in the Caribbean Sea, about 650 Km (400 miles) northwest of the mainland.
The Andean chain of mountains extends through Colombia in the west, from Ecuador to the Caribbean Sea and Venezuela.
The interior highlands are the most populous region where Colombia's largest cities (Medellín, Bogotá, and Cali) are located.
Steep and pronounced bays, inlets, and capes characterize the beaches along the Caribbean Sea and the Pacific Ocean. These areas feature sandy beaches, barrier islands, and brackish lagoons.
The major port cities of Barranquilla and Cartagena lie on the Caribbean low plains where a vibrant Carnaval takes place, and the weather is constantly pleasant for beach activities.
The Pacific coastal plains are sparsely populated.
The eastern lowlands are split into two geographical regions: the Amazon's northern pinnacle and a savanna lying between the Andes and the Orinoco River. Many rivers spread through these areas as well.