For many, sailing the crystal clear waters surrounding the greek isles has always been a dream,  and for good reason. With 227 islands to choose from, there is so much variety that you can pack into your Mediterranean vacation- they all have something unique to offer. Considering their proximity, it almost feels wasteful not to visit as many as you can while in Greece.  
That being said, there is a lot that goes into planning a vacation of this nature. You will need a  strong knowledge of navigation and geography (unless you can have the logistics all mapped out for you, so call up your local travel agent as soon as possible), reliable transportation, and a sense of adventure.  
Still interested? Not to worry. We've gathered all the basic information you need to get started.  
When to Go: Realistically, you can go island-hopping at any time of the year. The end of July and the entire month of August are usually super packed with tourists and uncomfortably hot, so we would recommend aiming for a May/June vacation or September/October. This will avoid the unnecessary headache of trying to find accommodations and boat tickets that aren't booked solid.  
Choose Your Adventure:  
There are several different ways to get from one island to the next. The way you choose to travel will depend greatly on personal preference, and you may want to do a mix of multiple based on the distance between each island. Some things to take into account are your travel style, how much time you have, and your overall budget for transportation.  
Boat Charters  
If you have the funds, why not charter a boat for your trip? You can choose between all types of boats from catamarans to sailboats to yachts, and you can choose between having a cabin crew or doing it yourself if you're an avid sailor (note: do NOT overestimate your navigational skills).  This will give you the most flexibility to create your own schedule and change your mind at any given second about where you want to be.  
Ferries  
Ferries are the most common way to get between the islands, at least within each cluster. But did you know there are different types of ferries? You may have the choice between closed/open deck car ferries (which are usually cheapest), a high-speed catamaran, or a Hydrofoil/Flying  Dolphin. The smaller options are usually fastest, but are more susceptible to weather cancellations and usually aren't an option for longer distances.  
Planes  
Especially as the Greek islands continue to grow in popularity, many of them are now accessible by plane. If you are planning to travel by air, it's important to note that not all islands will be accessible, and many will only be available for domestic flights, meaning you will need to pick a  starting and ending point with an international airport. The islands with international airports are as follows: Crete, Corfu, Cephalonia, Zakynthos, Samos, Rhodes, Santorini, and Milos. Once you have arrived, you should be able to plan a route exclusively via airfare to any of the following islands: Kythira, Milos, Naxos, and Paros.  
Tour Companies  
This option is pretty popular for the college-aged crowd but can be good for older adults too,  especially those who are traveling alone and would enjoy some company. Hopping the islands with a tour company means you won't have to do any of the scheduling or logistics on your own,  and accommodations will be taken care of for each night. Be mindful of how much structure your tour group provides; some will offer much more free time than others. Also, take note of how "party-oriented" your tour is- nothing is less fun than being stuck in a party you don't want to be at or vice versa.  
Meet The Islands  
Obviously, with over 200 islands to choose from, we can't introduce you to all of them. That being said, we've put together a mix of -tried-and-true tourist favorites, and a few criminally underrated islands you've probably never heard of.  
Ionian Islands 
Corfu  
Corfu is the place to go if you like a little infusion of nightlife in your travel. This seemingly calm island comes alive at night with parties, live music, and plenty of venues to go dancing with your friends. Corfu also has a "wine region" so if you're planning a girls' getaway this might be the best choice.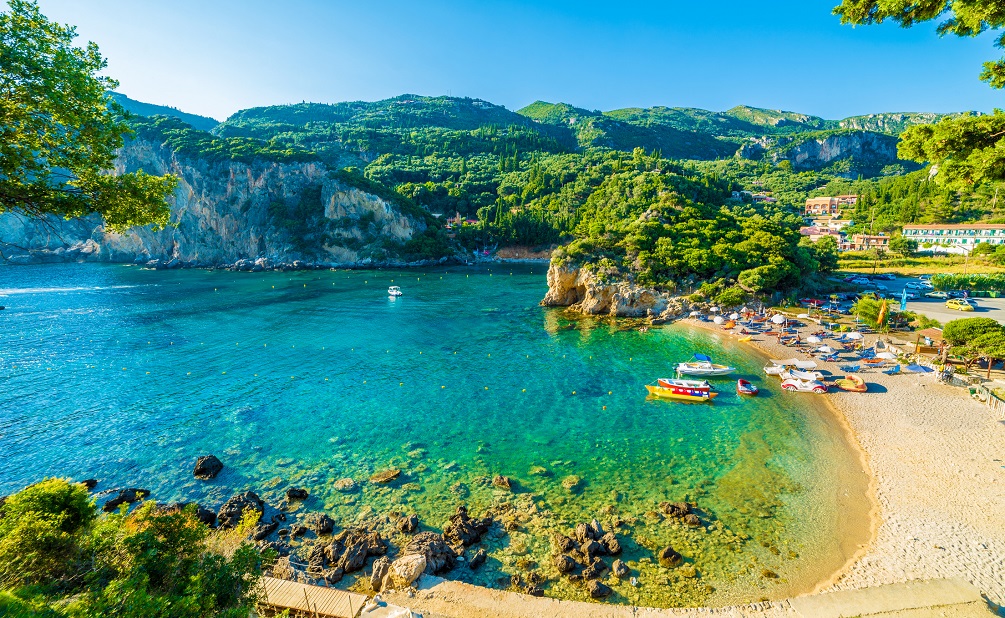 A Hotel You'll Love: Grecotel Corfu Imperial  
Zakynthos  
Monasteries, stone villages, and Venetian castles scattered along sloping rock and sugary beaches. If you happen to charter a boat, you can even visit the famous shipwreck beach which puts some of the other beaches to shame. While this is a slightly quiet option than Corfu, you will still find a buzzing nightlife scene when you're ready to amp up the energy.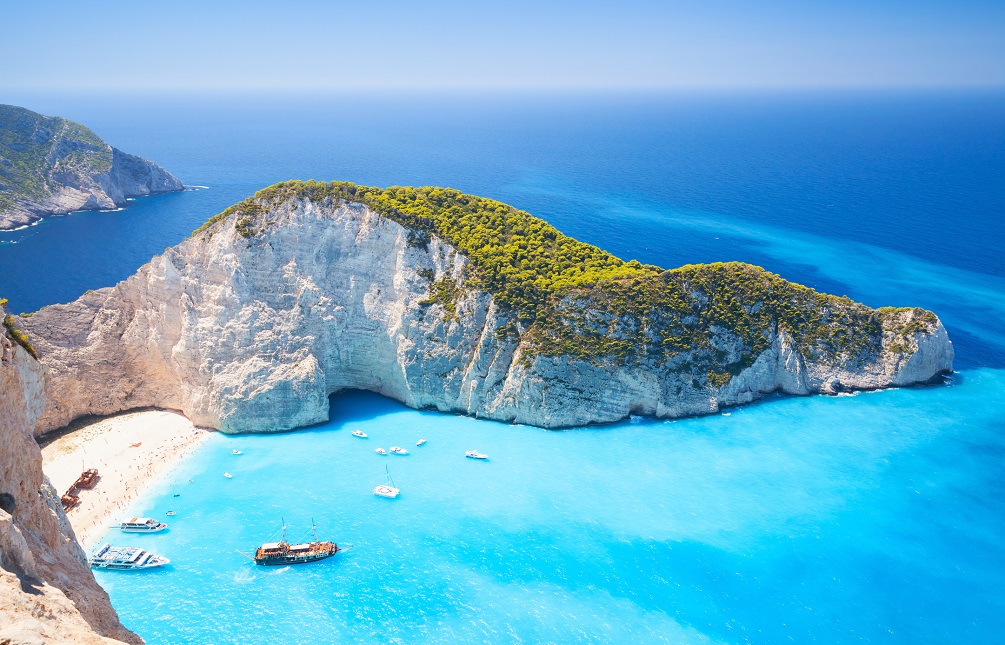 A Hotel You'll Love: Olea All Suite Hotel 
Ithaca  
If you're the type of traveler that likes to connect with the locals, Ithaca is a wonderful choice.  In the villages, you'll be greeted by friendly faces who can't wait to chat with you at the local tavern or point you in the direction of the best fresh seafood in town. There are also some incredible hiking trails for the energetic backpacker.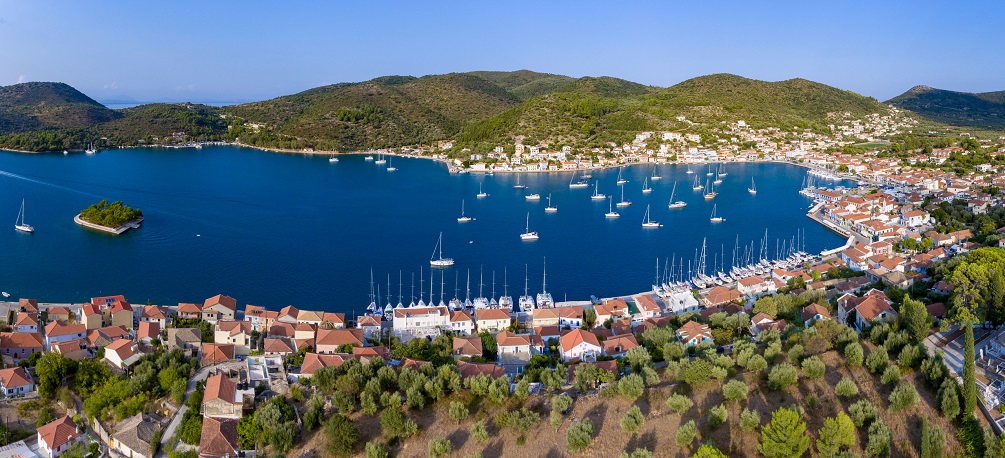 A Hotel You'll Love: Faros Adults-Only Luxury Suites  
Kythira 
If you'd like to maintain some of the iconic white-washed buildings and blue doors of some of the more popular islands, Kythira is an excellent choice. Full of medieval villages and even a  castle, history buffs will fall in love with this island. You can even get a little "spooky" and visit one of several ghost towns.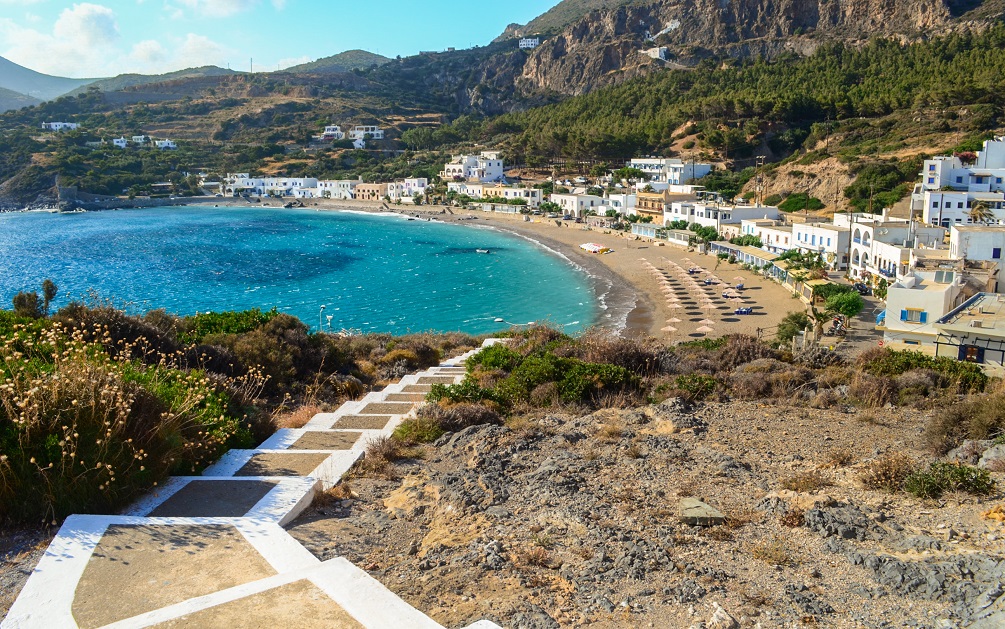 A Hotel You'll Love: Astarti Retreat 
Kefalonia  
Colorful homes and cafes overhang the shores of the Ionian sea, creating an idyllic backdrop for a relaxing afternoon. Underground caves, towering forests, and rugged cliffs make Kefalonia the ideal choice for the nature-lover, so you'll be sure to have a vacation full of variety and a little something for everyone.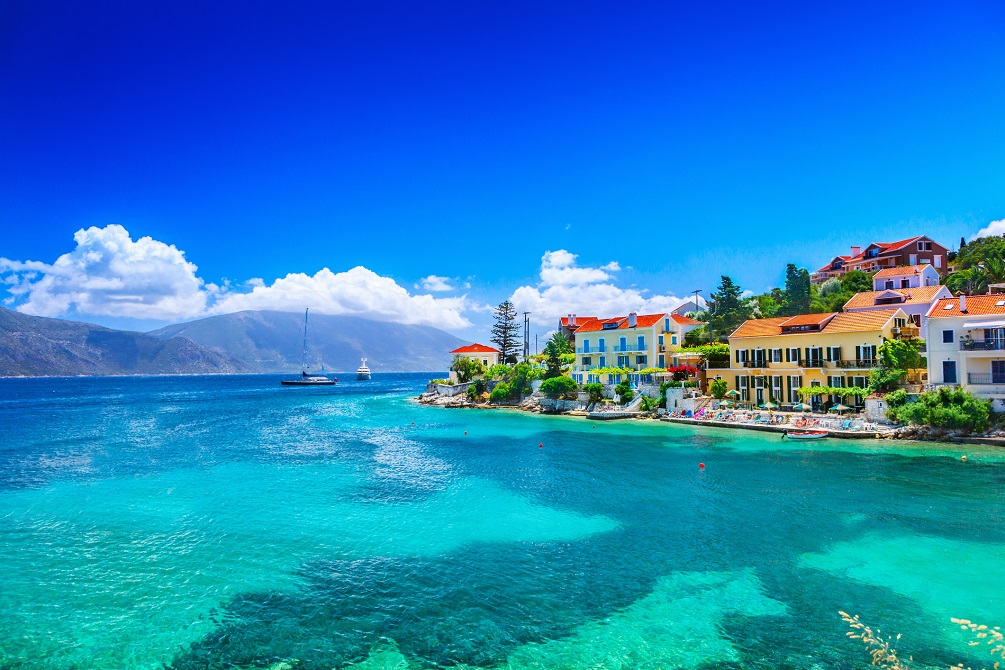 A Hotel You'll Love: Avithos Resort Kefalonia 
Cyclades  
Ios  
Ios is known for being popular with the younger tourist crowd thanks to its penchant for nightlife but it has so much more to offer. The pretty village of Chora is home to several ancient sites,  churches, and picturesque windmills- perfect for laid-back days of exploring.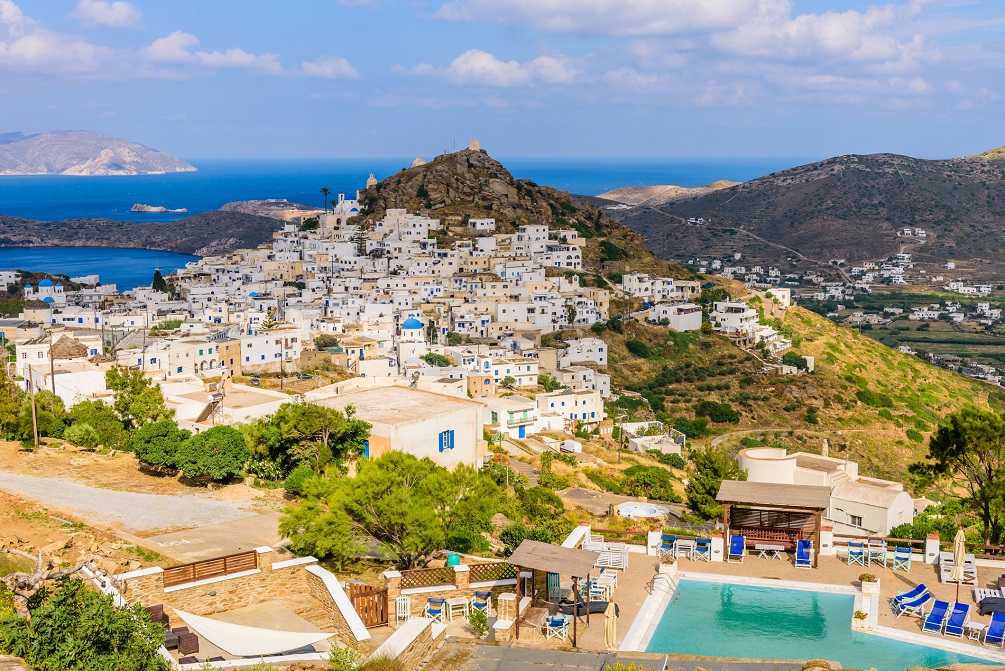 A Hotel You'll Love: Levantes Ios Boutique Hotel 
Milos  
Milos is certainly gaining popularity, particularly due to its proximity to Santorini and Mykonos,  but still falls slightly under the radar. This island is best known for its striking lunar landscapes,  but also boasts several archeological wonders such as caves, catacombs, and the ruins of ancient theatres.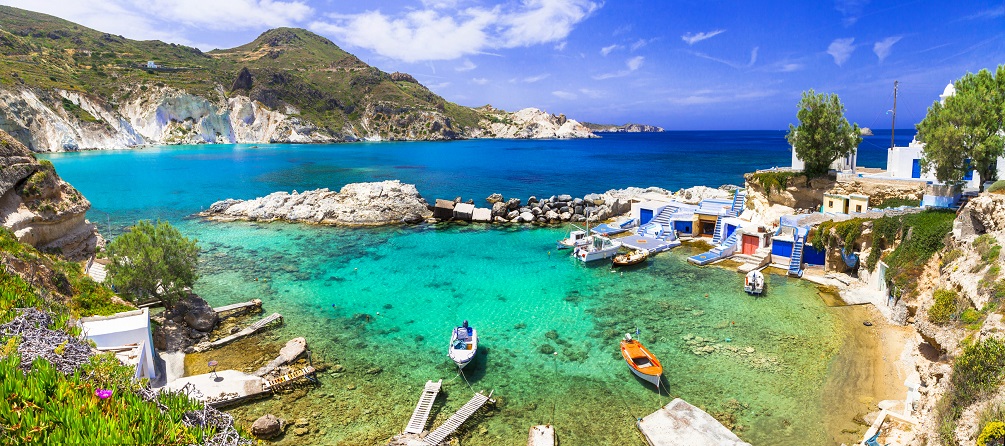 A Hotel You'll Love: Cave Suites Milos  
Mykonos  
Mykonos is one of the most-traveled greek islands. While this might mean a more "touristy"  atmosphere, you won't find this to be sacrificing anything. Mykonos still maintains its village charm while also offering a whole slew of amenities. While it doesn't have an international airport yet, it has a reliable ferry system that will connect you to the other islands.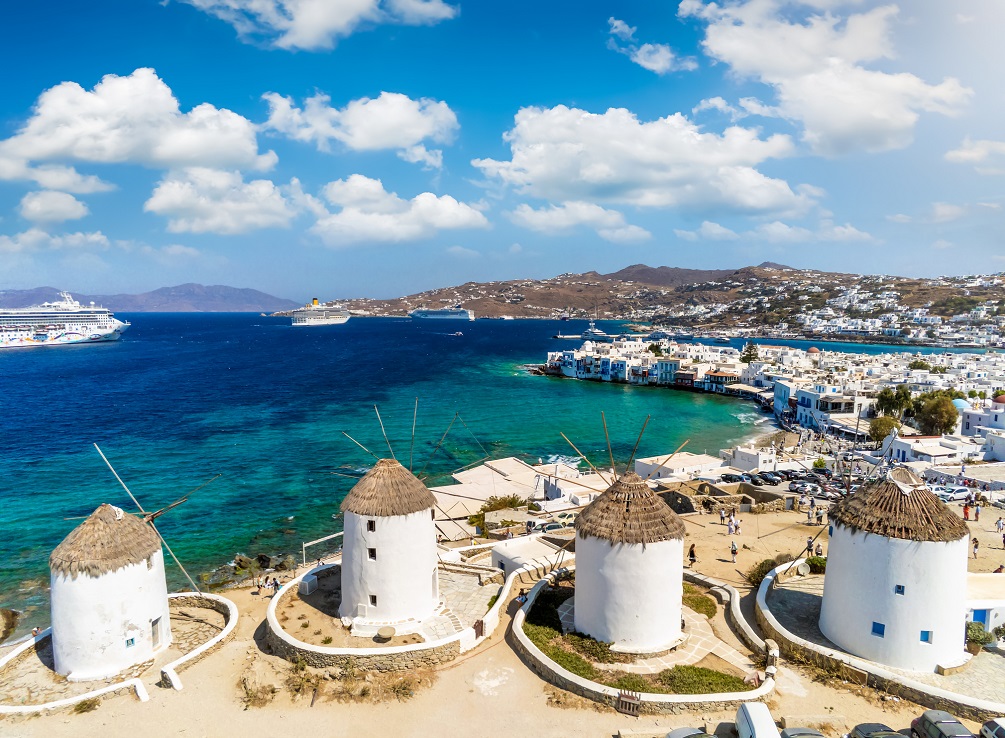 A Hotel You'll Love: Belvedere Hotel Mykonos 
Naxos  
Are you a total beach bum? If so, then Naxos might be the island for you. While there may be fewer beaches here than some of the other islands, Naxos is home to the longest sandy beach in the Cyclades. Naxos still hasn't hit the mainstream tourist lists yet, so you'll be able to enjoy its picturesque landscape and stunning restaurants in peace.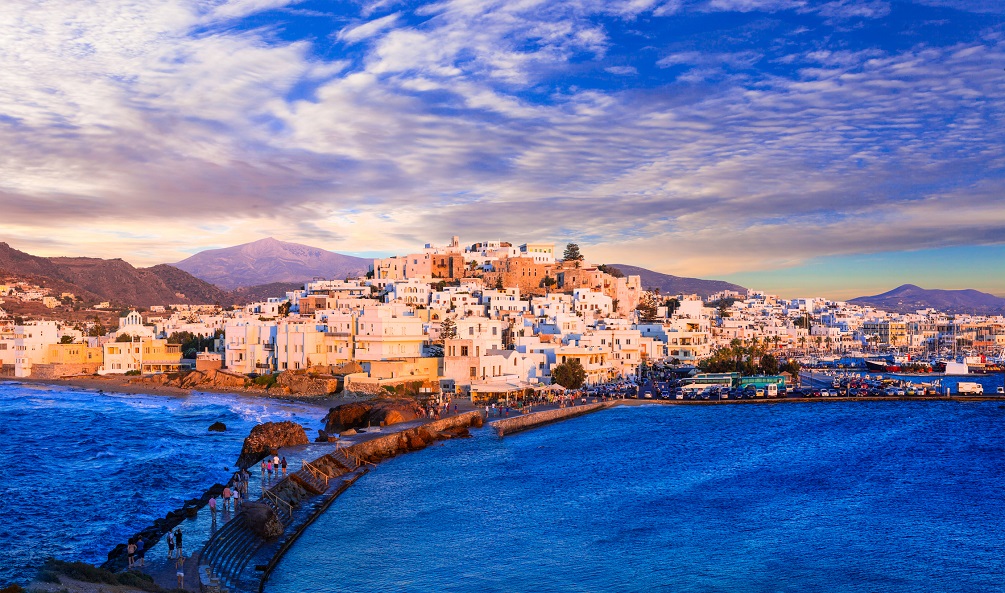 A Hotel You'll Love: Naxian on the Beach 
Paros  
Paros is known for its little fishing boats and cerulean seas, but you know what else is great about it? It's pretty close to all the most famous islands in the Cyclades, making it super easy to build out an itinerary and it's only a hop, skip, and a jump from Athens, if you'd like to take in some of the mainlands. Plus, it's a great place to start or end your journey as it's easily accessible by many forms of transportation, including domestic airfare.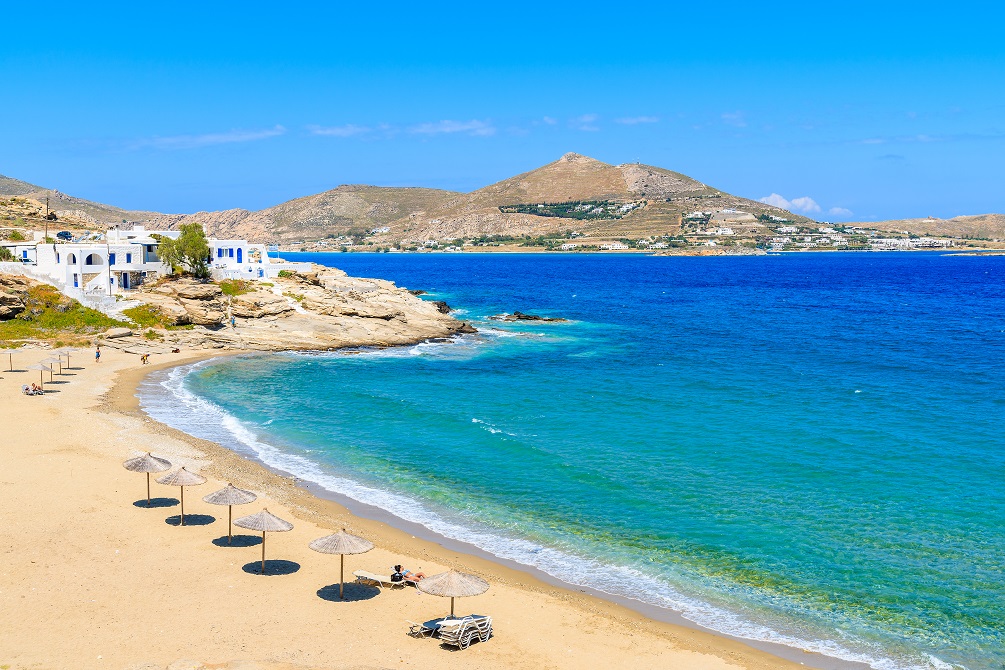 A Hotel You'll Love: Argonuata Boutique Hotel  
Santorini  
Santorini is pretty much where the love affair with the Greek islands began. You'll likely recognize its iconic blue and white, cliffside facade from hundreds of Hollywood films and travel magazines. If you're okay with a little bit of a crowd, Santorini is always going to be a winning choice. A great selection of restaurants, independent boutiques, and some of the prettiest sunsets in the world are sure to please.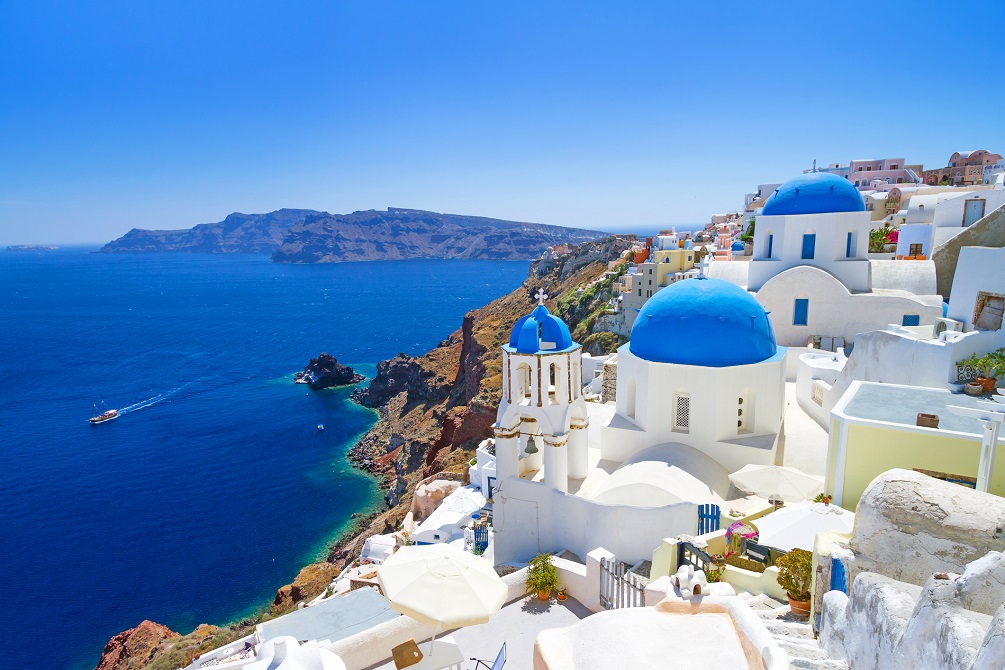 A Hotel You'll Love: Istoria Hotel 
Dodecanese Islands  
Rhodes  
Affectionately known as the "knight's island", Rhodes is an excellent destination for those who love to feel the history of their surroundings. Cobbled roads, medieval castles, and ancient sites are waiting to transport you to another time. With historical architecture abound, it's easy to understand why Rhodes is considered to be one of the most beautiful islands.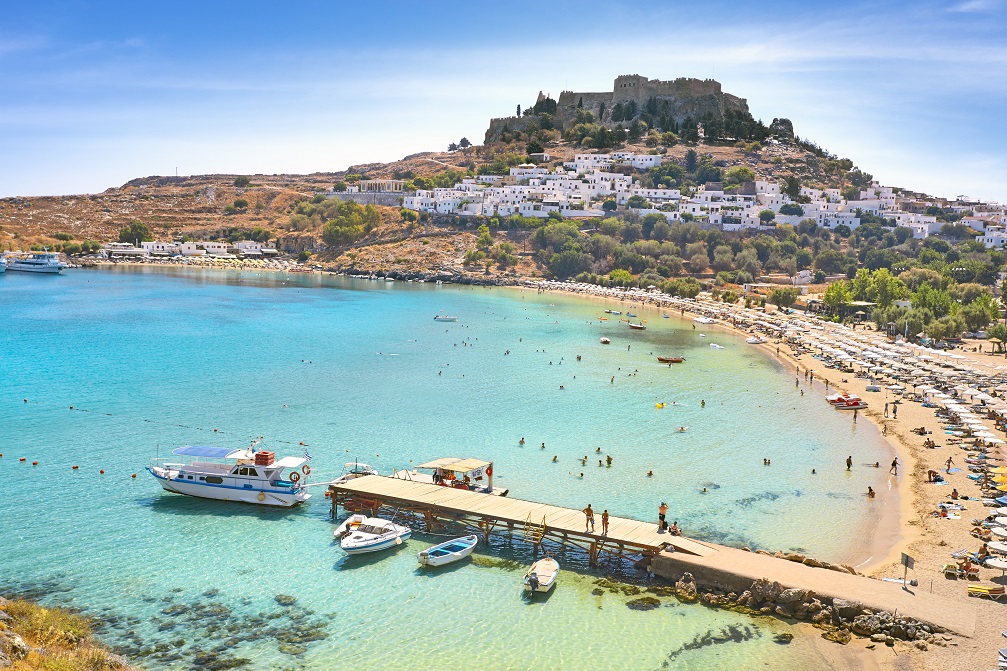 A Hotel You'll Love: KÓKKINI PORTA ROSSA 
Symi  
The port in Symi is arguably one of the most romantic destinations in the Greek isles. Cliffside, multicolored mansions set the scene for breezy evening strolls and early morning cups of coffee. There are plenty of al-fresco dining spots under the stars and you can spend your afternoon leisurely perusing the countryside. Who wouldn't dream of traveling to a place like this with their one true love?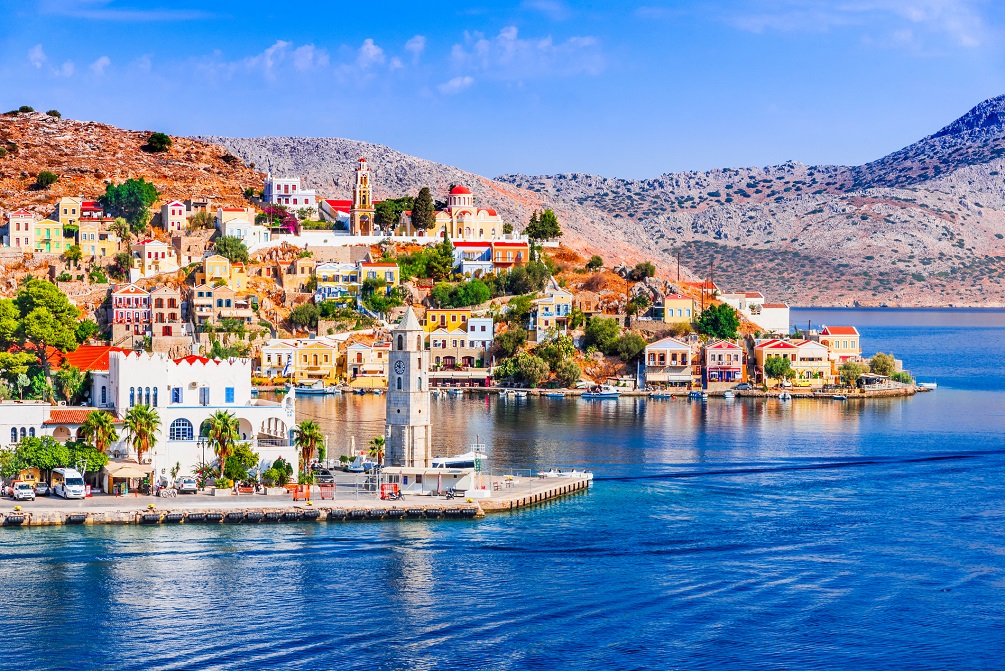 A Hotel You'll Love: Symi Nautilus Luxury Suites
Crete  
Crete is the largest of the Greek Island. It is also one of the most popular with tourists, and the most diverse. In one day, you can easily go from exploring ancient ruins and dining at countryside taverns to swimming in private coves and hiking gorges and valleys.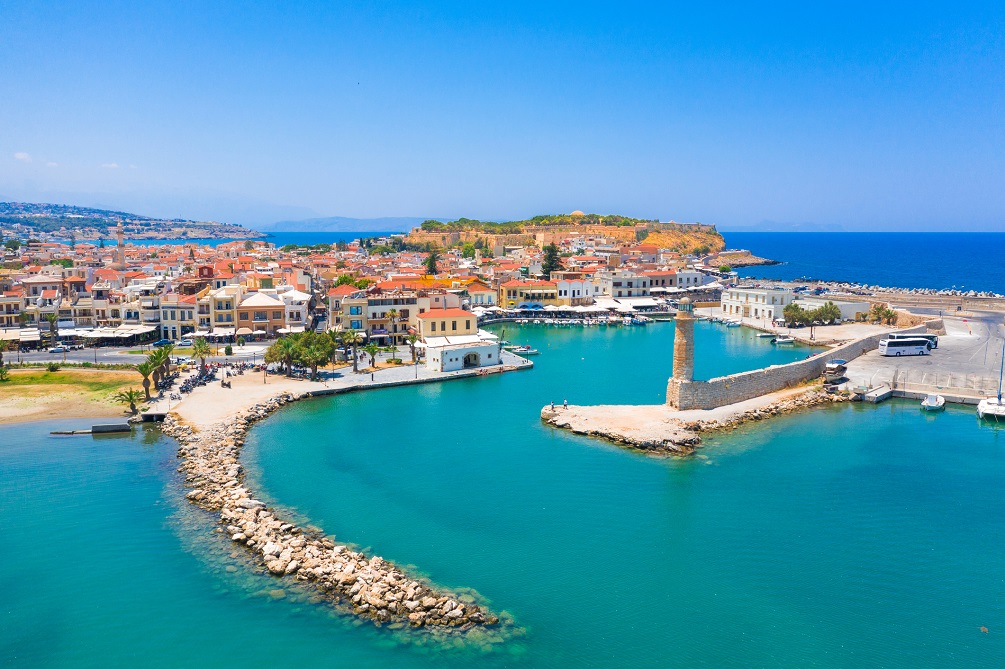 A Hotel You'll Love: Stella Island Resort & Spa