Savoured with much fanfare, Japanese food is among the most popular cuisines enjoyed by gourmands across the globe. However, outside of the country, whenever Japanese food is a topic of conversation, emphasis is primarily on sushi and ramen.
Travellers visiting Japan for the first time are thus often surprised to find that Japanese cuisine is far more complex and extensive in its offerings. For tourists wishing to taste some of the country's gastronomic pleasures, an excellent place to start is the street food in Japan.   
Like many countries in Asia, Japanese street food is both comforting and delicious. Relatively cheap, you can find these dishes in speciality restaurants, convenience stores, and even through vending machines. However, for that authentic experience, try having these eight must-try dishes in Japan from a yatai, a traditional Japanese pushcart that sells food. 
Yakitori
Yaki, meaning grill, and tori, meaning chicken, make for the ultimate must-try street food in Japan. Yakitori is primarily chicken skewers cooked over a charcoal fire. Made with bamboo, the skewers are known locally as kushi. While chicken is the most popular meat, you can find pork and beef skewers at many street food stalls in most Japanese towns.
The sauce used on yakitori is similar to teriyaki but has a slightly more salty and less sweet flavour. The main elements of the sauce are mirin, sake, soy, and sugar. 
What's truly interesting about yakitori, though, is that it can have various cuts of chicken meat. A few of the more adventurous yakitori types worth trying are chicken liver – reba, chicken neck – seseri, chicken tail – bonjiri, and chicken skin – kawa.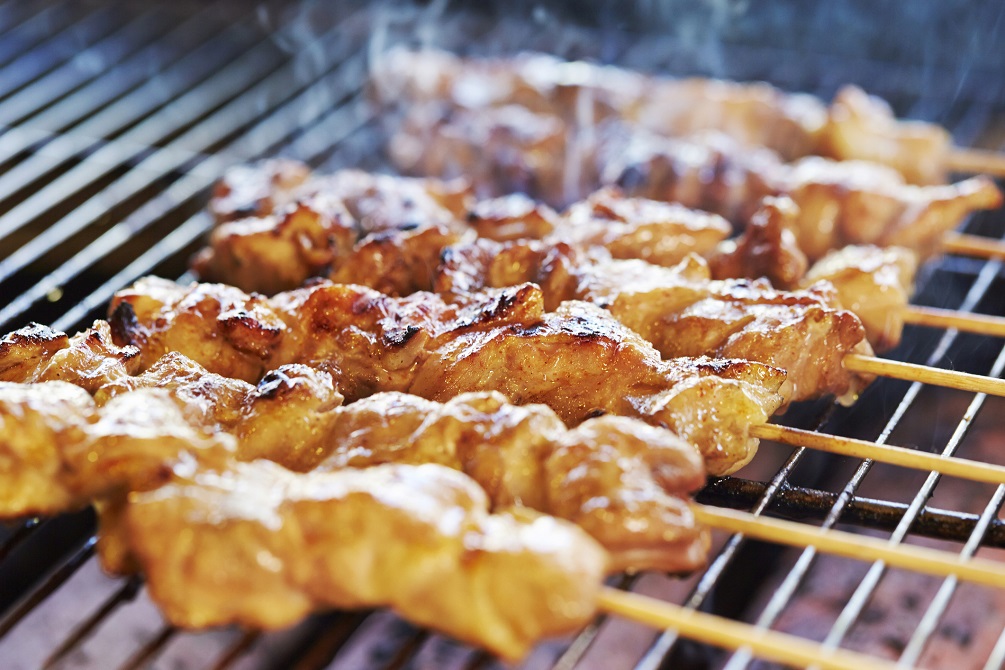 Ikayaki
Another quintessential street food in Japan you have to try is ikayaki. The name translates to "grilled squid." In its traditional form, the entire body of the squid is put on a skewer and then grilled over charcoal. There are instances, in restaurants especially, where they cut the squid into pieces before plating it. 
A juicy and tasty street food, local cooks make it a point to tenderize the squid meat by beating it against a hard surface before cooking it. As a result, the dish has a less chewy and more melt-in-your-mouth character. When eating ikayaki from a street stall, season it simply with soy sauce and lime.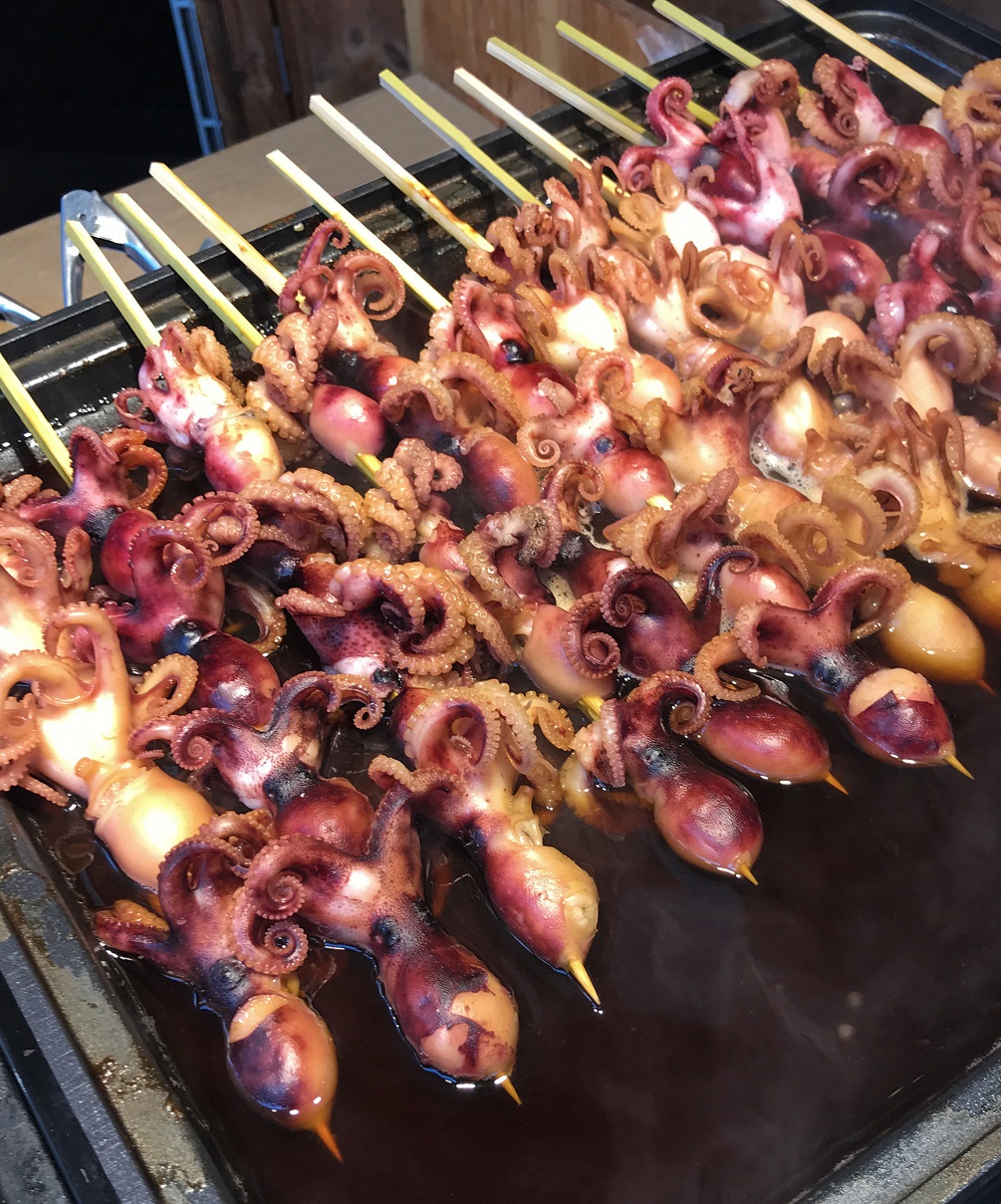 Takoyaki
Gourmands wanting to try fantastic street food in Japan should not miss out on eating takoyaki. Basically, "octopus fry," this delicious snack comprises crunchy pan-fried balls made using octopus dipped in a wheat flour batter mixture. 
However, the pan in use is unique, consisting of several small semi-circular grooves. Trained chefs use chopsticks to turn the octopus balls, giving them a uniform cook all around.
Originating from Osaka, takoyaki is nowadays a popular street food throughout the country. Locals typically eat octopus fry with Japanese mayonnaise, pickled ginger, and a sprinkle of fish shavings. Having a nice crispy exterior and a tender filling, takoyaki goes rather well with chilled beer.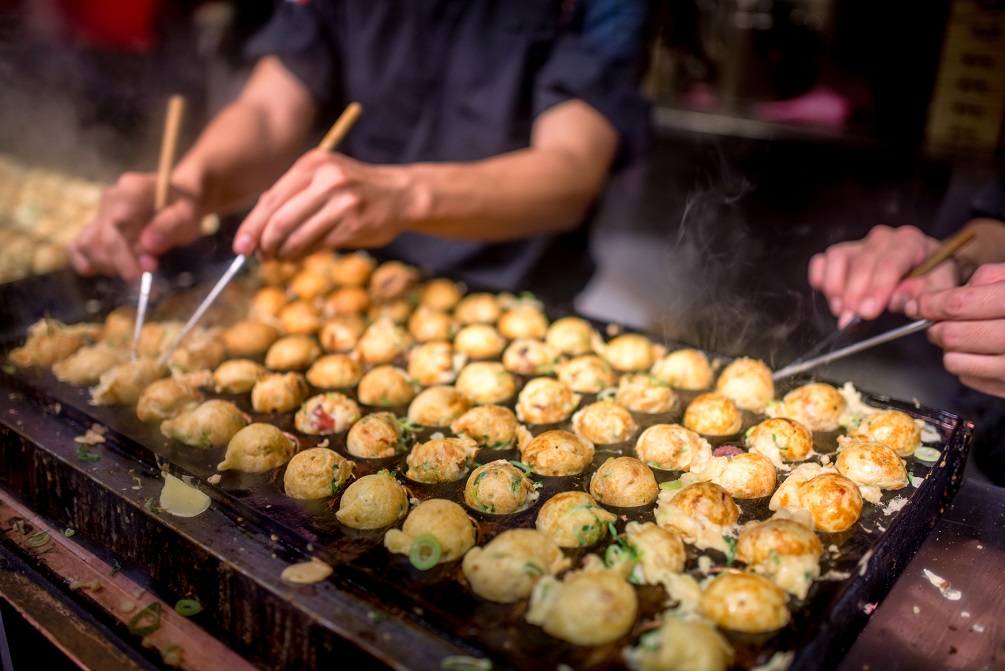 Yakisoba
Street food in Japan isn't necessarily only about snacks. It can also be a complete meal on its own. An excellent example of this is yakisoba, which translates to "grilled noodles." 
The dish's preparation includes stir-frying wheat flour noodles on a teppan along with pork belly, vegetables, cabbage, and other ingredients. Many yakisoba stalls nowadays add a fried egg on the top as well. 
The sosu sauce, used to give yakisoba extra flavour, has a sweet and tangy taste, somewhat similar to Worcestershire sauce. To season the yakisoba, locals generally prefer Japanese mayonnaise, seaweed powder and fish flakes.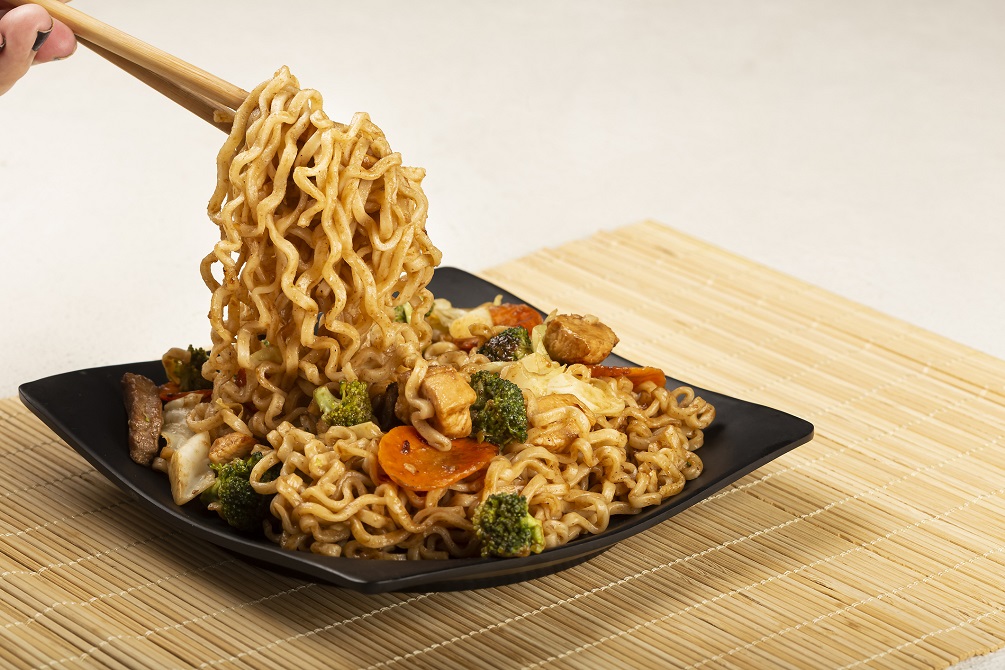 Okonomiyaki
Famously known in the Western world as "Japanese pizza," okonomiyaki is more like a thin pancake with toppings. The pizza batter is a flour and egg mix, grilled on a teppan (metal cooking plate), and loaded with savoury ingredients like meats, seafood, scallions, cabbage, vegetables, and cheese. The seasoning on okonomiyaki contains bonito flakes and dried seaweed. 
Originating from Osaka, there are two main variations of okonomiyaki. In the original version, all the toppings go into the batter before cooking it. 
Alternatively, Hiroshima okonomiyaki has all the additional ingredients go on the top after the base is ready. The Hiroshima version also has noodles and fried eggs as much-loved toppings.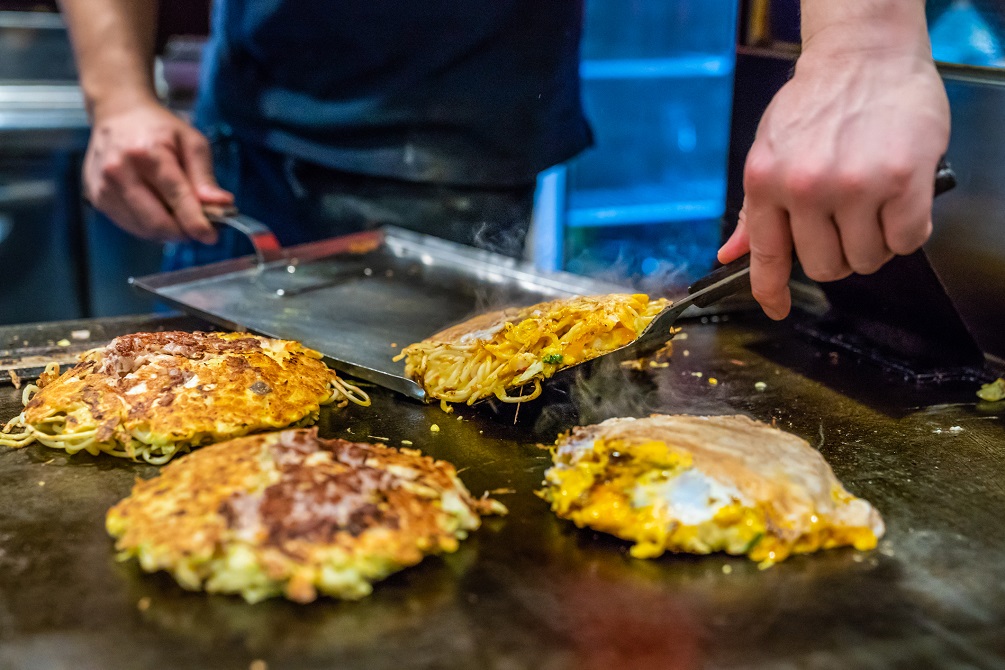 Gyoza
Taking inspiration from classic Chinese street food, gyoza is the Japanese version of dumplings. However, they differ considerably from the original in shape and construction. Gyoza, for starters, has thinner skin, making it less chewy and lighter. Moreover, gyoza typically has an elongated, oval shape. 
Steamed and then pan-fried till the flat bottom side has a golden-brown colour, gyoza is available with various fillings. Pork, cabbage, and garlic are the most common, although you can find a wide variety of fillers at street stalls. 
Most places serve soy sauce and vinegar as condiments with gyoza. A popular must-try street food in Japan, gyoza is available everywhere, from food stands at events to supermarkets and as starters at most restaurants.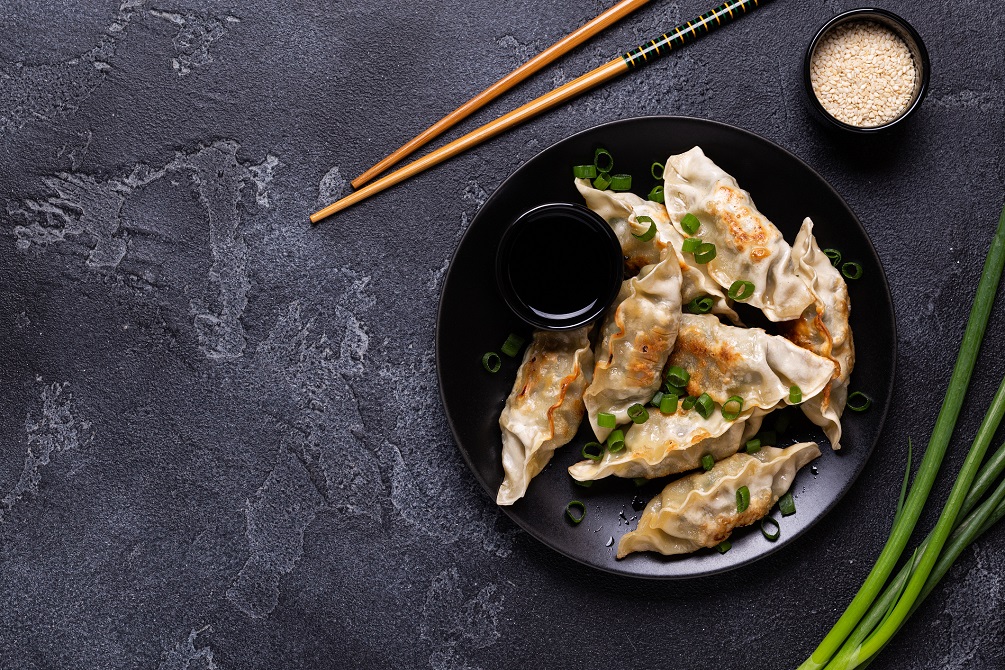 Tamagoyaki
Leave it to the Japanese for taking the humble omelette and transforming it into an elegant culinary delight. Cooked in a special rectangular pan, tamagoyaki consists of an egg mixture rolled into a finely layered omelette. 
The main ingredients of the mix are eggs, soy sauce, sugar, mirin, and sometimes sake. The final result is a soft and fluffy snack with a firm custard-like texture that is then cut into smaller, almost bite-sized pieces. 
A tummy-filling street food in Japan, tamagoyaki is also common in school lunches. Moreover, different regions of the country have their own variations of the dish. Dashimaki Tamago, for example, uses dashi (Japanese stock) in the mix to give the omelette a softer consistency but a more intense flavour.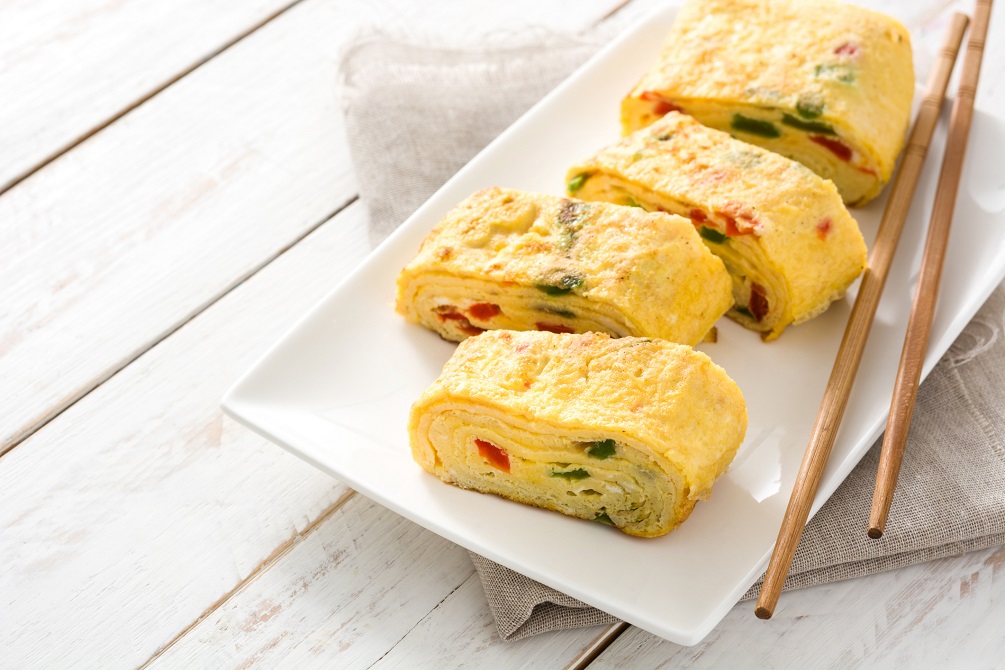 Kakigori
Whether you are having proper dinner or only street food in Japan, it is but obvious to end with a dessert. One famous and simple sweet treat that you'll find in many countries, including Japan, is shaved ice. 
Now, there are variations of shaved ice across the globe. It's called chuski in India, granita in Italy, and kakigori in Japan. Each nation also has its own exclusive way of eating this must-try dish. 
Kakigori in Japan has unique flavours like lemon, matcha, melon, and cherry, to name a few. Moreover, Japanese locals like to add a variety of toppings such as mochi (Japanese rice dumplings), whipped cream, red beans, and even condensed milk on top of the colourful ice. In the end, kakigori is a refreshing sundae-like dessert that is fun to eat and share with friends.