Costa Rica is renowned for endless valleys covered in verdant jungles. Or for the unbelievable wealth of wildlife that can be found inhabiting these forest ecosystems. Somehow, many people seem to forget that there is so much more than just nature to be found in this small, Central American country. 
Costa Rica has a rich and extensive history. Before the Spanish conquest, back in the early 1500s, many indigenous tribes could be found harmoniously living off the land. However, with the arrival of Christopher Columbus, the next 300 years of Costa Rican history and culture were very heavily influenced by Spanish influences. 
Eventually, by 1821, Costa Rica had gained full independence. It wasn't until the central American state had achieved this full independence that the country began to develop and master a true identity. A bright, vibrant artistic world reveals itself. 
For those interested in art and culture, Costa Rica is bursting with vibrancy and history, if you know where to look. One of the very best places is the little-known town of Sarchí. Of course, ask any local Costa Rican (or Tico's, as they're locally known), and they will tell you mesmerizing stories involving Sarchí. However, Costa Rica has gained popularity in the ecotourism sector – a completely different step in the other direction from art – and therefore, the vast majority of tourists that frequent the shores of Costa Rica have yet to hear of Sarchí.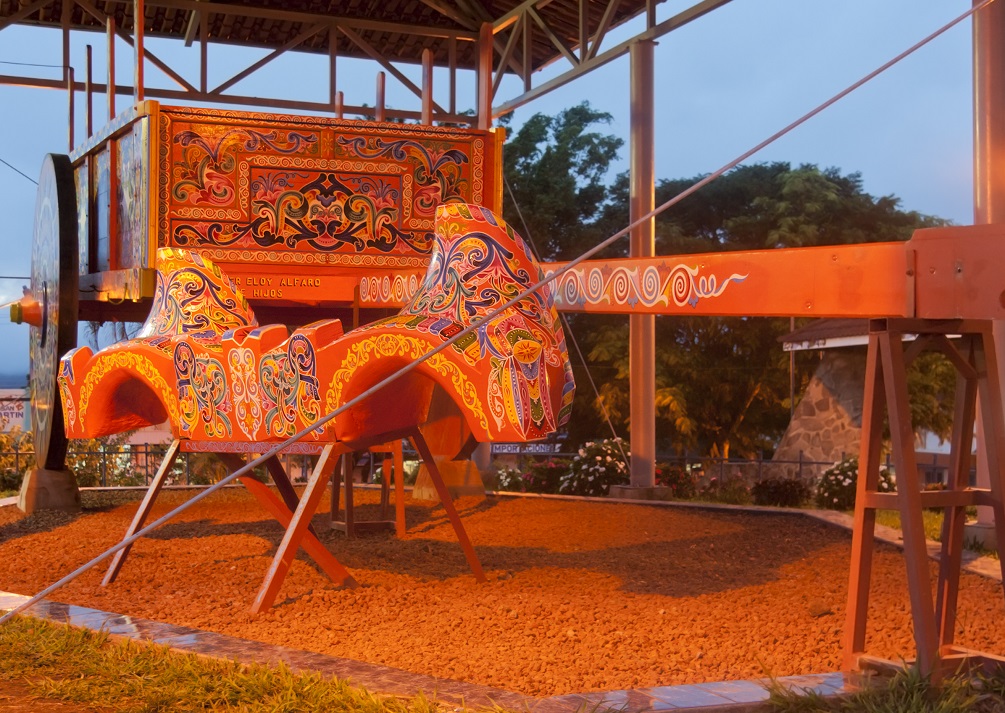 Just over an hour's drive from Juan Santamaria International Airport, the drive to Sarchí introduces you to the landscapes and scenery that one should expect from Costa Rica; the rolling hills carpeted green and rising mountains all around. 
On completion of the pleasant drive, you are welcomed into the quaint and humble town of Sarchí itself. Rich in culture and heritage, Sarchí has routes going back hundreds of years. 
But this all begs the question "What is so special about Sarchí?"
Well, what truly put Sarchí on the map, besides the beautiful scenery that encompasses the town, is the traditional ox carts and artistic flare. Now seen as a National Symbol of Costa Rica, ox carts have been used for centuries to transport and trade goods throughout the country. The most typically traded items, and still are to this day, are chocolate, banana, and coffee. In the early years of complete independence, much of the land was sparsely developed and severely impoverished. The roads, of course, were no exception. No more than mere dirt tracks, the roads cut through the rugged terrain of the country, meandering through the valleys that connect the Pacific and the Caribbean side of the country.
This meant that the humble ox cart was one of the only means of travel that was capable of making the perilous journey. Now, with the construction of mega highways and other impressive infrastructures, ox carts have become more of a symbol of early struggles, rather than anything else. Although you may spy traditional farmers stilling using their ox carts and tending their ox within the rural lands of Costa Rica, it is becoming increasingly uncommon. Instead, the ox carts are used mainly for decorative purposes during times of celebrations and parades.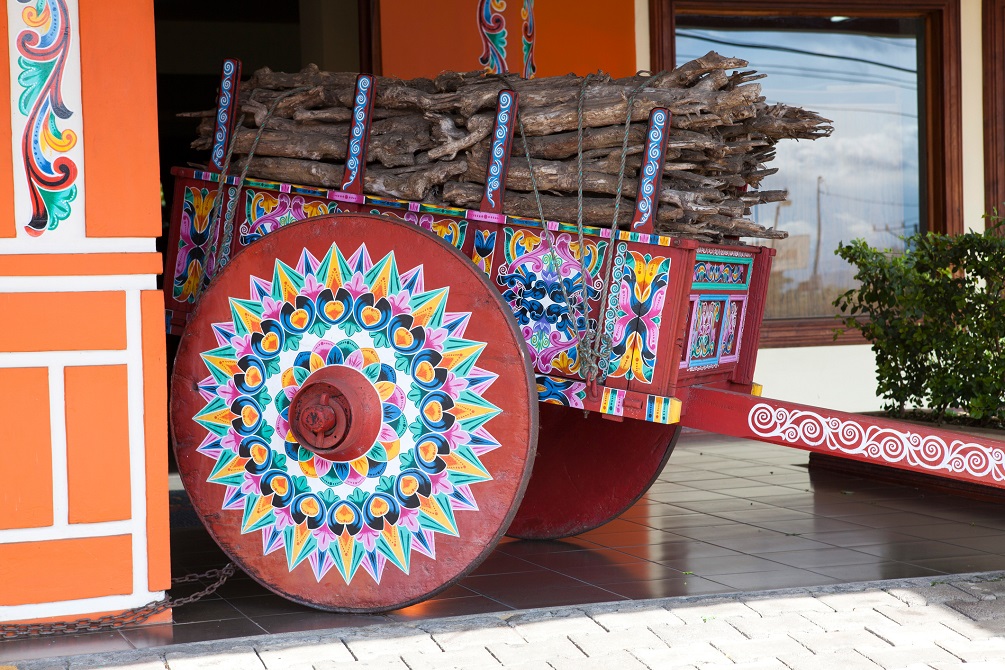 But again, I hear "What's so special about ox carts?" 
Going back to the artistic flare mentioned earlier, the simple ox carts here are transformed into a visual display of vibrancy and color. These highly decorative pieces are in themselves pieces of art. What started off as humble beginnings as just a simple wooden structure, becomes transformed into a striking masterpiece. Intricate designs are hand-carved into the wooden substrate. Typically, the use of vivacious colors are used – deep blues, bright yellows, and bold reds – to create an ornate finish.  
It is thought that Sarchí is thought to be the birthplace of ox cart artwork. Today, you can visit what is thought to be the oldest oxcart factory to be found in Costa Rica. Built-in 1902, The Joaquin Chaverri Oxcart Factory still stands today.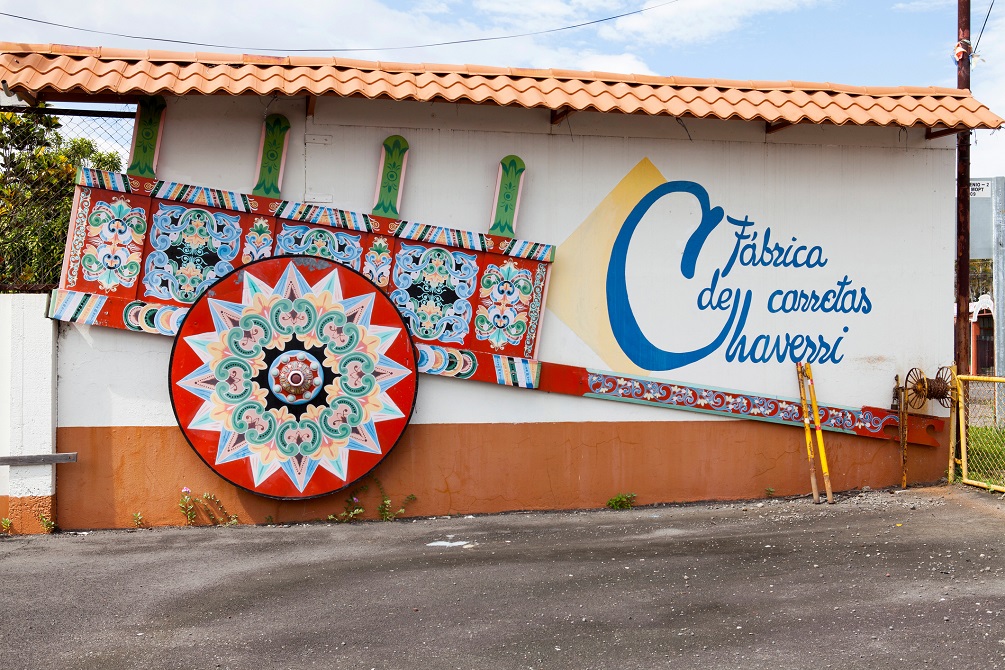 The main attraction to this simple town is without a doubt the incredible ox cart designs, however, this is by no means the only attraction. Throughout the town, expect to find artisanal, family-run souvenir shops, as well as locally crafted furniture shops. Using a variety of materials, a plethora of artifacts can be found and purchased here. Some of the most popular items are wooden utensils and bowls, as well as jewelry. However, it isn't uncommon to find larger items, such as chairs and tables. Whilst most of the smaller products make perfect souvenir gifts, the larger artifacts are typically destined for the local markets. 
It is so special and valuable that, even after hundreds of years, traditional practices are still deployed and utilized, especially in an era of modern and easy technology. Knowledge is passed down from generation to generation, ensuring artisanal techniques are still used correctly within the family. Consequently, the industry is still booming. 
However, there are more than just crafts to be had in Sarchí. Worth a visit is the Templo Católico de Sarchí Norte, a beautiful church and park that certainly keeps in line with the artistic flow of the town. Built in the 1950s, and sitting atop a hill overlooking the town below, the two-spired church is painted blue and pink. The colors don't stop there, however, as the grounds around the church are painted in a dazzling display of primary colors – colors that are typically found pained on the ox carts themselves. It is a beautiful sight to gaze upon this church.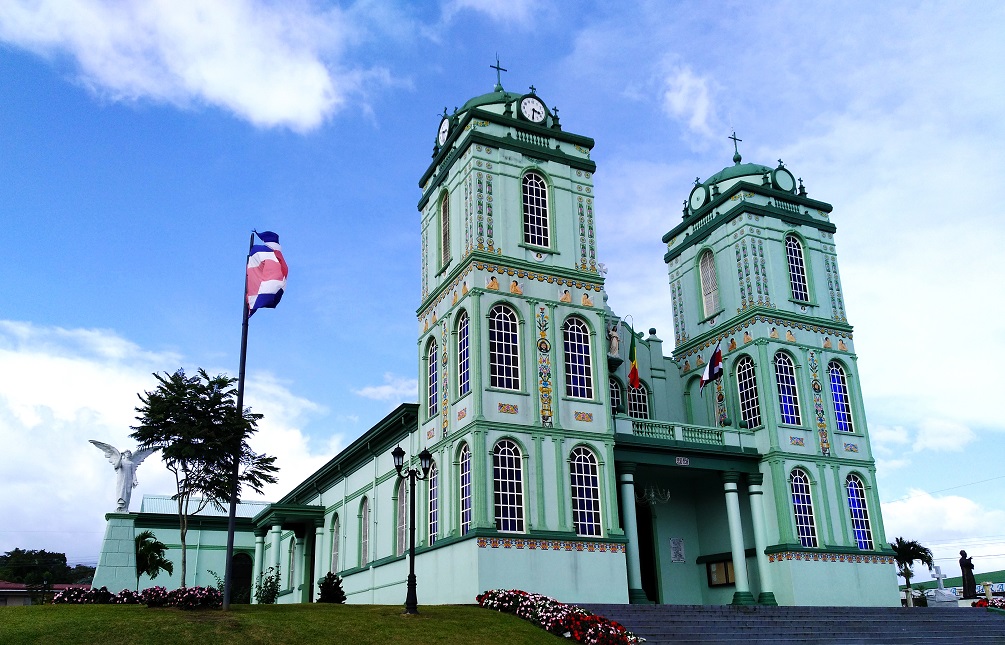 Lastly, it wouldn't be Costa Rica without squeezing in a bit of nature somewhere. Fortunately, Sarchí can be found on the boarded by typical Costa Rican countryside, as well as a sprinkling of jungle trees. Explore the surrounding coffee plantations or even take a trip to the nearby Poas Volcano; a geological spectacle with one of the world's largest crater lakes. Explore Catarata Caida Del Cielo, a spectacular waterfall system complete with refreshingly cool, blue pools below. 
This can all be completed in a day trip from Alajuela or San Jose. Or, escape the rushed feeling and book into one of the many accommodations around the town for the night.