Your New York experience won't be complete without getting a taste of the city's famous foods. New York cuisine is a mix of various ethnic cuisines that infiltrated the Big Apple, creating an evolution of flavors.
Here's a guide to the 10 quintessential NYC foods and dining experiences that you must try.   
1. Bagels
This circular bread with a hole in the middle is truly quintessential New York food. The bagel, brought to the shores by eastern European Jewish immigrants in the late 19th century, truly symbolizes the city. 
When in New York, you have to get the authentic bagel— which is hand-rolled and boiled before baking. What makes an NYC bagel taste better compared to other bagels on the planet is the water used to make this iconic bread— right from the city's champagne-like tap water.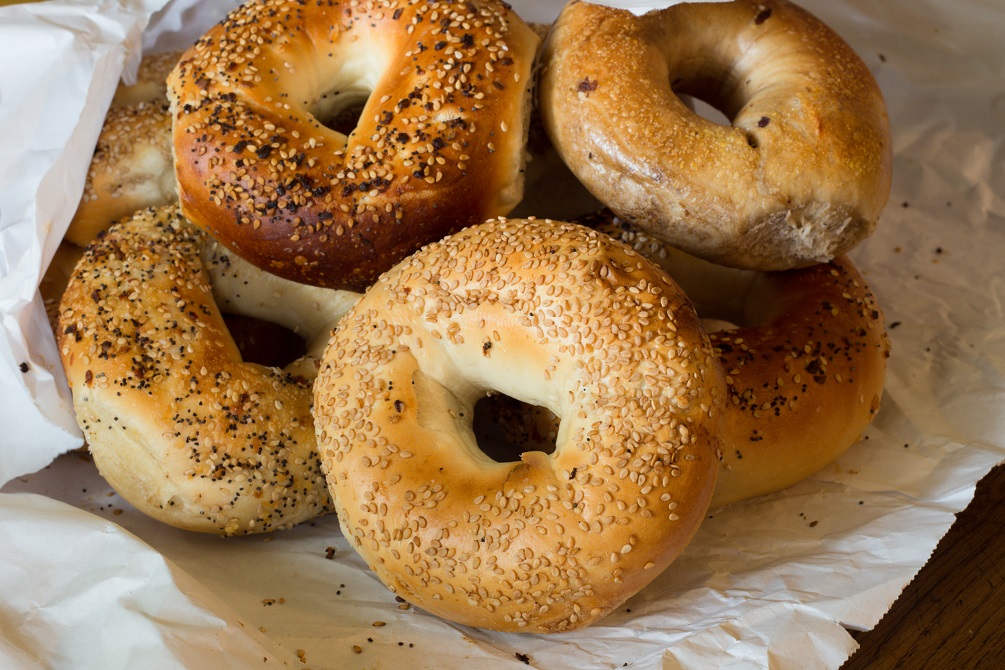 Where To Get the Best Bagels
Head to Upper West Side's Absolute Bagels. This popular bagel shop has perfected the classic NYC bagel. Theirs are gloriously rich, chewy, and fluffy inside. You can get it plain toasted with butter, or with cream cheese on top!
 2. Pizza
Another crucial NYC gastronomical experience is the pizza. The NYC-style pizza slice, like you see on TV, is wide, thin-crust, large, and hand-tossed. Thanks to the Italians that brought pizza to America in the 20th century.
The technique is Neopolitan and prepared inside a coal oven. The best pizza is prepared the old-fashioned way, including preparing the dough for an entire day.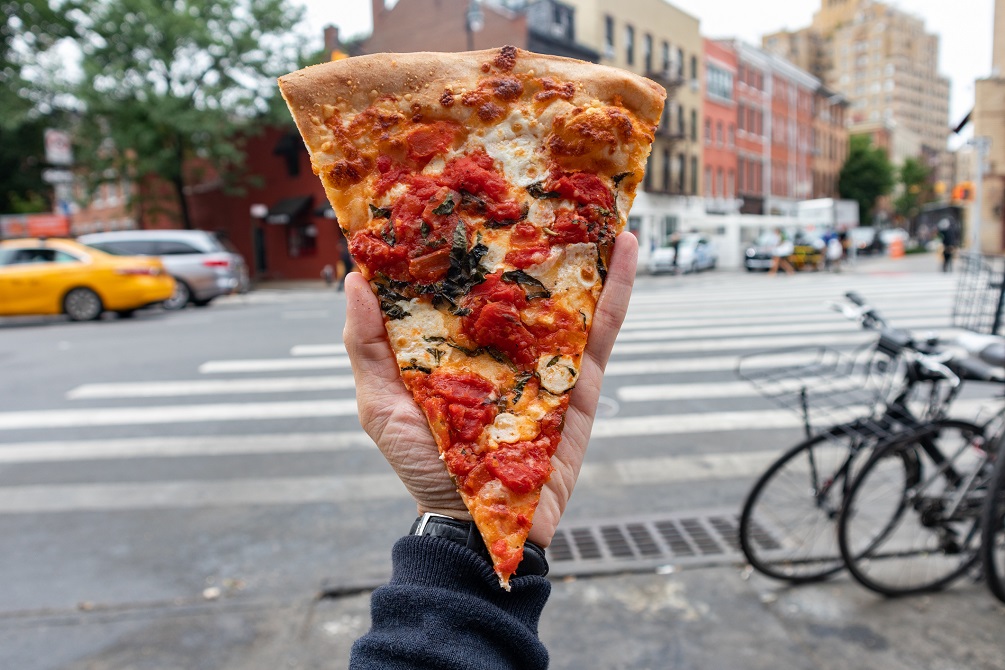 Where To Get the Best Pizza
Lucali does pizza the old-fashioned way— everything is done lovingly and hand-crafted. The best part? He slips the pie into a wooden oven to bake, which is responsible for that bubbly, crispy crust.
3. Donuts
This fried pastry delight that Homer Simpson is known to gobble up is another NYC food staple. This addicting pastry came to the American public in 1673, courtesy of Anna Joralemon's donut shop, along Broadway near Maiden Lane. 
Since then, donuts have sprouted all over the Big Apple, making it one of the quintessential snacks of this cosmopolitan city. From artisanal to the overhyped Cronuts, donuts are now everywhere in the city.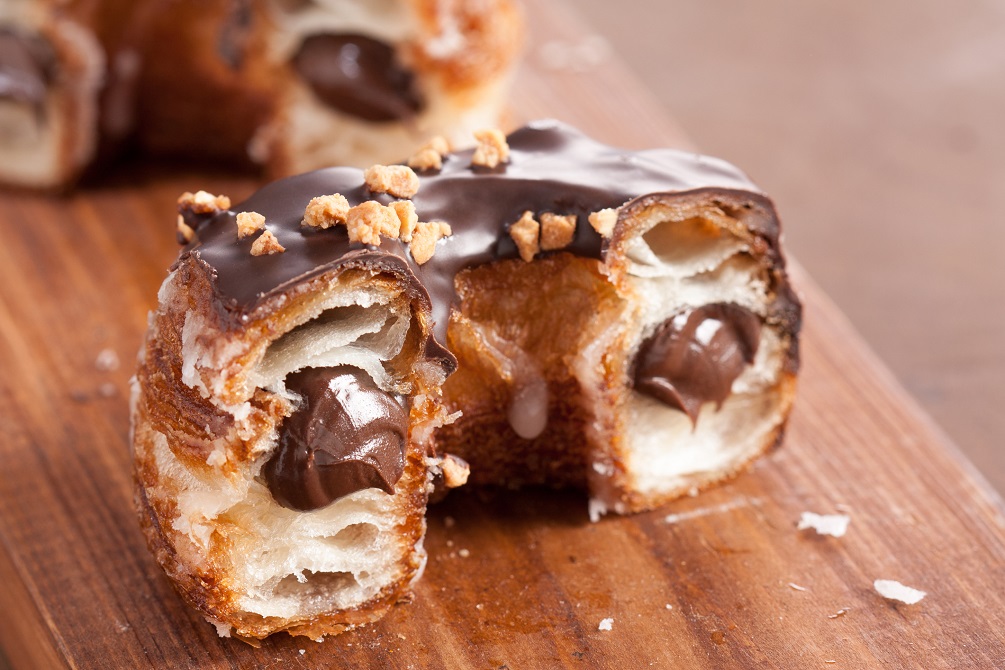 Where to get the best donuts:
Dough, in Flatiron District, takes a modern, unforgettable twist on the NYC donut. Their donut is handmade and 4" in diameter. The flavors will make the donut lover wild: from dulce de leche to cinnamon sugar, and the seasonal pecan pie.
4. Hotdogs
NYC hotdogs are often found in touristy spots, catering for the city visitors. The original hotdog dates back to the 1870s in Coney Island and has become the staple food in drive-through cinemas, sports stadiums, and corner streets.
Traditionally topped with spicy brown mustard, plus sauerkraut (alternative: onions), the NYC hotdog is deeply rooted in the city culture.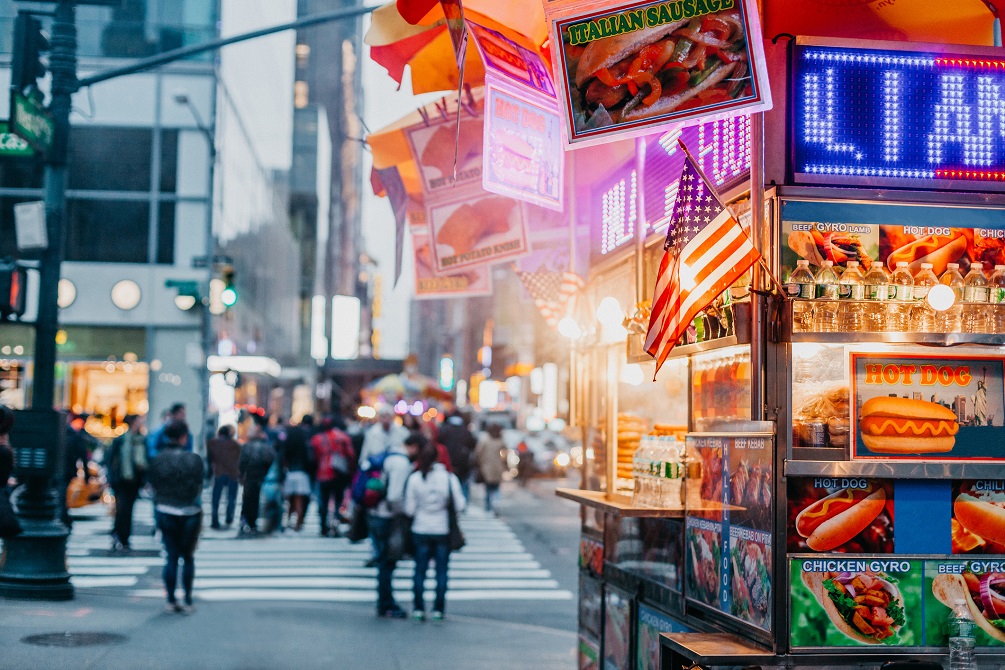 Where to get the best hotdogs:
Gray's Papaya is where to make a beeline for the ultimate NYC hotdog. This family-owned business since 1974 is famous for its Recession Special, which consists of two hotdogs plus a tropical drink.
5. Cheesecake
During the 1930s, the smooth, velvety cheesecake was made popular by delicatessens owned by Jews. The difference between an NYC cheesecake and a regular one is the additional amount of cream cheese, egg yolks, and more cream.
Only in NYC will you find the most indulgent cheesecake in the world. It is richer, denser, larger— and life-changing.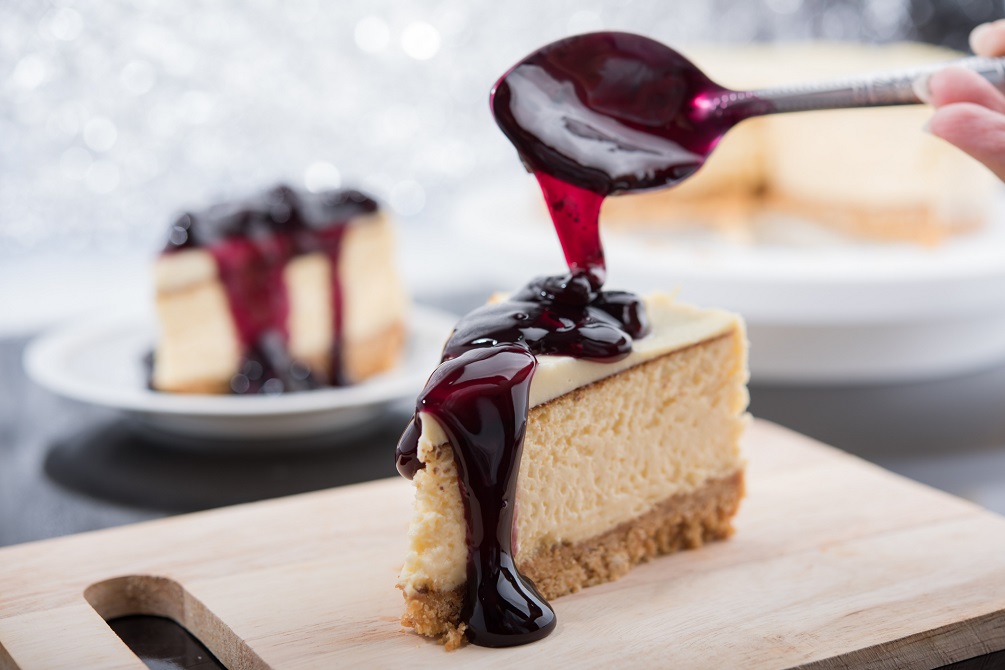 Where to get the best cheesecake:
Junior's Restaurant is the place to be for your cheesecake cravings. At their landmark branch in Brookly, you'll find a cheesecake haven with mouthwatering varieties— from plain to red velvet.
6. Sandwich
A great sandwich can stay in your memory forever. In New York, sandwich joints run the gamut. They're usually served with Russian dressing, swiss cheese, pickles, and mixed greens.
There are many types of sandwiches in the city. But what makes this a quintessential food is how almost every sandwich sold in the street corner is finger-lickin' good.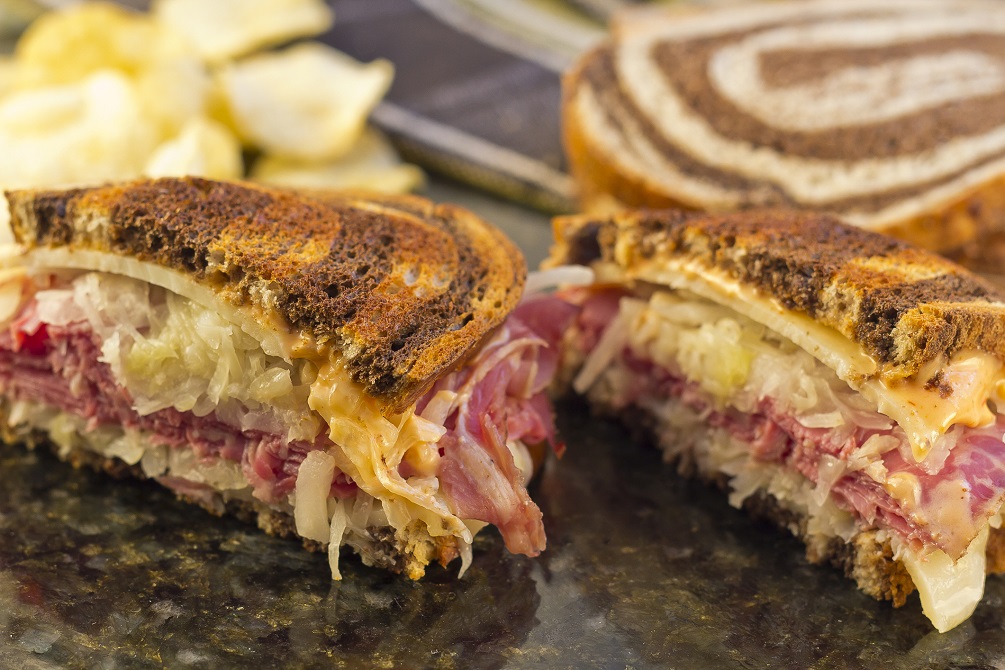 Where to get the best sandwich:
Numpang churns out some of the best-tasting sandwiches you'll ever eat in your lifetime. There's one on Chelsea Street, where they serve a soul-stirring mini-baguette. Request for toppings like spicy mayo, pickled carrots, and fresh cucumber.
7. Ramen
Ramen has become a trendy NYC food. This is why ramen shops are now sprouting everywhere in the big city.
This is not the instant ramen that you can get at a local store. We're talking about authentic Japanese noodle soup.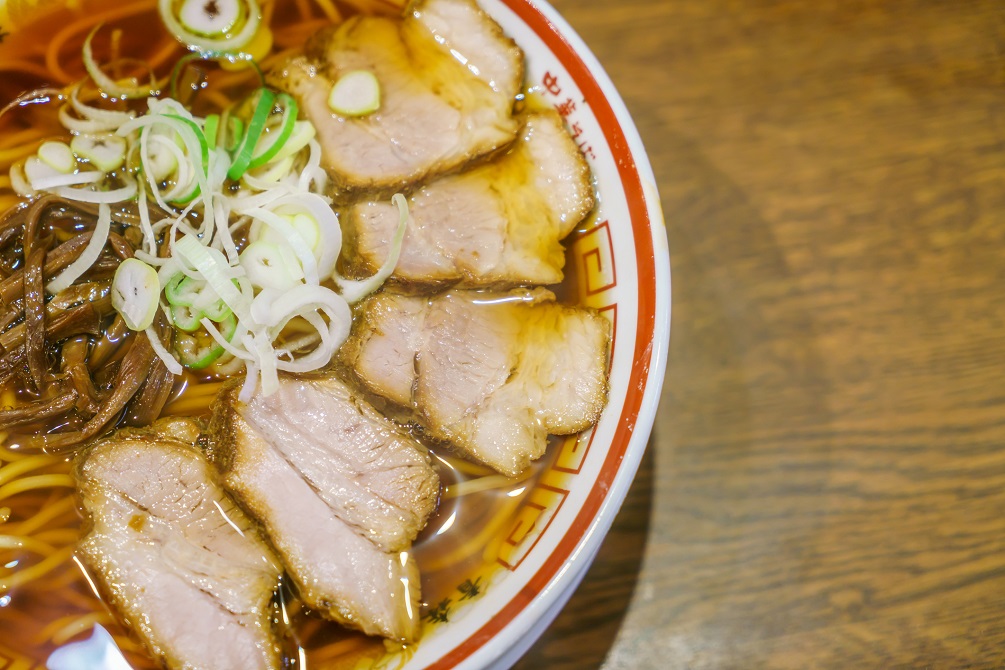 Where to get the best ramen:
Ivan Ramen. Hailing from a successful ramen stint in Tokyo, owner Ivan Orkin flew to NYC so the city will be mind-blown by his ramen. And he's right. One of his bestsellers is the triple pork triple garlic mazemen.
8. Waffles
Belgian waffles in New York City? Come on! Yes, we are serious. There is no need to fly to Brussels or Belgium for a waffle with deep pockets to hold that delectable syrup.
In NYC, Belgian waffles have become a quintessential food for both locals and tourists alike. You can't leave NYC without tasting one!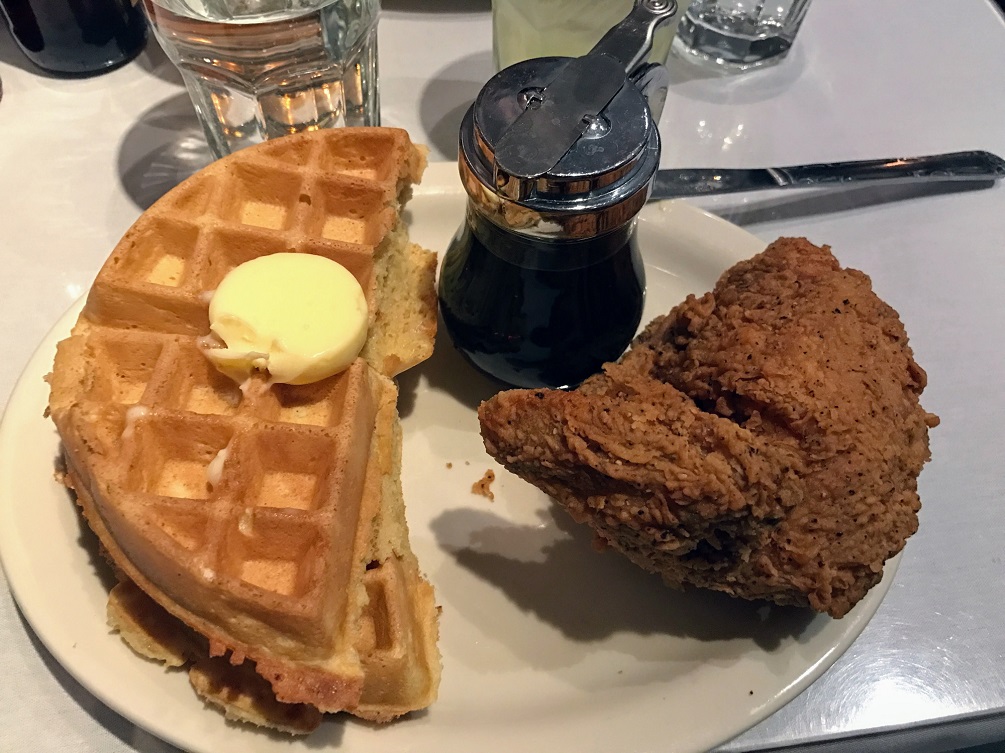 Where to get the best waffles:
Wafels + Dinges offers sweet, authentic Belgian liege waffles. They are the real deal. And if you request for a toppling of speculoos, you might just weep with joy.
9. Tacos
Who needs to go to Mexico, when NYC has now become one of the world's prime sources of the best tacos? Critics, who used to laugh at NYC tacos, now revere them.
This traditional Mexican dish of folded tortilla with a bunch of filling. One crunch of a bite is an explosion of unforgettable flavor.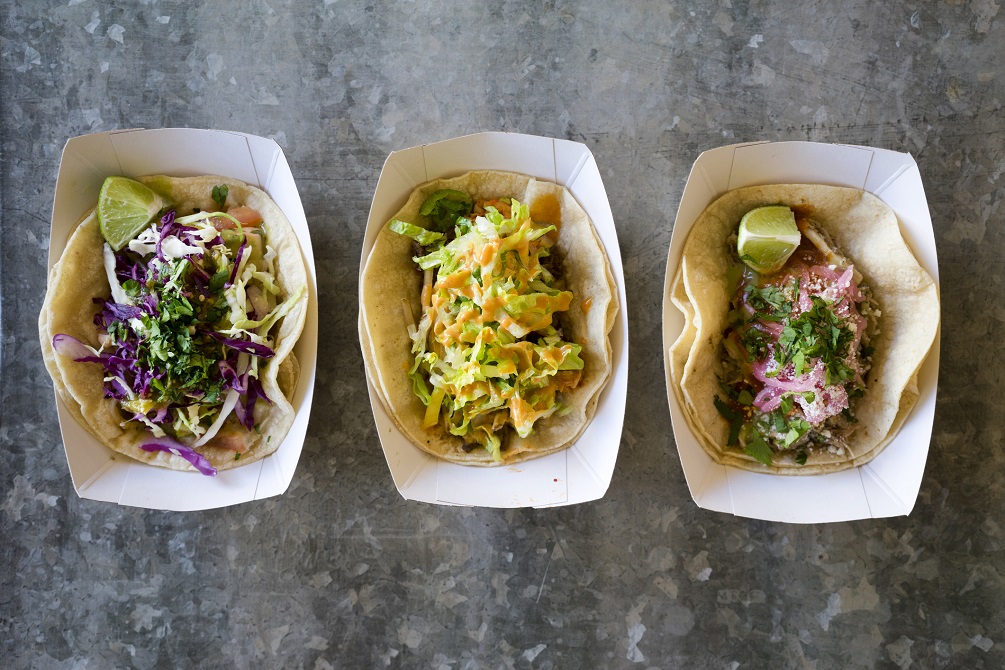 Where to get the best tacos:
At Chelsea Market, go to Los Tacos No. 1— literally the numero uno place for your taco dreams. Yep, the lines are ultra-long, but it's worth it. Their especial will haunt you forever.
10. Barbecue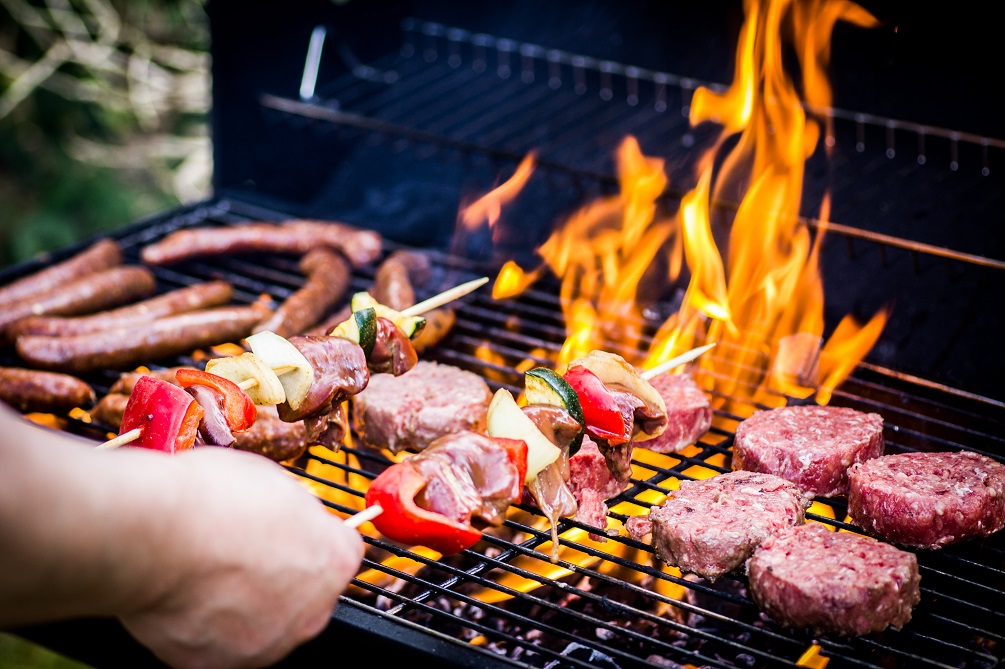 For the discerning foodie, barbecue is a tricky business. It's either mediocre or amazing. 
In NYC, you're going to find some of the best barbecues in the world. Your mom's barbecue can never be rivaled, you say? Prepared to be proven wrong.
Where to get the best barbecue:
Hometown Bar-B-Que has multiple locations, but their Red Hook, Brooklyn branch is where all the action is. You will faint from their beef rib and brisket.
Foodie Paradise
New York is not just a cinematic city where romance, arts, and drama unfold daily. It's also one of the world's best places to indulge in authentic, life-changing foods.