Virgin Atlantic has made public for the first time the much-awaited Airbus A330neo, which is intended to give each and every passenger a luxurious, customized experience. The Upper Class cabin of the airline features a brand-new seat, an updated version of its iconic communal area, and the debut of The Retreat Suite, the largest suite in Virgin Atlantic's history.
There will be more methods than ever for passengers to stay connected throughout the aircraft. Travelers in Premium and Upper Class may benefit from revolutionary in-seat wireless charging, while passengers in every cabin can take advantage of more USB ports, entertainment systems with Bluetooth capabilities, and the airline's fastest Wi-Fi ever.
Virgin Atlantic reaffirmed its commitment to operating the cleanest, greenest fleet in the sky in 2019 by being the first airline in the UK to place a firm order for up to 16 Airbus A330neos. The airline operates a fleet with an average aircraft age of just under seven years and 68 percent next generation aircraft thanks to a multi-billion dollar investment in fleet transformation over the previous ten years. By the start of 2027, this rises to 100 percent next generation. In order to save fuel and cut pollution, Virgin Atlantic's planes are outfitted with the most effective engines and cutting-edge technologies. So far, this has resulted in a 20% reduction in fleet carbon emissions.
We'll reduce carbon emissions by another 10% over the ensuing ten years. The A330-900 Neos will significantly reduce airport noise by 50% and are engineered to be 11% more fuel and carbon efficient than the A330-300 they are directly replacing.
Early in October, Virgin Atlantic's A330neo is anticipated to take off on its inaugural customer flight to Boston. The sale of tickets will start later this month. Three aircraft will be delivered to the airline starting in September 2022, with the remaining deliveries occurring between 2023 and 2026.
The Retreat Suite, a recent addition to Virgin Atlantic's Upper Class lineup, comprises of two upscale suites in the cabin's front. A 6'7″ direct seat to totally flat bed and a 27″ touchscreen with Bluetooth connectivity and wireless charging make up the airline's largest suite to date. Up to four people can easily dine, converse, or play games in their own private social space thanks to the ottomans that come with each suite and double as additional seats. Customers can relax and have a romantic meal or watch a movie in luxury.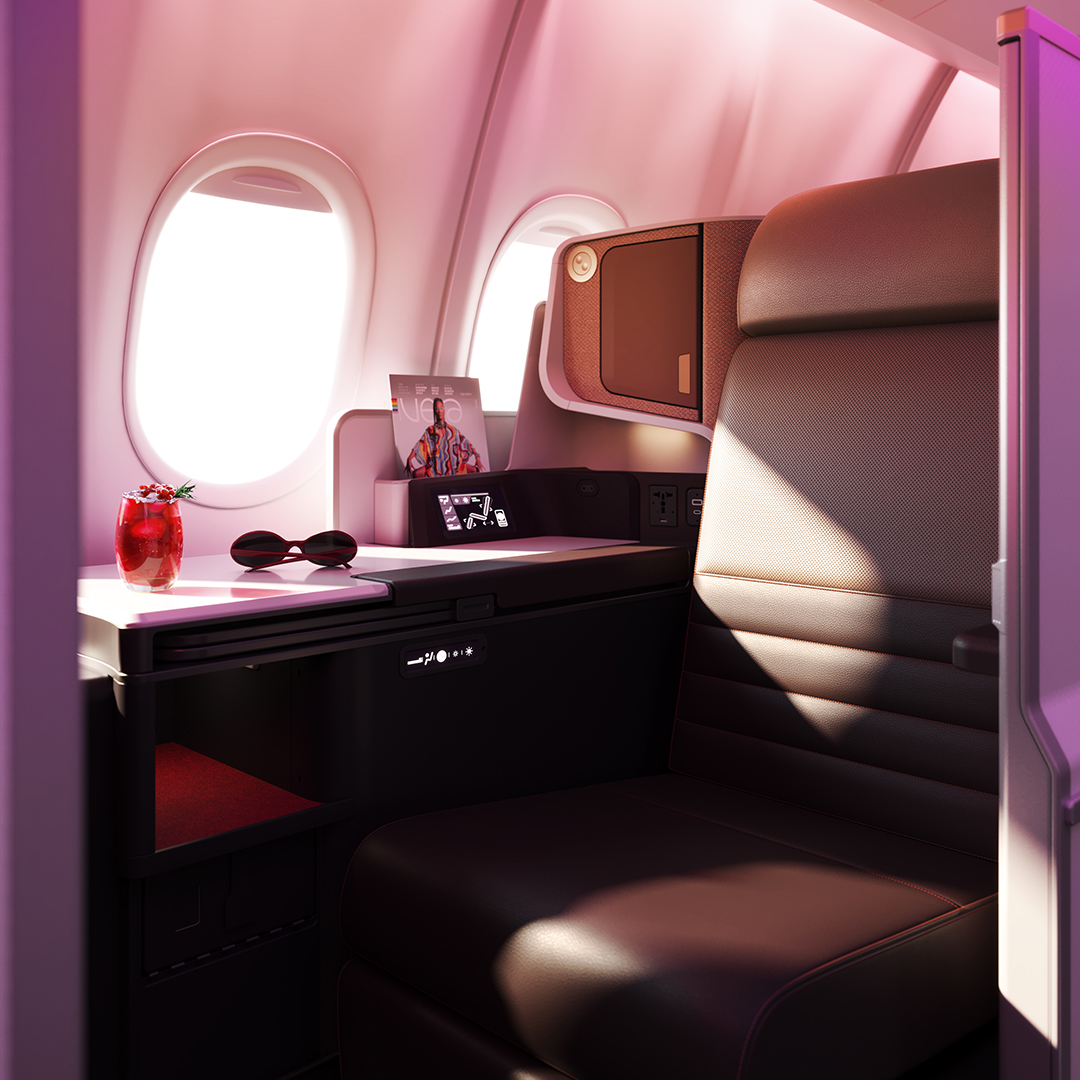 There will be 30 brand-new Upper Class suites available on the A330neo in addition to The Retreat Suite. A fully shutting privacy door and greater room and storage are included in the entirely forward-facing suite. 'Do not disturb' functionality It boasts a 17.3″ touchscreen TV, passenger-controlled mood lighting, and even a mirror so passengers can make sure they're runway-ready.
As passengers board the aircraft, the award-winning social area of the airline, The Loft, maintains a focal point of the cabin design and is an integral element of the Upper Class experience. It features four comfortable seats for eight people, an evolution of the Airbus A350's design, allowing passengers to speak while sitting down or enjoy refreshments from the new self-service fridge and beverages dispenser.
Customers can use the wireless charging capabilities for their devices or pair Bluetooth headphones with the dual panoramic 27″ touchscreens.
The A330neo's Premium cabin, which has 46 seats, is significantly improved by stylish details. The 38″-pitch burgundy Premium seats that have become synonymous with Virgin Atlantic are still present, but now every seat has a calf rest and a 13.3″ touchscreen with Bluetooth audio. Additionally, the airline provides a wireless charging pad for in-seat use to its Premium customers.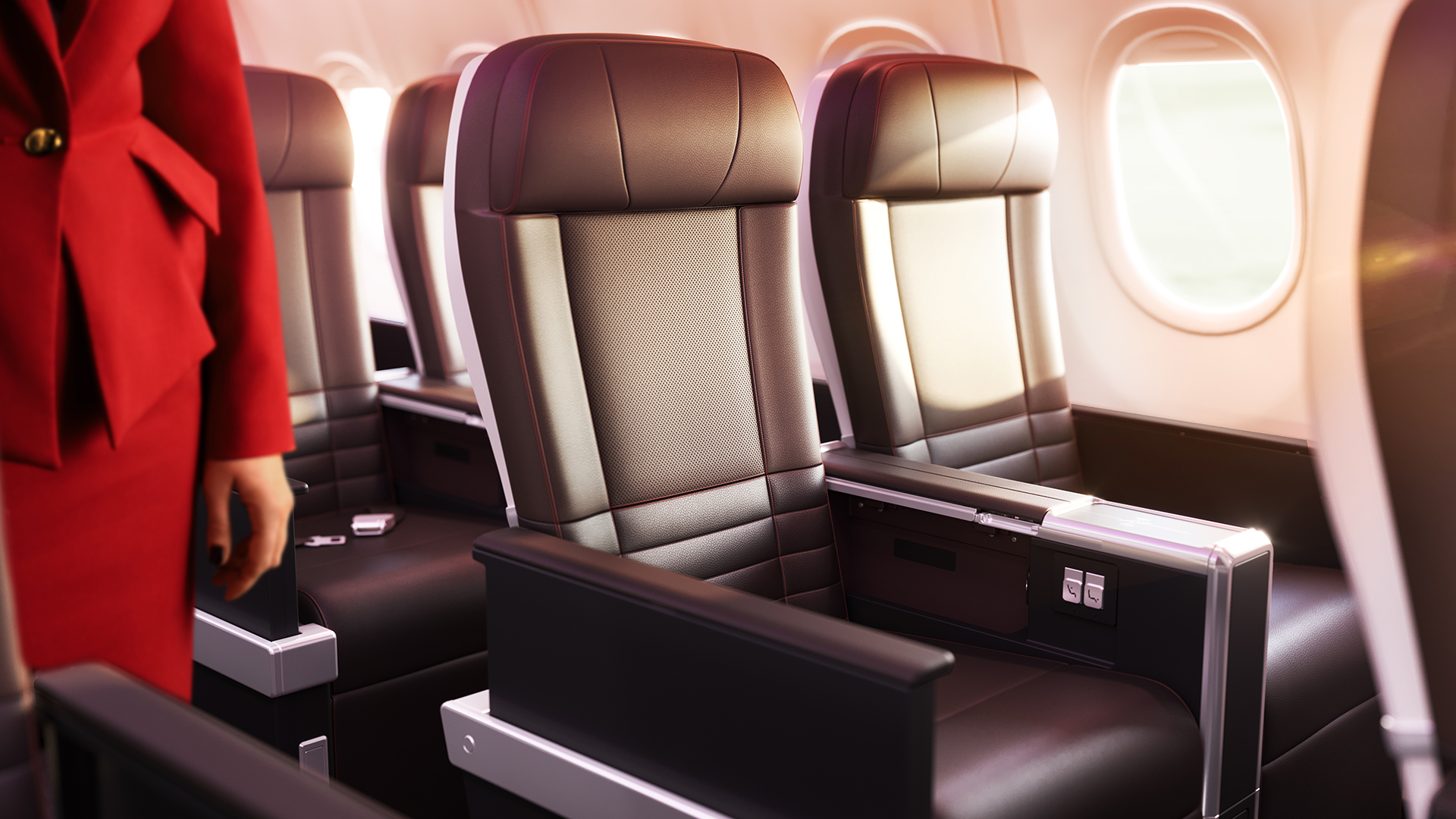 In the new Economic cabin, guests will enjoy the largest economy screen ever at 13.3″, an intuitive touchscreen, Bluetooth audio to connect headphones, and the ability to use their phone as a controller. Comfort and connection are the order of the day in the new Economy cabin. Additionally, there is a ton of storage, as well as AC power and USB connections to keep electronics charged. Customers can choose between 156 Economy Classic seats with a 31″ pitch or 28 Economy Delight seats with a larger 34″ seat pitch.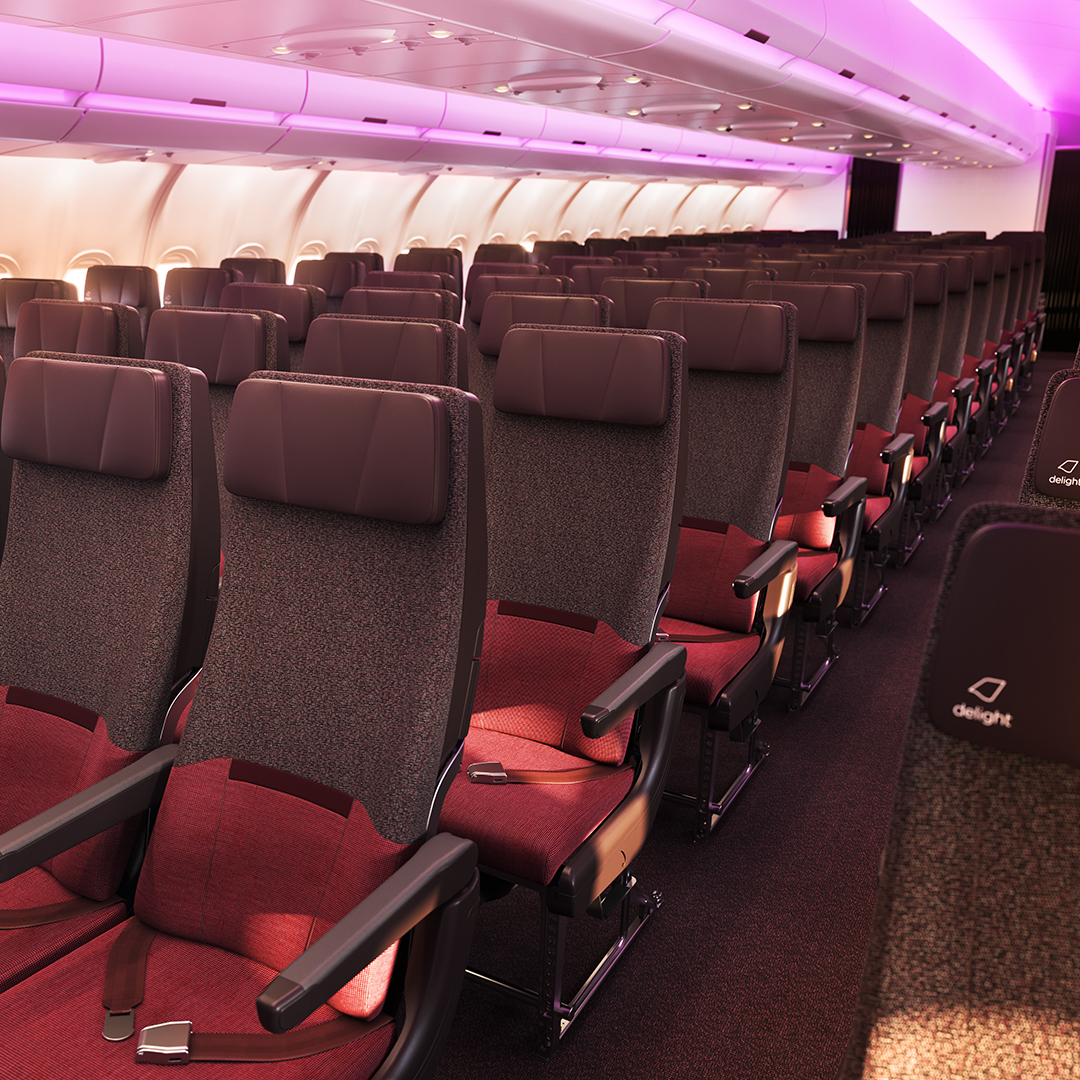 The Retreat Suite, Upper Class Suite, and The Loft were developed by the Virgin Atlantic in-house design team in partnership with Factorydesign.