British Airways has launched two new branded fares which offer enhanced flexibility and refundable options. Both fares are exclusively available through travel agent partners of the airline.
The Select Pro and Select fares will give customers the flexibility to cancel a flight and claim a full or partial refund if their travel plans change. Both these refundable fares will be changeable or refundable without any change fees payable.
The Select and Select Pro fares are immediately available to book by agents and will sit alongside the current Basic, Standard/Plus and Fully Flexible fares. Select fares will be available both on short-haul and long-haul routes, and Select Pro be available on long-haul routes only.
Fares will cost from an additional £50 on short-haul return tickets and from an additional £100 on long-haul return tickets on the prices payable on Standard and Plus fares.
The table below shows the differences between each available fare brand: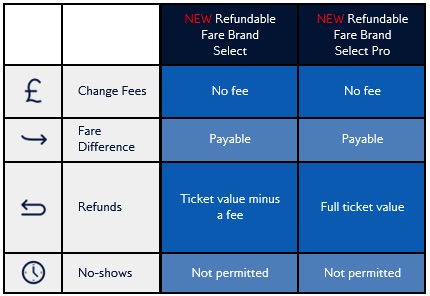 The new fare brands will be available to book through British Airways' Atlantic Joint Business partners – Finnair, Iberia and American Airlines.
Mark Muren, Head of Global Sales at British Airways, said: "We have launched these fares in response to the challenging environment we find ourselves in. We recognise that our trade partners want flexibility when they book with us, and we hope that today's launch gives them even more options to achieve this, with the choice to refund a ticket should their customers' plans change."
Travel agents will be able to use these new fares with package holidays which will allow them to offer greater flexibility to their customers and complete peace of mind.