Manchester Airport is scheduled to open its new 'Super Terminal' this week, with the first passengers expected to travel through the huge expansion.
The Terminal 2 revamp, which was first announced in 2015 and finished months ago, is the centerpiece of Manchester Airport Group's £1 billion transformation initiative.
However, the initial opening date of summer 2020 was postponed due to the coronavirus epidemic, which caused international flights to be grounded.
Its debut on Wednesday will have been a long time coming, having been rescheduled for May and then June this year.
Last week, unions organized a demonstration of airport workers and even hub managers, pleading with the government for further help as the furlough scheme comes to an end and fears for the UK's travel industry grow.
As a result, the new terminal may represent a ray of hope for industry insiders, workers, and travelers alike.
Meanwhile, the Departure Lounge features a honeycomb light installation with '16 million settings,' a tribute to the Manchester worker bee.
The main attraction is an 81-square-meter digital screen that displays flight information. Many of the stores, cafes, bars, and restaurants on offer, many of which hail from the north, have pledged to serve consumers at high street pricing.
Two airport-operated lounges, each with a capacity of 400 people, are located on the upper level, with floor-to-ceiling windows providing customers with panoramic views of the airport.
Meanwhile, passengers arriving at the hub will be greeted by a new immigration facility that is four times larger than the previous one. In addition, modern new baggage reclaim will open, with three of the eight new baggage belts operational at first.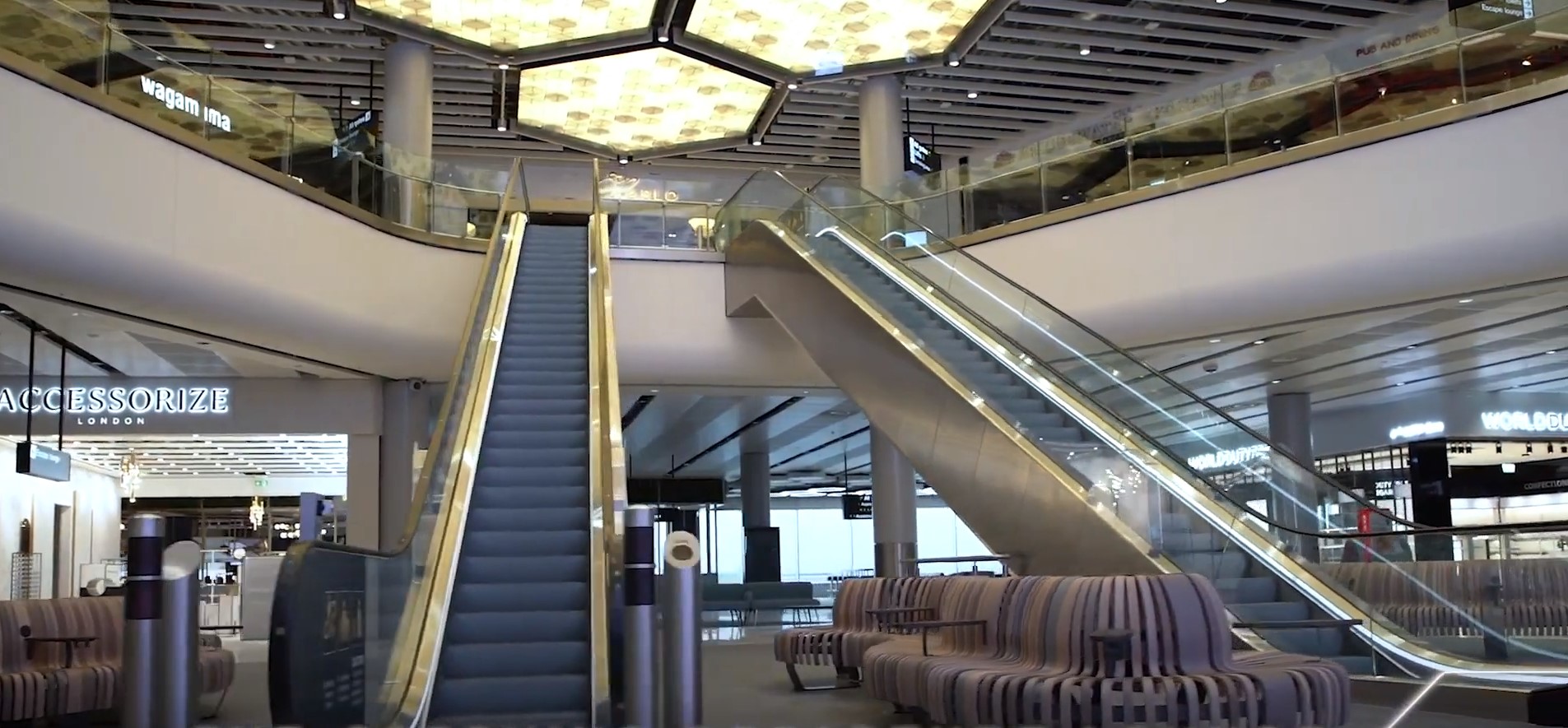 Because of the staggered launch,' Jet2 and TUI flights will begin operating from the terminal on 14th & 15th July, respectively, with additional airlines following in the weeks ahead.
On Wednesday, there will be only three departing flights, each carrying up to 600 passengers, to Menorca, Ibiza, and Palma de Mallorca.
TUI will begin service on Thursday, with routes to green-listed locations such as Malta and Madeira, and Singapore Airlines will begin service on 17th July.
More aircraft and facility announcements will be made as the government improves its traffic light system and seeks to eliminate the necessity for double-vaccinated travelers to self-isolate.
Manchester Airport's Managing Director, Karen Smart, said: "It is a proud milestone for our airport as we begin to emerge from the restrictions brought about by the Covid-19 crisis, and an important moment in our 83-year history.
"This project was always about offering the modern airport experience that families and businesses across the North deserve as they travel through their international gateway to the world, and our new terminal certainly delivers on that goal."
She admitted that the pandemic prevented them from welcoming as many customers and airlines as they had intended, but added: "As Government restrictions continue to be eased, and travel to more destinations is opened-up in the weeks ahead, we will be making further announcements about the carriers and retailers operating from T2.
"In the meantime, we look forward to celebrating this milestone and welcoming those who are traveling through the new terminal later this week. I would also like to thank all our colleagues and partners for their hard work and dedication in getting us to this point."
Customers will be able to eat at Pret-a-Manger, Costa Coffee, KFC, The Amber Alehouse, and The Bridgewater Exchange by Joseph Holt at first.
On Thursday, Manchester icon Archie's and juice bar VIT will launch their new Facility Two locations, while other outlets will open as more passengers use the terminal.
The facility will be 'Covid-secured,' with additional safeguards such as improved cleaning.
Laing O'Rourke, together with partners such as architects Pascall + Watson, design consultant Arcadis, airfield works contractor Galliford Try, engineering and architectural services contractor Jacobs, and luggage contractor Vanderlande Industries spearheaded the six-year project.
The bosses have also constructed a new parking lot.
The 'T2 Multi Storey West' was finished in 2019 and will be open to passengers on Wednesday, along with the pre-existing 'T2 Multi Storey East.'