For an airline that started as an all economy carrier not dissimilar to easyJet operating mainly secondary domestic routes in the USA, JetBlue has clearly come a long way! UK travellers will be pleased to see that the airlines brand new Mint Suites will debut on the new London to New York route which will start flying later this year.
Passengers will find the new fixtures aboard the airline's forthcoming Airbus A321LR jets, which will go into service on JetBlue's first transatlantic route between New York and London.
The new Mint suites feature sliding doors and a 1-1 single aisle configuration. The only other carrier featuring a 1-1 configuration in a premium cabin is American Airlines on their transcontinental Airbus A321 aircraft. Other airlines with lie flat seats in premium cabins aboard narrow body aircraft such as Qatar Airways, Aer Lingus, United Airlines, Singapore Airlines and Vistara do not have the advantage of offering every passenger direct aisle access. Even British Airways' baby bus that operated an all business class flight between London City and New York did not offer all aisle access to its business class passengers.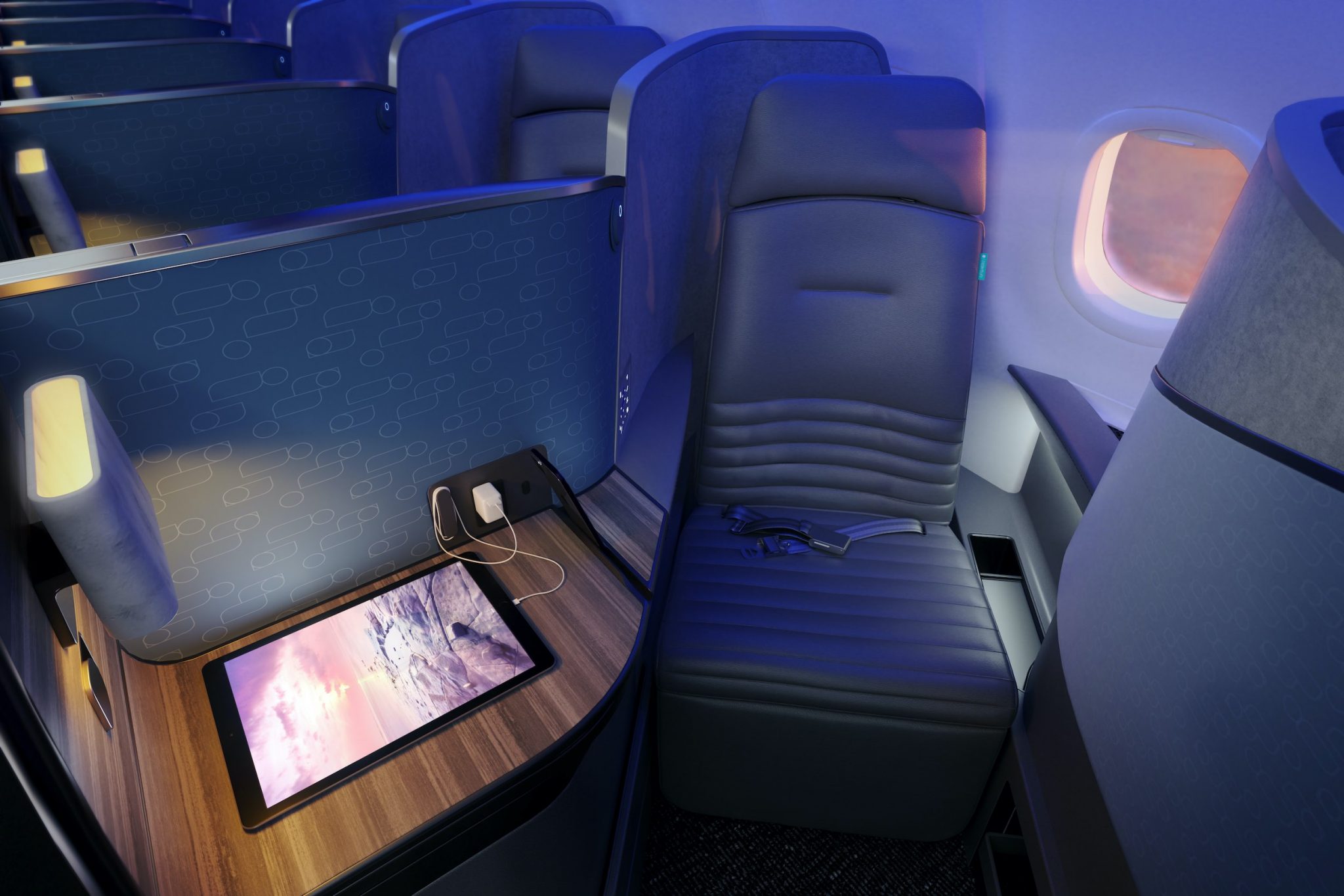 The new Mint Suite therefore offers the opportunity to travel aboard one of the most exclusive premium cabin configurations aboard a narrow body aircraft. Unlike American Airlines however, the Mint Suite uses the old herringbone layout which has fallen out of favour with frequent flyers who prefer the reverse herringbone configuration that is used by British Airways in their new Club Suite. On the surface this may seem like a step backwards for business travellers. Virgin Atlantic for example have just replaced their 20 year old herringbone seats for the more popular reverse herringbone seat.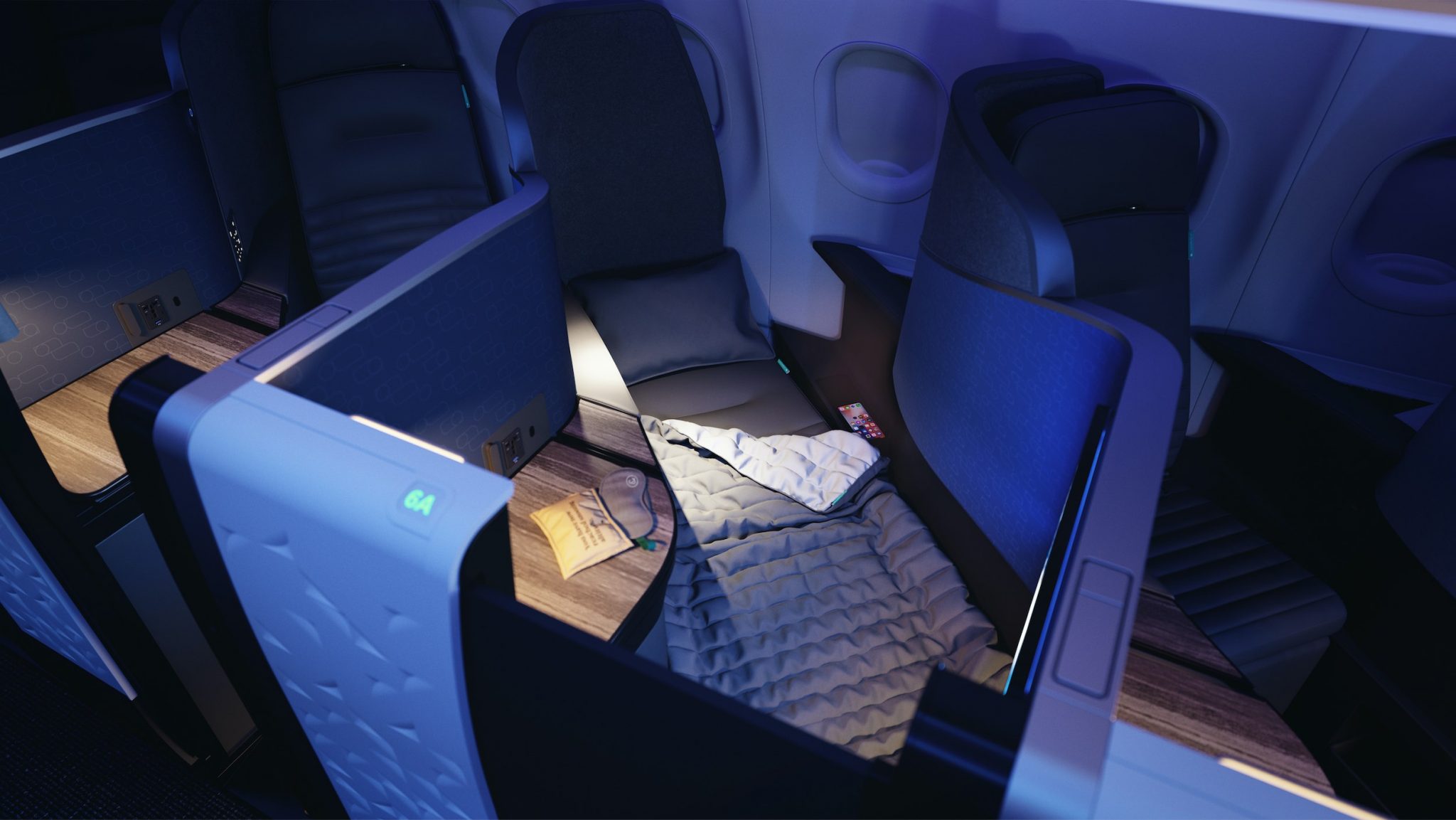 The Mint Suite uses Thompson Aero Seating's VantageSolo seat which has sought to overcome many of the deficiencies that had become so unpopular with business travellers. The seats still face away from the windows however the Mint Suite seats do offer much more storage space, don't rely on the exposed ottomans and can be reclined into a bed rather than needing to be flipped over by cabin crew.
The Mint Suite seats also have significantly more privacy than the old herringbone seats historically used by Airlines like Air Canada and Virgin Atlantic. There is a privacy shield around the back of the seat, additional privacy at the aisle and of course the pre-requisite door to enable the airline to call it a suite. As a result of the design, the first row seats have a significantly larger area and JetBlue have capitalised on the extra space and labeled them "Mint Studio" seats.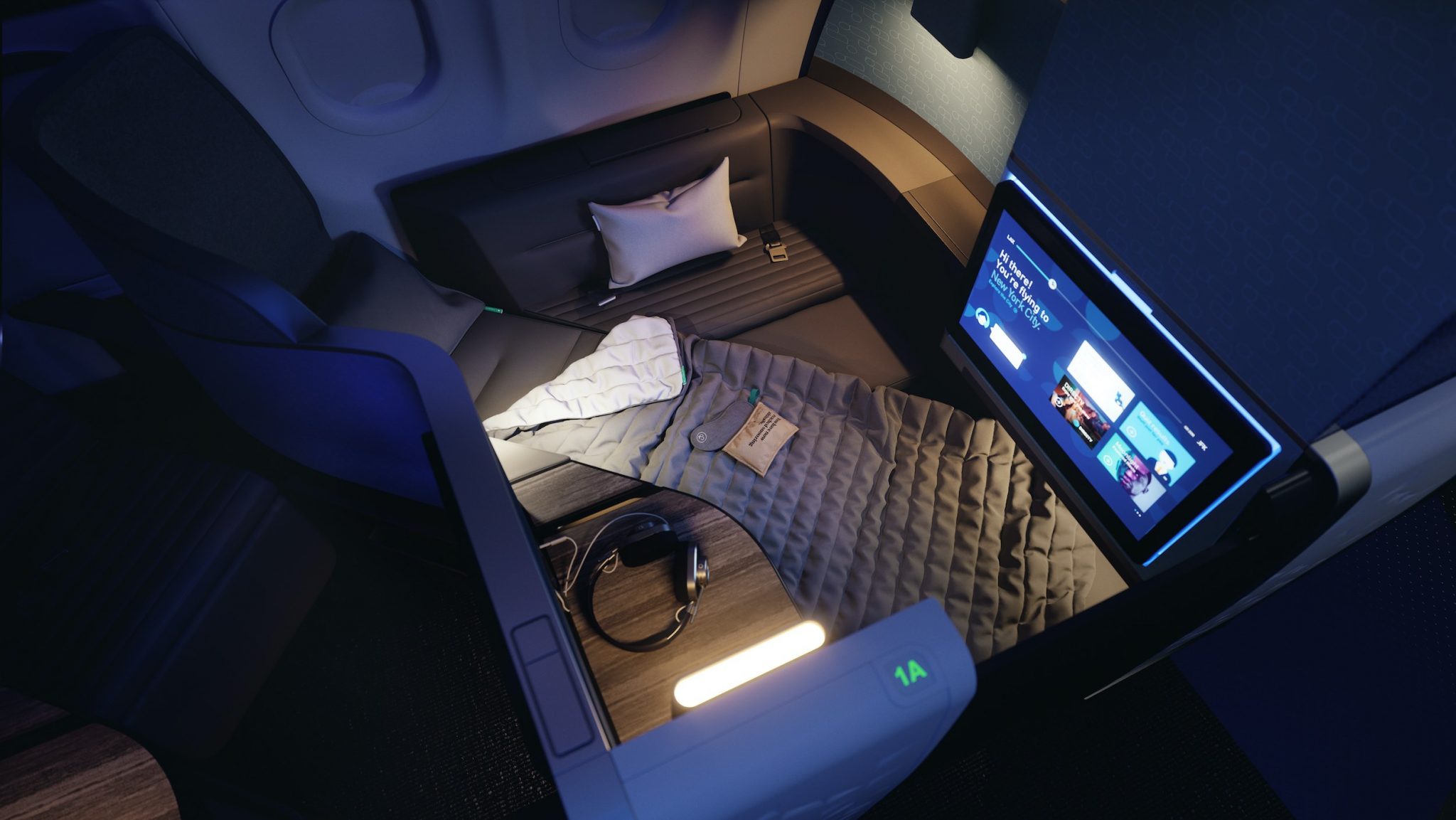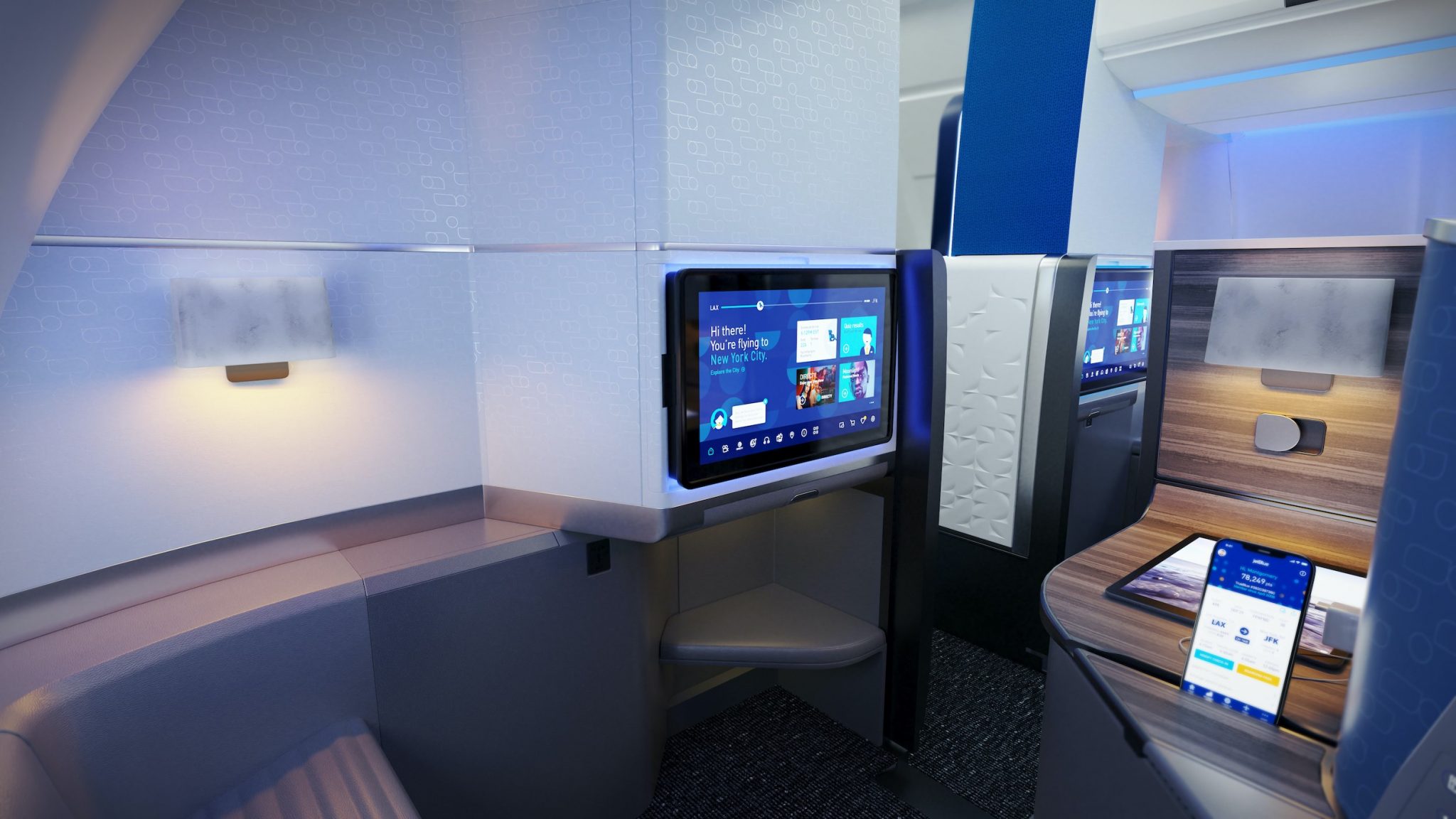 The 24 individual suites feature a tilting 17-inch Thales AVANT seatback screen, wireless charging capabilities and an integrated phone ledge for multitasking. The suite also offers easy-to-reach in-seat power, as well as laptop, shoe and handbag stowage.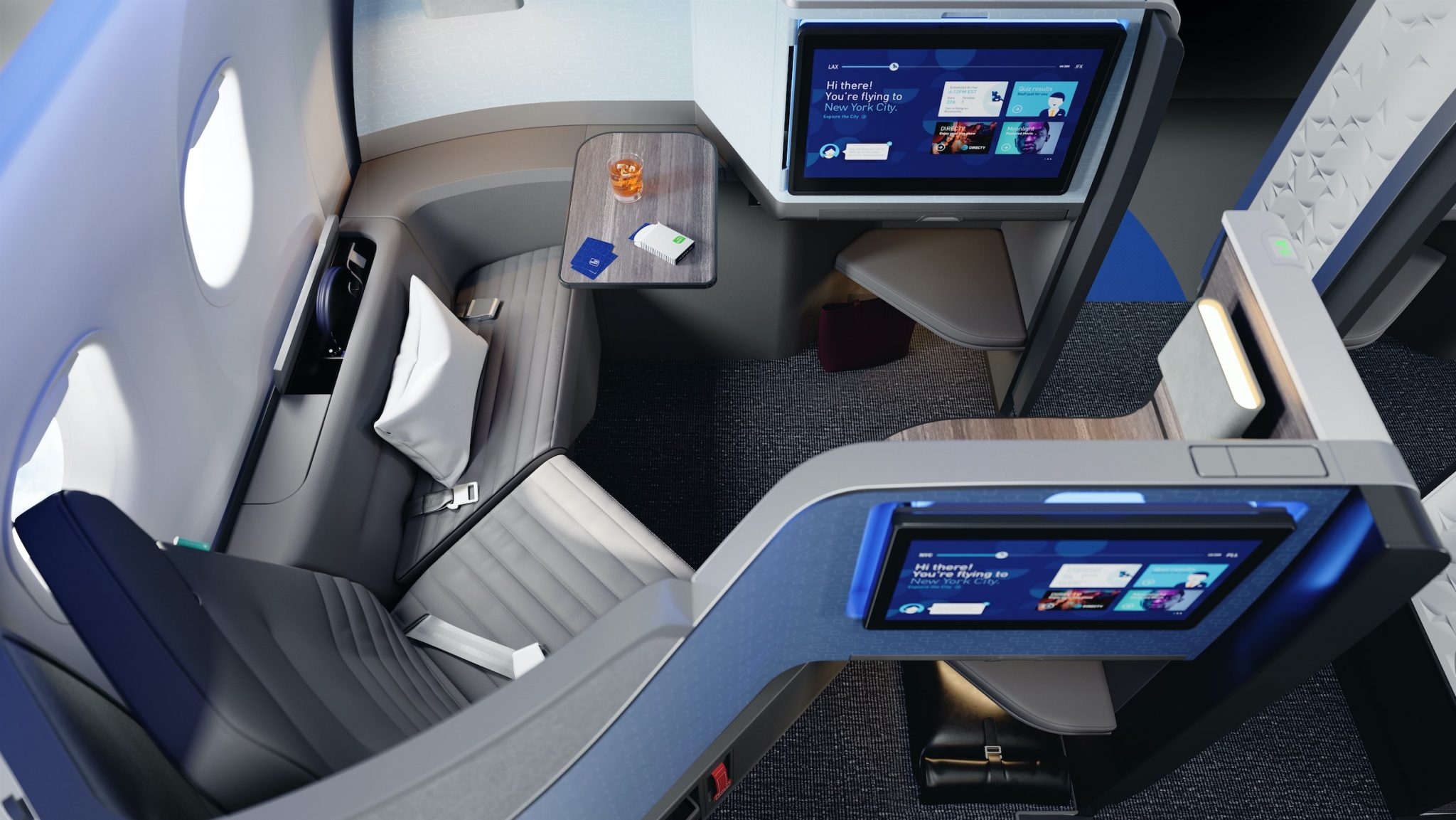 The two Mint Studios in the first row feature a 22-inch tilting Thales AVANT seatback screen, an extra side table for added productivity, and a guest seat that can accommodate an additional Mint customer during flight at cruising altitude. When reclined, the Mint Studio will provide the largest lie-flat bed of any American carrier.