As part of the ANA Care Promise project, ANA has announced that touch-free restroom doors would be installed.
The doors are expected to prevent physical contact with touchpoints onboard airplanes, limiting the spread of infections.
Japan's leading airline, ANA, has received a 5-star rating for the past eight years. They collaborated with JAMCO Corporation to develop the technology, which allows users to easily use restrooms without having to use their hands or come into contact with common touchpoints.
The doors are just one feature of the ANA Care Promiseblank effort, which aims to ensure the safety of airline travel in the future. Beginning May 1, the first hands-free doors will be available on domestic flights.
The doors are only one of many changes to come, according to Shinichi Inoue, Senior Executive Vice President, Customer Experience Management & Planning.
"Guided by the principles of ANA Care Promise, we have continued to invest in the development and implementation of innovative technologies because the health and safety of passengers and our staff is the top priority. The hands-free lavatory door is the latest example of us putting this principle into practice as we look for ways to make the travel experience safer and more convenient."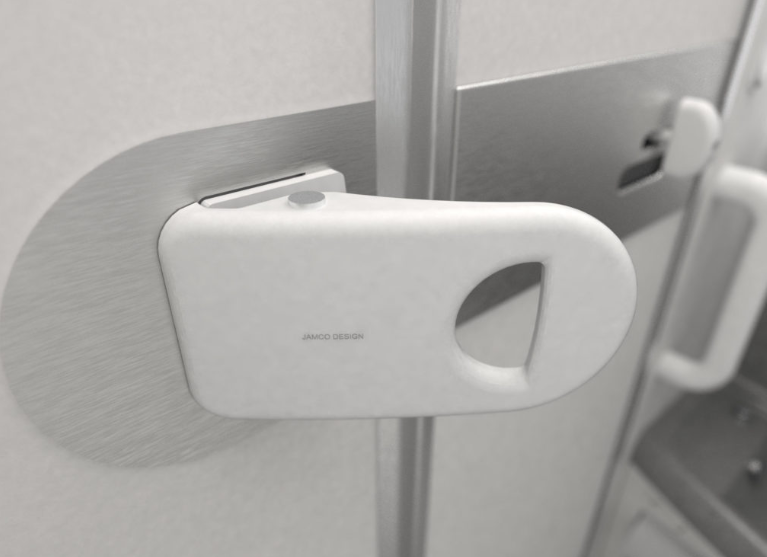 New signage with instructions has also been erected nearby to ensure that everyone knows how to use the new toilet doors and locks. The new doors have huge 'inner' door locking knobs as well as an additional handle that allows passengers to open the door with their elbows.
In response to the COVID-19 epidemic, the ANA Care Promise initiative was recently launched, with the goal of 'going above and beyond the advice of public health professionals in order to keep passengers and workers healthy.'
ANA is just the fourth airline in the world to receive the SKYTRAX Airline Safety 5-Star rating, confirming the success of the ANA Care Promise.
Leaving out Covid, when people don't wash their hands, toilet door handles have always been a germ fest. Hopefully, more airplanes will feature this style in the future.