We have spent over a year living and travelling in Thailand, so to say that we are experts may be quite an understatement. Often, we are asked 'where is best to do' or 'what are the best things to do in Bangkok' and here we are to answer those questions for you.
We recommend spending at least two weeks in Thailand, that way you should be able to see the main attractions including the Islands, Bangkok and Northern Thailand. Thailand is certainly a dream for many and when it comes to planning your itinerary, you'll soon realise there is an endless amount of things to do and see in the country.
No matter how you spend your time in this beautiful country, you will have the time of your life – no matter what activities you choose to partake in.
We have made YOU a list of the top 35 things to do in Thailand, and we couldn't recommend any of them more!
1. GO ISLAND HOPPING IN THAILAND
In Thailand, there are over 300 islands which would be almost impossible to visit all over your 2-week vacation. We suggest picking the one that looks the most appealing and then planning your Island hopping journey from there.
If we were to recommend an Island, we would say start at the Island of Koh Lipe and hop your way on from here. There is no better feeling than renting a longtail boat and finding your own private island – there is something very special about that!
2. GET A SAK YANT TATTOO
This is one of the most unique things to do in Thailand 
Fancy being brave, well why not get a souvenir that will last a lifetime? A Sak Yant tattoo is a traditional Thai piece of body art that is drawn by a monk with a metal rod (not a tattoo gun). The monk can spiritually choose what tattoo you need in order to protect you for life and with their magical powers, they carve this into you. However, you are also able to dictate what tattoo you would like to protect you.
If you are wanting one of these, you can get a clean Sak Yant tattoo in Bangkok, Chiang Mai, Chiang Rai, Ayutthaya and Sukhothai.
3. RIDE A TUK TUK

If you are looking for a thrilling experience, then riding a tuk-tuk is just down your street. Tuk-tuks are more common than taxis and a hell of a lot cheaper, depending on your negotiation skills.
Make sure you always set a price before getting on one!
If you have never been to Thailand before, we highly recommend a Bangkok by Night tuk-tuk tour – it is one of Bangkok's top attractions and we recommend this to anyone to complete!
4. WATCH A MUAY THAI FIGHT
Another thing for our thrill-seekers is going to watch an infamous Muay Thai fight, which is Thailand's national sport. The sport is known as 'the art of eight limbs' as fighters can use fists, elbows, knees and shins to fight.
Almost all major cities will have a ring, but the best place to watch a Muay Thai fight is Bangkok – in the Lumpinee Stadium.
5. TAKE A STREET FOOD TOUR
The best way to tingle your taste buds with traditional Thai cuisine is to experience a Thailand street food tour. You are able to sample a little bit of everything at an affordable price. Bangkok is the best place to do a tour and you'll get the best tour guides – explaining what everything is that you have to taste.
As recommended by us, we suggest doing a street food tour in the first few days of your adventures. By doing it earlier on, you can learn some of your preferred foods earlier in your trip so you know what to choose in the later week.
6. VISIT A FLOATING MARKET

Fancy feeling like your in Europe, Venice to be precise? Well, why not jump on a boat in Bangkok and visit the floating markets. We advise having a light lunch, or none at all, before visiting the market, as it is full of fresh food and souvenirs.
The most famous to visit is the Damnoen Saduak market, located 60 miles outside of the city. The market has private tours for tourists that show you around Bangkok and the market for around £100.
7. VISIT THE WHITE TEMPLE IN CHIANG RAI
In the northern region of Chiang Rai, the picture-perfect White Temple is a must on your Thailand bucket list!
Wat Rong Khun has been nicknamed the White Temple and it has been recently restored by a local artist who spent over £40 million to make it the wonder that it is today.
8. VISIT THE GRAND PALACE
One of the top attractions to see in Bangkok is the Grand Palace. The architecture is stunning and it is such a traditional building that it is a must to go and see!
The palace takes around 2 hours to walk around, but when you visit both men and women need to cover their knees and shoulders – out of respect in their culture.
9. EAT PAD THAI
If you have ever cooked Pad Thai at home, it will not compare to the Pad Thai that you would eat in Thailand. It will blow you away!
The flavours, textures and tastes of the Pad Thai noodles that you can buy in Thailand. Some of the best Pad Thai noodles we had was in the streets of Bangkok, we have a 5-star meal for around £2 – cheap and cheerful, but ever so flavoursome.
10. GET A THAI MASSAGE

A traditional Thai massage is not your typical relaxing massage with soothing oils – oh no!
The best way to describe a traditional Thai massage is you start by putting on a strange pair of pyjamas, followed by a lot of hitting and smacking by the masseuse. She may even walk on your back and they will, for sure, crack it all over – making you feel 10 times better! Massages are often priced around £6-10.
11. WATCH SUNSET AT A SKY BAR IN BANGKOK

Sunsets on the beach are beautiful, yes, but also are watching them from the Bangkok Sky Bar. There are a lot of sky bars in Bangkok, but the favourite is definitely the Red Sky Bangkok.
The bar does not have a strict dress code, plus they have happy hours between 5-7 pm where it is two for one drinks!
12. TAKE A THAI COOKING CLASS
Fancy learning how to cook all your favourite Thai dishes in preparation of you going back home? Well, Thailand is the perfect place to learn this! Most cooking classes start off in the markets so you can easily learn what goes into what dish.
In Chiang Mai, we took part in a brilliant cooking class! Where we got to pick which dishes we wanted to cook and how to appreciate the traditional Thai flavours.
13. EAT A SCORPION
Well, this isn't an experience for everyone, but where in the world could you visit and eat a fried scorpion – Thailand is your answer! If this delicacy is a little too much, maybe try an ant salad and a crispy cricket.
14. VISIT "THE BEACH"
This is 'The Beach', the most famous beach in Thailand. Featuring in the movie 'The Beach' with Leonardo DiCaprio, Maya Beach is on any travellers to-do list! However, at the moment 'The Beach' is closed for environmental reconstruction due to the number of visitors over the past decade. Information on when the beach will open is unknown.
The cluster of islands around 'The Beach' are stunning, with beaches and shallow lagoons to explore – these all surrounded by luscious limestone cliffs.
15. PARTY ON KHAOSAN ROAD
Whether you are a party goer or a people watcher, Khao San Road is the place to be – known as the 'backpackers universe' and there is not a more apt description.
It is a lively, social place that is perfect for meeting other travellers, a cheap massage, eat the street food and get a little tipsy – the perfect place to soak in Thailand's culture!
16. GO DIVING

Exploring the underwater side of Thailand is also a backpackers dream! Almost every island in Thailand will have a diving shop and lessons that you can sign up for.
The best place to dive is Stonehenge off the island of Koh Lipe, in our opinion, but the most popular is Koh Tao.
17. ELEPHANT NATURE PARK
Please, please, please we beg of you not to ride Elephants in Thailand or visit any sort of Elephant Sanctuary without doing your research!
There is only one legal place that we have found safe, and this is the Elephant Nature Park located just outside of Chiang Mai. This park rescues and rehabilitates elephants and you can even spend the night at the park.
18. TRY DURIAN FRUIT
Durian fruit has been nicknamed the smelliest fruit in the world!
In tourist areas, such as hotels, taxis and public buildings, they have signs stating that you are not allowed to carry the fruit with you and bring it inside those areas.
All we will say if you try it is to make sure you have something to wash it down with.
19. STAY IN AN OVERWATER BUNGALOW
Luxury is not always best in Thailand, these overwater bungalows are the perfect getaway – without the 5-star cost! The bungalows are situated all over Thailand, but the houses on the River Kwai are the ones we recommend.
20. DRINK A THAI ICED COFFEE
If you have a sweet tooth, then the Thai Iced Coffee is perfect for you! It is a cheap and easily accessible drink in Thailand – however, let's not discuss the calorie content in one of these refreshing beverages.
21. VISIT THE TEMPLES IN CHIANG MAI

In Chiang Mai, there are over 300 temples to feast your eyes on. If you are staying in the Old side of the City, the temples are on your doorstep. The most famous temple is the Doi Sutep which is on the top of the Doi Suthep Mountain.
It is almost impossible to see every inch of the temples, but you can give it a good go!
22. HAVE A COFFEE AT THE THEMED CAFE
Have a coffee in one of Thailand's many themed cafes!
Cat cafes are popular, especially in Bangkok, but the themes can vary! Some unique ones are a plane, a unicorn and a fairyland themed cafe!
23. VISIT SUKHOTHAI
Sukhothai was previously the capital of Thailand in the 13th century. It is known for the resorted temples and monuments which are a must-do if you are in the area.
24. EXPLORE A NIGHT MARKET
Night Markets are a popular attraction, even to locals, in almost all cities and regions of Thailand. It is a great thing to visit to grab some dinner, have a shop and listen to music.
We recommend visiting the night markets in Chiang Mai, as they are some of the most vibrant and lively markets that Thailand has to offer. Recommended are the Saturday and Sunday markets, and we would suggest going around 6 p.m. Also, make sure that you bring cash – as cards are not normally accepted.
25. DO NOTHING IN KOH LIPE
When we go away we all like a few days just to sit back, relax and take in what we have seen – are we right? Koh Lipe is our recommended place to do so whilst you are in Thailand.
Imagine white sandy beaches, turquoise water, on hand beach massages, cheap drinks, unreal sunsets – Koh Lipe is where you need to go!
26. DRINK A BUCKET
In Thailand it is not common to 'order a drink', you order a Thai Bucket.
Within a Thai Bucket, you pick your favourite alcohol, and a mixer – pouring both into the bucket over ice. This is the traditional way to consume drinks, especially on your party islands.
So, if you are a party goer it is a must that you go to the parties in Koh Phangan – known as full moon parties. And if you happen to miss these, there are always options of half-moon parties in Koh Phangan.
Lesson: there is always a party in Koh Phangan!
27. HIKE KOH PHI PHI VIEWPOINT
If you are wanting the best views of Koh Phangan Island, the Koh Phi Phi Viewpoint is the place to go!
Tip: Go early in the morning to beat the afternoon heat, and don't forget to take some water – it is a challenge but worth it!
28. KHAO SOK LAKE NATIONAL PARK

And for those who are thrill seekers, why not complete some outdoor adventures in the 160-million-year-old Khao Sok Lake National Park? Here travellers can go hiking, canoeing and rafting!
29. VISIT THE BRIDGE OVER THE RIVER KWAI
The biggest tourist attraction to date is the Bridge Over the River Kwai – a popular war memorial that attracts thousands of tourists from across the globe!
30. VISIT THAILAND'S CRAZY MARKET, THE TRAIN MARKET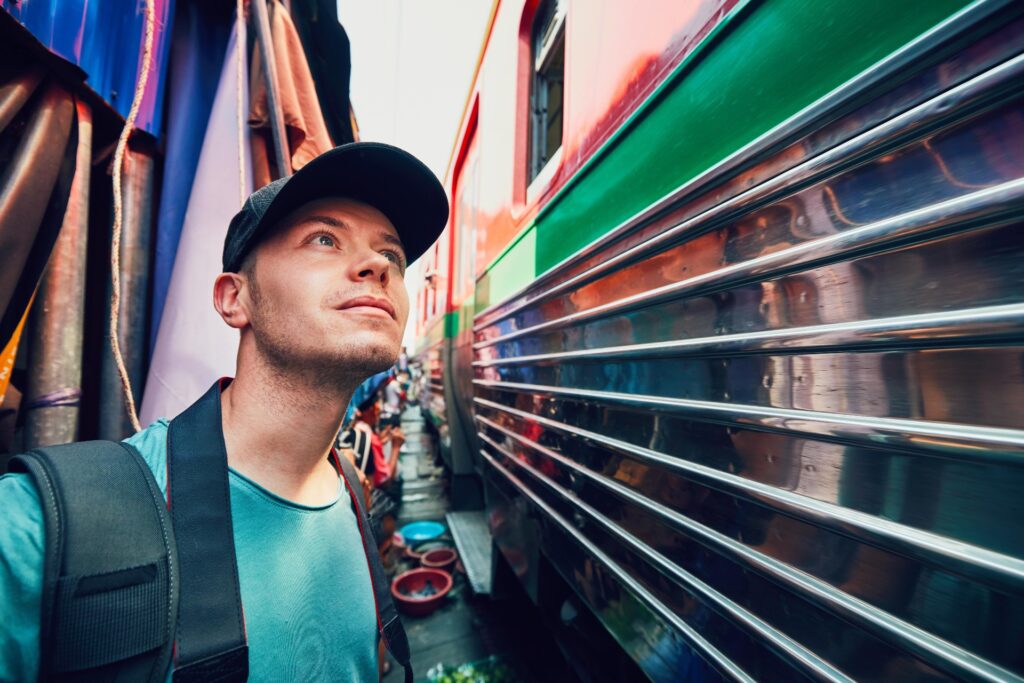 Whilst on your travels, we recommend visiting the unique Maeklong Train Market – which is a market like no other! You will be able to hear the train coming as you browse through market stalls.
Vendors move their produce away from the tracks when the train comes and if they are not quick enough, the train will ride straight over their stalls! It is a sight to see how fast-paced a market is, and how quickly business can pack up and go in the space of a few seconds.
31. ROCK CLIMB AT RAILAY BEACH
Another thing we recommend for adventure seekers is to go rock climbing up the limestone pillars at Railay Beach in Krabi.
Climbers travel across the world to climb up the limestone, and if you have never done this but fancy a go, beginners tours are available to teach you the basics for about £37.
32. VISIT BIG BUDDHA
One of the most famous attractions in Southern Phuket is the Big Buddha that stands 147 feet tall in the air. The Buddha is made out of white marble and is a marvellous sight!
The views from the top are worth the trip alone.
33. GET SOAKED AT SONGKRAN
One way to celebrate in Thailand is to partake in the world's largest water gunfight! This is the coolest thing we have even taken part within Thailand, literally!
The 'fight' happens every year between the 13th-15th of April. It is safe to say that there will not be a single dry person on the streets between these dates – you may even get a bucket of water thrown at you by a sweet old lady, anything goes!
34. EAT A HAM & CHEESE TOASTY AT 7 ELEVEN
When anyone is on holiday, everyone craves a few home comforts every now and then. And the perfect palace to cure this is heading for a ham and cheese toastie at a 7 Eleven – there is one on nearly every street corner!
The ham & cheese toasties are the best things you can buy in there – just say to the cashier "Make Hot." Don't laugh, we are serious. People laughed at us when we told them that one of the best things about Thailand are their toasties, but if you go and try them you'll see why!
35. CHIANG MAI LADYBOY SHOW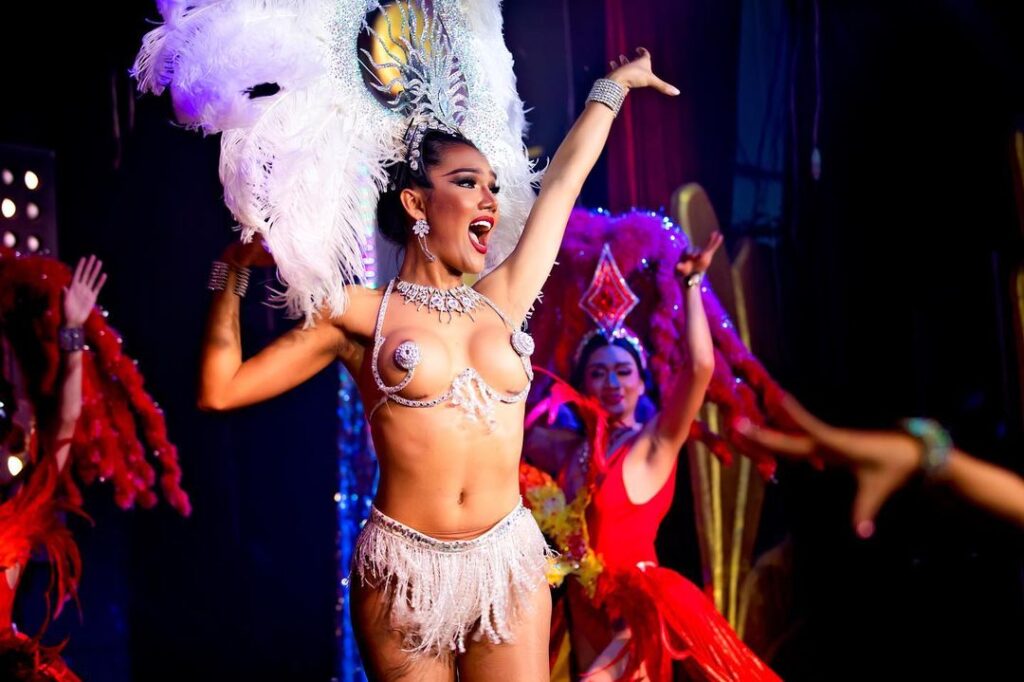 It's difficult not to notice the large ladyboy population when walking around in Thailand, and one of the best places to see them is at the Chiang Mai ladyboy show. It is on every night in the local market.
At the show, for 200 baht, you get a drink and a show lasting approximately 90 minutes. They really are amazing!
HOWEVER, THERE ARE ALSO SOME THINGS NOT TO DO IN THAILAND:
One thing that is massively respected when you go to Thailand is respecting their culture. Normally Thai people are so very friendly and welcoming, but there are a few things that you SHOULD NEVER do when you are travelling there:
Do not wear inappropriate clothing to a temple or place of worship – cover your shoulders and knees.
Follow all rules and signs in public places.
Always ask permission to photograph anyone or anything in a public place.
Keep all political opinions about their Government and the Royal Family to yourself – this is a big NO-NO!
Avoid Public Displays of Affection whilst in Thailand, it is not appreciated in their culture.
Overall be respectful and polite when talking to people, and talk in a calming tone.
DON'T GET A 'CHANG OVER':
Whilst like many, we never plan on getting a hangover, but in Thailand, you most likely will. If you drink too many buckets or Chang beers you will most certainly not feel too good the next morning. We suggest drinking Leo or Sinha beers – a safer option.
PLEASE DON'T RIDE ELEPHANTS IN THAILAND:
It looks like the traveller's dream but is it not at all positive tourism. Unimaginable things are done to these animals in order for them to be trained to carry tourists around on their backs.
This type of tourism is something that needs to be made known to be 'negative and fake' tourism in Thailand.
We beg of you, do not support elephant rides and instead visit a qualified elephant sanctuary. Do your research, there are good ones and also bad ones, and make sure to get this right before your trip. In the good ones, you are able to interact with elephants who have been poorly treated in the past, leaving you feeling a little bit better about yourself once you leave to jet off back home.