Jaipur is a must-visit destination in North India. Along with Delhi and Agra, it is one of the cities that forms the popular tourist route known as the Golden Triangle. 
Travelers who spend an extended period of their holiday in Jaipur find it a bustling modern city interspersed with historical and architectural marvels. Among the unmissable attractions in Jaipur, also known as the Pink City, are the Hawa Mahal – known as the "palace of winds" for having 953 small windows, Amber Fort, the City Palace, and Jantar Mantar – a UNESCO World Heritage Site consisting of 19 colossal astronomical instruments.
While it's easy to spend days traversing around Jaipur's museums, forts, and bazaars, the city also acts as a central point for day trips and weekend getaways. Tourists wishing to explore more of the neighboring region will find a wildlife sanctuary, haunted fort, and awe-inspiring architectural wonders within a few hours' drive from Jaipur.
Moreover, day trips from Jaipur don't need much planning. Nevertheless, the trick is to leave early in the morning to avoid traffic and maximize your time. For weekend getaways from Jaipur to Sariska and Neemrana, an overnight stay is enough. It does, however, require some pre-planning, especially booking a hotel in advance.   
Abhaneri
Abhaberi is a small Rajasthani hamlet, 92km away from the Pink City. A popular day trip from Jaipur, the village is home to Chand Baori, arguably the most well-known stepwell in the country. Built by King Chanda, Chand Baori is an architectural phenomenon dating back to 800-900 CE, making it one of India's oldest stepwells. 
A stepwell is an ancient water reservoir used by kings, queens, nobles, and the common folk as a daily escape from the scorching heat of the summer months. A place for the locals to congregate, the temperature at the bottom of stepwells was typically 5 to 6 degrees cooler.    
Unfortunately, it is not possible to walk the steps of Chand Baori anymore. Still, you can view this spectacular construction with 3500 steps going down 100 feet from the top. Also on display are age-old sculptures excavated in the surrounding areas, laid out in hallways around the complex. 
Chand Baori is open to the public from 9:00 AM to 6:00 PM. While photography is free, you need to pay a nominal charge to make videos inside. Chand Baori is also a popular Bollywood film location.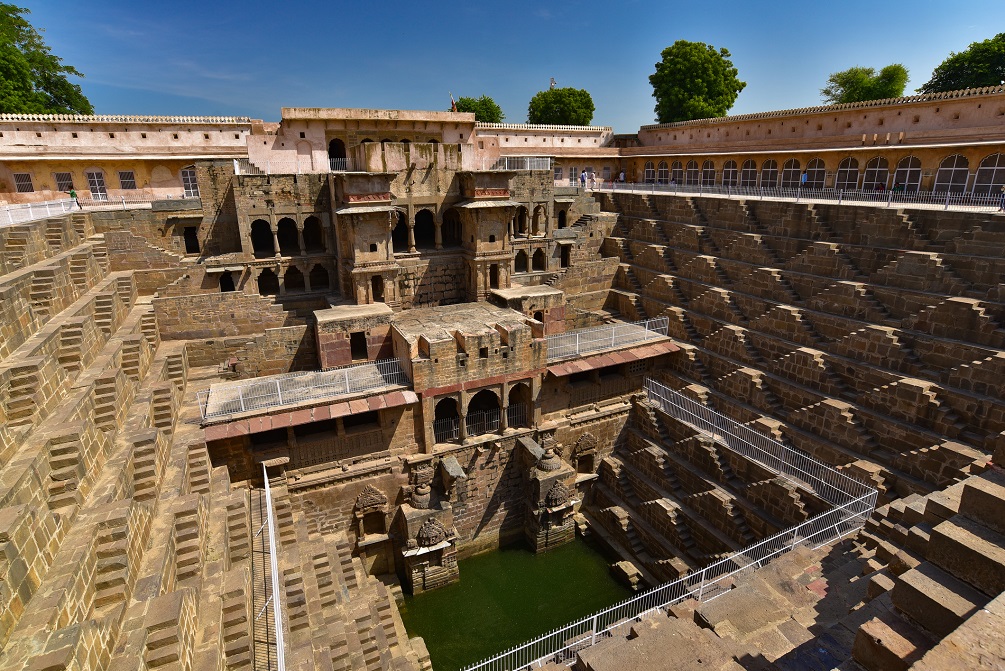 Bhangarh Fort 
Start your day pre-dawn, and it is possible to cover both Abhaneri and Bhangarh Fort within a single day trip from Jaipur. Situated an hour apart from each other, both these locations are iconic in their own right. 
While Chand Baori impresses with its architecture, Bhangarh makes a lasting impression with its eeriness. After all, the 16th-century Bhangarh Fort is the most haunted location in all of India. 
Constructed by Madho Singh, the fort was home to 10,000 residents in its heyday. However, everyone suddenly left this bustling township with houses, shops, and temples, overnight for reasons unknown. 
Several stories add to the myth of Bhangarh. One of the more famous ones involves a curse by a dying necromancer who was not allowed to marry the kingdom's princess, Ratnavati. Now, locals claim to hear strange voices and see lights moving around the fort at night.  
About 84km from Jaipur, Bhangarh Fort is open from 10 AM to 5 PM. Foreign visitors need a special permit to enter the premises. Under no circumstances can anyone stay in Bhangarh Fort post sundown.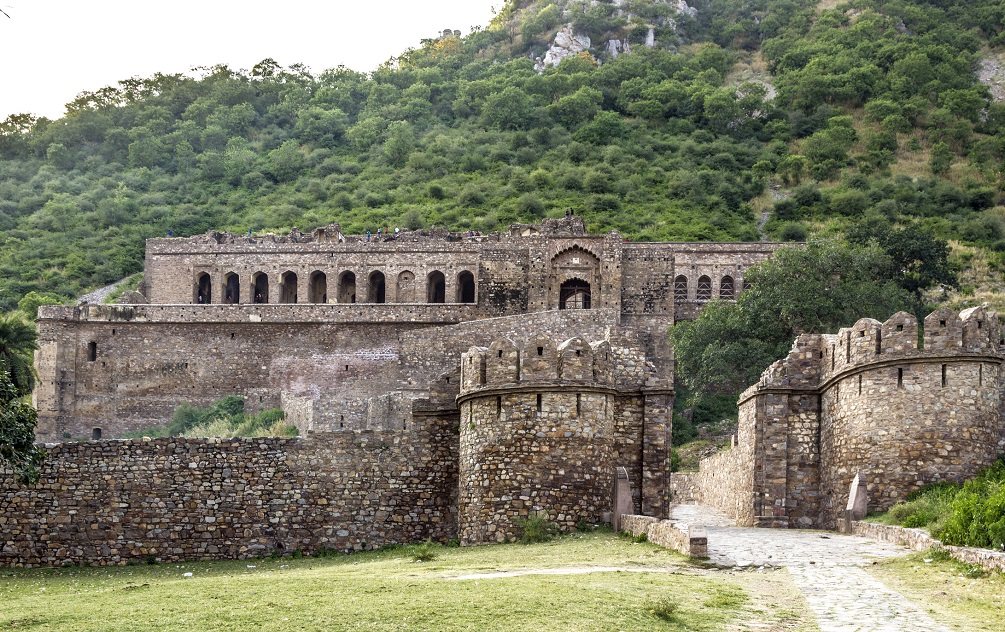 Sariska
Located in Alwar District, Sariska National Park is 105km from Jaipur. It is possible to visit this tiger reserve on a day trip. However, a weekend getaway from Jaipur makes more sense, as it allows you to appreciate the region's natural wonders at leisure. 
Boasting a varied topography of rocky outcrops, cliffs, forest areas, and arid land, Sariska is an excellent place to visit for wildlife enthusiasts. Within its area of 881 square km, travelers come across various animals, from nilgai, leopards, and chital to hyenas, sambhar, and languor. 
Although there are only about 18 tigers in Sariska, sightings are more common here due to the park's relatively small size. The national park is also a birders paradise. You'll get to see Indian peafowl, white-throated kingfisher, quail, eagles, woodpeckers, and Indian eager-owl here, among other birds. 
Sariska National Parks stays open from October to May, from 6:00 AM to 6:30 PM every day. However, booking a safari in advance and following a designated route inside the park is compulsory.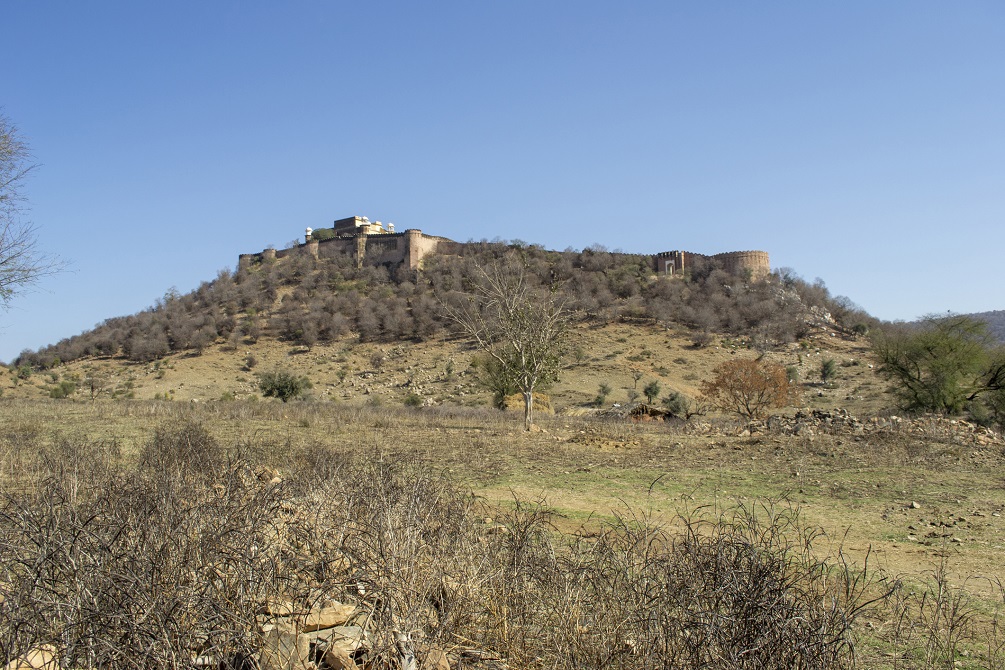 Kishangarh
Kishangarh is definitely an unusual choice for a day trip from Jaipur, but it is an absolute must for Instagram fanatics. About 100km from the city, it takes just under two hours to reach here. Although similar to the many other small towns in the region, Kishangarh is particularly popular for three reasons. 
Firstly, it is the birthplace of the 18th-century painter Nihal Chand, credited for starting the trend of intricately drawn Rajasthani miniatures. Then, Kishangarh is well-known for having the largest marble market in the world. 
However, the city's main attraction is the Marble Dumping Yard, which has become somewhat of a go-to place for all types of photographers. A large hill where trucks pour in waste marble slurry to solidify, it now has a white, snow-like appearance, with a dramatic backdrop of the Aravali mountain range. 
Consequently, the place has become an unusual tourist destination, where people from all walks of life come for a picnic or to take pre-wedding photographs. Entry into the dumping yard is free, but you need to drive carefully. Furthermore, with plenty of dust particles in the air, staying here is best for only a short period.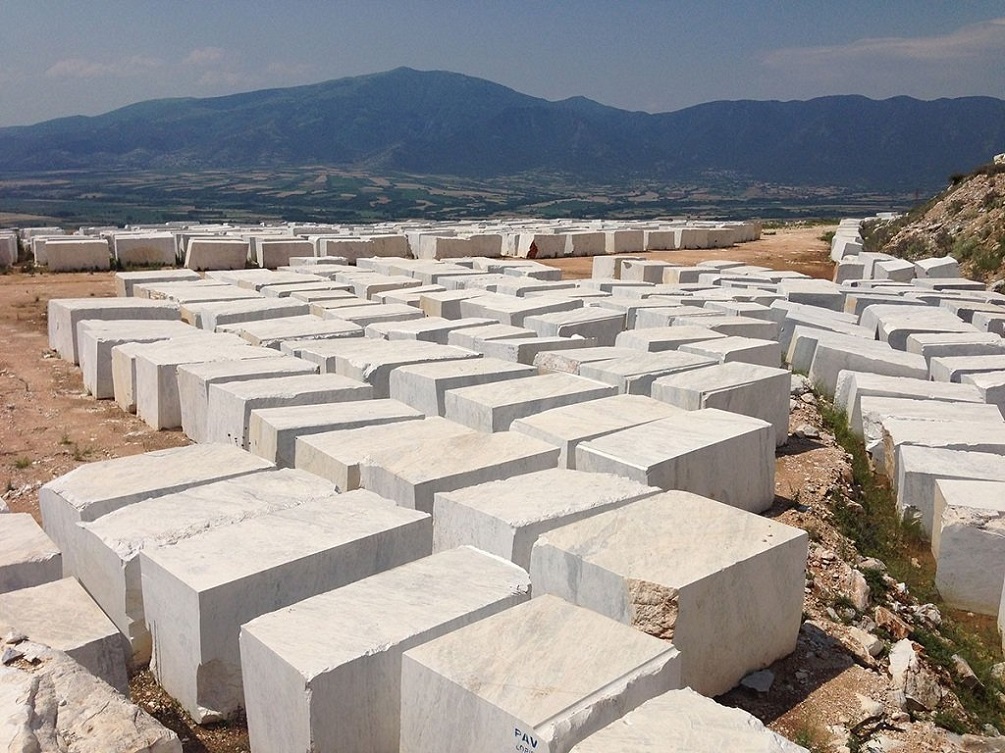 Neemrana
Roughly midway between Delhi and Jaipur is where you'll find Neemrana. It offers the perfect combination of a long drive (about 150km one way), adventure, legacy, and good food. 
Although the town has recently transformed into an industrial hub, Neemrana Fort Palace still attracts people from all across India. A beautiful heritage property, the fort is one of the most idyllic weekend getaways from Jaipur for couples and families.
Located on a hill, surrounded by the Aravalli, the 550-year-old Neemrana Fort highlights the grandeur of the Rajputana lifestyle. An extensive construction with 14 levels, the fort invites visitors to explore the splendors of its ancient history. While a luxury resort with 76 rooms, a spa, zip-lining, and two pools, day visitors can roam around certain sections of the fort and have lunch at their restaurant.
A hidden gem in the town, though, is the Neemrana Deep Baori. This beautiful, but deserted stepwell, is a few minutes' drive from the fort. A place for travelers to rest at one point, the seven-floor deep stepwell showcases the brilliance of Rajasthani architecture. Since Neemrana Baori is in a secluded area and is sadly not well-maintained, it's best to visit the stepwell in a group and only during the daytime.