With Covid Blues combined with January Blues there has never been a greater yearning to escape the country on a long haul holiday. Whilst the USA is still closed to us Brits, we know that people are planning holidays to the USA for late 2021. California is of course a year round destination because of its Mediterranean climate and should be on your shortlist for October Half Term and even Christmas.
If you are planning a trip to California, you will want to make it to at least one of my top five beaches in California along your travels and you will see why once you get there. One of the main attractions in California is driving down the southern California coast. By doing so you will drive past the insanely beautiful beaches in LA, Orange County, and San Diego. If you opt to drive the coast you will come across some of the tallest trees in the world, and top-notch wineries that you will not want to miss, or at least I didn't. In California, you won't want to measure the miles per hour that you travel but more so the photos per mile that you take. Grab a convertible (because who doesn't like sightseeing around Cali with the top off) and take in all the incredible views along the way. Let's take a look at my top 5 favourite beaches to visit in California and why I find these beaches especially astounding.
Santa Monica Beach
Santa Monica Beach offers endless opportunities for all ages. You can enjoy swimming the day away, surfing the waves, playing volleyball, partaking in beachside yoga or sitting back and enjoying the views. Santa Monica Beach is best known for its pier and all the attractions that take place on the pier. Families enjoy Santa Monica Beach because there are many activities to keep the kids happy! It's all about tan lines and good times here in California. One might recognise Santa Monica Pier from the iconic Ferris wheel and roller coaster that sits upon the pier. I recommend taking a ride on the historical carousel because who doesn't enjoy an impromptu ride on a carousel. You don't have to be a kid to enjoy the simple pleasures in life. Indulge in the food, fun, and festivities while visiting Santa Monica.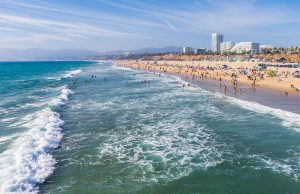 Laguna Beach
Laguna Beach is known as Orange County's hidden gem and remains as one of California's leading coastal destinations on the southern side. You will reach Laguna Beach once you travel halfway from San Diego to Los Angeles or vice-versa. Laguna Beach is referred to as the beach that possesses the most beachfront accommodation in the whole state of Cali. The unique factor of Laguna Beach comes from the seven miles of beach that includes sea caves, ocean bluffs, natural tidal pools and of course a sandy area for sun-bathing. If you crave adventure and you are at Laguna Beach, go explore the 20,000+ acres of protected wilderness. You will find an abundance of biking trails, hiking trails, sanctuaries and many places to discover in the Laguna Beach vicinity.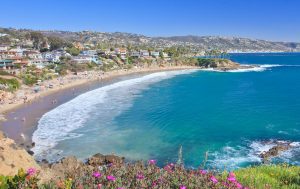 Huntington Beach
Huntington Beach is where all your surfing dreams come to life. Whether you are a beginner, intermediate or advanced surfer, there is a place for you in Huntington Beach. The locals refer to Huntington Beach as 'Surf City' because you will witness a lot of surfers. It is a cool atmosphere to spend a few hours watching the surfers even if you do not plan to surf yourself. I highly recommend staying at Huntington Beach till the evening, as people gather around the beach at night to enjoy a beach bonfire. If you have a dog, you will enjoy the mile-long section of the beach that permits dogs to play and have fun in the sand too! The gastronomy, shopping, and activities in Huntington Beach will have you wanting more and thankfully there are many different hotels in the area to accommodate every traveler. Sit back, relax, and enjoy all the magnificent views that Huntington Beach has to offer.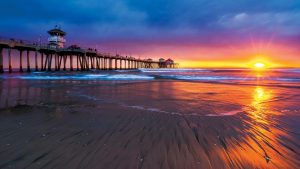 Venice Beach
Venice Beach is the bohemian Beach that you didn't know you needed to visit. I highly recommend you plan a trip there as of like… yesterday! Venice beach is picture perfect and offers a fun atmosphere all around. The street performers and art murals surrounding this beach town is part of the reason it attracts so many people each year. It is one of the most unique beach towns in California. You will find endless bars, cafes, restaurants, and boutique shops to enjoy. Make sure to take a stroll down the beach and witness all the modern homes that line the shore. Muscle Beach is a section of Venice Beach, which is where Arnold Schwarzenegger worked out. Many bodybuilders continue to carry on the routine and workout there on a daily basis. The boardwalk in Venice Beach is around 2.5 kilometres, which features a path for walkers, bikers, roller-skaters and a ramp park for skateboarders.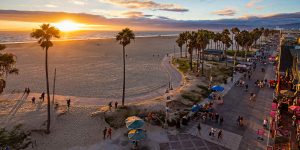 Baker Beach
Baker Beach is a photographer's dream. It's not hard to see why people flock to Baker Beach in San Francisco with the stunning views it flaunts of the Golden Gate Bridge. If you want to get a good picture of the beach and the bridge in the background, opt to come for sunset. Unfortunately, you will not be the only one at the beach at that time because everyone has the same idea. Towards the end of Baker Beach you might notice a clothing optional side. Many people enjoy fishing in the ocean and just walking about taking in the sights. There are many picnic tables nearby, which would make the perfect setting for a picnic in San Francisco. Pets are permitted on the beach but only on a leash. Parking and entrance into Baker Beach is free but you might be backed up in traffic trying to get there during busy hours. It's all worth it in the end.
There you have it, my top 5 beach recommendations to visit while in California. There are many other beaches close to my suggestions, so if you have enough time; stop and explore more! One can never do too much exploring in California; it's just not possible! I hope you enjoyed my list of the Top 5 beaches to Visit in California and I know once you visit them, you will thank me later!