Do you find yourself dreading navigating a trip to the airport no matter how exciting you are for your upcoming holiday? If so, you're not alone. In fact, we're no strangers to airport anxiety ourselves. But, as we have become more adept travellers, we have been able to compile a list of proactive measures and coping strategies that keep the beginning of our vacations a little more pleasant. Of course, who are we to gatekeep relaxing holidays that do more for our mental health? So without further adieu, here are our 9 best tips and tricks for reducing airport anxiety. 
See if You Can Identify Why Airports Make you Anxious…And Address that Fear
There are A LOT of reasons why going through the airport might be a stressful experience for you. As with many of our daily anxieties, sometimes getting to the root cause of a problem and identifying triggers can be a helpful practice in making them go away. It's also worth recognizing that not all fears are rational and that is OKAY. Listening to our bodies/mind can still tell us an awful lot about how to help ourselves. You might have difficulty in large crowds. Maybe have an anxious personality type or diagnosed anxiety disorder that you've been dealing with for years. Does your airport anxiety stem from a phobia of flying? Perhaps dealing with security and authority personnel really heightens your nerves. You might be super type-A and have a difficult time deviating from a plan and a schedule. No matter what the reason is for your anxious feelings just know that they are valid and that you CAN get through this.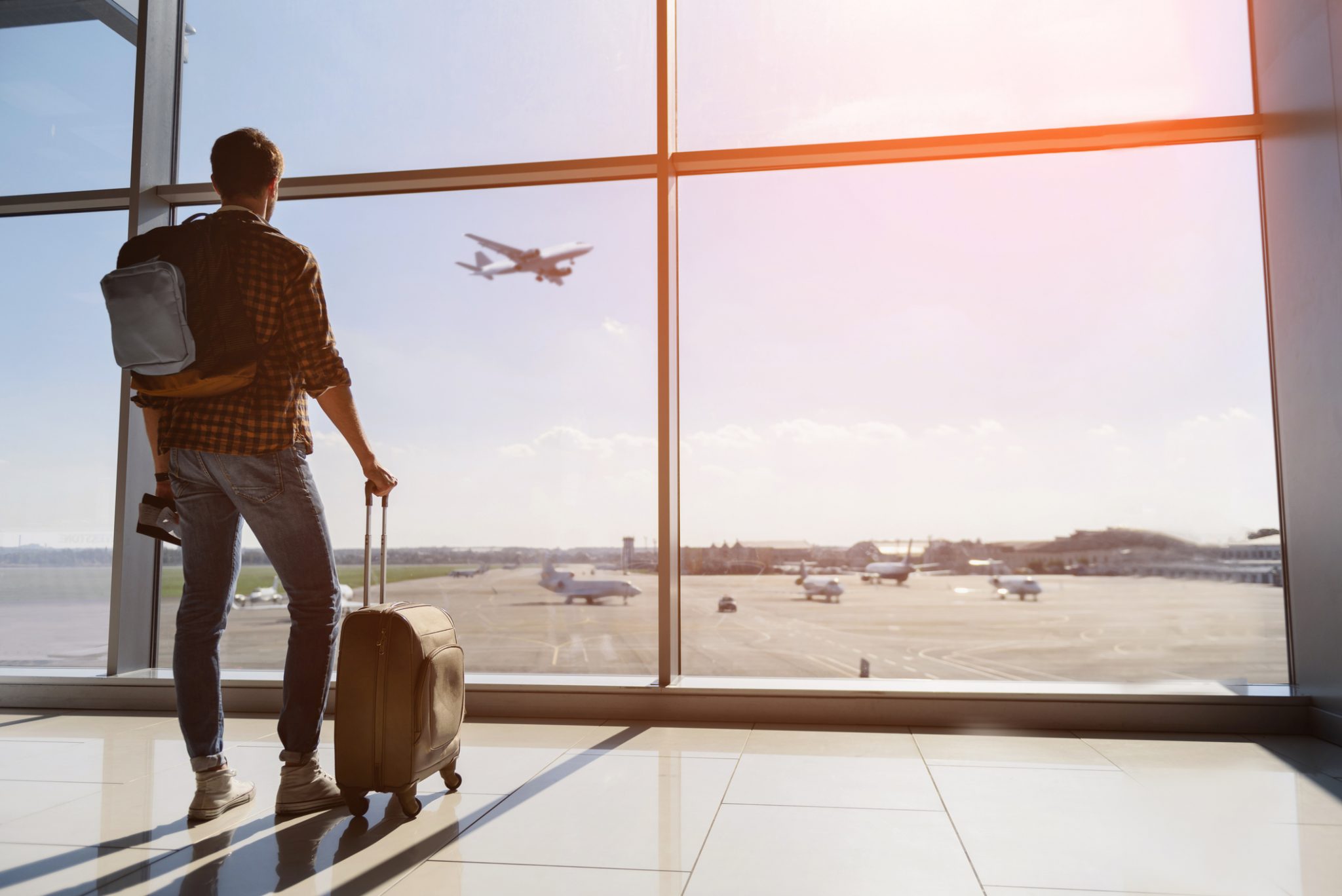 Make Yourself an Airport Preparedness Kit
When packing your carry-on or purse, consider filling it with items that will make your airport experience less challenging. 
Make sure your basic needs are going to be met. 
We don't know about you, but we find that anxiety is only worse when you're dealing with it on an empty stomach. Even if your stomach is turning and you're not sure if you'd be able to keep down a large meal, pack lots of smaller snacks to nibble on while you wait to board, and once you're in the air. You should also bring a refillable water bottle to ensure you stay hydrated. Do you know what else that water bottle is good for? Take medication to increase your comfort. Make sure you have basic antinauseants, pain medication, and maybe even a relaxant/sleeping aid or two on hand. Be sure to consult with your doctor if you're planning to take anything outside of your usual routine. 
Consider safety-measures in the era of COVID-19 Travel
We know that travelling during the pandemic can add a whole additional layer of anxiety. Ensure you have everything you need for safe travels including masks, gloves, travel-sized sanitisers, etc. Many airlines/airports will have specific requirements for all passengers so be sure to plan ahead and acquire any PPE necessary in multiples. You don't want to be caught without something! If you would like some guidance on building a COVID-safety carry-on, you can check out our article here. 
Bring a comfort item or two 
It doesn't matter how old you get, sometimes you just need some comfort from home to get you through the day. Don't be shy! Bring along your pillow, stuffed animal, blanket, fluffy socks, favourite novel, or journal from home, and lean on it when you need to. These comfort items will help to support and regulate your nervous system.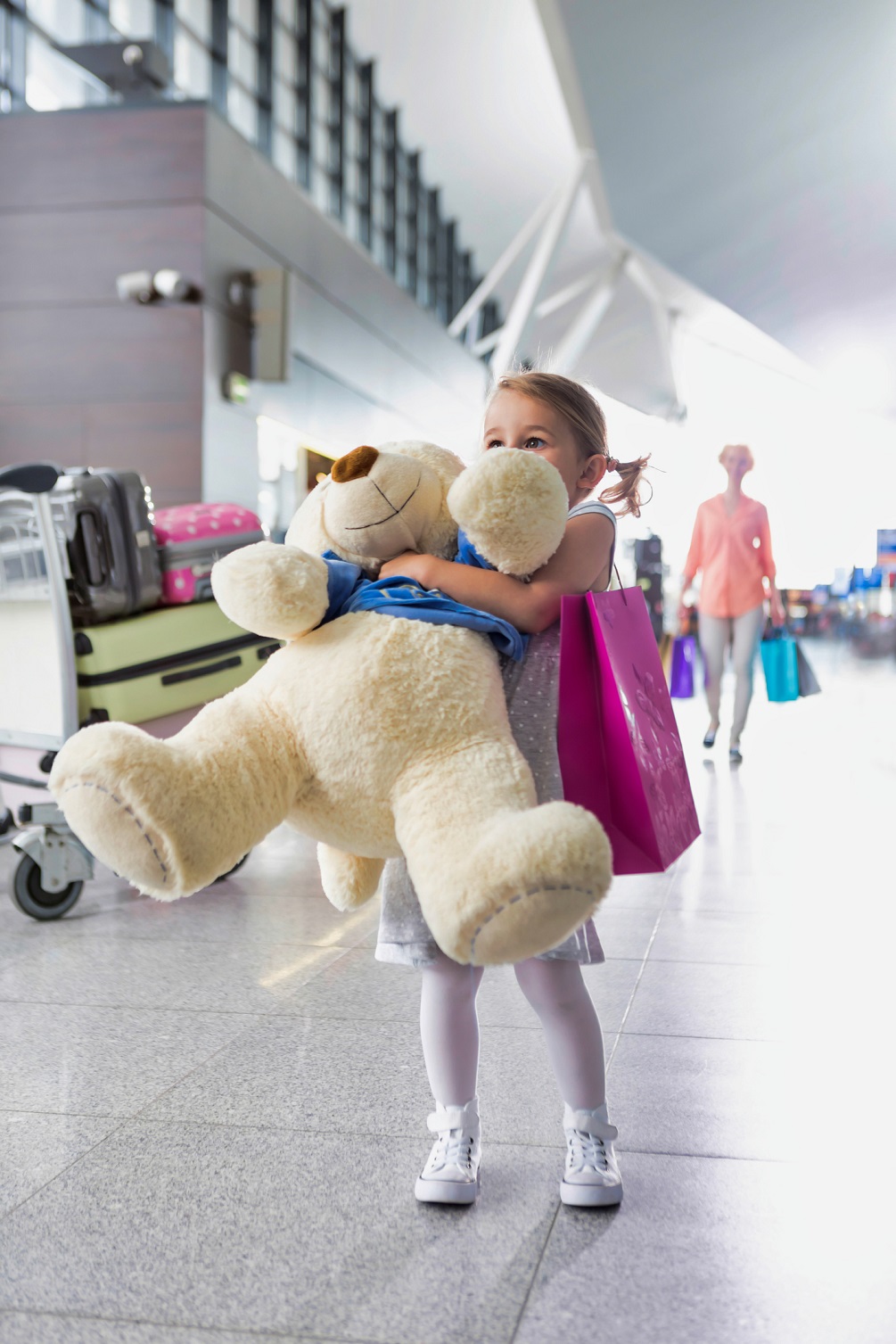 Arrive Early
Listen, if you're an anxious traveller, chances are you've been the recipient of some teasing from friends and family over your need to be at the airport hours before departure. Perhaps when they have been your travelling companions, you've even sacrificed your itinerary and shaved some time out of your buffer, only to panic as the person in front of you in the security line puts on their shoes a little too slowly. At the end of the day, if reporting to the airport early will make you feel calmer, it's worth the small investment. Especially if getting to the airport is a bit of a commute, you might find that this extra variable for delays is overwhelming. If you want to eliminate this risk, consider booking a night in an airport hotel before your departure, and allow guest services to coordinate your shuttle to the gate. Even if you live practically right next door, take the brunt of some mild complaining or uncomfortable jokes; just go along with it and do what's best for you. Chances are, you're the planner in the family and the mastermind behind this entire operation, so there's no harm in putting your foot down and booking your airport limo ahead of schedule, which leads us to our next point…
Take an Airport Limo/Taxi/Shuttle
Don't cause yourself unnecessary stress by driving to the airport. Not only does navigating traffic conditions cause traveller anxiety, but arranging for parking can cost you lots of extra time and money. You might be able to ask a loved one for a ride, but again, you'll be completely reliant on their punctuality. Instead, leave it to the professionals and hire a limo, taxi, or shuttle. Make this reservation call ahead of time and then all you need to worry about is being prepared by the door for them to arrive. Remember, it's their job to get you there safely and efficiently so as long as your planning is done well, there's much less room for things to go awry.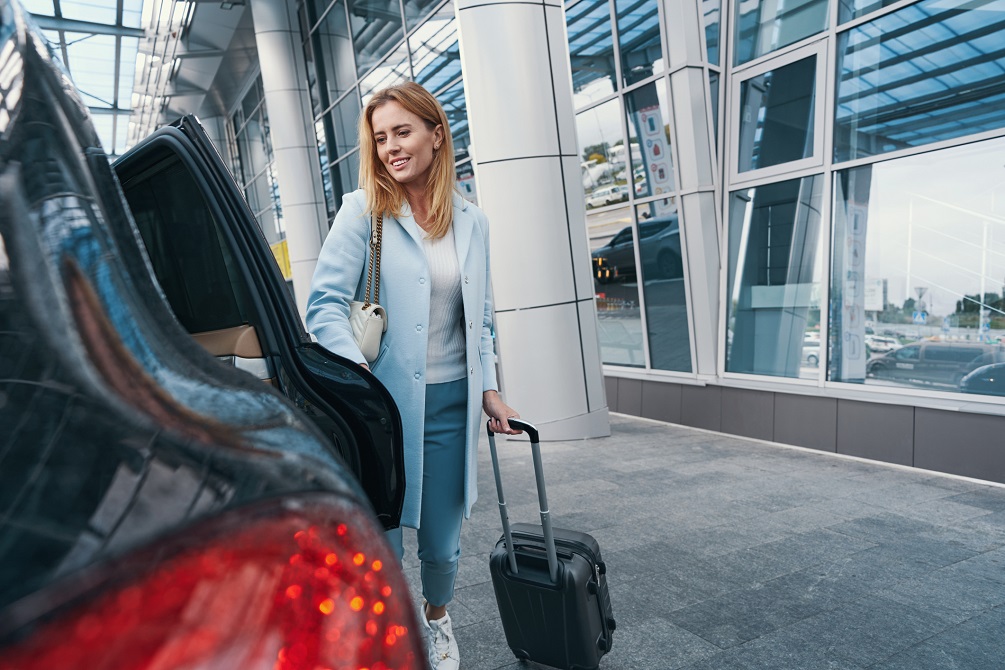 Simplify Your Check-In Process
Use your airline's online system or phone app to pre-board. We promise this will save you time and worry when you first get to the airport. The last thing you need is for your very first task at the airport to cause you upset and delays. Getting your check-in out of the way before you even arrive is a great way to give yourself peace of mind leading up to your departure. 
Skip the Checked Baggage and Master the Art of the Carry-On
The key to reducing airport anxiety is reducing the number of things you need to take care of at the airport, both during your departure and your arrival. One of the biggest things you can cross off this list is checked baggage. No need to stress about weight overage, unexpected fees, or lost belongings. Simply learn how to effectively pack for a vacation in your carry-on and you can practically waltz straight onto the plane and out of the airport on the other side without all the fuss.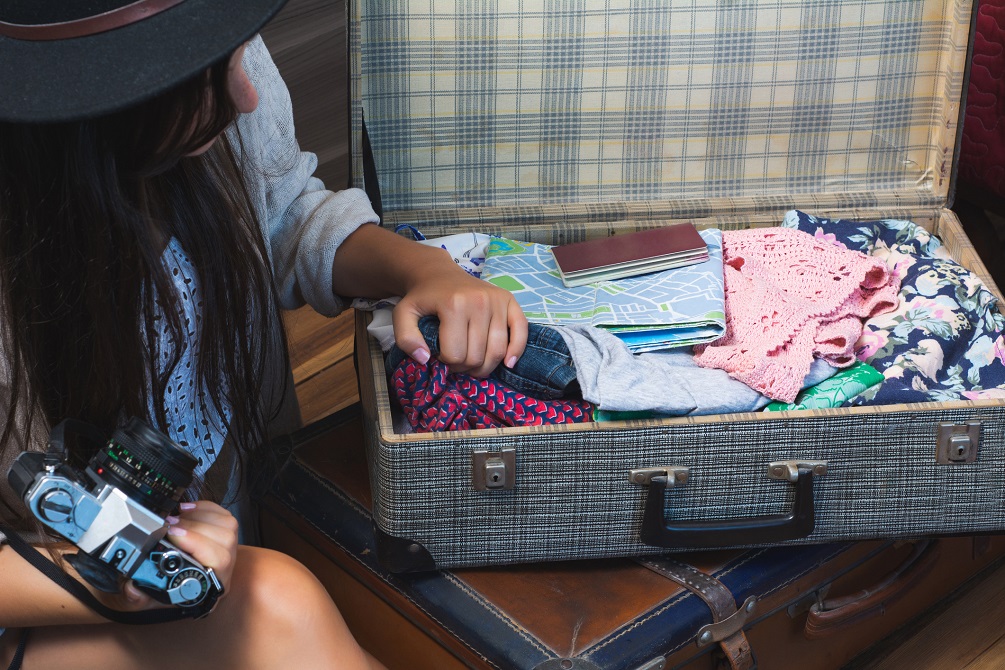 Take Steps to Ensure Your Trip Through the Security Line is Easy-Peasy
Passing through security is the most anxiety-inducing airport experience for many. While it is, unfortunately, unavoidable, there are a few steps you can take to streamline your experience and get through it as quickly and easily as possible:
Make sure everything you pack follows airport guidelines.

Put all allowed liquids in sealed, transparent plastic bags.

Wear slip-on shoes for easy removal.

Don't wear complex layers that you will need to take off/put back on. If you have a hat/ jacket you'd like to wear

Empty your "pocket contents" such as keys and coins into your carry-on before you arrive at the airport so you don't accidentally trip a metal detector.

Slip your boarding pass into the photo page of your passport so you don't fumble to find the right page in line. 
Find a calming (or entertaining) place to await boarding
Especially if you have arrived early, you are going to have plenty of time to kill before your flight boards, and sitting around staring at your gate will not help to calm those nerves. In fact, early arrivals often don't even have gates assigned by the time they get through security. So what should you do? Pretty much anything except waiting at the LED terminal screen waiting for one to be assigned. Instead, take advantage of the airport lounge, find a sit-down airport restaurant or use your personal devices to do something productive. If you have work to do, that's always an option, but you could also read a book, watch a movie or play a video game. People often avoid distractions out of fear of missing their flight, but this seldom ever happens. Simply set an alarm on your watch or cellphone (or five, if you're really worried) in advance of the set boarding time and you'll be just fine.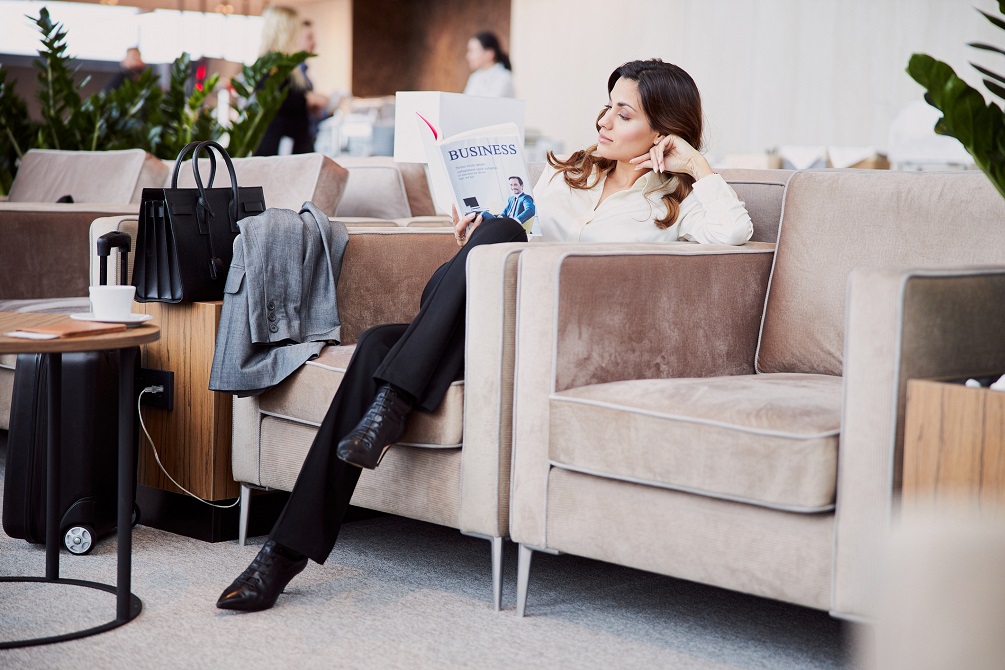 Skip the chair when waiting at your gate
This one might be a little controversial, but if you're feeling overwhelmed by the chaos of crowds swarming around you, it can be helpful to give yourself a degree of separation from your fellow travellers. Finding a nice spot by the window or against a pillar set back from the rows of passenger chairs can be a big help. Even outside of a travel context, many who struggle with anxiety day-to-day report that sitting on the floor is a "grounding" experience and can really keep you in the present moment instead of racing away with your anxious thoughts. If the ground doesn't work for you, you may want to remain to stand and keep yourself active. If you must, walking in circles around the terminal is a great way to keep yourself busy (while still maintaining good proximity to the gate for important announcements) and truly, no one is going to notice. Everyone else will be too busy minding their own travel anxieties to pick your face out from the never-ending sea of travellers rushing past.