As a parent, you've probably had to justify your decision to travel with little ones more than once, both to yourself and others. When it comes down to it, you're absolutely right and it's totally worth it! Travelling with your children is a fabulous way to enrich their understanding of the world, help them learn, and frankly, build exciting memories. But that doesn't mean that traveling with kids is easy, and amongst the hardest of the tasks involved, is surviving a long flight together. 
Whether you're nervously approaching your first flight as a family or you're dreading the next attempt after your last family holiday, we've got you covered. We've developed this quick and easy guide to help you get your family to your destination with happy kids and some preserved sanity. Hopefully, with some of these tricks up your sleeve, you'll get through your next long-haul flight with ease and feel confident that you can fly with your children over and over again. 
Build Excitement Around the Flight Itself
If you want a smooth flight experience with your children, you may want to get a head start in the weeks prior to your travel day. Create a little bit of excitement surrounding "flight day"- it doesn't have to be just a means to an end. Put flight day on the calendar and start a little countdown. Perhaps read a book or two in the week prior about airplanes and pilots. If you want to up the ante, put together a little flight day gift basket of cheap toy airplanes/stickers, or costume pilot hats. 
How else can you build excitement around the process of flying? Give your kiddos a little bit of ownership over their suitcase/packing. Lightweight kids' bags that they can roll around are a fun activity in and of themselves, or you could start small with their own carry-on backpack. Besides letting them carry their own things, you should also let them give you a hand picking their bag. If they love it, they'll be much less likely to give up toting it around. Prefer to keep things simple? Why not get a basic hard case that they can decorate with stickers and create their own luggage tag for? This turns into a fun arts and crafts activity, turns into a bit of a keepsake and they'll be pretty proud to show everyone at the airport what they made.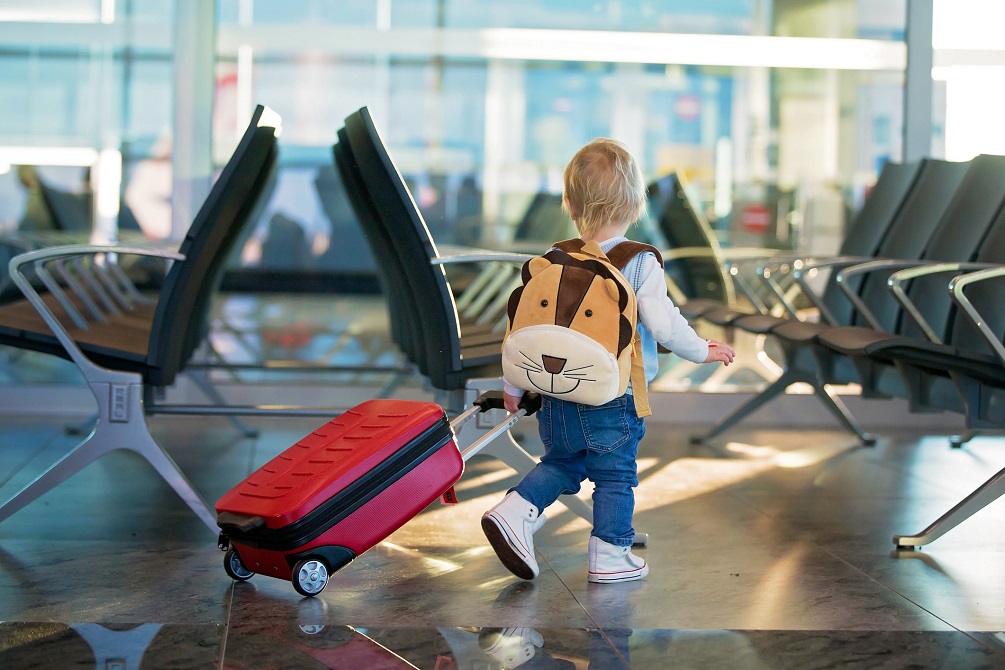 Snacks, Snacks, Snacks
Nothing sours a mood faster than a hungry tummy, and nothing can pick someone up faster than a favorite snack. This is true even for adults. Waiting for the stewardess to come around with food service can feel like forever, and children are much less able to remain patient in a stressful situation. Plus, if you have a cautious, picky eater you're probably not going to have much success with the airplane food. If you're trying to keep your children cheerful, entertained, and full, I'd recommend packing a purse full of familiar snacks from home. Of course, you'll need to ensure that everything you bring is allowed on the plane and through security, but it's always better to have too much than not enough. Bring a mix of healthy snacks, salty/crunchy snacks, and sweets as a special treat (fruit gummies and animal crackers are an easy go-to). We'd also recommend shopping around the airport general stores and food outlets for a few meal-type options. Once you're through security, you'll be able to purchase fresh produce and sandwiches which will probably be more appealing options for your children. Don't be afraid to grab a few apples, bananas, cheese sticks, and smoothies and skip the in-flight options.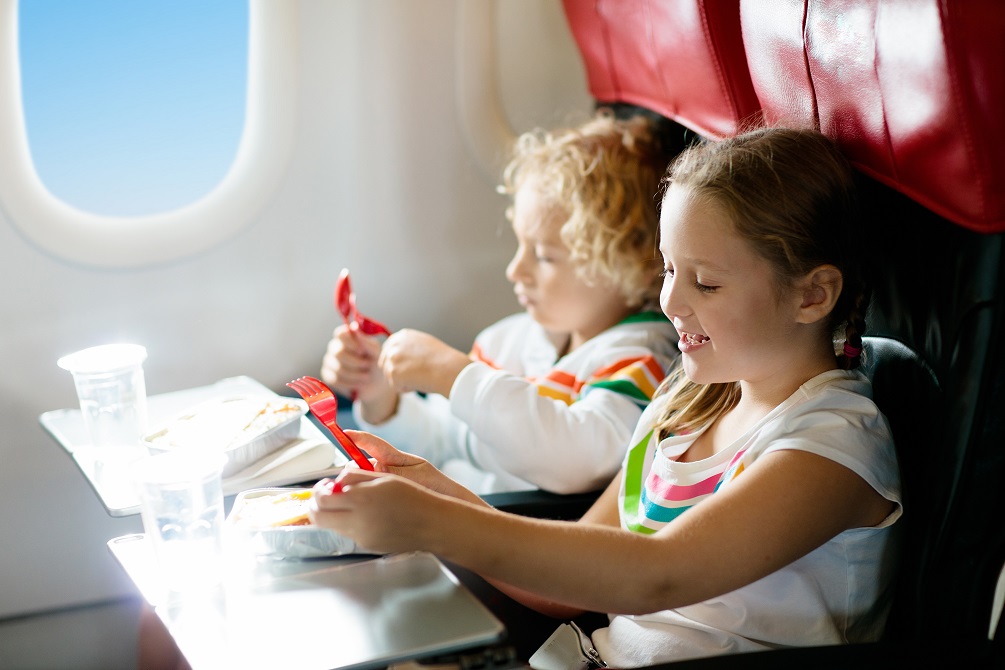 The Never-Ending Bag of Surprises
Ready for your real-life Mary Poppins moment? Rather than packing a bag full of toys/in-flight entertainment only to have your child blow through them in the first twenty minutes, you need to have a never-ending bag of activities that remain a surprise until it's time to play with that activity. This strategy is one that works well for road trips as well and is one that has been practiced in my own family for years. Simply select time intervals (or some other landmark) that indicate when it is time for a new boredom-buster. 
This could be: 
An easy 30-minute, 1-hour timer, or 2-hour timer which you can even give your kids a cheap watch to track themselves

Something unpredictable like every time the flight attendant makes an announcement or the seatbelt light comes on 

Every time a sand timer runs out

Every time you change timezones or fly over a new country (should you be confident in the on-board flight map)
This strategy not only helps to prolong play and enjoyment out of each activity, but it also helps to build up a sense of anticipation and excitement as time passes. A little countdown to the next surprise never hurts. Feel free to mix in snacks or a "nap time" by packing along with a favorite sleeping buddy from home. The trick here is to provide a wide variety of experiences from arts and crafts, to tactile building toys, slightly educational activities, and yes, maybe even the occasional electronic. What I would do, personally, is screen the kids' move/show selection for something they'll really like when we first get on board and include a movie voucher in the bag.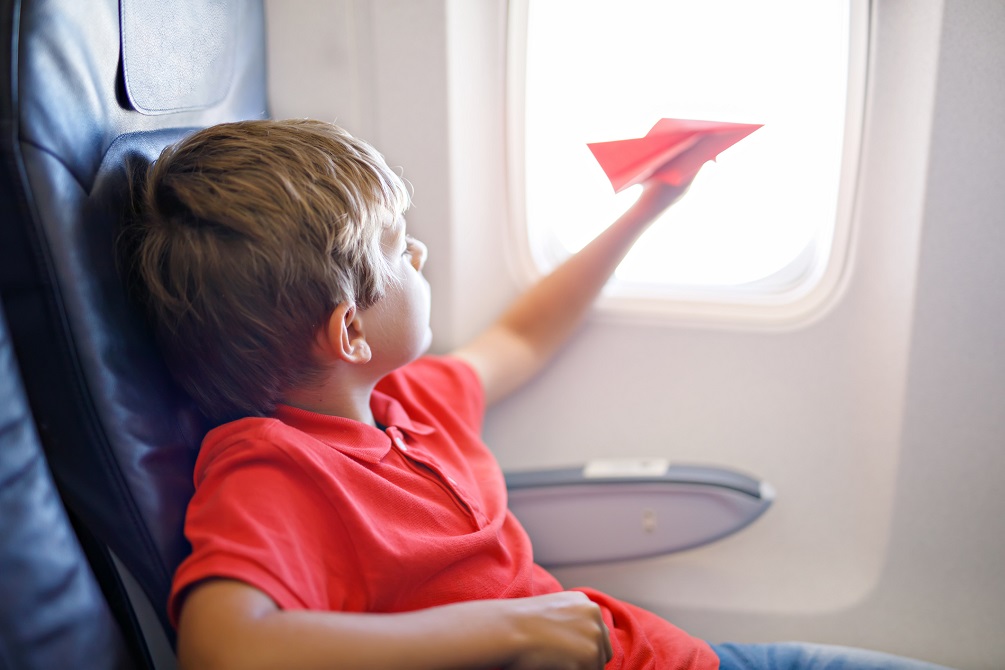 20 Quick, Cheap Ideas
"Fun books" such as comics/graphic novels, eye-spy/where's waldo, or an age-appropriate choose your own adventure.

Proper bubble gum-  Especially if you're trying to avoid hurting, popped ears, you're already stashing some gum in your carry-on anyway. Be sure to choose a true "bubble" gum variety and challenge your kids to see who can blow the biggest bubble. 

Water Painting/Magic Marker activity books- levels up the traditional coloring book experience without making any additional mess

A little post-card making kit- have your kids decorate and write postcards to send to family members when you arrive at your destination. 

Little toy cars and DIY construction-paper roads. Alternatively, reuse those toy planes and pretend they are taking off. 

Their favorite doll

Play-Doh (and hand wipes for easy cleanup) 

A selection of fidget toys

Sticker books- need I say more?

Self-contained puzzles. You don't want anything with too many little pieces but bigger board puzzles with rimmed edges will do the trick. You may also want to look into magnetic puzzles if you're willing to invest in your in-flight entertainment kit. 

Flash Card Games- they are easy, compact, and can last for hours if your kids get really into it. 

Toddler-Friendly busy boards with latches, buckles, laces, and the works

. 

Airport/Airplane Bingo Scavenger Hunt- Make up simple clipart guided scavenger hunt for items like escalators, seatbelt signs, a plane in flight, or even personnel like flight attendants and security guards. 

A good old-fashioned etch-a-sketch (if you can find one). 

A lego mat and big blocks. 

Overnight flight? Pack a few glowsticks. Just be sure not to whip them out at the exact moment everyone around you falls asleep. 

Finger puppets- You can leave this one to the kids or join in on the fun for a bit. Give them little prompts to get them started and see what kind of stories they come up with. 

Felt Window letters- This is a great way to increase the amount of space your children have to play that isn't invasive to those around you. Of course, you'll need a window seat to make this one work. 

A disposable camera

Activity books of word searches, mazes, etc.