Mention Hawaii to anyone, and chances are they'll get a dreamy look on their face and start to rave about beaches. Perhaps, you included. And for a good reason too. Hawaiian beaches have an iconic status when it comes to beaches. Yes, they're consistently astonishingly beautiful. 
Maui is one of the most popular islands to visit, and this begs the question: which are the most astonishingly beautiful beaches on Maui?
1. Makena Landing
Makena Landing is one of my favourite places on Maui. Not a beach per se, the entry point into the water is a beach but very narrow. As a result, this beach is not a beach for sunbathing and sitting under a canopy. Instead, the sandy beach acts as an entry point to a strikingly beautiful, almost flat ocean where you can snorkel, kayak, and swim. You have an excellent chance of seeing turtles here, not to mention a plethora of other fish and wildlife living along the sheltered coastal waters. 
The coastline has black lava, and this contrasts beautifully with the strikingly blue ocean. Close to the shore, there are large trees you can sit under with a picnic rug.
Not what you classically expect from a beach. Nevertheless, this beach is one of the most beautiful beaches I've ever spent time on.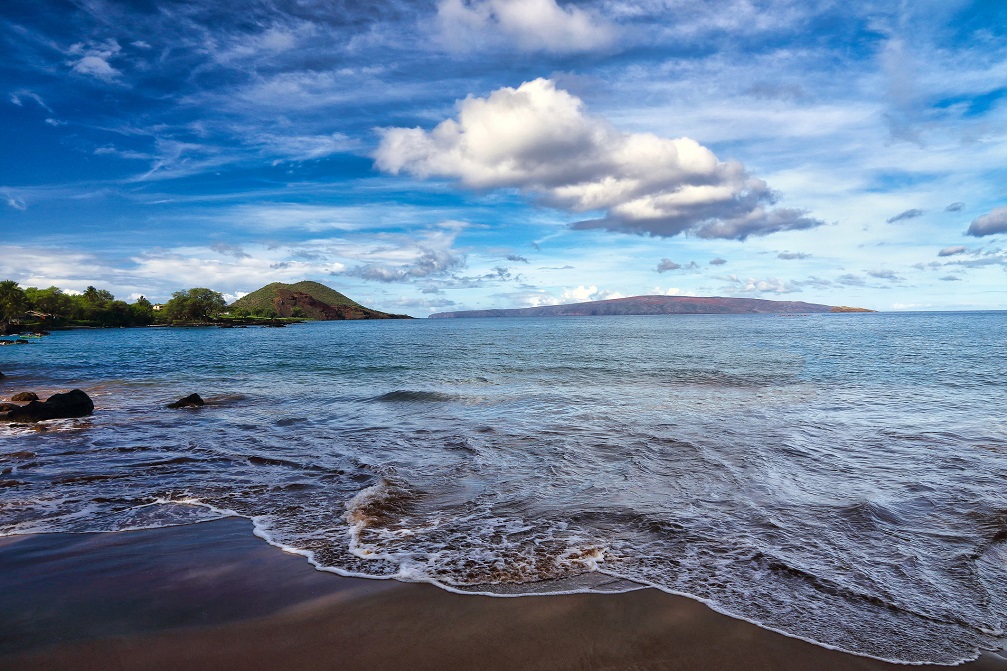 2. Ho'okipa
Ho'okipa beach has classic white sands, but along the shore where the water meets the sea, black lava rocks and coral create shallow water and rolling but powerful waves. 
Ho'okipa is a classic Maui surfing and windsurfing beach. But if you stand facing the ocean, you can do some snorkelling on the far-right-hand side. This beach is an excellent beach for hanging out all day and watching surfers, the waves and doing a bit of snorkelling.
The surf can get very strong with massive waves, and then you can enjoy wave watching. There's a lookout point on the right-hand side, and it can get very dramatic when there are strong winds and surf.  
You can find little rocky pools along the shoreline, and children love to splash about in them while looking for seaweed and creatures.

3. Kapalua Bay
If you want the classic Hawaii picture-postcard palm-tree fringed white sand beach in a beautiful even-handed crescent, then Kapalua Bay should be the first beach you visit on Maui. The sheltered tranquil water makes the beach ideal for swimming and snorkelling.
Furthermore, there are bathroom facilities and a nearby takeout that make the beach a good choice for families or anyone who wants to spend a whole day on a picturesque and wonderfully Hawaiian beautiful beach.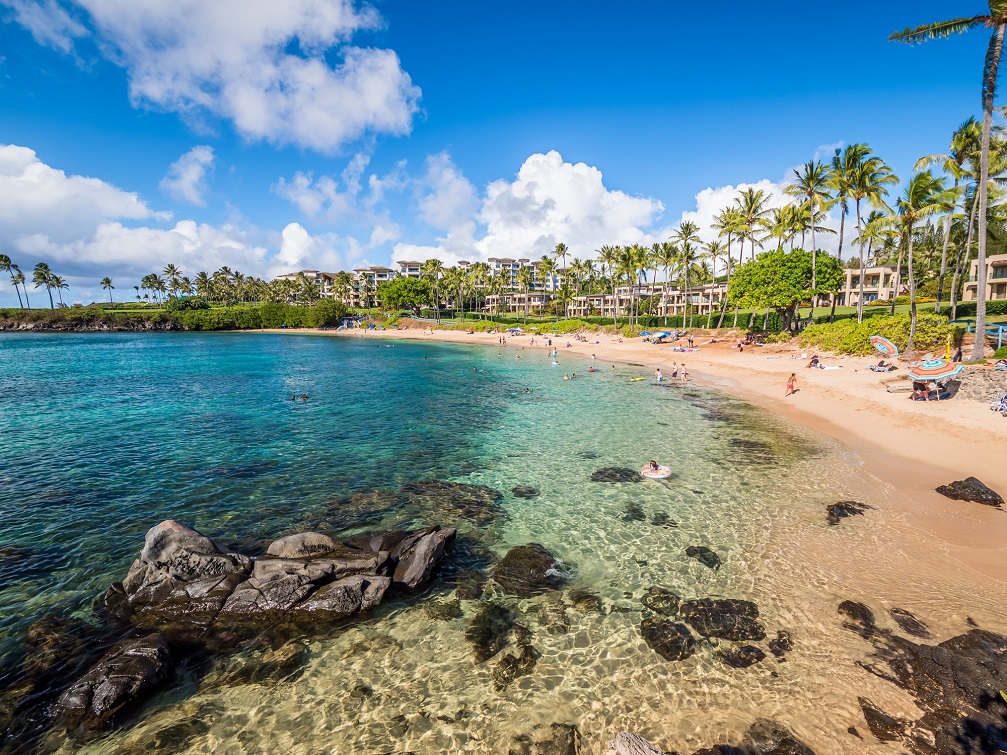 4. Honokalani Beach
Honokalani Beach is close to Hana and inside the Waiʻanapanapa State Park. The stunning and unique beach has black sand. It is an unforgettable experience to see the sand colour, the tropical backdrop, and the sea all working together to create a natural visual drama.
You can visit the beach on the way to Hana, stopping near the 32-mile marker. 
Please remember that it's forbidden to collect and take away sand, lava rocks, or pebbles because the beach is inside a state park. When you visit, take some photos and keep the memories of the place in your mind.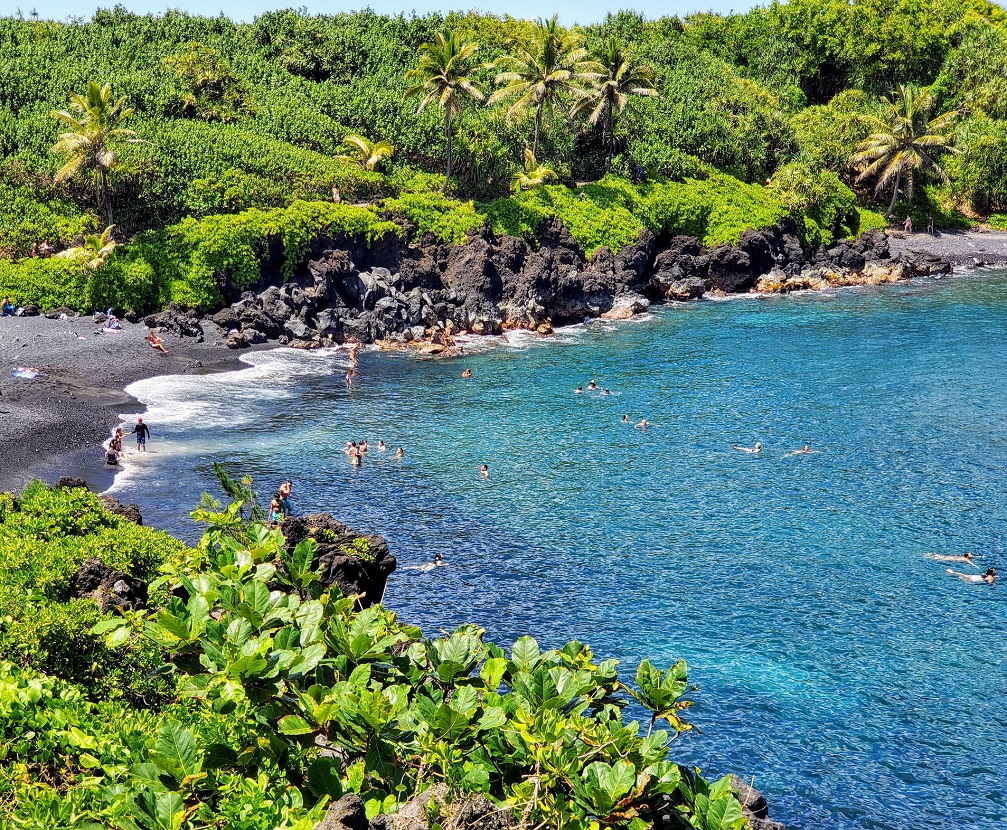 5. Kaihalulu Beach
Close to Hana, there is an astonishingly dramatic beautiful beach positioned in a little cove. The water is suitable for swimming because black lava rocks close to the cove's entrance break the waves creating a lovely little lagoon. High rusty red cliffs surround the beach, which also has red sand. The water has an astounding shade of blue that contrasts startlingly with the red sand and cliffs.
However, this unique beach is not for everyone. Firstly, the beach is a nudist one. So be prepared to see sunbathing birthday suits when you go. 
Secondly, you need to hike to reach the beach, and unless you're confident walking rugged paths that can be slippery, you should not attempt the hike. People do slip and fall on this path, so please make sure to take care and not try the trek if it's out of your comfort zone. 
If you would like at least a glimpse of the place, you can do a more leisurely walk to a viewing point above the cove, appreciate the drama of the place, and then avoid the danger of the final slippery descent to the beach.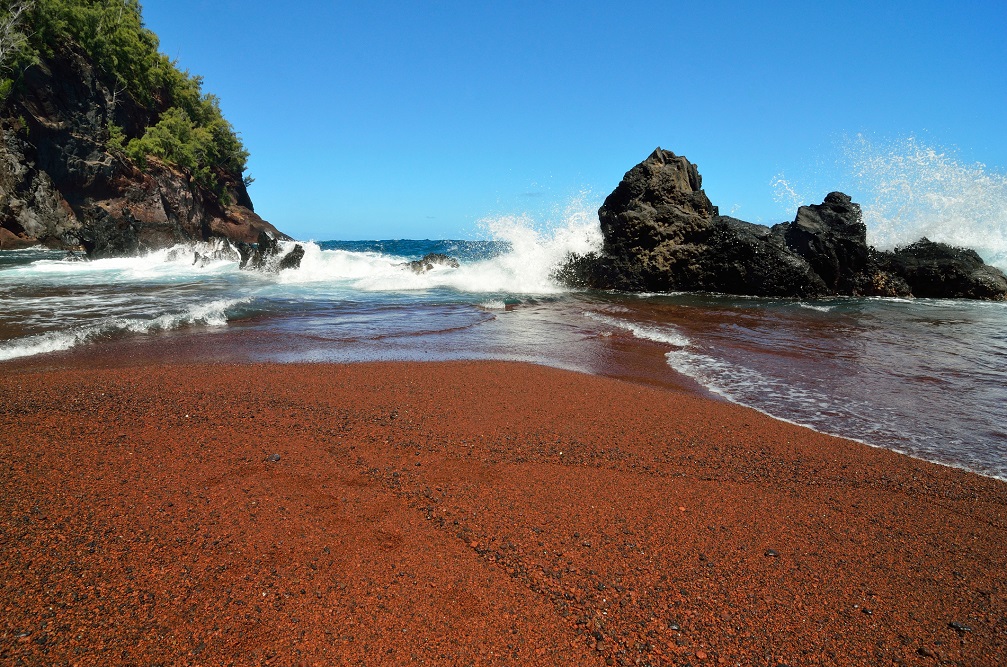 6. Baldwin Beach Park
Also known as Big Beach, Baldwin Beach Park is one of the most popular beaches in Maui. Even when it's busy, the long beach means everyone can find a spot to have to themselves. 
The beach is gorgeous with wide spacious sand, open skies framed with palm trees and tropical vegetation, gently meeting the dynamic ocean. 
If you face the ocean on the left-hand side, you will find Spreckelsville Beach – or Baby Beach. The water at this end is gentle and great for children to swim safely. If you continue to the right-hand side, you can enjoy more vigorous waves, but the ocean is still suitable for snorkelling and swimming here.
There is a lifeguard stationed on this beach from 8 am to 4 pm, and there are bathrooms and other facilities such as bathrooms.
If you're so inclined, you can walk the length of the beach (to the right facing the ocean) and pop over the hill at the end. There you'll find the smaller Little Beach, a nudist beach.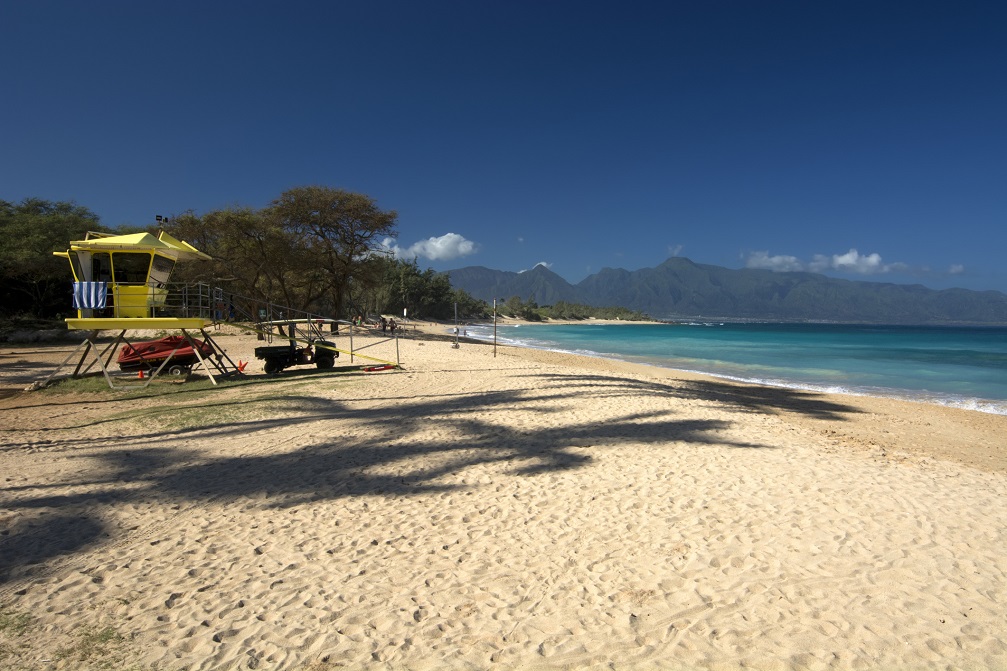 Jet, Set, Go
Against popular belief, in general, Maui and the Hawaiian islands are not just for the jet set. The beaches are almost entirely for public use and free to access. So now all you need to do is plan your trip and decide which exquisitely stunning beach you'll visit first.