As the world begins to heal from the COVID-19 pandemic era and domestic and international travel resumes, you might be wondering what considerations need to be made to ensure you can travel safely. 
While there is a plethora of new policies in hotels and airports designed to keep you safe, as well as certain types of vacations that are better suited to provide post-pandemic comfort, there are a few things you can do to take everyday safety during your vacation into your own hands. 
Just as you likely have a list of "travel essentials" that you wouldn't think of hopping on a plane without, there is a concrete list of safety items that you will want to bring with you. The best way to do this is to keep everything in a handy-dandy COVID carry-on, or your actual carry-on if you have space.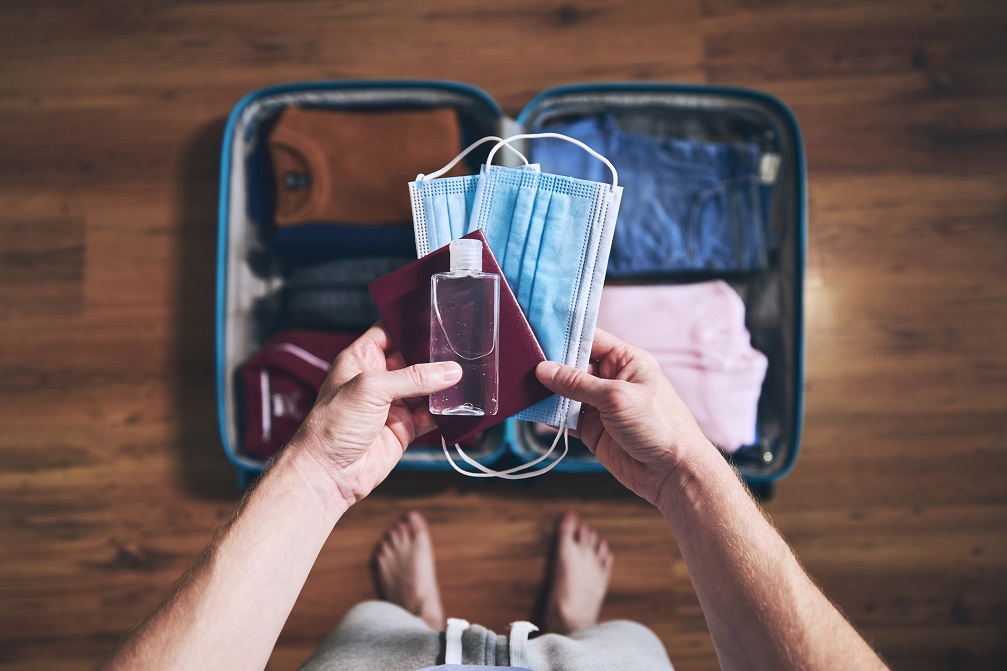 Travel Size Sanitizers
Sanitizing and sanitizing often is your best way to protect yourself. Since the ability to wash your hands with water and antibacterial soap is greatly reduced in an airport or plane where running to the bathroom every time you touch something isn't possible, sanitizer is absolutely essential. This will allow you to clean your hands at every checkpoint, and every time before you eat/drink. Alcohol-based sanitizers are allowed on airplanes, but be mindful of carry-on liquid limits. You won't be able to bring a full-size bottle with you on the plane, so invest in some travel-sized minis or some refillable tubes and pack the bigger bottle in your checked luggage.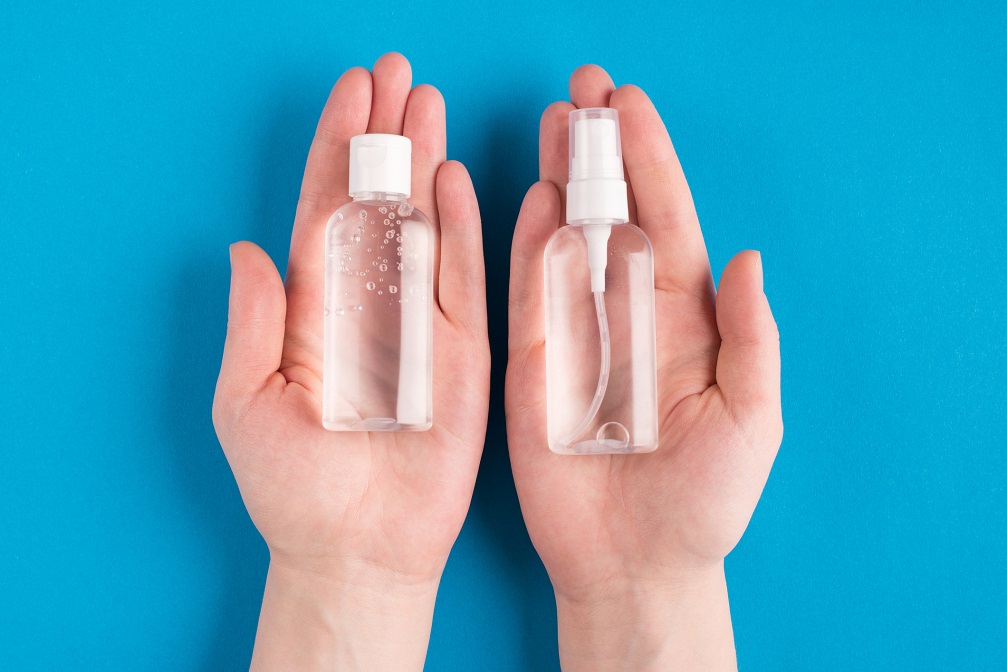 Wipes
We've covered keeping yourself clean, but what about cleaning the areas around you. There's nothing wrong with whipping out an alcohol-based wipe and cleaning up the airplane tray, armrests, restaurant tables, or hotel remotes. Just keep a small package in your bag and you can wipe down any surfaces you feel concerned about making contact with. Honestly, even outside of COVID-19, this is a good practice for avoiding falling ill on vacation.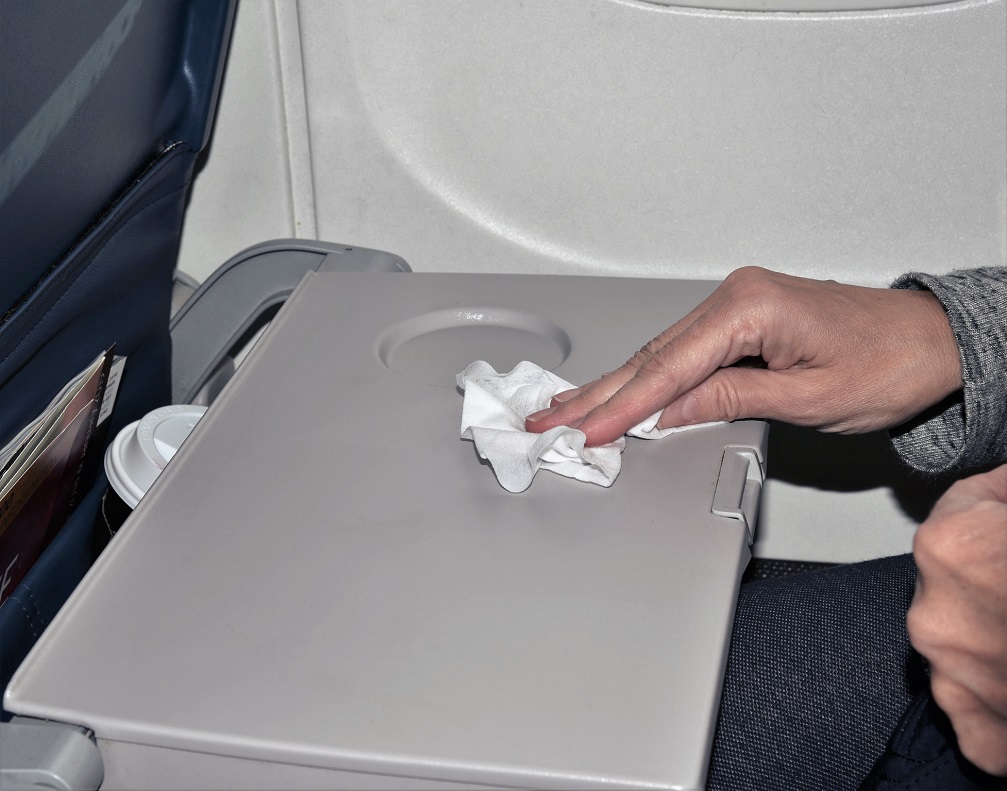 Double-Layer Masks
Bring plenty of masks. As in, lots and lots of masks. Even if the municipality you are traveling to does not have any rules regarding masks at large, you never know what the policies of individual attractions, shops, restaurants, and amenities will be. You don't want to get caught unprepared and miss out. Plus, you're definitely going to want to have enough to double up on the plane and swap dirty masks in and out without having to launder them in your hotel bathroom sink. If you have reusable masks, you should definitely bring them since these are often multi-layered for better protection and, of course, better for the environment. But you might want to consider bringing a box of disposables as well. You never know when they might come in handy.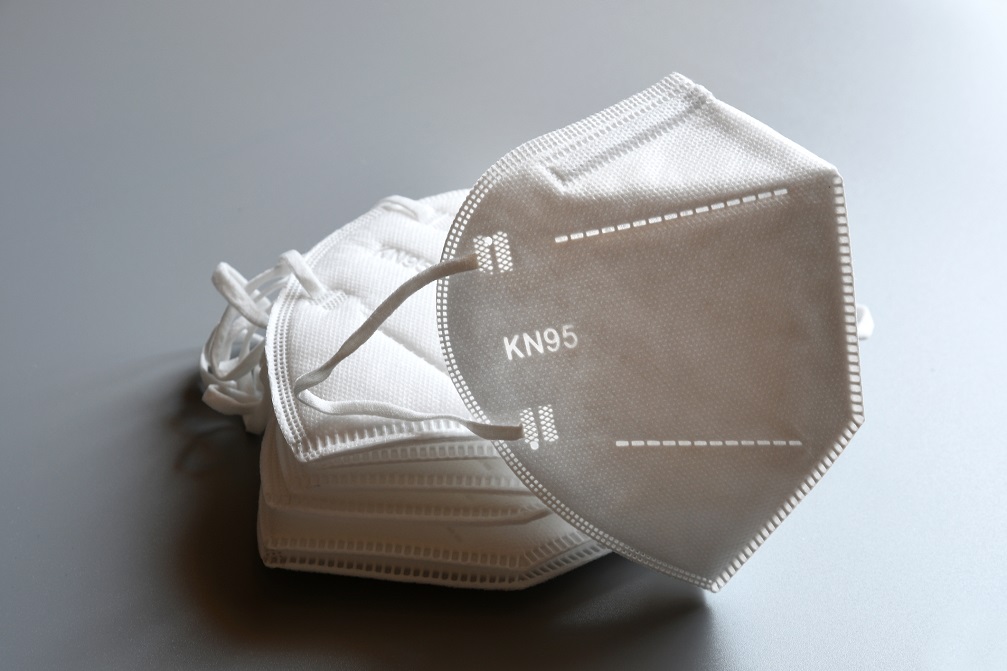 In-Flight Entertainment
Reducing your contact with high-touch areas will be an important step for protecting yourself. Generally speaking, in-flight entertainment systems are touch screens and it's unclear how often they actually get a thorough wipe down. Obviously, if you have wipes as we've recommended, you could just wipe them down yourself. However, if you'd feel safer avoiding high-touch areas all together then be sure to bring some things to do while onboard. This could be a phone, iPad, or laptop on airplane mode, a book, a coloring book, a portable music player, and the list goes on and on…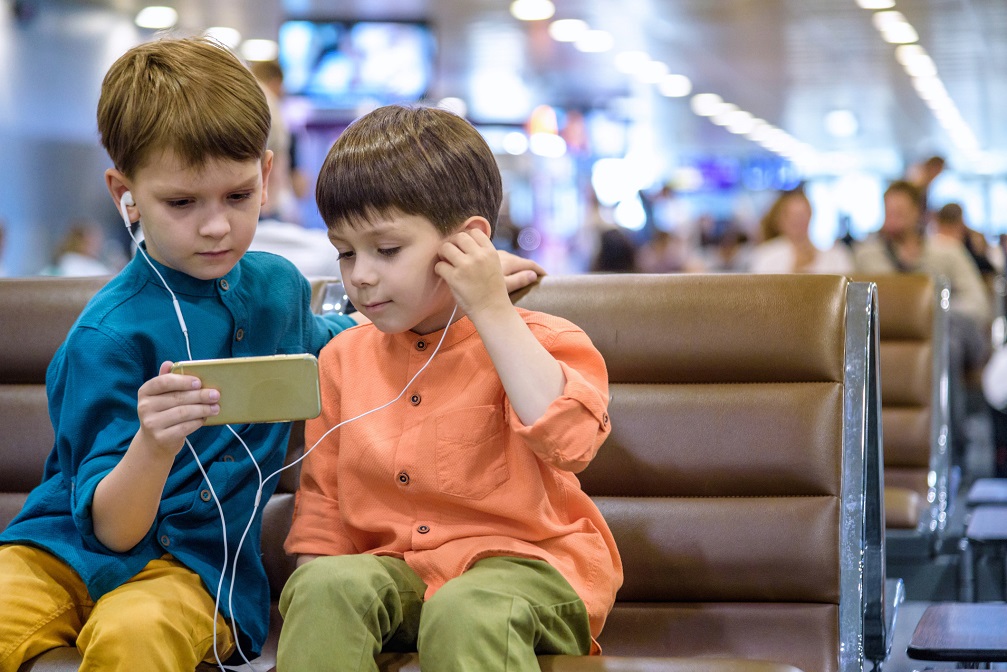 Pre-Printed Travel Documents
Speaking of unnecessary touching of screens, pre-print your boarding passes and other related travel documents could save you from using high-touch check-in devices. If this isn't possible, consider hopping in line and checking in with an attendant. It might take a few extra minutes, but their area is much more likely to be sanitized after every (or every few) passenger, and the counter between you will guarantee some social distance.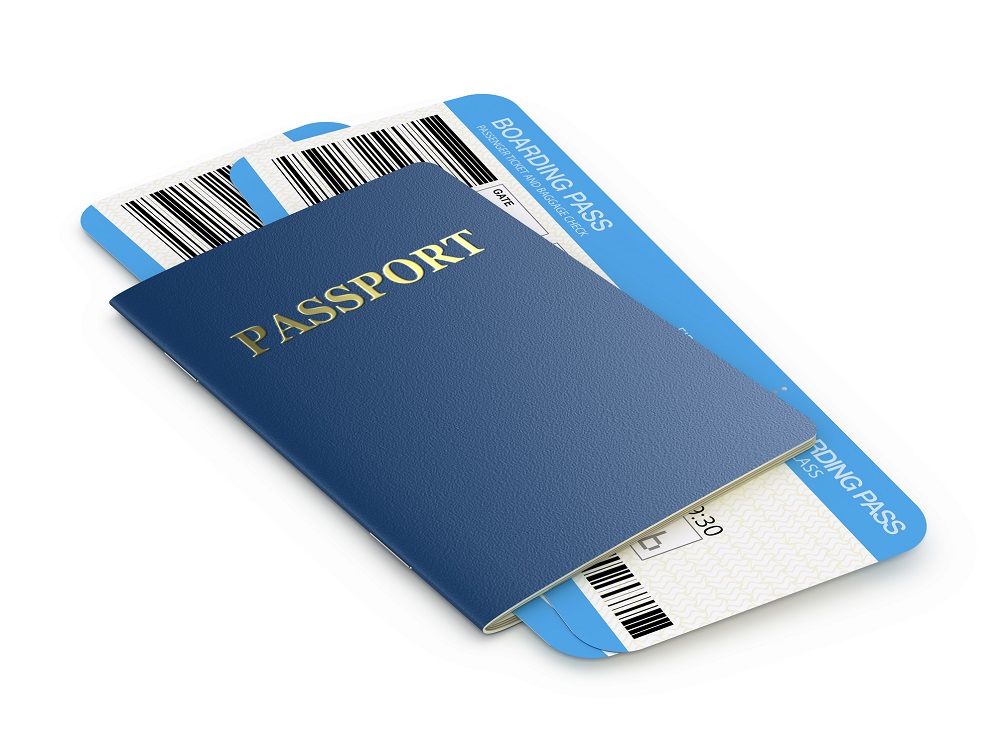 Snacks and Beverages 
Want to avoid other people touching and handling your food? You don't need to abstain from eating and drinking the whole flight- just bring some with you! Snacks can be brought in from outside the airport, though beverages will have to be purchased inside the terminal. That being said, you can always bring a refillable water bottle (empty before passing security) and used a gloved hand to fill at the nearest water fountain.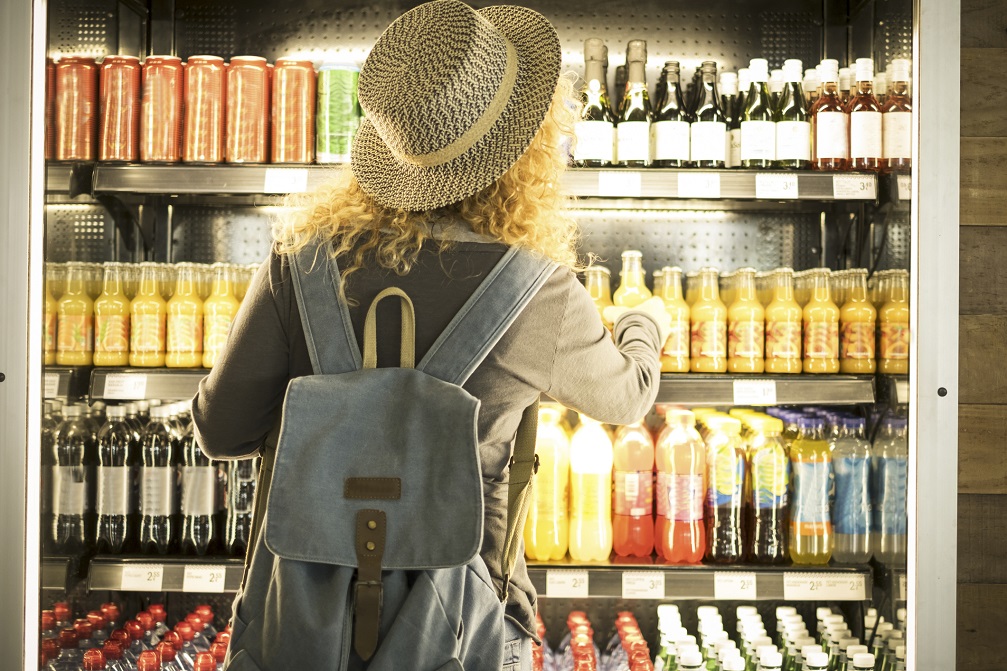 Gloves
After all this talk about avoiding high-touch areas, at the end of the day, this may not always be possible. If you would feel more comfortable having an extra layer of protection, consider bringing along a lightweight pair of gloves. This way, you don't have to worry about forgetting to sanitize and wash hands after every single little thing. Just be sure to remove them before resuming your regular activities- otherwise, the gloves will pass on all the germs you were wearing them to avoid. It's also important to remember that you will be asked to remove your gloves as you pass through airport security, so this should not be your only method of protection.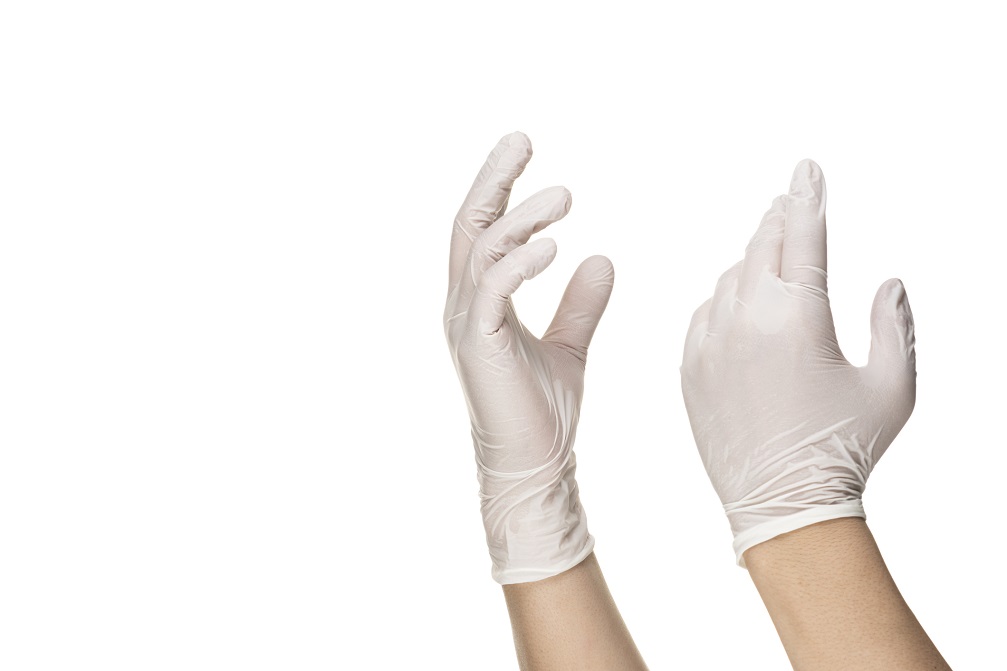 Proof of Vaccination
Whether you agree with it or not, the truth is that choosing to get, or not to get the vaccine may impact your ability to travel in the future. Depending on where you are traveling to, you may be required to show proof of vaccination to be granted entry. This could be true for entire country borders, or merely private properties with amenities you would like to access such as hotels, attractions, shops, and restaurants. While this can seem jarring, try to remember that this has been the norm for years with other vaccinations; avid travelers can attest to this- a yellow fever vaccination card is required for entry into 20 countries around the world. Keep in mind that everywhere you go will have its own unique policies, so you should likely bring this along (assuming you have, in fact, received a COVID-19 vaccine) even if it is not required by the country at large. The last thing you want is to be left stranded or unable to carry out your meticulously planned itinerary. If you have not been fully vaccinated, be sure to do thorough research and be sure you are still able to comply with all of the COVID-19 policies laid out by your accommodations. If you expect this is going to be a common issue in your destination area, you may even want to bring along a list of places you can go to that do not require your vaccination card.