Samara is one of those places that may not be at the tip of tongues, but it certainly should be. This lesser-known beach town of Guanacaste, or more specifically the Nicoya Peninsula, certainly knows how to pack a punch. 
It's a known fact throughout Costa Rica, that Guanacaste is home to some of the most spectacular beaches in the entire country. With world-famous sunsets, incredible wildlife sightings and isolated stretches of golden sand, it is no wonder that thousands of people flock to this Northern province of Costa Rica each year. 
However, there are some tourist hotspots within this gorgeous province. In the North, you will find Tamarindo; an electrifying party town, fringed by a National Park. Towards the southern tip of the peninsula, you will enter Santa Teresa; a laidback town, aimed at the surfing community. 
With these destinations in the minds of many, Samara remains almost forgotten and unheard of. Embodying the very best of the Costa Rican "Pura Vida" lifestyle, Samara provides visitors with the unparalleled beauty of raw nature, coupled with inconspicuous beachside development. 
Across the globe, Costa Rica included, beaches have been devastated by developers. Great towering skyrises dominate the landscape, taking away from the natural beauty of local ecosystems. Samara, however, has incorporated nature in the development plans, with most buildings remaining below the tree canopy level. There is a harmonious feel between man and nature. 
Read on to discover the very best of Samara, as well as the surrounding areas. 
Samara Beach 
At the top of the list, Samara Beach takes the crown. This extensive stretch of horseshoe-shaped beach is as good as any tropical postcard. The fringes of the beach are lined with exotic foliage and rising palm trees, offering the perfect respite from the midday heat. 
Samara Beach extends for 5km, running parallel to the aquamarine ocean. Fortunately, there is a small rocky reef system just offshore, creating a sheltered bay with calm water; the perfect place for a refreshing swim. Due to the reef formation, a huge abundance of life can be found in the waves here. Tropical marine fish, of all shades of bright colors, dart between the rocks. If you're lucky, you may even spot an octopus or ray.
The laidback vibes to be found here allow for plenty of relaxation, as you take in the stunning landscapes.
However, with the arrival of dusk, the entire beach comes alive. The sunsets here are some of the best in Costa Rica, transforming the sky into deep shades of fiery orange, red and purple. Nightlife starts, with many beach performers putting on fire show for the nearby restaurants. The ambiance is electrifying.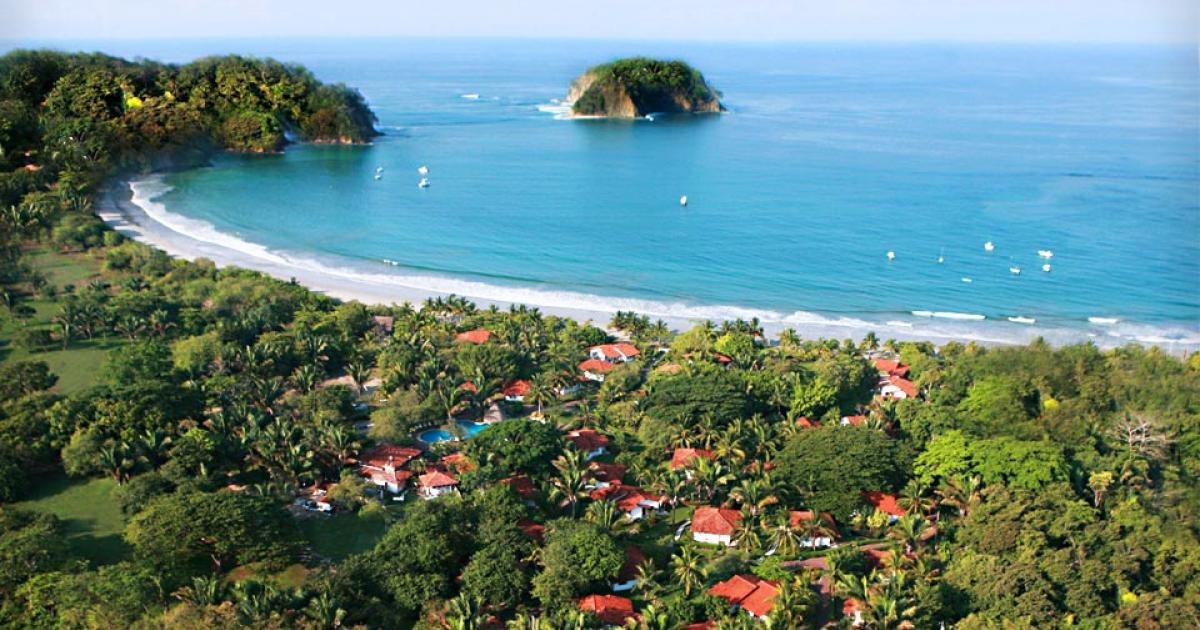 Photo credit to https://www.rotasturisticas.com/
Kayak to Isla Chora
Just off the shores of Samara Beach, you will be able to spy a protruding rock emerging from the water. Known locally as Isla Chora, you will be surprised at just how many activities can be found here. 
By far one of the most popular activities is to kayak to Isla Chora. There are many tour companies across Samara Beach that offer guided tours via kayak to the island. As relaxing as this may sound, it certainly takes a lot of strength, as you battle with the oceanic currents. The exertion, however, is worth it. The island is surrounded by underwater rocky caverns and crevices, that offer a perfect habitat for a wealth of marine life – including sea turtles; an endangered inhabitant of the waters off Samara. Grab a snorkel and start exploring!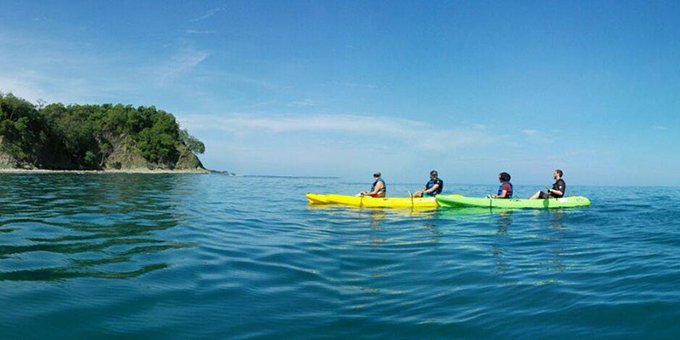 Photo credit to https://www.entercostarica.com/
Surfing 
Although not as popular as the previously mentioned towns of Tamarindo or Santa Teresa, Samara also offers great surfing opportunities. Similar to renting kayaks, many tour companies along this stretch of coastline offer surf lessons to beginners, as well as active hands-on practice in the water. The calm, sheltered bay ensures that waves rarely become too choppy, allowing for the perfect natural classroom.
For avid and more experienced surfers, the outer beaches around the Nicoya Peninsula, such as Guiones and Baragona, are better equipped. There are no offshore reefs here, so waves can get rather high. Proceed with caution.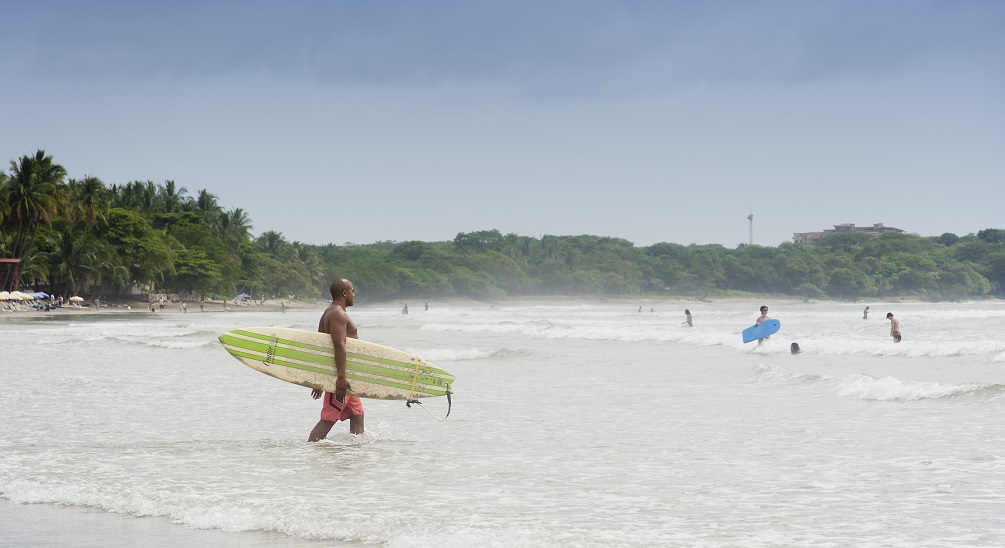 Hiking
Venture slightly inland, and the jungle community begins to take over. Towering trees with enormous buttress roots dominate, with a multitude of climbing vines growing in all directions. As you meander down back streets and trails, wildlife begins to appear all around: howler monkeys high in the canopy, armadillos on the forest floor, and a multitude of brightly colored birds all around. 
The Werner Sauter Biological Reserve can be found nearby, and while this is an incredible adventure to discover local fauna and flora, it does come at a cost. Some of the best hikes around Samara avoid those pesky tourist fees. Unlike private reserves, trails are not clearly signposted and are often completed by trial and error. Some allow you to discover private beaches, other trails lead up steep hills and offer spectacular views of the landscape and never-ending ocean.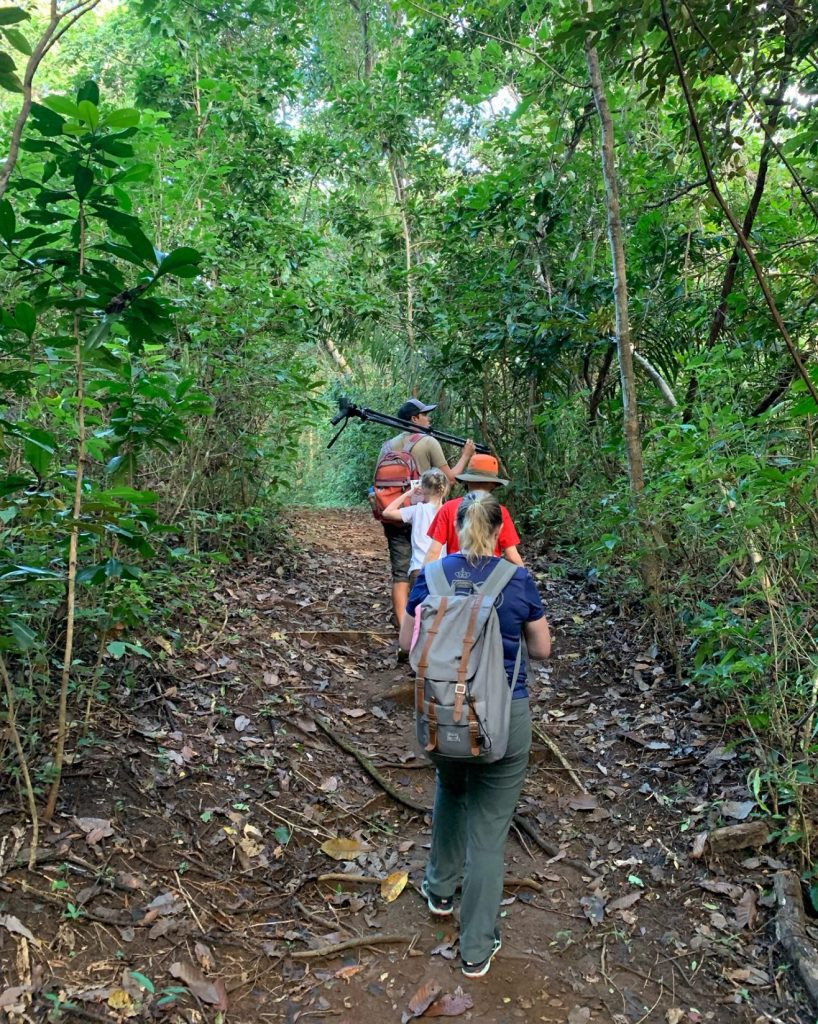 Photo credit to https://www.samaratrails.com/
Weekly Farmers Market
Every Saturday in Samara welcomes the weekly farmer's market. A great way for local producers and growers to showcase the very best of their produce. Artisanal foodstuffs and souvenirs can be found here, as well as locally cooked, home-comfort food. 
Tucked off the main strip of Samara, the farmers market is accessible by walking down the quiet back streets. There is a first-come, first-serve policy, so once items are gone, the stall shuts down. To avoid disappointment, early morning is the best time to visit. 
Carrillo 
Playa Carrillo is a neighboring beach to Playa Samara. Less than 10 minute drive away, you will be rewarded with a beautiful, and often isolated, stretch of coastline. With many tourists staying close to the shops and restaurants of Samara, few people venture to Carrillo. 
There are no developments here. Instead, palm trees, and an array of other marine flora, line the beach, creating an air of isolation. When the tide retreats, a series of rockpools of differing depths are exposed. Incredibly, you are able to snorkel within these rockpools and observe the life within.