In Spanish, Monteverde simply translates to Green Mountain. And aptly so, for an area covering 26000 acres is verdant vegetation. 
Located within the provinces of Puntarenas and Alajuela, the Monteverde Biological Reserve was founded back in 1972. Recent estimates suggest that the park draws in more than 70000 visitors from all across the globe, per year.
With the vast majority of the land's primary forest, or forest that has not yet been disturbed, tourists flood to Monteverde to marvel at the beauty of such pristine wilderness. The reserve itself consists of 6 ecological zones, that is, an ecologically and geographically defined region containing distinct natural communities and species. 
The vast majority of Monteverde is swathed in a thick cloud layer much of the year, earning the reputation of a cloud forest. Due to certain climatic variables, a persistent low-level cloud cover characterizes the region. With such moist conditions year-round, species have evolved in response and have adapted traits to thrive in such conditions. Some of these species can be found nowhere else on Earth. 
As such, Monteverde has incredibly high biodiversity. It is thought that over 400 species of birds can be found here. Impressively, Monteverde is also home to half of the entire world's population of orchids, some 500 species. 
It comes without surprise that Monteverde has obtained a number of prestigious titles over the years. One such award, "one of the 7 wonders of Costa Rica", was voted by the people of Costa Rica, as recognition to the areas outstanding natural beauty. Unfortunately, due to climate change, this biome may be extinct within this century. With warmer temperatures, the famous life-giving cloud cover will soon cease to appear. No wonder Lonely Planet has stated that Monteverde is one of the top places to visit before it disappears.
Read on to discover some of the best things to do in Monteverde.   
Hanging bridges 
Monteverde has exploded as a tourist hotspot over recent years. One of the main attributes of the region is the thrill of walking on the suspended canopy walk or hanging bridges. Visitors have the opportunity to walk above the clouds and gain a unique perspective of the sprawling forest below. Incredibly, some extend for more than 250 meters at an altitude of 730 meters. For those who fear heights, try not to look down. 
Throughout the region of Monteverde, many activity parks offer their own version of the hanging bridges. Although the principles are the same, some are certainly more suited for kids. This is one sure way of being at one with nature, as you immerse yourself in the treetop canopies, with nature all around. Within the parks, you are able to book tour guides that can expertly identify native wildlife, such as eyelash vipers, resplendent quetzals (which we will touch more on later), and monkeys!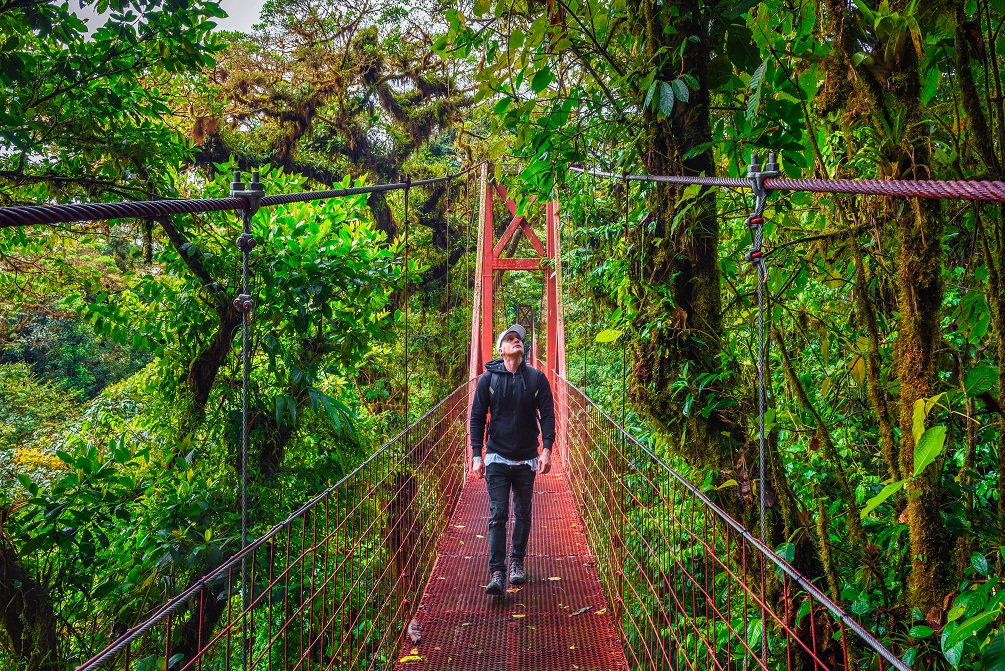 Ziplining 
If you're looking for more of a thrill-seeking adventure, try hurtling down the valleys on Monteverde of speeds of up to 40mph! In this adrenaline-pumped adventure, ziplining is without a doubt one of the best ways to build excitement in Monteverde. 
Similar to the hanging bridges as mentioned earlier, you can experience a range of different zip lines throughout Monteverde. Some of the most popular companies are Sky Adventures Monteverde Park and Selvatura. 
The journey will begin with a sky tram up the steep slopes of some of Monteverde's peaks. This is a great way to lap up the scenic landscape. At the top, a series of zip lines will lead you back down to the start. With the characteristic cloud that often smoothers Monteverde, ziplining through it can create a feeling of mystery and isolation. 
As an added bonus to the day of adrenaline and excitement, many adventure parks add their own spin. To complete the experience, you may find yourself offered the opportunity to bungee jump off a ledge or experience ziplining in the superman position. Whichever you choose (bearing in mind that you can opt to take the easy way out – the stairs), you will be guaranteed to have a whole lot of excitement.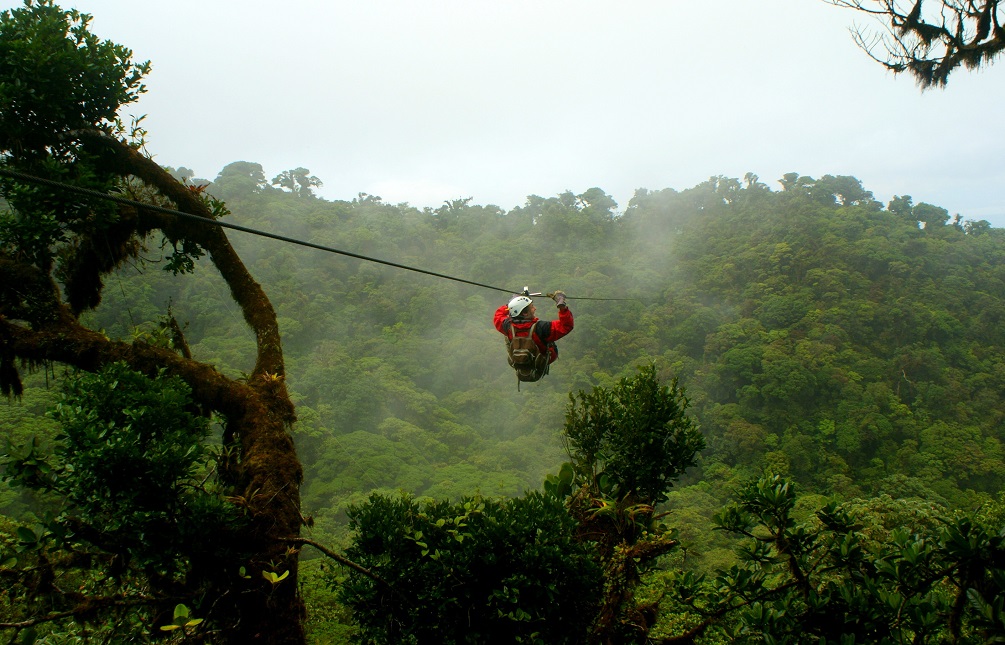 Bird Watching  
One of the main draws to Monteverde is the wildlife. Although hundreds of species can be found here, there are two in particular that captivates birdwatchers and tourists alike: the resplendent quetzal and three-wattled bellbird – both of which are rare sightings. 
Quetzals can only be found in Cloud Forests. In fact, National Geographic deemed Monteverde as one of the best places to spot quetzals in the wild. Although becoming increasingly rare, they are unmissable. With the word resplendent in its name, you can imagine how spectacular this bird is. Part of the trogon family, it has long, iridescent tail feathers and a bright red chest. Throughout history, this bird has been revered and worshiped. The best time to observe quetzals is during the breeding season, between February and June, as males show off their bright plumage. 
The other local bird attraction, the three-wattled bellbird, sure is an oddity. The lower half of this avian attracts no real attention, with its drab coloration. However, the head of this creature draws all the commotion. Extending from the beak, dangle 3 long, slender appendages, or wattles. These wattles look like worms. A real peculiarity of the Costa Rican Cloud Forest ecosystem.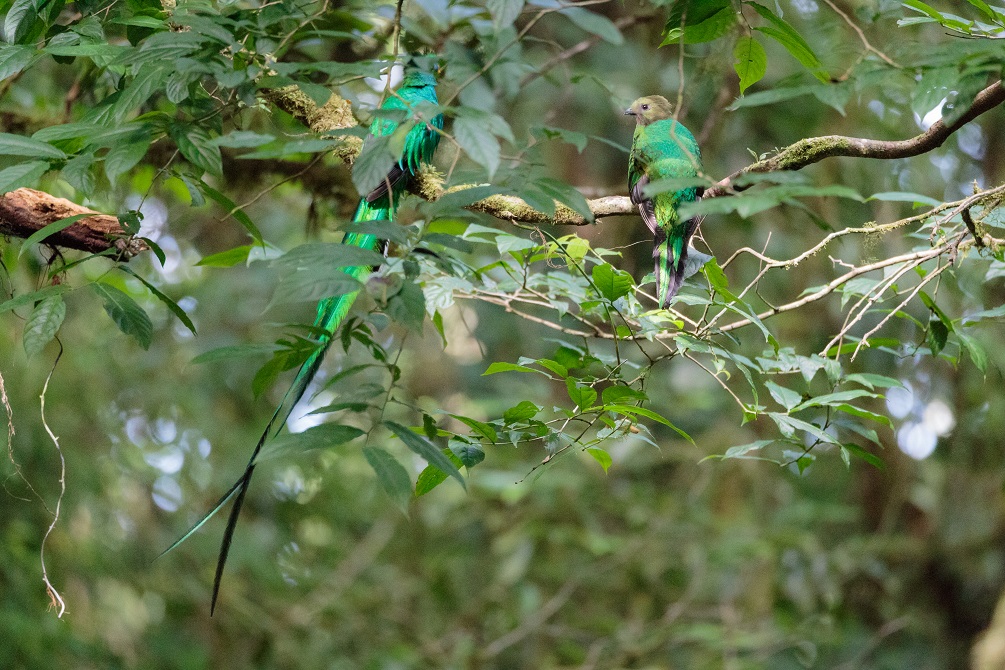 Night tour 
Keeping on the general theme of wildlife, a Monteverde Night Tour allows visitors to discover some of the nocturnal creatures of the area. 
There are serval companies that offer night walks in private reserves across Monteverde. Incredibly, each location offers something different! Typically, these tours are very educational and introduce the nightlife of the cloud forests. Many iconic residents of Costa Rica are in fact nocturnal. Two-toed sloths, for example, are more active during the night than they are during the day. Monteverde is one of the best places to spot them on the move, as they search for food or mates.
Of course, this is the jungle and danger lurks around every corner. Be sure to wear close-toed shoes and be on the lookout for any snakes and spiders, which can be frequently found on Monteverde night walks. Eek.