In the Northeast of Panama, a chain of islands can be found off the Caribbean Sea. Embodying true Caribbean culture and undeveloped landscapes, let me introduce you to Bocas Del Toro. 
The archipelago consists of 3 main islands; Isla Colon, Isla Bastimentos, and Isla Carenero, as well as approximately 200 smaller islets, dotted around the sea. There are a variety of options for how to get to Bocas. By far, the most convenient way is to take a short 45-minute flight from Panama City directly to Bocas Town on Isla Colon. Other options include water taxis and ferries. If driving from Panama City, expect the journey to take around 9 hours, plus the hour or so ferry to reach Bocas Town.  
On any given island, you may find verdant rainforests, golden beaches, or local culture. For a chain of islands, the biodiversity is incredibly high. In fact, the archipelago has found fame in both the scientific world and tourist world alike, for being home to a variety of endemic species, such as the pygmy three-toed sloth or the toxic strawberry poison frog.
Here are some of the best activities to see and do whilst staying in Bocas Del Toro. 
Rent two wheels for the day
Regardless if you fly into Bocas, or arrive by boat, you will arrive at Isla Colon first. Being the capital of the area, there is much to see and do, including restaurants, museums, shops, and beaches. The best way of getting around and seeing as much as possible is by hiring a bicycle for the day. This allows you to freely get around at a leisurely pace and access places that would be too far to walk or inaccessible by car. 
This is a great way to get to Playa Bluff or even some of the other beaches mentioned further down the list. The beaches here are known for their miles of soft, golden sand; perfect for getting lost in the moment and walking interruptedly against a picture-perfect, tropical backdrop. 
Starfish beach 
On the Northwestern tip of Isla Colon, explore the world-famous Starfish Beach, or Playa Estrella. To get here, you have to travel through a Natural Reserve, bustling with life. A great way to do this is by bike, but taxis and buses are also possible. By bike, it will take a couple of hours. You may even be able to spot the elusive Panamanian night monkey, resting in the hollows of trees. 
The road terminates at Playa Boca del Drogo, a clear water bay offering a few restaurants. From here, take the nature trail towards Starfish Beach. This remote, sandy beach is known for its calm waters, inundated with giant starfish in the shallows. A unique experience, but remember, do not handle the starfish as this may cause harm to them. Relax and snorkel, whilst sipping on a cold and fresh coconut.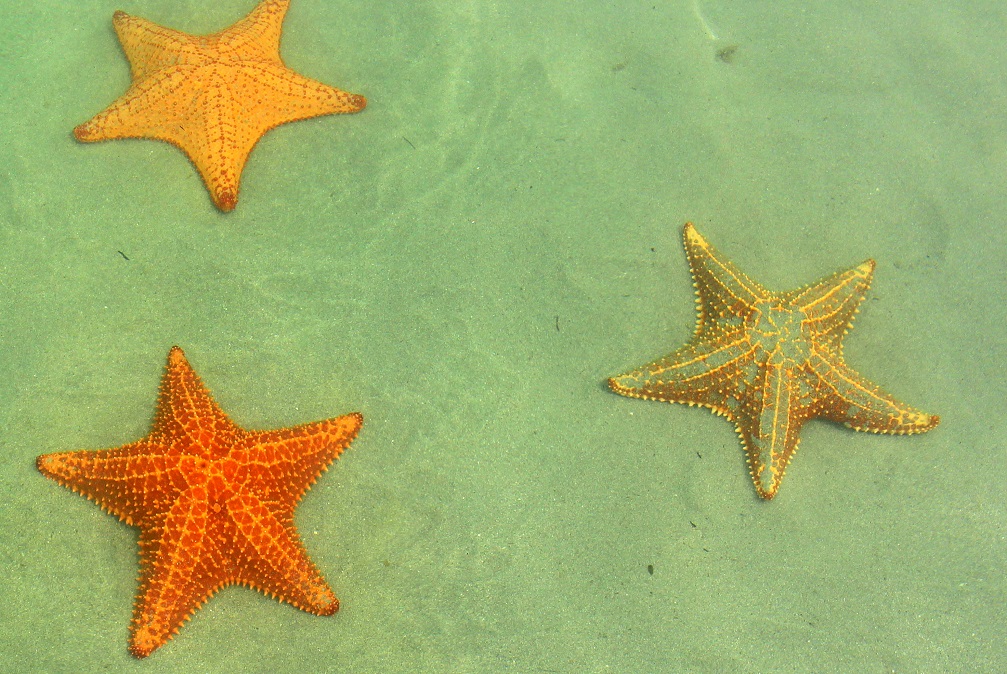 Red frog beach 
For this next entry, we are crossing to the neighboring island of Bastimentos, just a short boat trip away. Bastimentos is the largest island of the archipelago and is one of the most natural, with large expanses of rainforests covering much of the land. At least a dozen different ecosystems can be found on and around the island, such as mangroves and coral gardens. Much of the island is designated as a National Park, protecting the many species that can be found here. 
Unlike the rest of the island of Bastimentos, the Northern region is the most developed, with hotels and restaurants spread across the beaches. Whilst here, it is worth checking out Old Bank; a colorful metropolis of Caribbean spirit. From Old Bank, you can take the jungle paths through the rainforest to Red Frog beach. Be careful though, as the paths can become notoriously muddy, and losing your way is a common occurrence. Famous to the forests of the area, you may be able to spot the brightly colored strawberry dart frog. Although small in size, they pack a powerful poison punch. Interestingly, each island yields different color morphs of these small amphibians.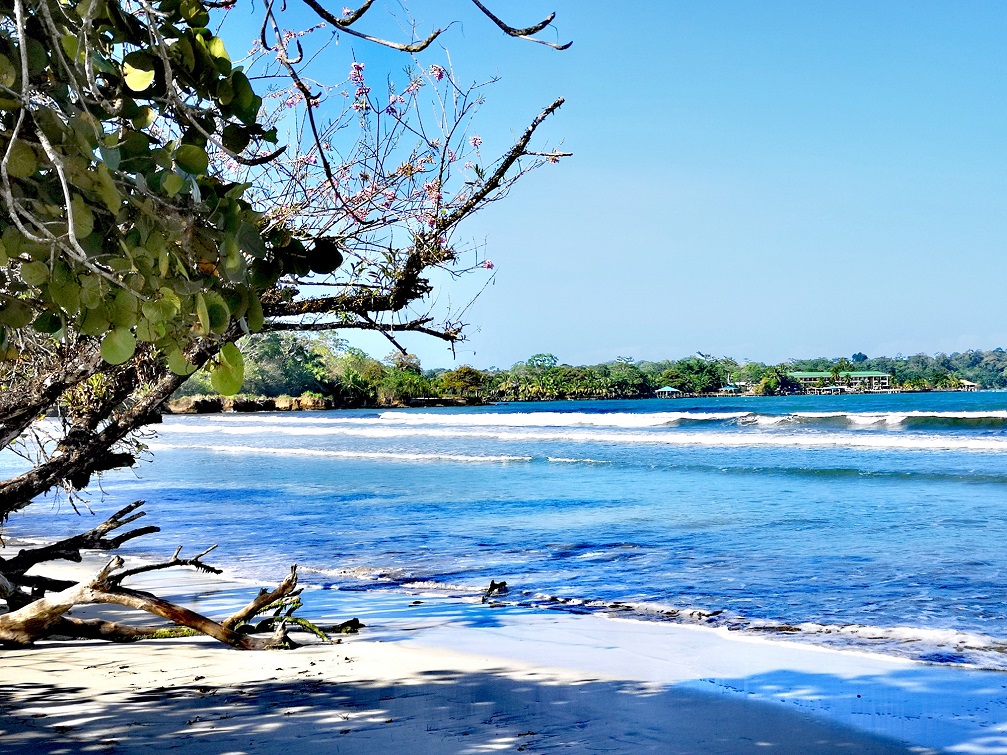 Wildlife tours/Cayos Zapatillas 
Bocas Del Toro is packed with activities for any tourist to indulge in, catering to the adventurous and the relaxers. This next entry combines the two. Many companies offer multiple excursions in one, such as dolphin watching and island hopping. By booking a tour like this, you can enjoy a small glimpse of everything the archipelago has to offer. 
One of the most popular tours is the Cayo Zapatilla One Day Tour. In a boat, expect to be shuttled around some of the wildest parts of the archipelago, in search of the endemic pygmy three-toed sloths that frequent the many mangrove islets. Along the way, keep an eye out for dolphins, as they too can be found in the area. Highly curious and intelligent animals, dolphins sometimes approach boats to investigate. Snorkeling is often included depending on the weather conditions. This is a great way of seeing the lively coral reefs, rich in different shapes and colors. Finally, the tour finishes at Cayo Zapatilla; a remote, tropical island with an exciting ambiance of unkept ruggedness and wildness. You can either choose to relax on the golden sandy beach or explore the overgrown, uninhabited island.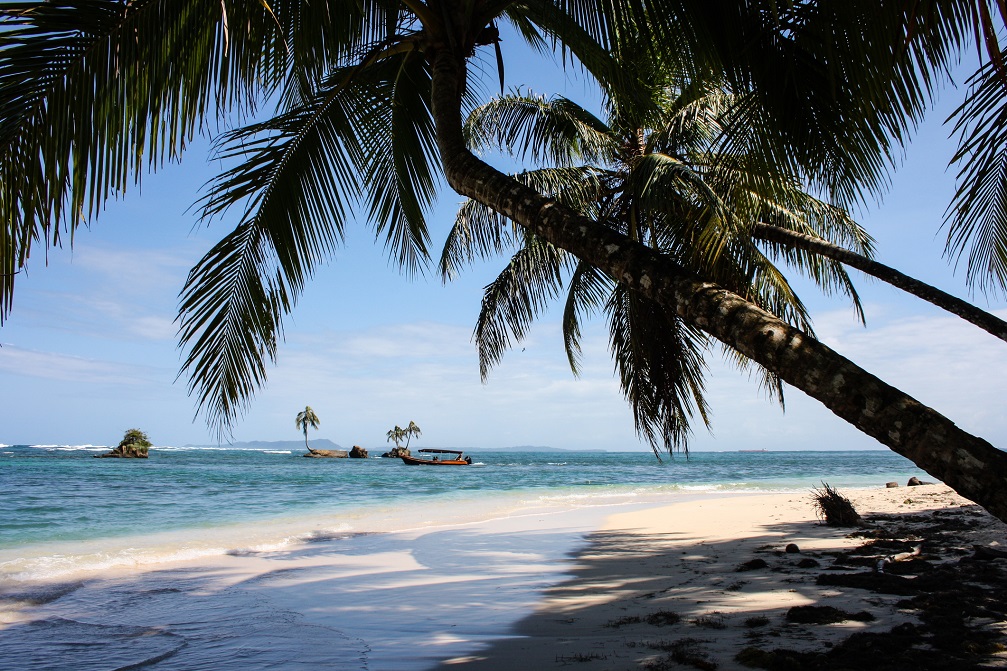 Scuba diving 
As a general rule of thumb, islands have a lower diversity of life compared to the mainland. Whilst this may be true for terrestrial species, under the waves is another matter. The waters surrounding the archipelago of Bocas del Toro are rich with life and color, shapes and sizes. 
Scuba diving may sound scary, but it unlocks an entirely new world few have the privilege of seeing. The Caribbean waters are as clear as crystal, housing healthy coral gardens and a spectacular assortment of marine life. There are many different dive sites spread across the archipelago, each with varying skill levels. 
For me, however, the most exciting time to Scuba dive around Bocas is when the sun goes down. A new, alien world reveals itself in the twilight waters. In the near pitch darkness, mystery fills the water, and nerves and excitement fight to dominate. Bioluminescence is a common occurrence after dark, illuminating the water column with dancing blue flashes. Nurse sharks can be found resting upon the seafloor. It truly is a surreal and unique opportunity. 
From just a small archipelago, the wealth of sights and activities on offer is mind-blowing. There really is something for everyone; whether you're looking to relax in a nice hotel or explore off the beaten track. Situated near the equator, the temperatures stay fairly constant year-round (with a few rain showers here and there), though September and October are the months most likely to reward you with blue skies and still waters. Start exploring Bocas Del Toro today!