When it comes to street food, Vietnam is arguably the world leader. The huge variety of street food on offer combined with an entrepreneurial population means you're never far away from some form of street food in Vietnam.
What Makes Vietnamese Street Food so Unforgettable?
When you talk to people who've been to Vietnam the following topics usually come up. Incredible scenery; turquoise waters, perfect beaches and dramatic limestone karst. World Heritage Sites such as Ha Long Bay or the lesser known but equally as impressive Lan Ha Bay. Mad traffic, rogue motor-bikers and brave pedestrians. The grace and beauty that can be glimpsed in day-to-day scenes.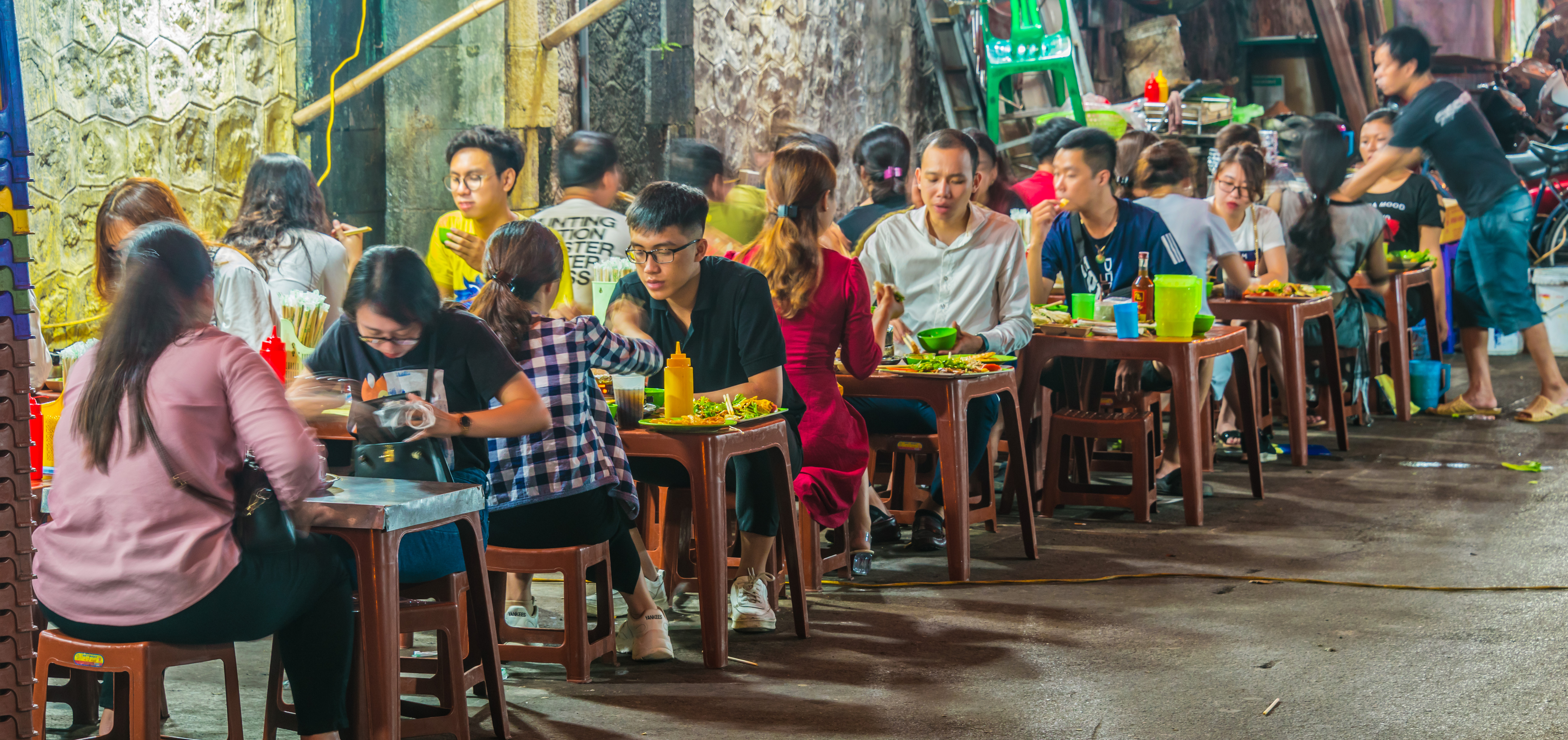 When street food comes up, and it inevitably will, notice their demeanour change. Their eyes will light up, their pupils may or may not dilate and they'll gaze off into the distance as they wistfully recount their culinary experiences.
Vietnamese street food is unforgettable for a number of reasons. In part it's due to the way our senses, particularly the olfactory system, influence the encoding of memories but mainly it's due to the fact that Vietnamese street food is uniquely delicious.
It's a mesmerising experience from start to finish. From the initial scents that draw you in, to watching watching an experienced vendor, a maestro who specialises in that particular type of street food, as they effortlessly bring together the different ingredients to form the final product.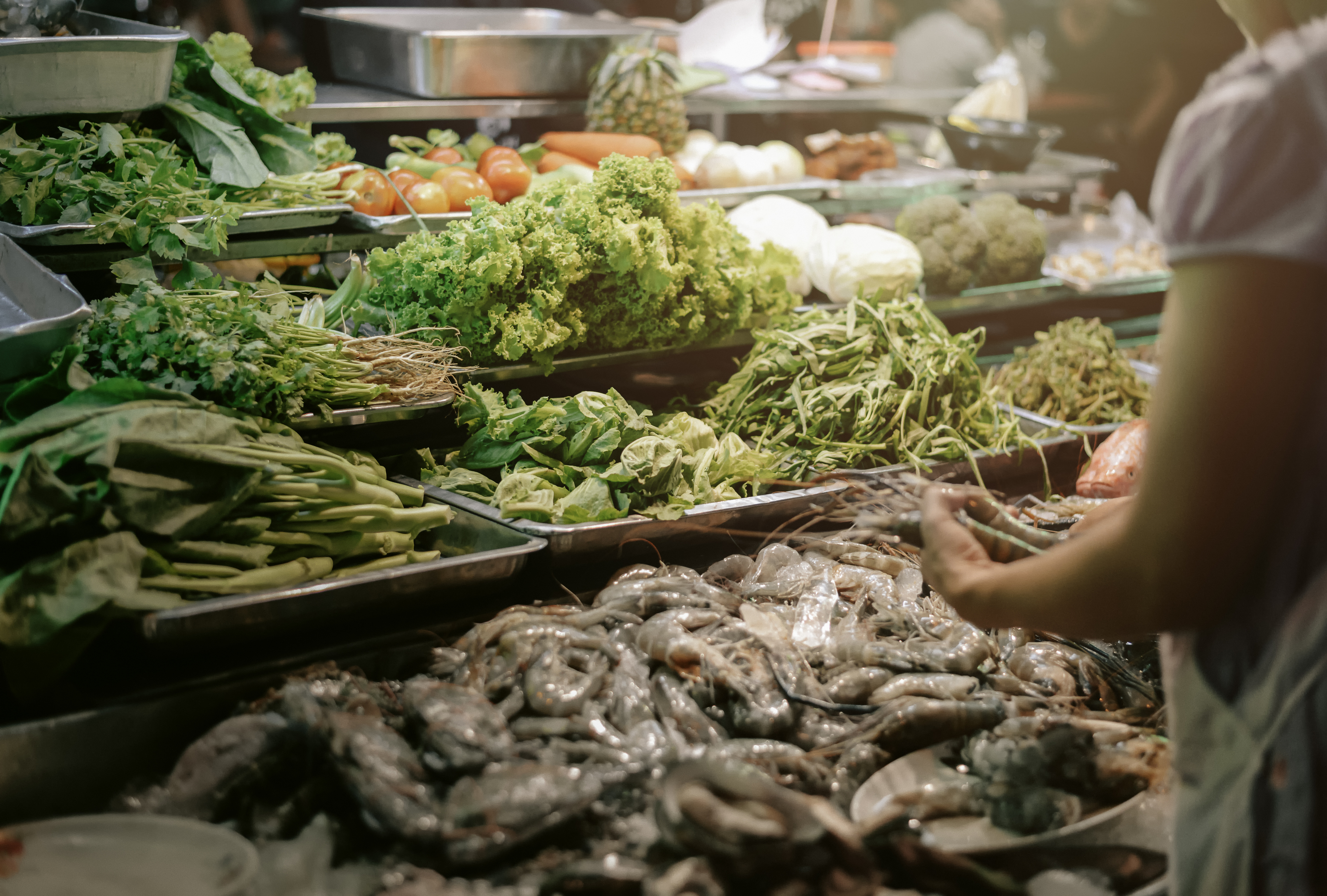 The key principle in Vietnamese cuisine is finding a balance between the 5 key flavours: sweet, sour, salt, bitterness and spice. Unlike other southeast Asian cuisines Vietnamese food is not overly reliant on spice. It's more concerned with fresh ingredients, aromatic herbs, and contrasts in heat and texture.
The following street foods are examples of how these fundamental principles are used to create incredible eating experiences, costing no more than a few dollars.
Phở
Vietnamese is a difficult language for westerners to learn but there's a few words that are essential learning – one such word is Phở, pronounced "ff-uh".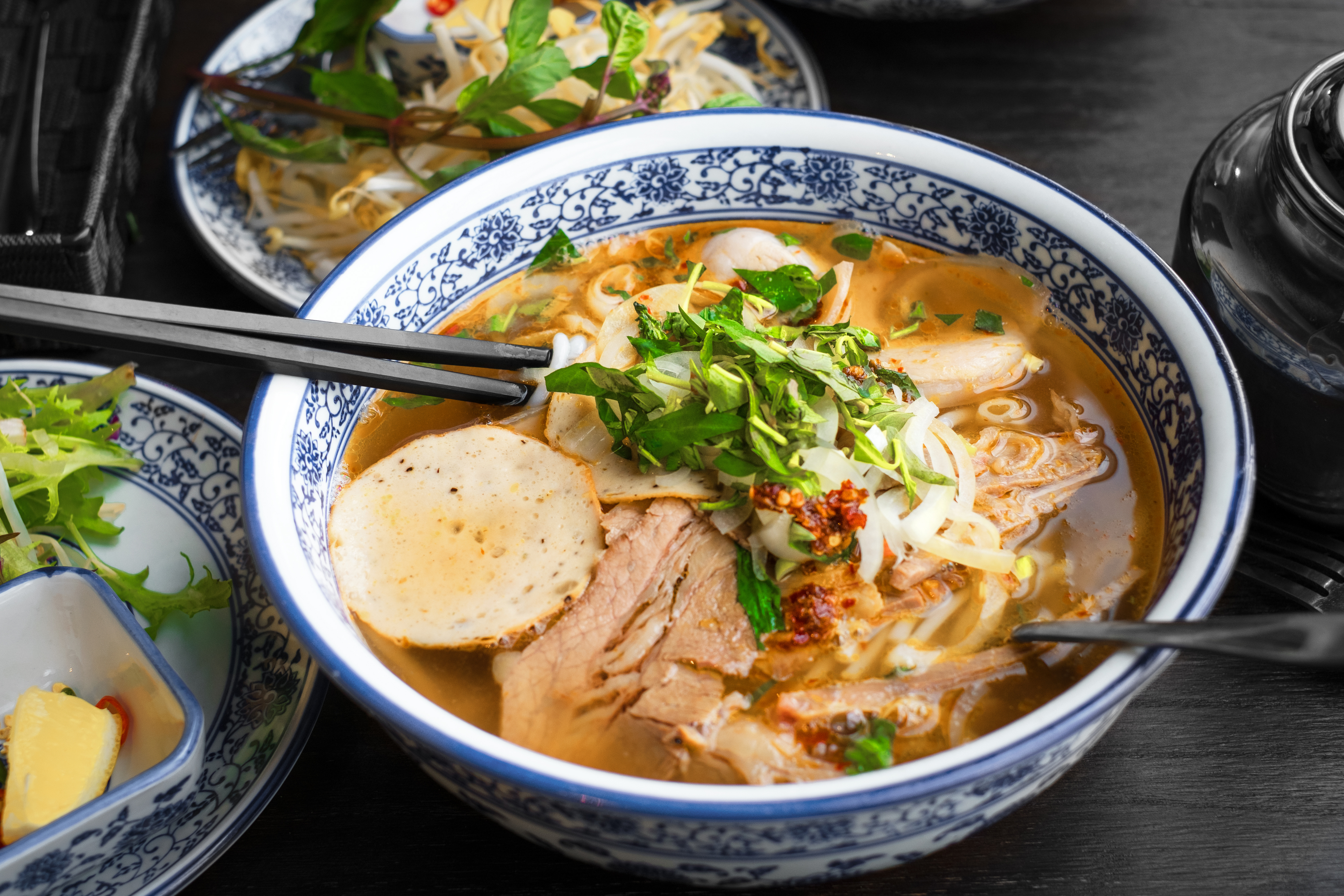 Pho has become Vietnam's national dish. You'll see people slurping down steaming bowls of Pho throughout the day although the Vietnamese generally start their day with a bowl.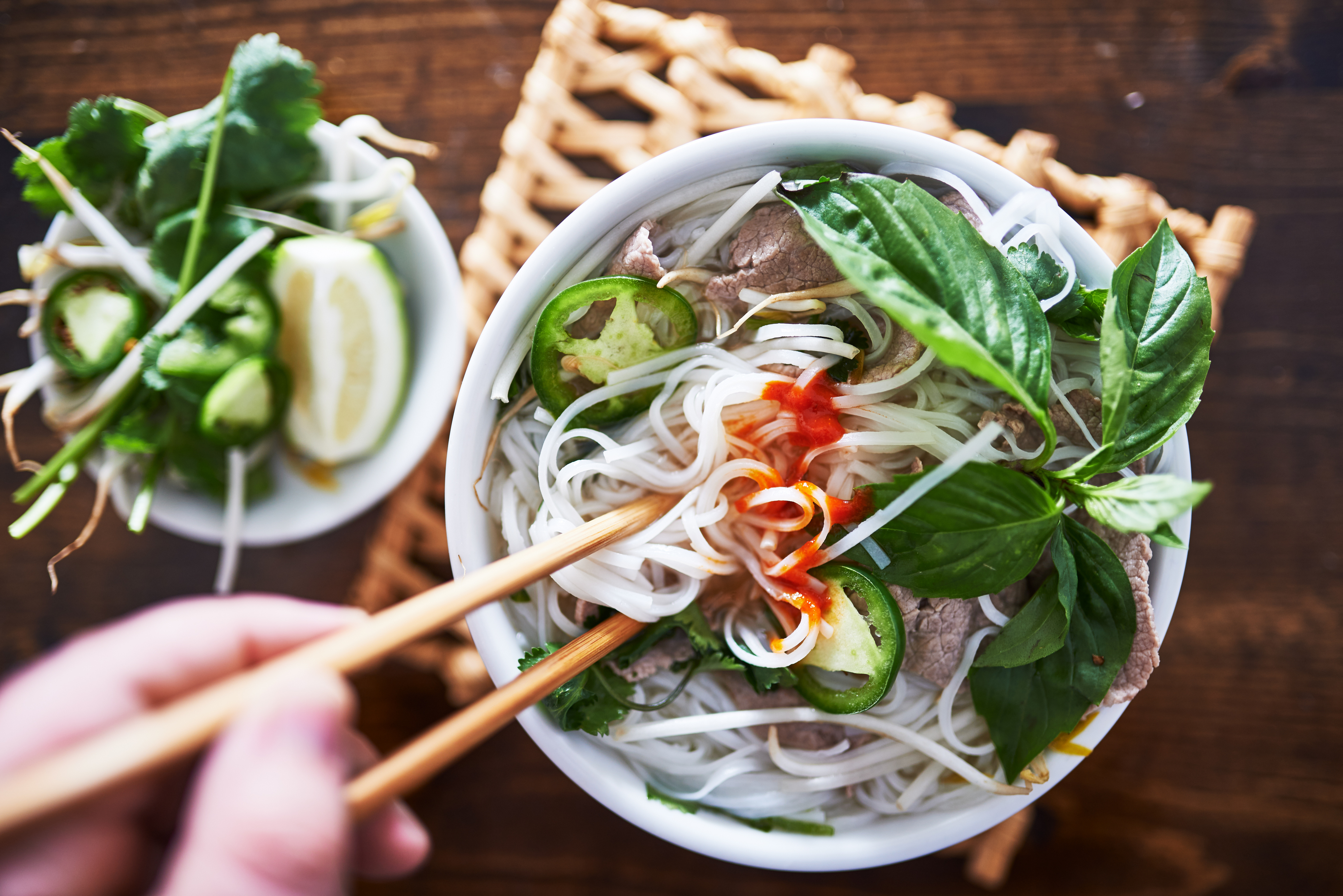 A good Pho consists of a flavourful bone broth enriched with ginger, cinnamon, anise and fish sauce, flat rice noodles; crisp vegetables, bean sprouts and spring onions; some thinly sliced meat, chicken or beef; and finished with fresh coriander.
Enhance the sour & spice with a squeeze of calamansi citrus fruit and a spoonful of ground chillies, respectively.
Gỏi Cuốn
Goi Cuon are stereotypical of Vietnamese cooking in that they're light, fresh and aromatic. Goi Cuon are often served as a starter in restaurants but you'll find the occasional seller making these fresh spring rolls on the street.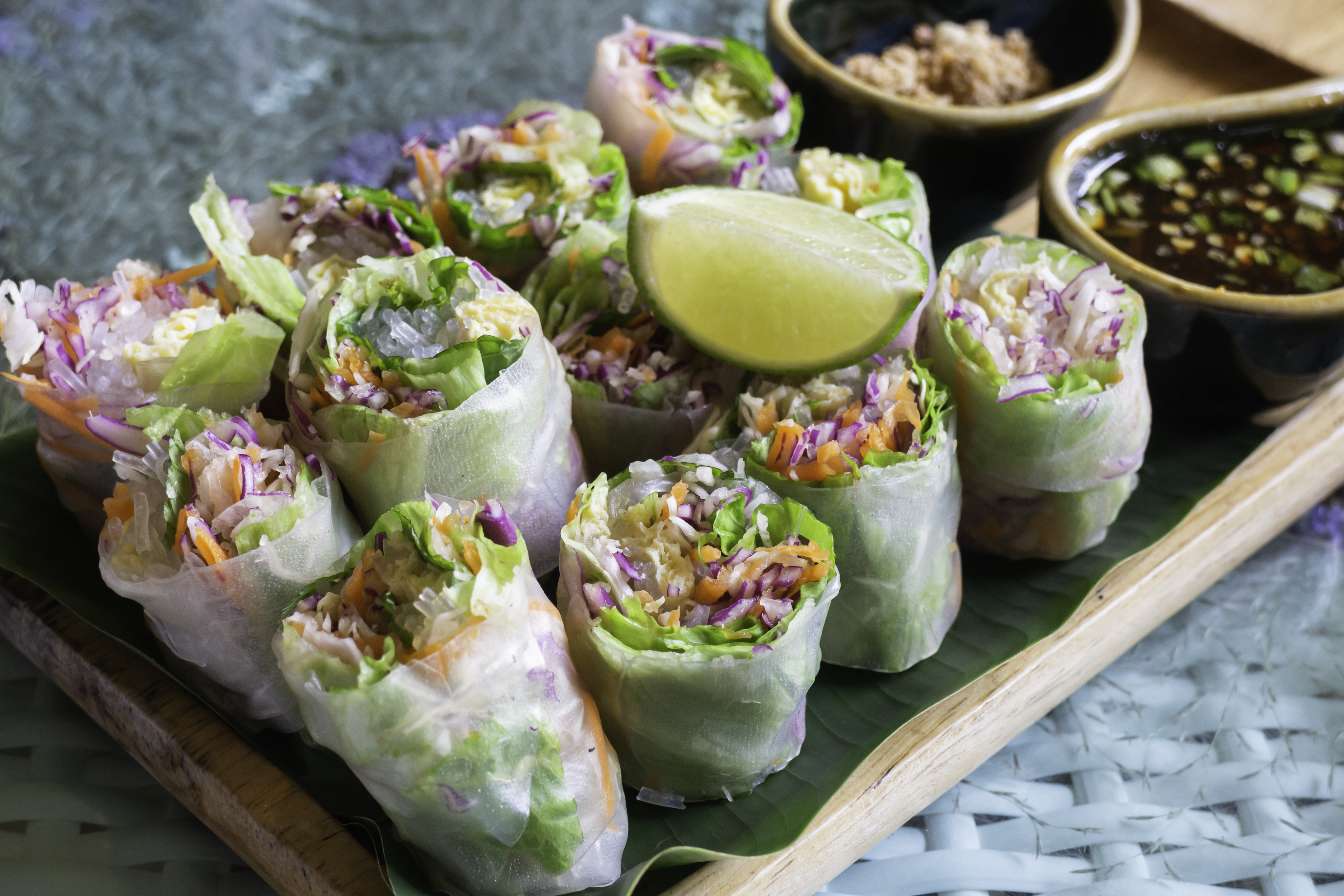 Delicate rice paper is moistened before adding lettuce, coriander then some combination of minced pork and shrimp and finally vermicelli noodles.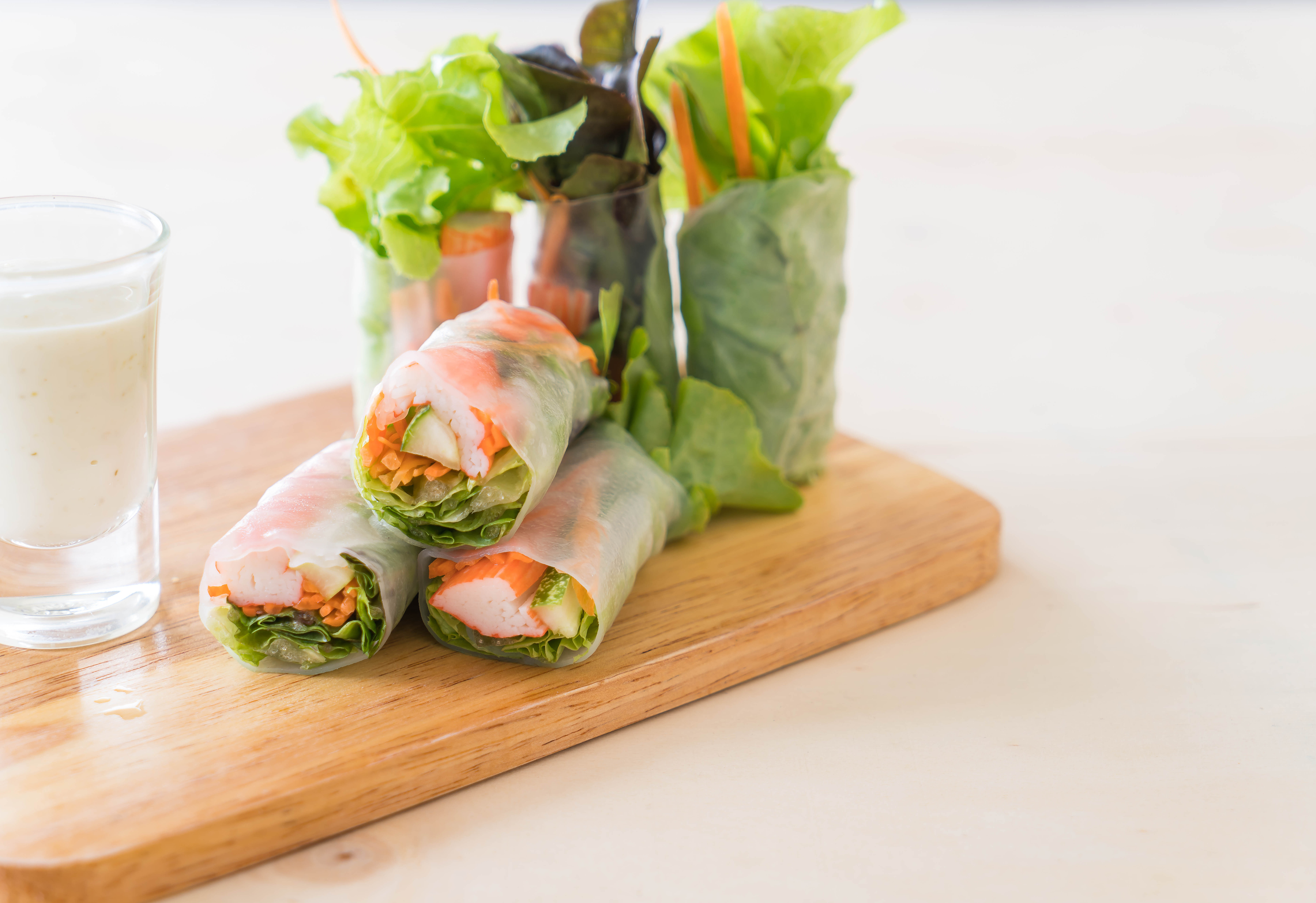 Bún Bò Nam Bộ
Bun Bo Nam Bo is a beef salad constructed by layering the ingredients. First lettuce and aromatic herbs including perilla and mint form the soft foundation, then a handful of vermicelli rice noodles is placed amongst the leaves; strips of fresh radish, carrot and cucumber are added; followed by the beef; then a ladle of hot broth is spooned over; the topping consists of crispy onions and crushed peanuts.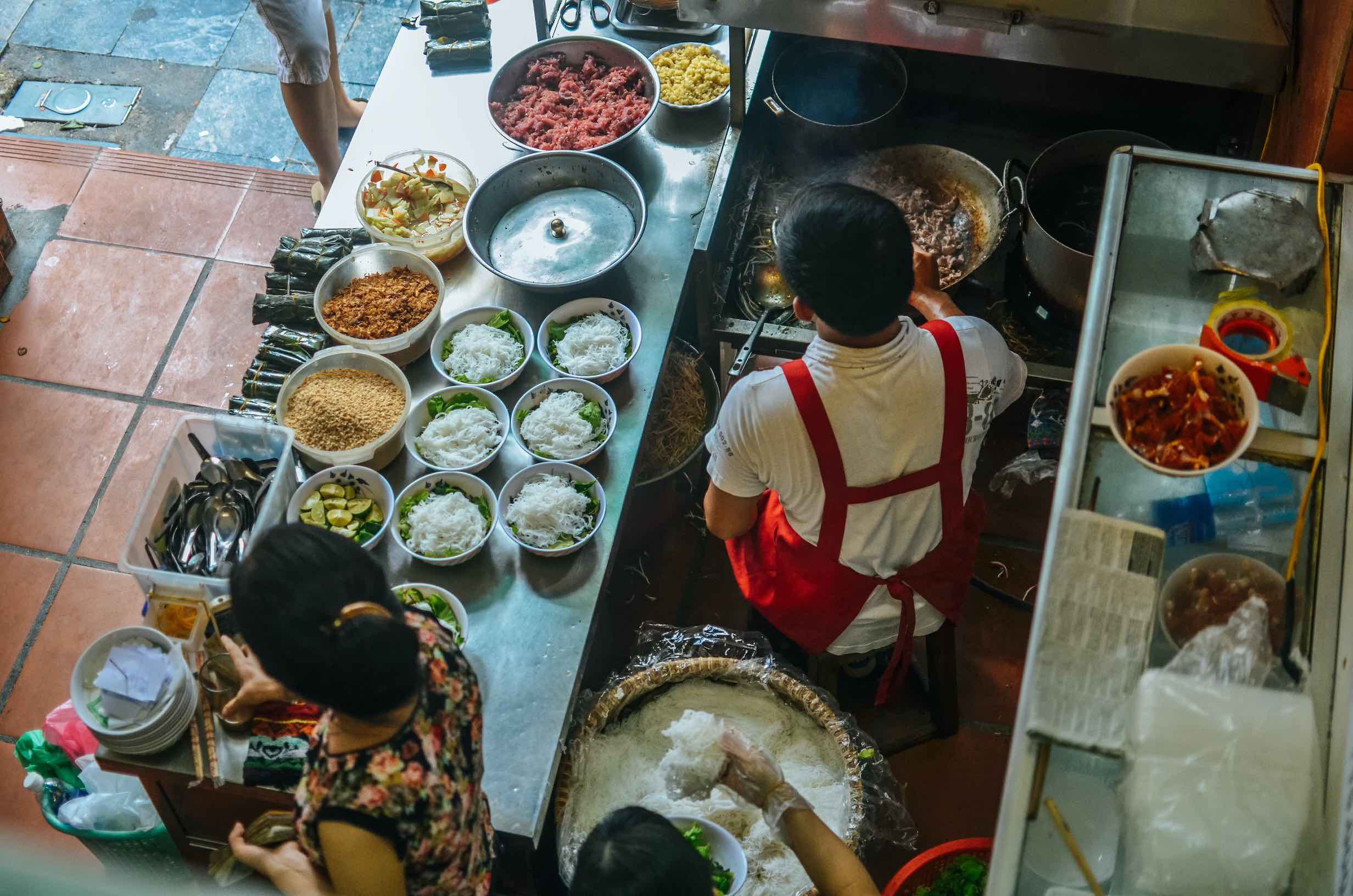 This is an example of the contrasts in Vietnamese cuisine. The herbal lightness of the leaves contrasts with the heaviness and hearty flavour of the beef. Then there is the satisfying contrast of textures where crisp but juicy vegetables are offset by the dry crunchiness of the fried onions and crushed peanuts. You'd be foolish to view this as a simple beef salad.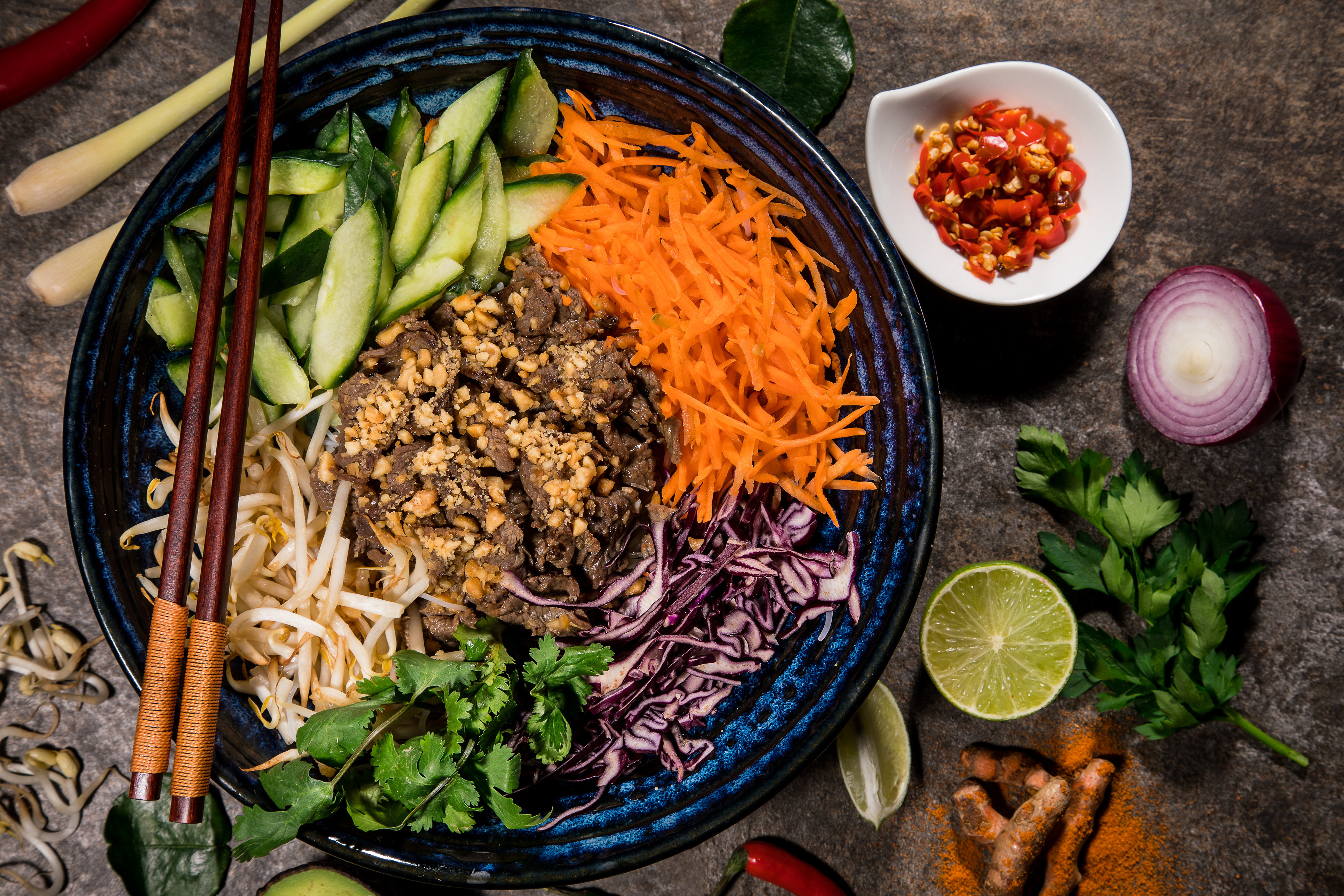 Bánh mì
One of the French influences Vietnamese cuisine is Banh Mi. A toasted baguette and some combination of fillings. Paté and greens, cooked pork or beef with coriander, fried egg, cheese and a drizzle of hot sauce.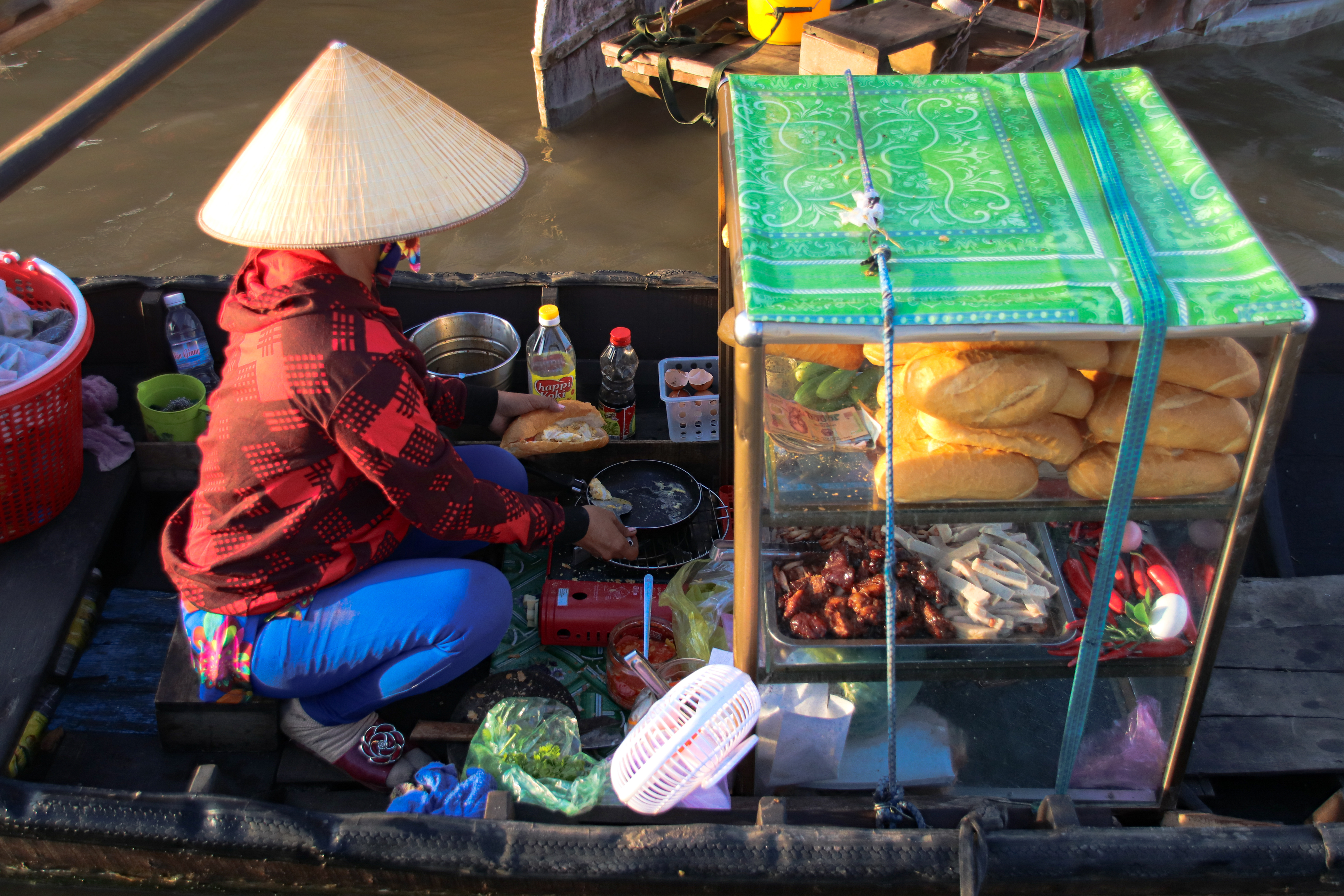 Simple and quick to make but tasty and moreish, Banh Mi are particularly popular with drinkers and those on the move.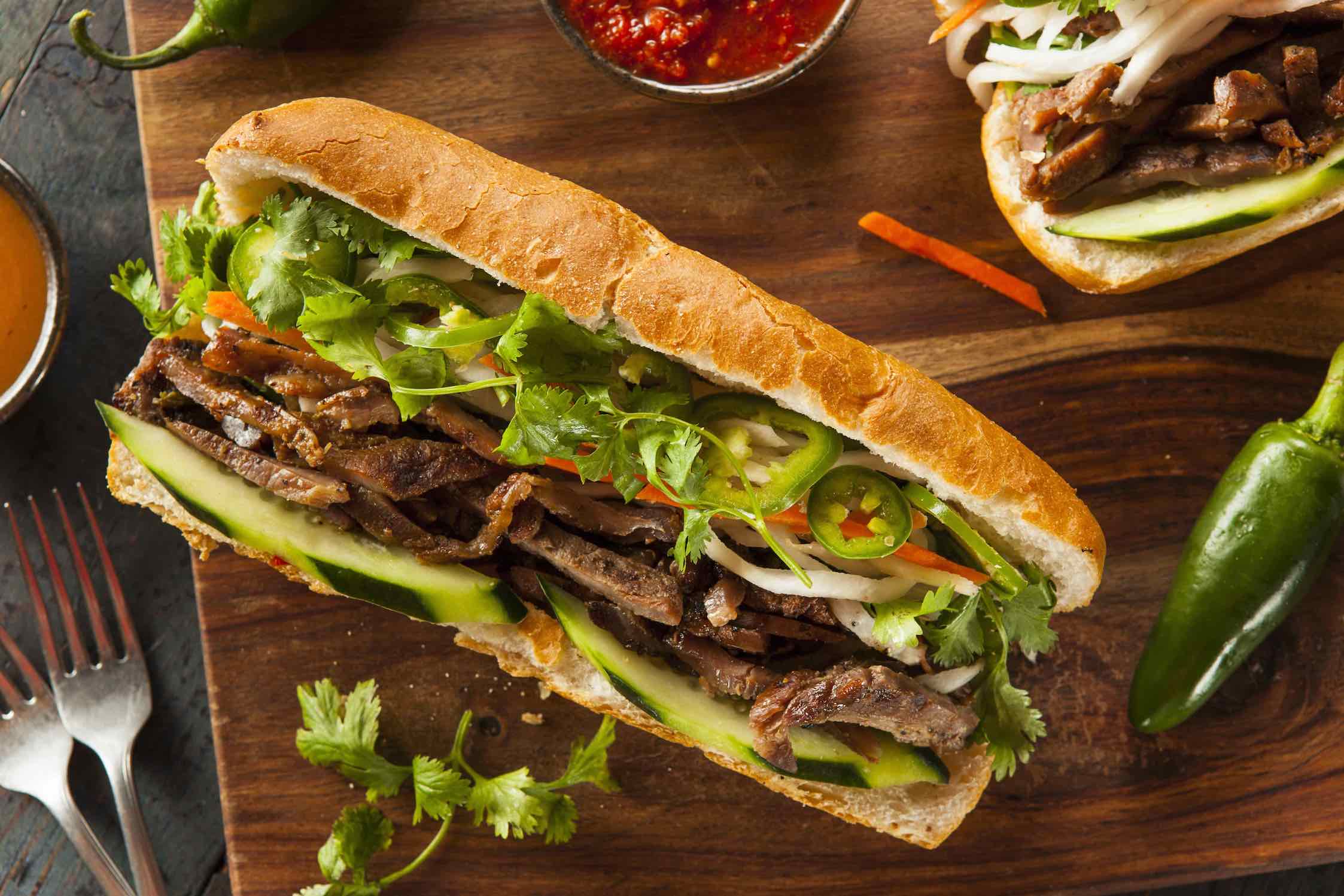 Bún Chả
In an episode of Parts Unknown Anthony Bourdain shared a meal with Barack Obama. They ate Bun Cha, a Hanoian specialty. Total cost, with beer, was $6.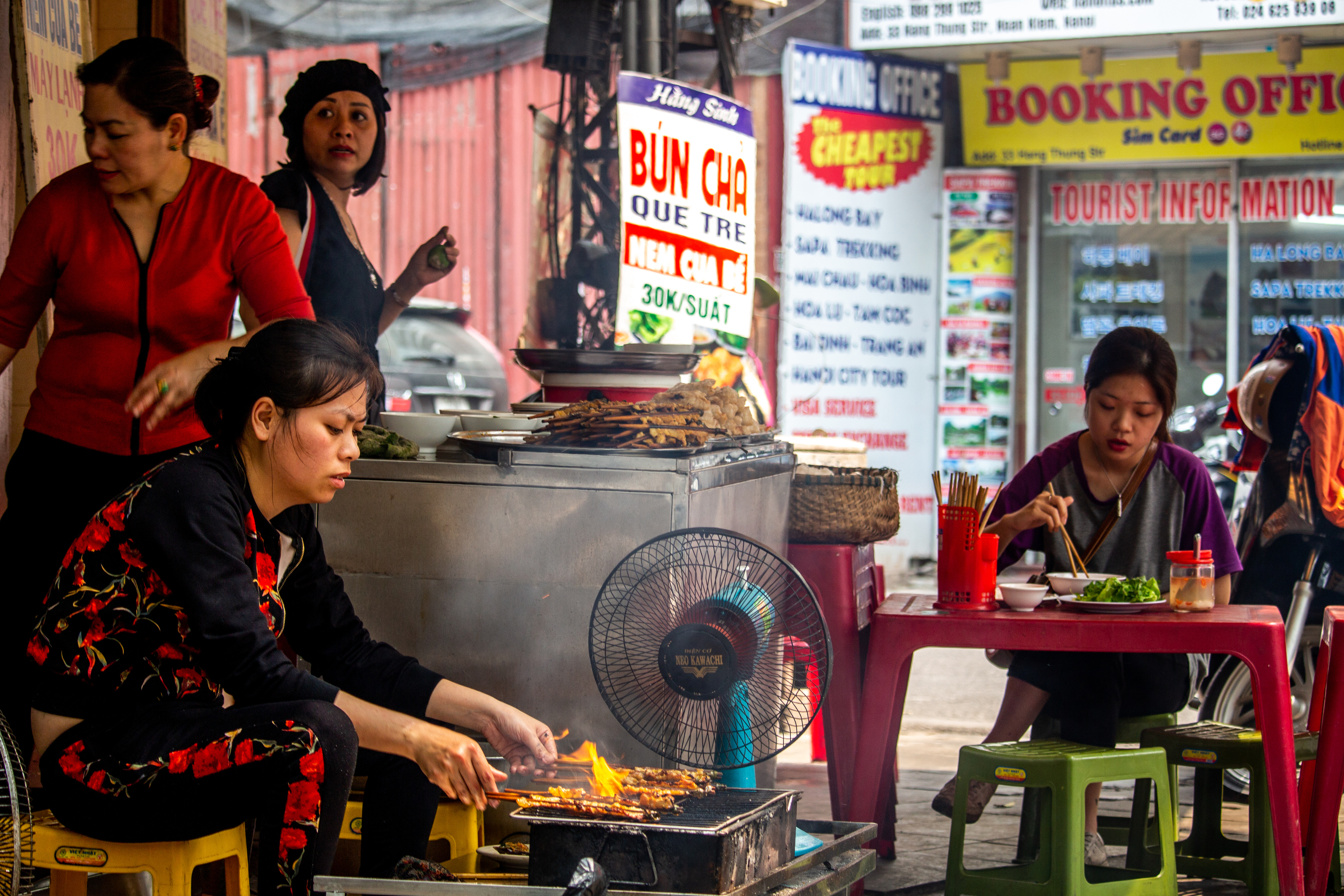 Bun Cha has 4 components: grilled pork, cold vermicelli noodles, salad and a sauce. The idea is, if you have the necessary chop stick technique, to combine a piece of pork with some leaves and a few noodles before dunking in the sauce.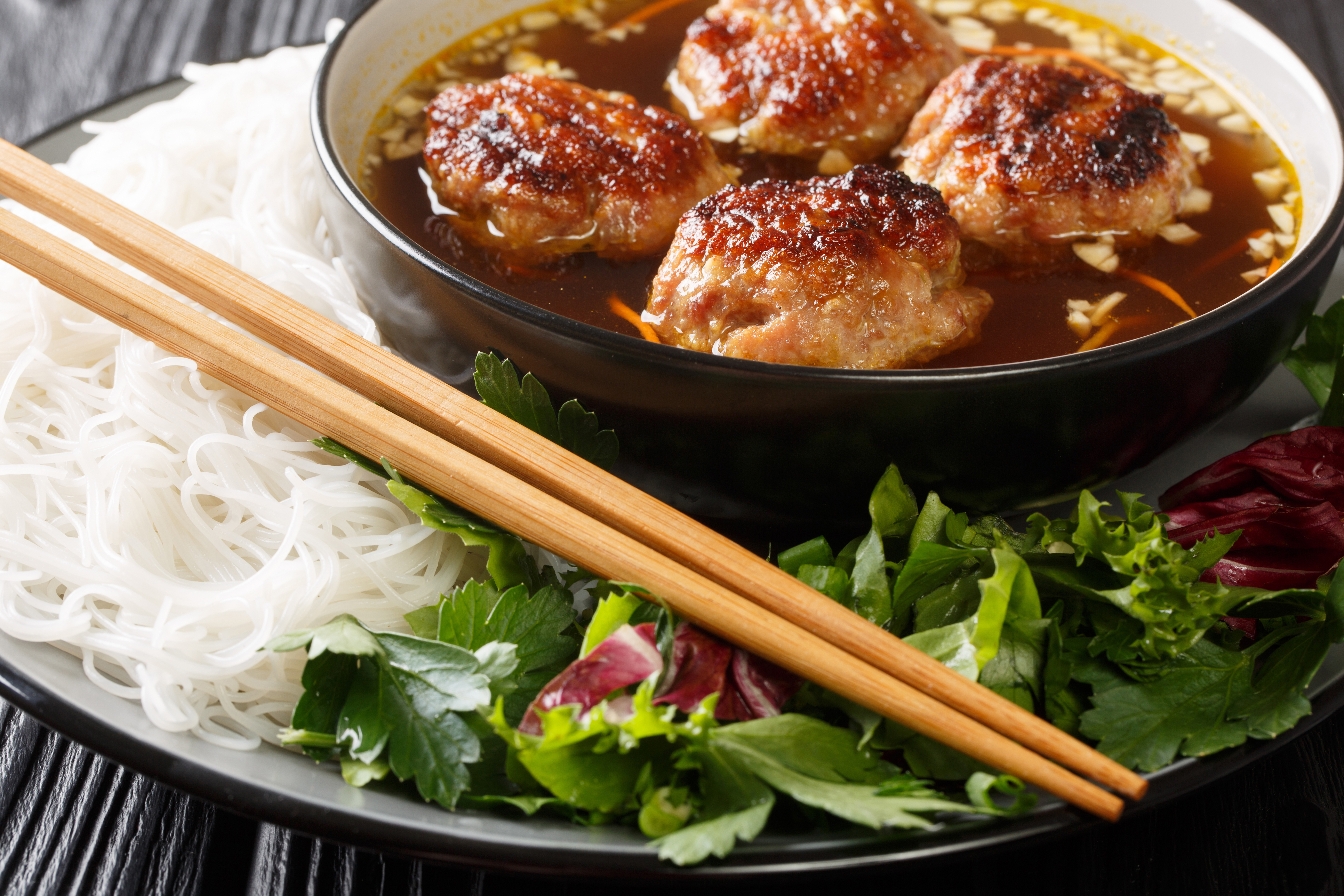 There aren't many street foods where the sauce is the centrepiece but that is undoubtedly the case with Bun Cha. The sauce itself is an addictive concoction made from combining Nước Chấm, the quintessential Vietnamese dipping sauce, with vinegar, sugar, chillies and lime juice.
Planning Your Holiday in Vietnam
If we've wetted your appetite and you'd like to learn more about Vietnam give me a call or send and email and I would be glad to help you plan an itinerary that allows you to make the most of this capitivating country. I will make sure your holiday to Vietnam enthralls all your senses- starting with a taste sensory overload!