Berlin is a wonderful, thriving city filled with people of all different nations and backgrounds. It is a remarkable capital, with wide streets, frequent green spaces, and a low cost of living. Its numerous districts wind around the Spree River and its many canals. In fact, Berlin has more canals within its borders than any other city in the world, even Venice. The clean, open streets and natural inner-city scenery make it the perfect setting for some of the best street food venues in Germany.
If you don't yet know what you like and want to try it all, Berlin has many open food markets for you to browse and experience. For example, in the west of the city lies Preußenpark, more frequently called Thai Park. Once a regular, sunny space, it is grown to become a hangout spot for people of Thai or Southeast Asian descent. Each weekend, from April to October, the locals gather to cook and sell incredible, authentic food from their culture. With colorful umbrellas and blankets everywhere, Thai Park delivers an exotic, tasty experience to Berliners and tourists alike. 
Another great place to try new dishes is the 'Street Food on the Go' market at the KulturBrauerei. Located in the northeast of Berlin, in Prenzlauer Berg, the cultural brewery is a fantastic public building, complete with shops, museums, and a large, open marketplace. Every Sunday, from noon till six, crowds flock to the brewery to try foods from around the world. With some regular food trucks and a few weekly specials, you can expect to find all types of meals, ranging from Korean tacos to Cuban bowls to Tibetan dumplings. After eating your meal you can then relax in the KultruBrauerei's sunny beer garden, where the music is great and the drinks are better. 
While visiting the city's many food markets is the easiest way to expand your taste buds, some of Berlin's best street food comes from permanent stands and tiny takeout restaurants. With that in mind, here are the top four street food hideaways to try on your next visit to Berlin.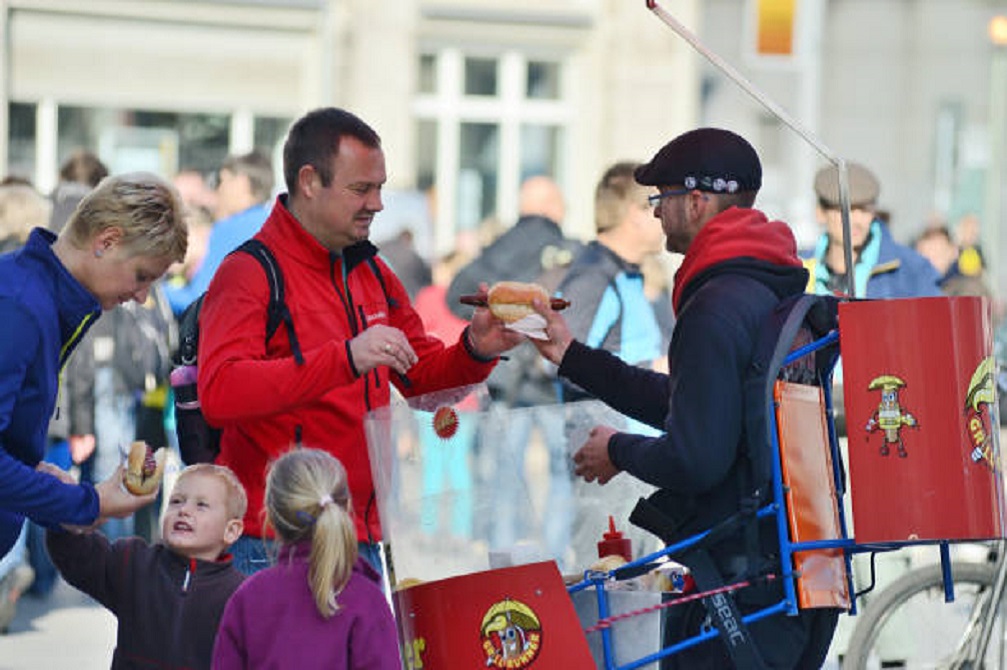 1. Burgermeister
Locations: Zoo, Joachimsthaler Str. 1; Kottbusser Tor, Skalitzer Str. 136; Schlesisches Tor, Oberbaumstr. 8
A conversation with any passing Berliner about the best street food in town will always include a recommendation for Burgermeister. Famous for its flavorful burgers and bacon and onion fries, Burgermeister is definitely a fan favourite. With extra toppings like jalapeños and fried mushrooms and onions, the burgers are carefully grilled and layered to make the most of each bite.   
In a peaceful, liberal city like Berlin, young adults will often flock to the parks and canals on a summer afternoon. Sitting on a pedestrian bridge, drinking a beer and listening to talented young artists strum their guitars can build up an appetite. Luckily, the Burgermeister at Schlesisches Tor isn't too far from the canals or public transport. In fact, the tiny food stand is nestled below the overground station, perfect for the beginning or end of an afternoon. With burgers ranging from £3 to £8, Burgermeister is as affordable as it is delicious.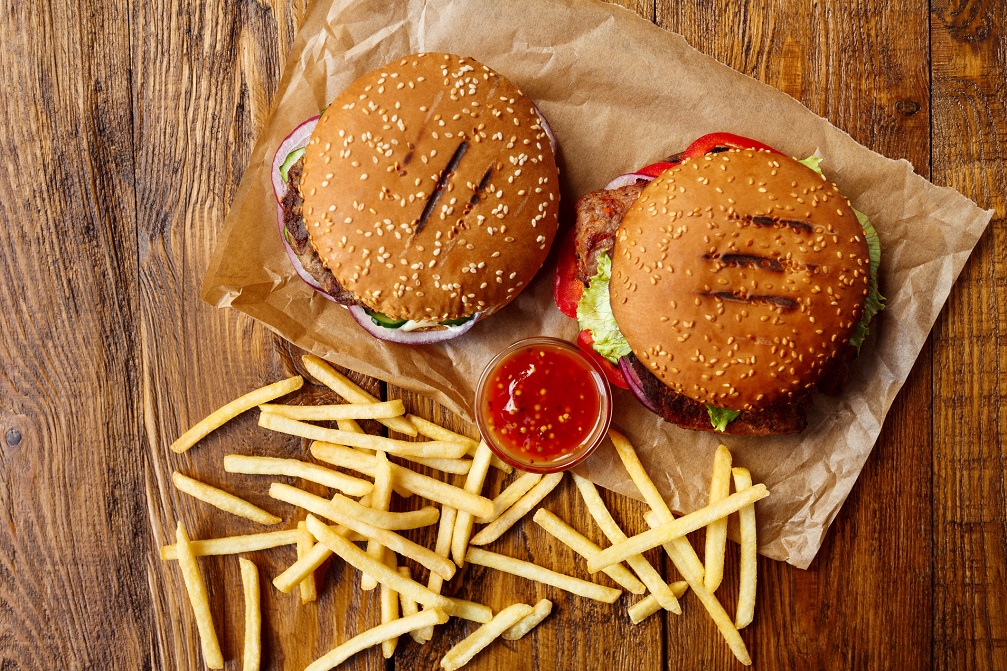 2. Curry 36
Locations: Zoo, Hardenbergplatz 9; Mehringdamm 36; Hauptbanhof Station
One of Germany's finest foods, the currywurst, is a staple of the local cuisine. And there is no better place to find the greatest currywurst than Curry 36. Known throughout Berlin for its crunchy sausages and thick curry sauce, this food stand is never quiet. Whether you're a visiting tourist or a commuting local, Curry 36's three convenient stands, all based next to busy train stations, are there for you. Their fresh, hot meals even have a vegan option available, so no one has to miss out on the experience.  With low prices and a strong reputation, customers might often have to get in a queue but be assured the currywurst is worth the wait.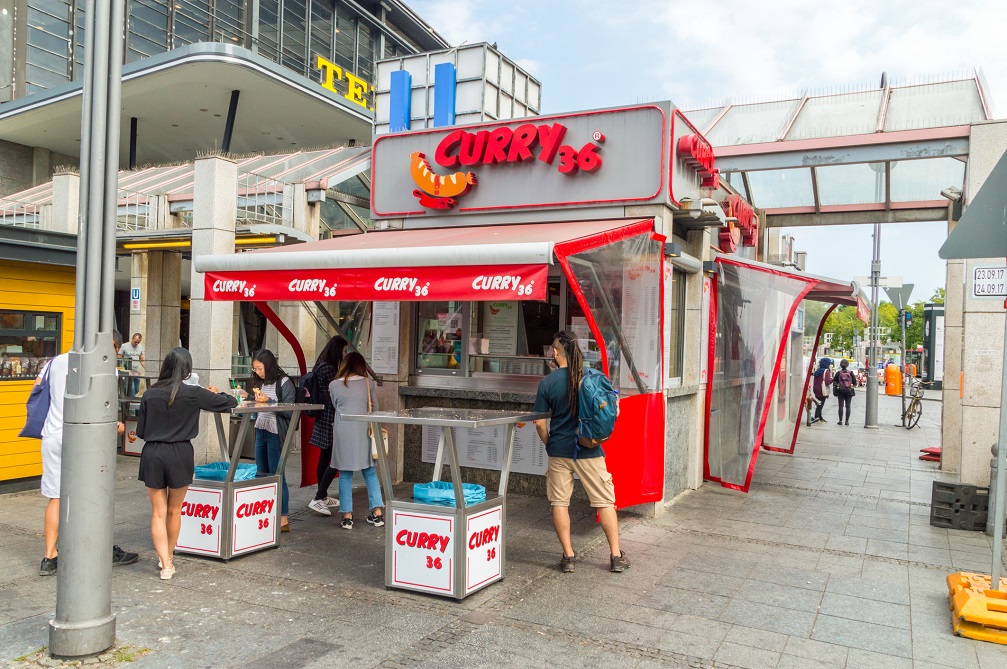 3. Katchi Ice Cream
Location: Grolmanstr. 14a
A lesser-known gem, Katchi Ice Cream is a beloved ice cream parlor located near sunny Savignyplatz. This delightful shop sells its own natural, handmade ice cream, with up to 34 flavors. These fantastic flavors include peanut butter cookies, pear sorbet with basil, gin and tonic, sticky coco, banana brownie, and peach-rosewater sorbet. A variety of delectable vegan options are also available, so anyone can try Katchi's frozen art. While the ice cream here can be a couple of euros more expensive than in some other places, the constant stream of people queueing for a scoop is a testament to Katchi's hard work and incredible craft. 
The next time you visit Berlin in the spring or summer, be sure to try out Katchi Ice Cream. Or even try it out a couple of times, because the flavors are always changing and you never know what interesting mix they'll add each day.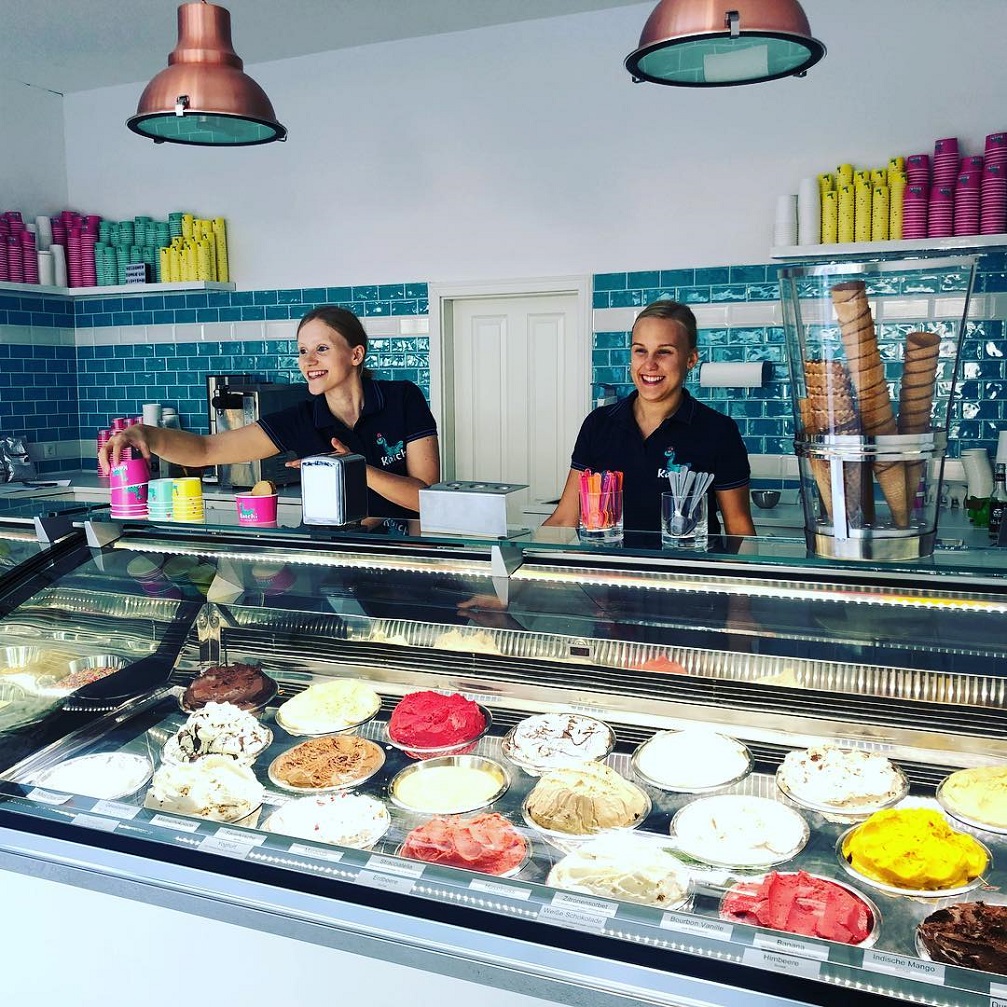 credit to the owner: Katchi Ice Cream Berlin
4. Rüya Kebap
Location: Otto-Suhr-Allee 19
A true döner institution, Rüya Kebap has often been rated the best kebab place in the city. Further west than the usual hipster haunts and with no fancy signs, this restaurant is often overlooked. Thankfully, this means that there is usually no queue and the ingredients are generously piled on. Picassos in their craft, the döner chefs deliver bursting kebabs packed with flavor. Whether you're a meat, falafel, or halloumi lover, Rüya has you covered, with toppings including grilled vegetables, tomatoes and onions, special herbs and spices, and crumbly Turkish cheese. For £4 to £8 a döner, all these flavors come at a bargain. So forget the busy, tourist-filled stands in the center and head to the west for the best kebab in Berlin.