Australia certainly has no shortage of spectacular luxury resorts and boutique hotels on the mainland, but have you ever given much thought to Australia's islands? Well, we're here to tell you that you should. With turquoise seas, the colorful shoals of the Great Barrier Reef, and an Aussie penchant for excellence on their rap sheet, they certainly have a lot going for them.  In fact, these islands might just be the next great alternative to Fiji, Bora Bora, and the Maldives. 
Here, we've put together a list of Australia's best luxury island escapes that you need to add to your bucket list right away! Trust us, these idyllic locations are worth saving for. 
Southern Ocean Lodge
Overview: Panoramic oceanview windows, massive stone soaking tubs, and flickering fireplaces in every room? Sign us up! Nestled between limestone cliffs, a craggy coastline, and radiant blue waters is Australia's best-kept secret- the Southern Ocean Lodge. They even have a world-class spa honoring indigenous healing principles and herbal treatments and glass showers perched twenty feet above the ground.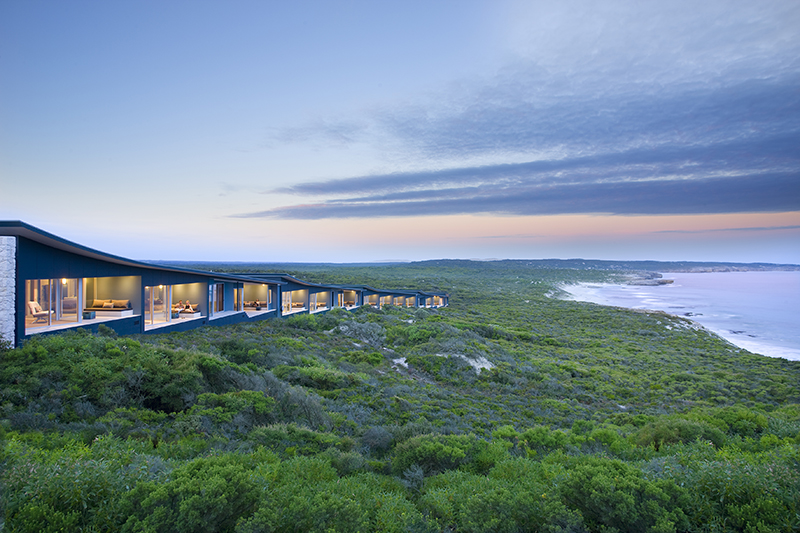 The Most Memorable Experiences: 
-Visit the Oyster Farm Shop and bring a sack full of fresh mollusks back to the Lodge
-Exclusive and non-invasive viewing of the wildlife in "The Galapagos of Australia" including seals, sea lions, koalas, kangaroos, and more. 
-Local honey liqueur aperitifs at the open bar. 
-Take advantage of a curated experiences menu only found at Southern Ocean Lodge including a visit to Emu Ridge Eucalyptus Distillery 
-Savour a 5-star menu highlighting the natural bounty of Kangaroo Island 
-Snack on nougat, chocolate, or artisanal cheeses while you sip your libation of choice- all stocked in your guest suite bar. No need to call for room service!
Satellite Island
Overview: Craving total seclusion? When you book at Satellite, you secure exclusive access to the entire island for the duration of your stay. Don't let that fool you though- this isn't a "castaways" situation. Satellite Island is the pinnacle of luxury with inspired, natural interior design and every detail is a stunning display of craftsmanship. This would be the ideal place to escape with your lover or to hole up and write that memoir you've always said you'll get around to.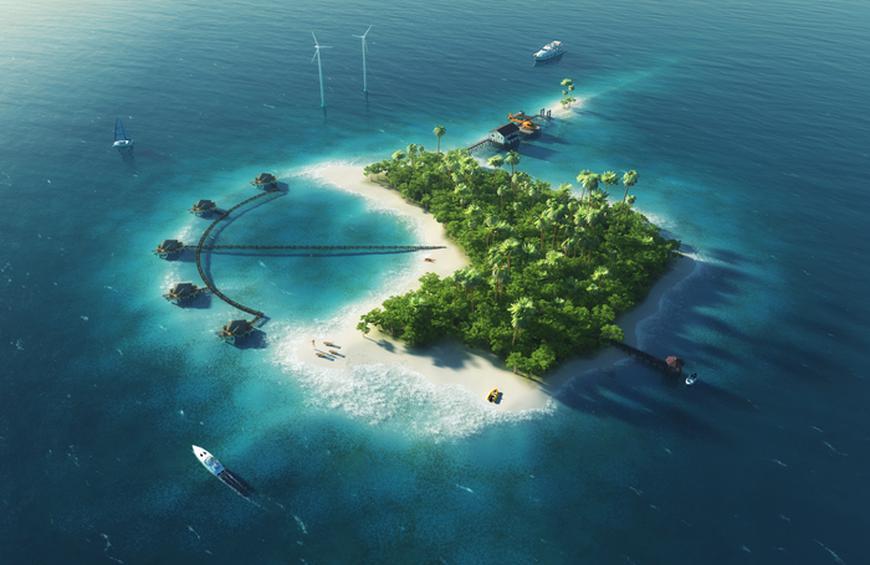 The Most Memorable Experiences: 
-Seaside fireplace for relaxing after a long day
-A boathouse dock made for diving right into the ocean just three steps from your bedroom. Don't sleep through those early morning dips!  
-Neverending supply of wild oysters for your culinary pleasure
-Take Pearl the rowboat out for a romantic paddle with your lover: pillows, and blankets included 
-A personal pantry stocked with regional, gourmet provisions
-Take a hot mineral sea bath under the island's night sky 
Arajilla
Overview: Arajilla Retreat is a luxurious, all-inclusive boutique resort located on luscious Lord Howe Island-a designated World Heritage island and colloquially known to locals as the "most beautiful island in the Pacific". Besides its prime location and gorgeous design, Arajilla's also boasts an in-house restaurant, named the best culinary experience on the island, serving up traditional Australian cuisine and innovative fusion dishes. 

The Most Memorable Experiences: 
-Unwind where the sheltered lagoon meets the tropical rainforest.
-Indulge in an elegant selection of pre-dinner canapes, offered daily
-Request a picnic or BBQ basket from the kitchen and take your travel companion for a bushwalk. 
-Serving sustainable, ocean-to-table fish such as Yellowfin Tuna, Kingfish, and Wahoo, exclusively line-caught off the shores of Lord Howe Island- If you happen to catch a prize fish yourself, Head chef Ben would be delighted to prepare it for you. 
-Melt away in a restorative herbal bath under the banyan forest
Haggerstone Island Resort 
Overview: The most remote Island resort on this list, Haggarstone is ready to transport you to a tranquil oasis beyond your wildest dreams. Semi-open-air luxury huts stand between the ocean and coconut forests. The Haus Mawu Lodge in particular is an absolute work of art, constructed of driftwood, thatched palm, artisan textiles, and clay.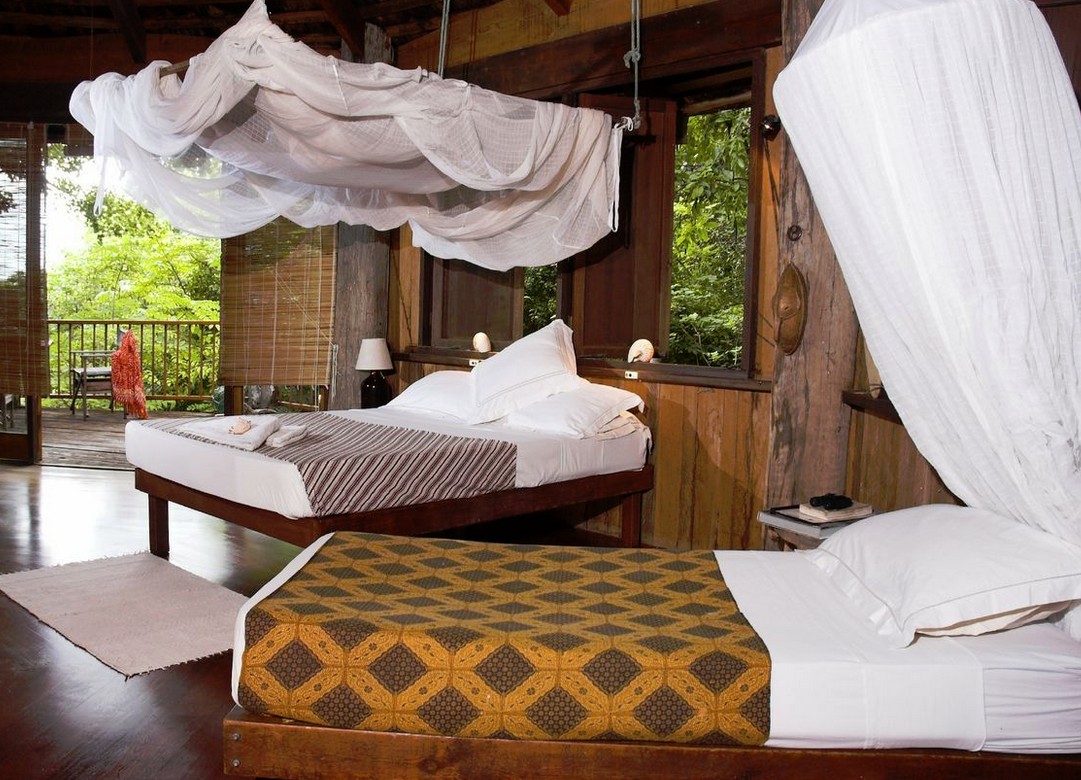 The Most Memorable Experiences: 
-Keep an eye out for resident wallaby, "Bungie"
-Learn to spearfish beyond the edge of the island's coral gardens or try your hand at deep-sea fishing in the hopes of snagging some red emperor, Bluefin Tuna, Coral Trout, or Spanish mackerel. Any fish brought back to the resort will be incorporated into daily dishes but you'll catch and release any surplus to maintain a healthy relationship with the sea. 
-Expanding on the point above, taste fresh seafood "just minutes from the ocean to your plate". Yeah, if that was our motto, we'd be bragging too. Anything not caught is grown onsite, creating a produce-driven menu of unparalleled freshness. 
-If you're traveling during the wet season, ask for some flowers to turn your in-room tub into an indulgent, spa-worthy experience.
Qualia 
Overview: Under the eucalyptus trees and amid the cerulean waters of Hamilton Island lies a luxury resort that's ready to blow your mind. Qualia is the best the Whitsunday Islands have to offer in one pretty little package- exclusivity, quality, and serenity are at the heart of everything they do.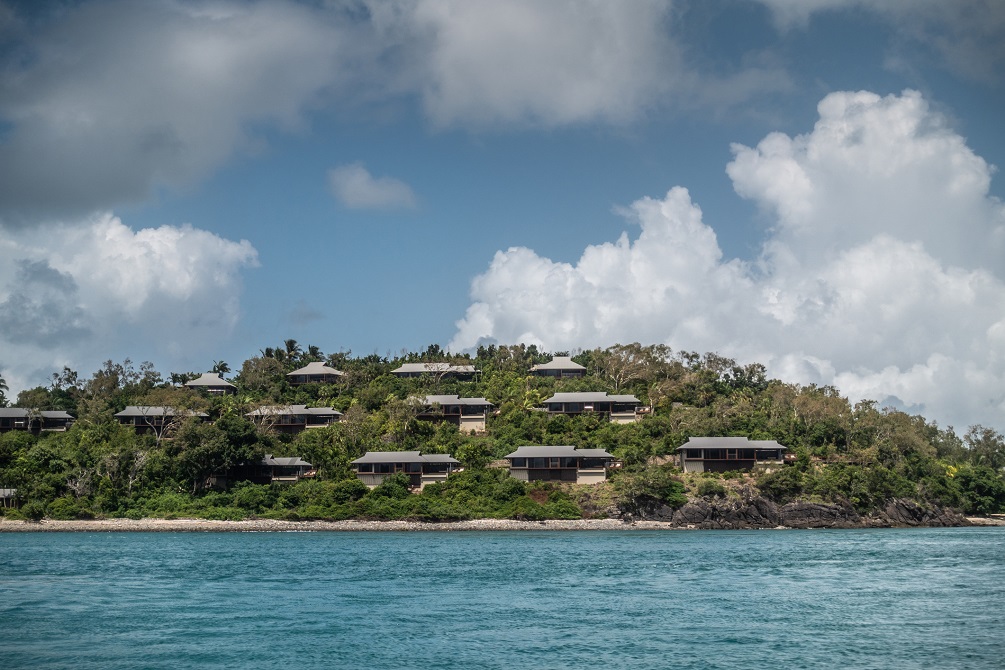 The Most Memorable Experiences: 
-Indulgent a la carte breakfast menu daily served alfresco on your private sundeck. 
-Stay in a Windward Pavillian so you can enjoy your very own infinity plunge pool.  
-Bespoke sake and Australian sashimi tasting experience. 
-Your lunch may be an exquisite showcase of local flavors, but you can order it poolside to take advantage of lazy days. 
-Book a couples bath suite or an outdoor Vichy shower 
Bedarra Island 
Overview: Bedarra Island is a lesser-known luxury travel masterpiece situated in the heart of the great barrier reef. With only 20 guests spread out between villas on a 45-hectare island, you won't have to see another soul if you don't want to. Rainforest and untouched beaches, somewhere off-the-beaten-path to explore everywhere to turn. If this island isn't quite enough for you, the concierge is always willing to work in collaboration with the kitchen to send you on a romantic date to a nearby deserted island.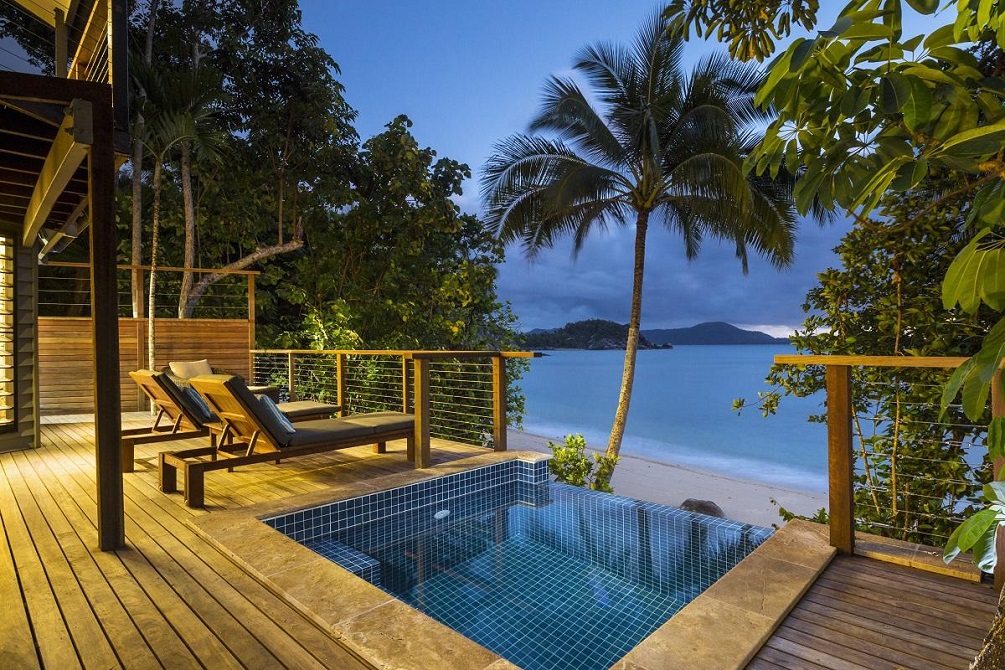 The Most Memorable Experiences: 
-No bad coffee here! Several of the guest rooms come with high-end espresso machines so can have a quality dose of java any time of the day. 
-Take a snapshot of Bendarra's iconic beachfront swing
-Eat your way! Even though the restaurant offers next-level fine dining, they want you to experience the taste of Bedarra Island at your leisure. Order to your alfresco in-room dining setup or ask the chef to create a custom menu just for you and your partner (talk about a way to win date night!)
-Soak your troubles away in your open-air rainforest tub and rainfall shower. 
-Pretend to be a sommelier at Bendarra's self-described "legendary" bar, with the best of regional wine selections always on hand. 
Saffire Freycinet
Overview: While this is accessible by the mainland, this Beach resort in a private inlet might at well be on an island of its own and has certainly earned its place amongst the rest of the greats on this list. As if outstanding customer service, attention to detail, and otherworldly architectural design weren't enough, the views from this hotel are to die for.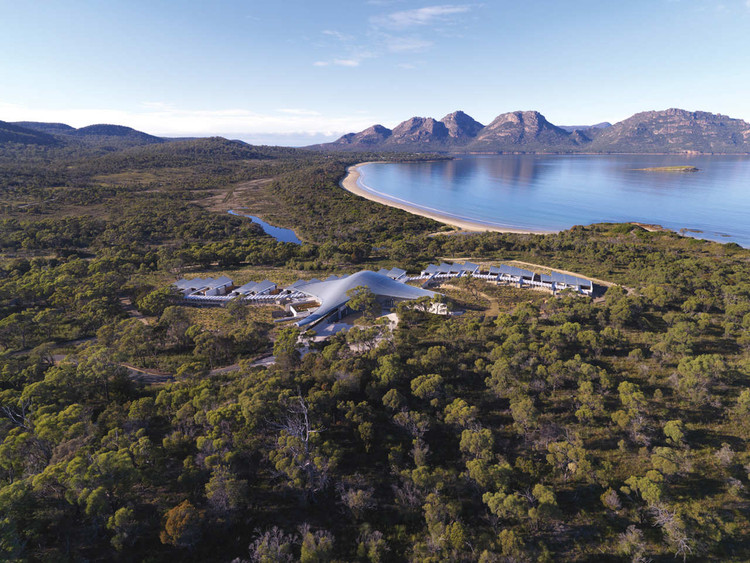 The Most Memorable Experiences: 
-Marvel at mountains and coastline from Saffire's World-class luxury lounge with a glass of wine in hand.
– Keep your eye out for offerings of freshly shaved truffles- The restaurant grows its own Tasmanian truffles in-house. 
-Meet "The Bee Man" and try your hand at beekeeping. 
-Get face to face with Tasmania's most loved inhabitant the Tasmanian devil as local guides educate you on their important conservation efforts.