Lisbon is one of the world's oldest cities – evident in its charming cobblestone lanes, commanding medieval castle and Roman ruins.  It's the perfect choice for a European getaway as it offers affordable accommodation, wonderful weather, great food and breathtaking views.  In Lisbon you can enjoy a thriving nightlife, experience traditional Fado music and even visit nearby beaches using its excellent transport links.  With such varied attractions and sights it's sometimes difficult to know where to base yourself when planning a trip to Lisbon – but our guide to its neighbourhoods and districts should help you decide.
Alfama
The Alfama district in Lisbon owes its retained historic quality to the fact that it was built on dense bedrock; meaning it survived the 1755 earthquake, and some houses in Alfama are almost 500 years old.  Its cobbled alleys, medieval churches and pretty squares are the perfect place to get lost for the day (in fact, getting lost is almost an inevitability due to the complex network of winding streets).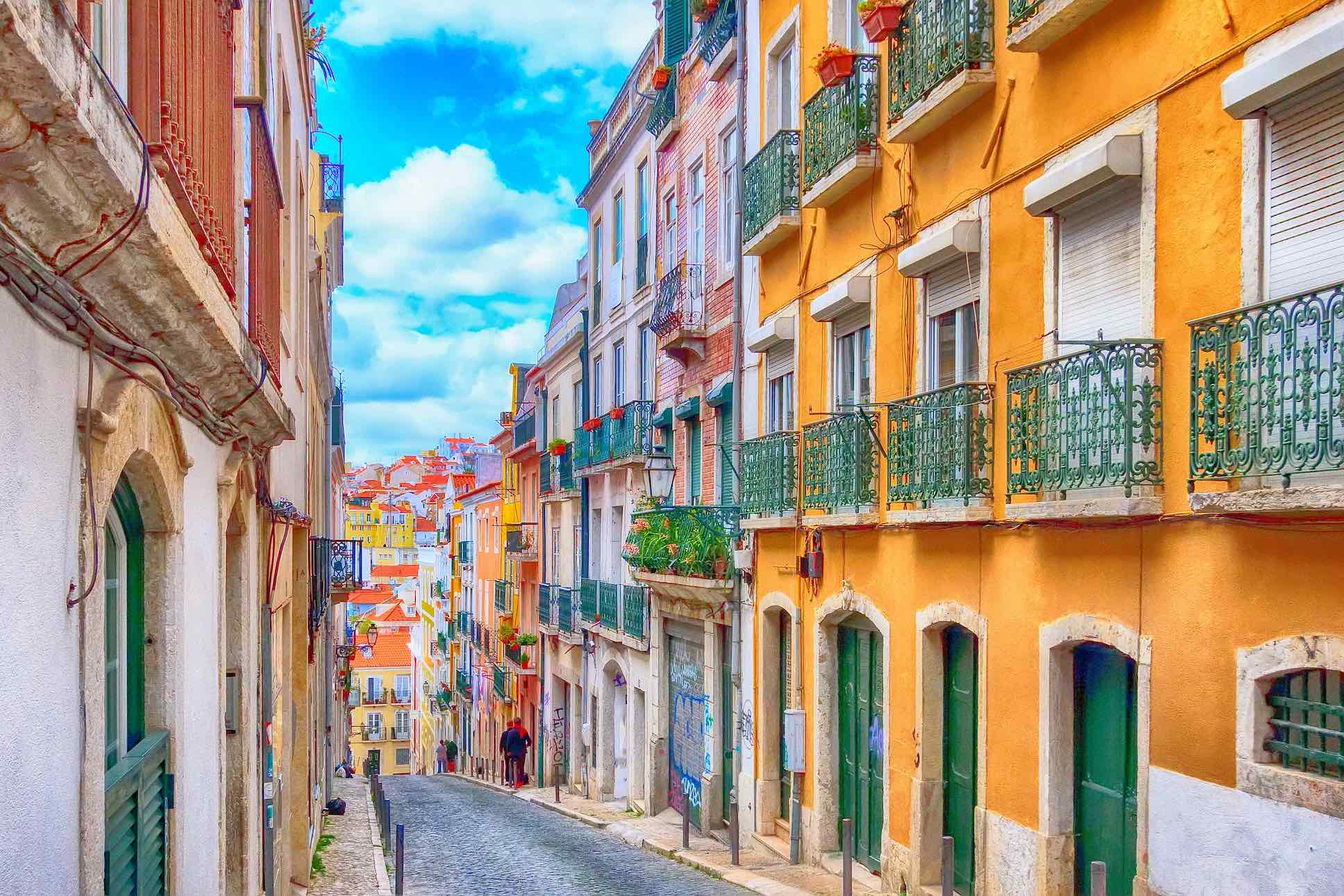 This district has a wonderful charm and is steeped in history and culture, so it's a great area to stay if you want to immerse yourself in a traditional atmosphere.  There are myriad bars and restaurants to enjoy, and an eclectic mix of upmarket, stylish eateries as well as local cuisine.  If you're considering staying in the Alfama district however it's worth noting that the steep hills and cobblestone streets can be tough if you have mobility issues or aren't reasonably fit.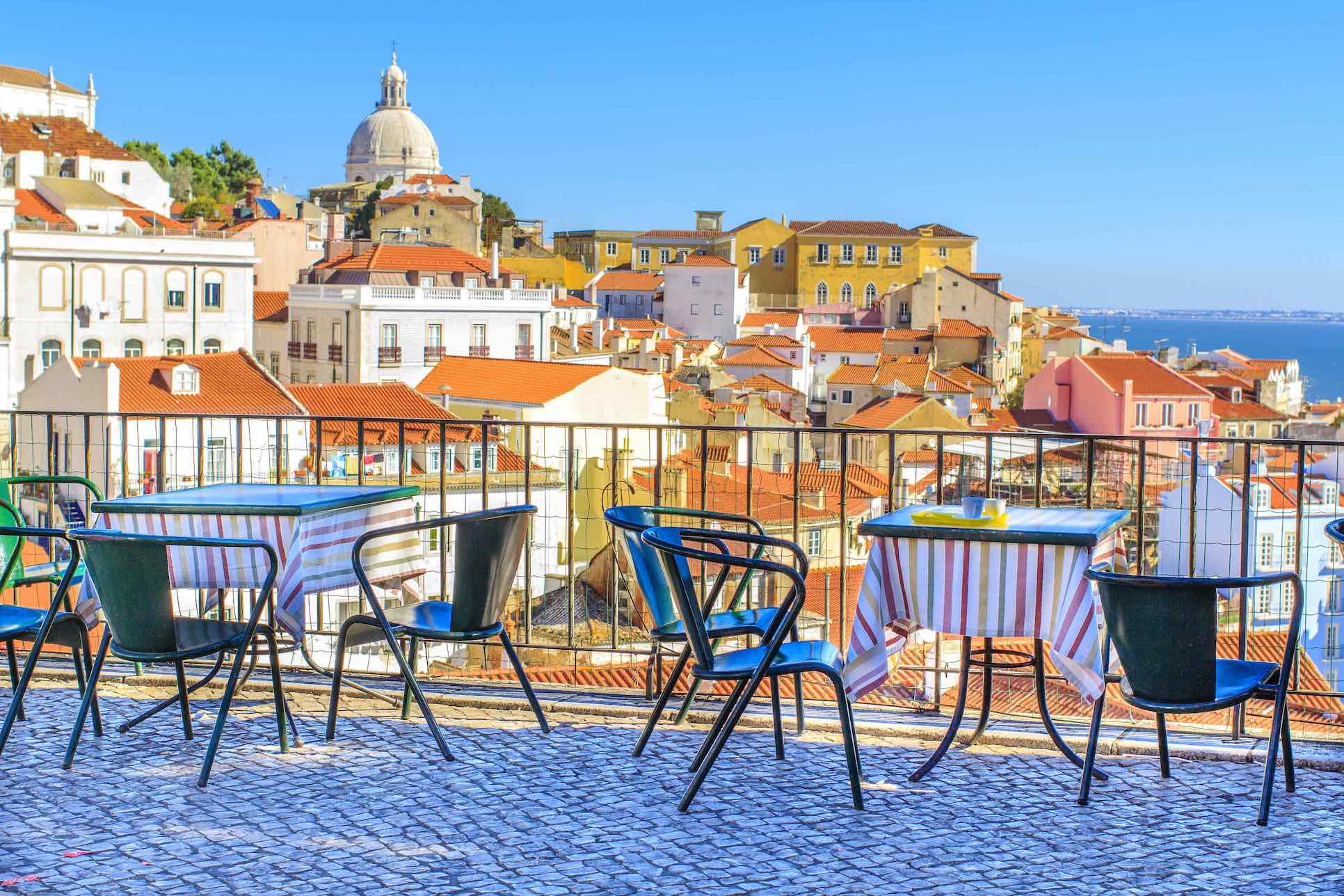 You can find a range of accommodation here – from budget apartments and guesthouses, to 18th century mansions that have been transformed into stylish hotels.
Baixa-Chiado
Baixa-Chiado comprises two adjacent neighbourhoods within Lisbon's historic downtown area that form the main tourist hub.  Baixa contains many of the most popular tourist attractions in the city and is bustling with cafes, bars and restaurants.  With pedestrianised zones, wide plazas and tree-lined avenues, it's not as strenuous to navigate on foot, although it does get busy with tourists and locals alike.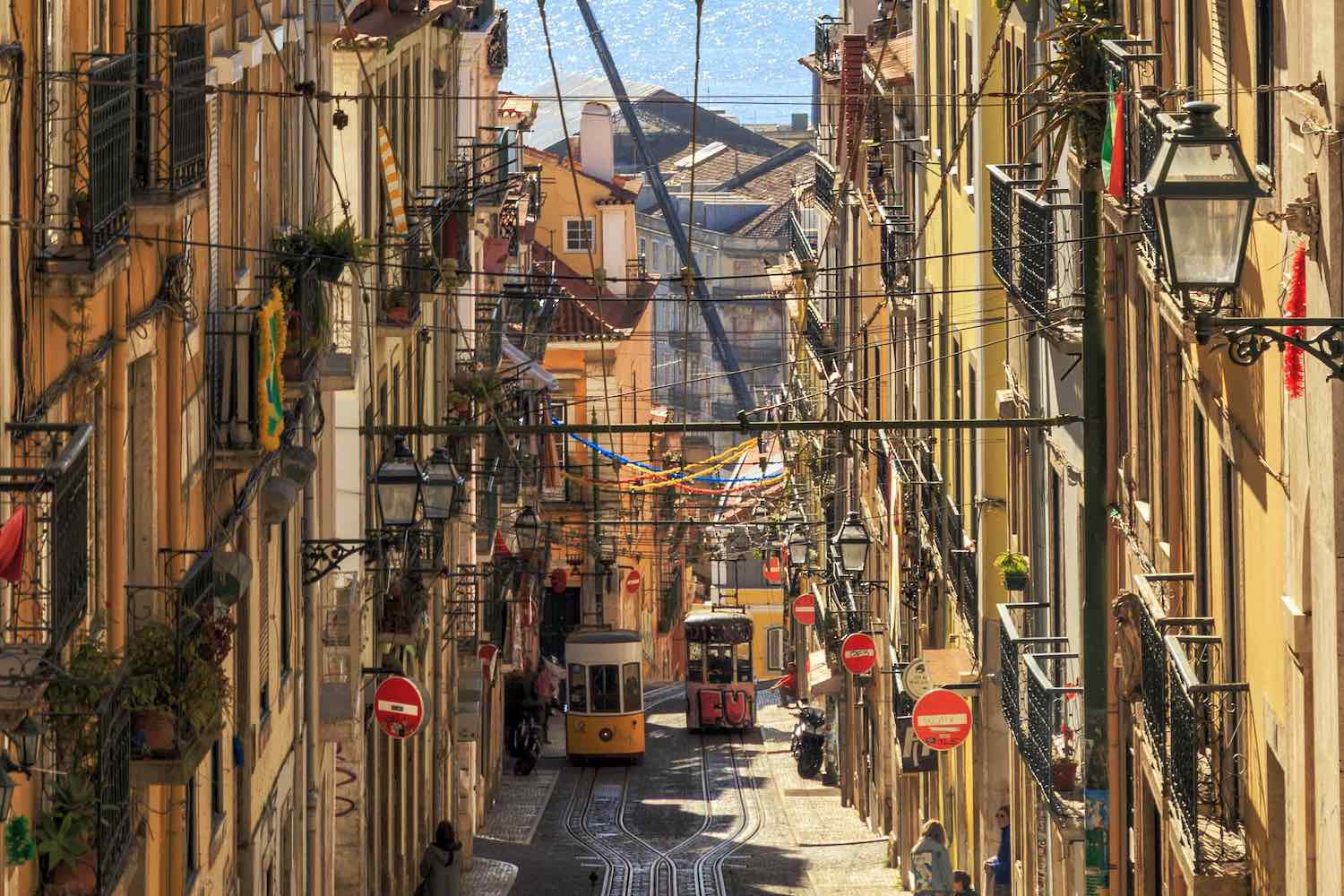 You'll find all of the sights in walking distance here, and there are great public transport links if you want to explore further afield.  Due to it being the heart of Lisbon and the most popular for tourists, hotels tend to be slightly more expensive but you'll still find a range of options to meet your needs.  This is the most popular area to stay in Lisbon as its central location means it's convenient for the majority of city centre attractions Lisbon has to offer.
Bairro Alto
If your ideal city break involves drinking cocktails and dancing until dawn, then Bairro Alto could be the neighbourhood for you.  Although during the day the area might look fairly understated, at night it comes alive – and the bars that line the streets are busy with drinkers and partygoers that spill out onto the roadside.  Because of its thriving nightlife, it can be a noisy area to stay at night, and in certain areas you're definitely not guaranteed a good night's sleep!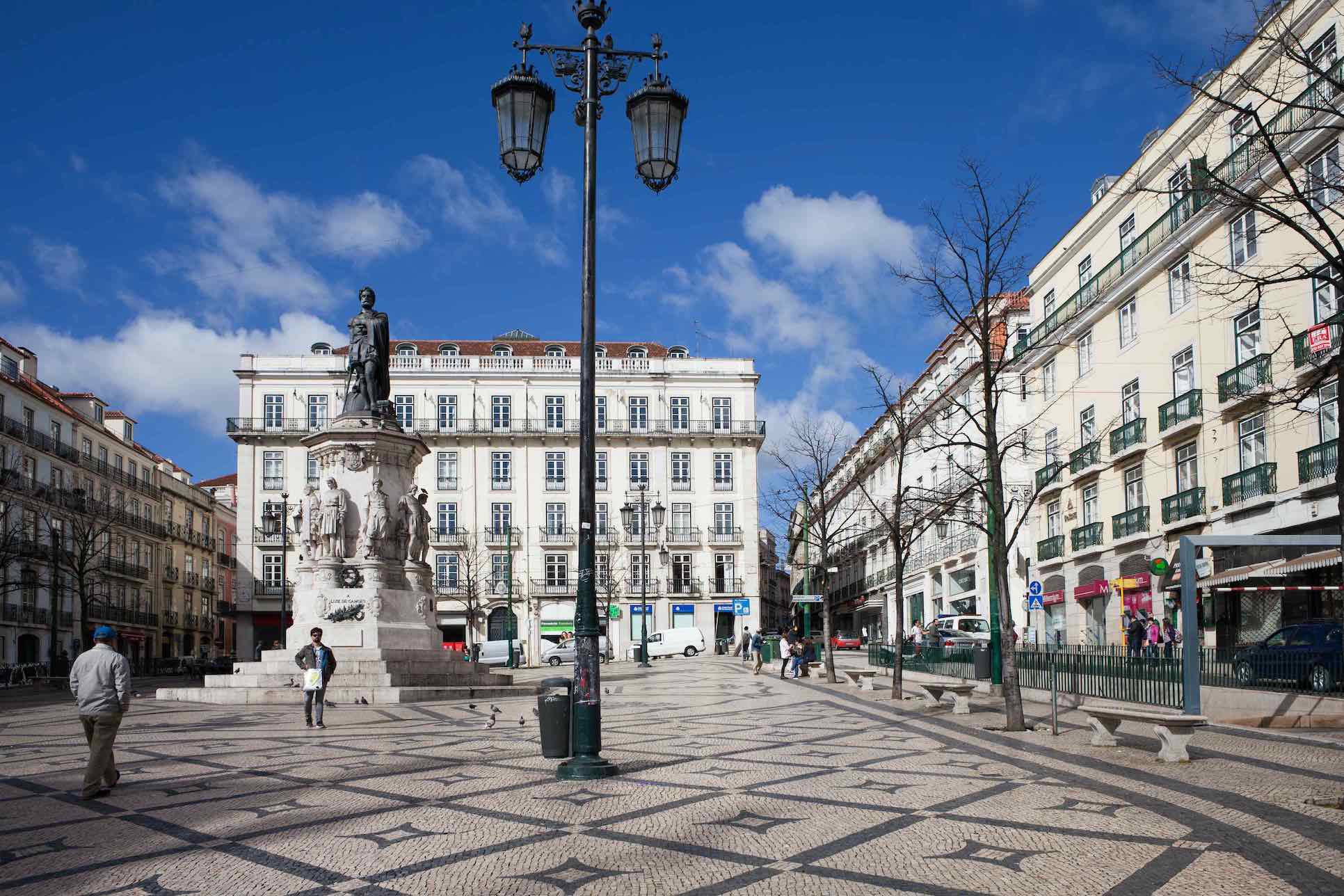 There are quieter areas within this district – it's worth consulting reviews and searching out recommendations if you want to find some of the more placid areas within this buzzing, bohemian district.  Bairro Alto also translates as 'high town' as it's directly uphill from the Baixa district – meaning that you'll have a delightful downhill amble into the downtown area, but the walk back uphill at the end of the day can be more taxing!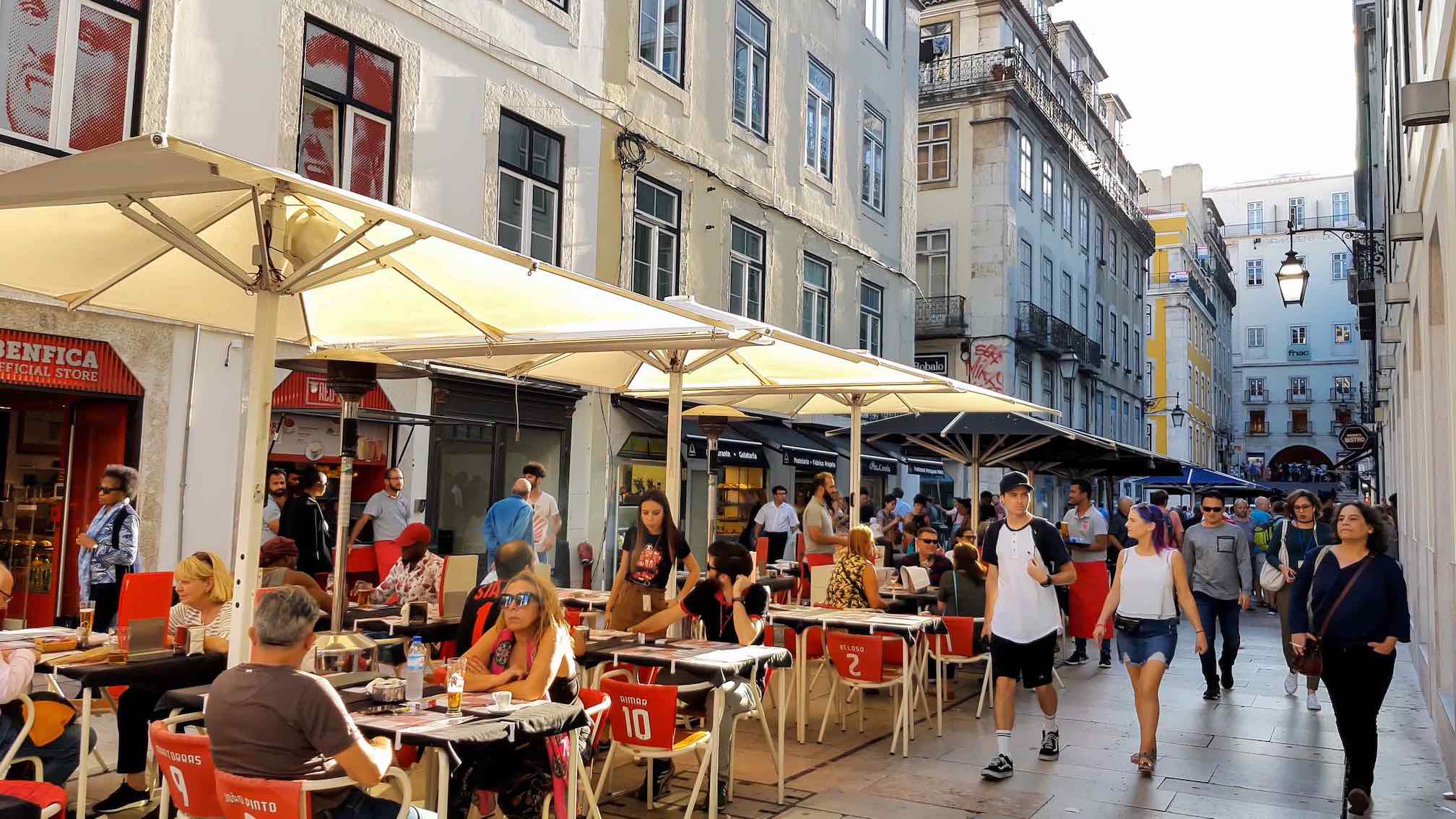 Cais do Sodré
Cais do Sodré has undergone a serious transformation in the last ten years – evolving from a gritty, disadvantaged area to a trendy, hip neighbourhood with a distinctly cool vibe.  Like Bairro Alto, you'll find a buzzing nightlife here, with an array of live music venues, clubs and bars. Cais do Sodré is also home to the famous Time Out Market – a food hall that boasts over 50 different vendors, where you can sip cocktails, try the best food in town and even listen to live music performances.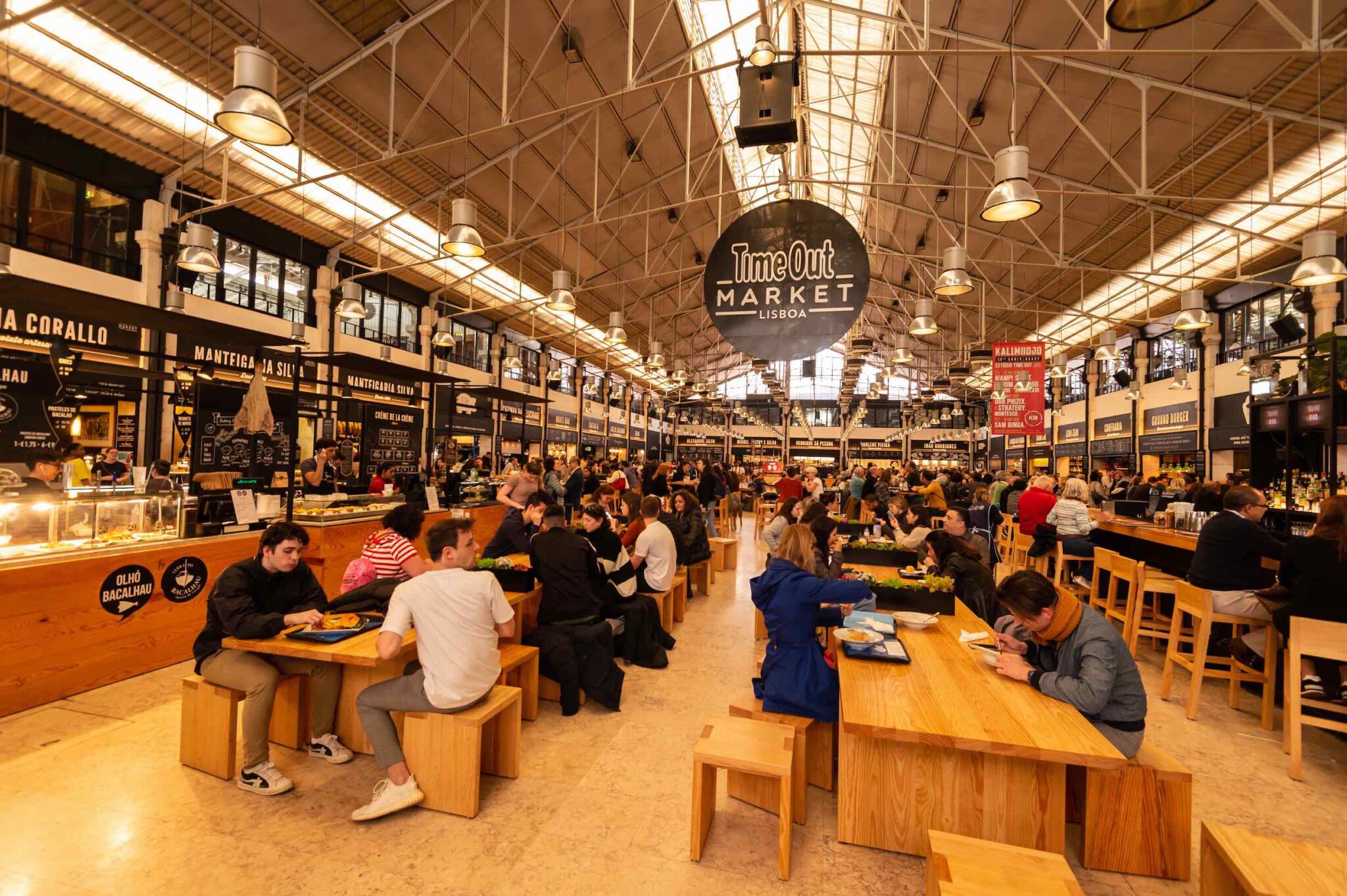 Cais do Sodré is a central hub for transportation so you'll be well located if you want to take trains or the ferry – a trip which offers wonderful views of the city.  The Lx Boutique Hotel is a popular and highly rated hotel in this neighbourhood, with themed rooms and views over the river.  There are also a variety of apartment buildings to stay in in this area if you'd like the privacy of a home or apartment to yourself.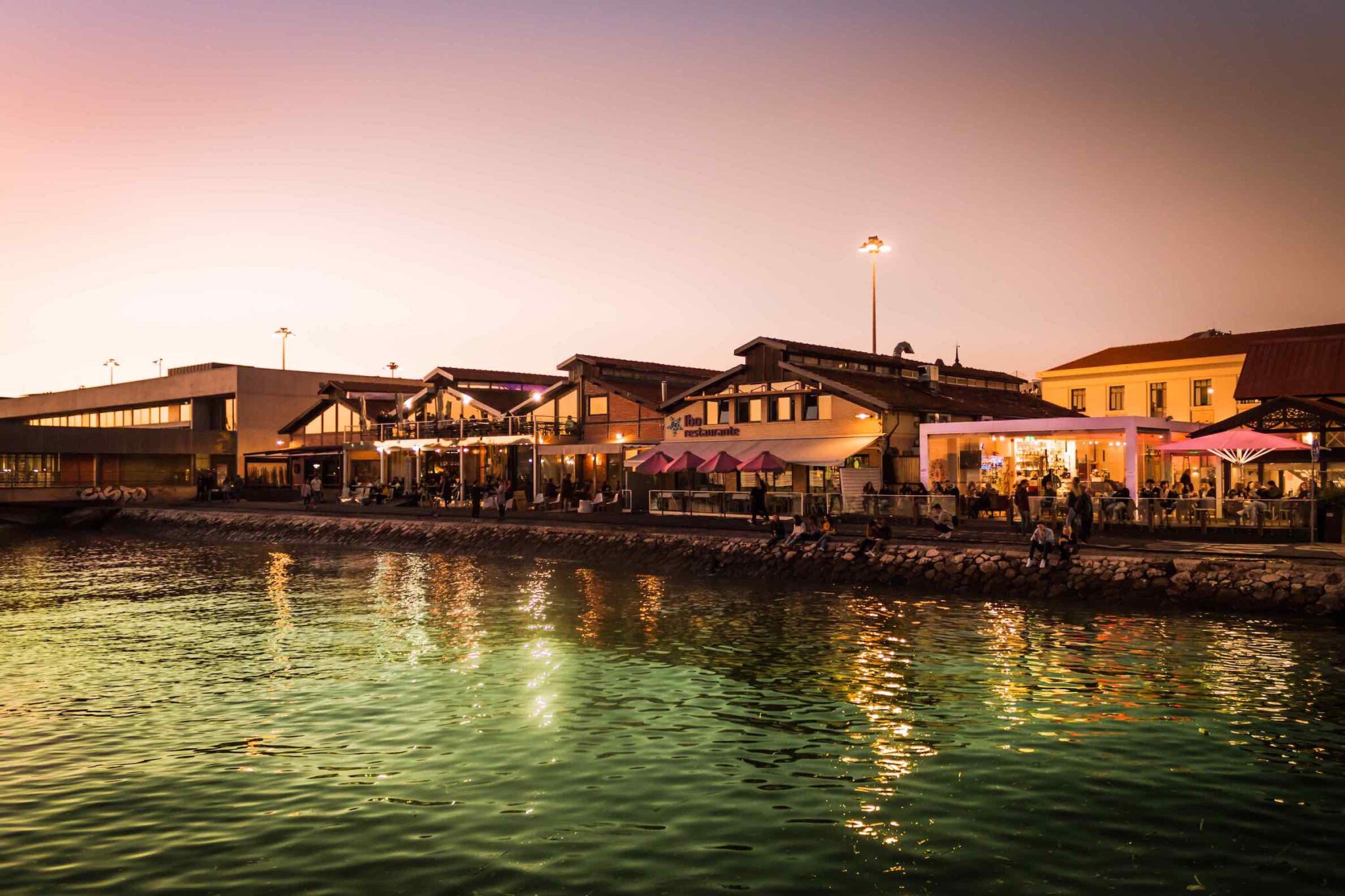 Graça and Castelo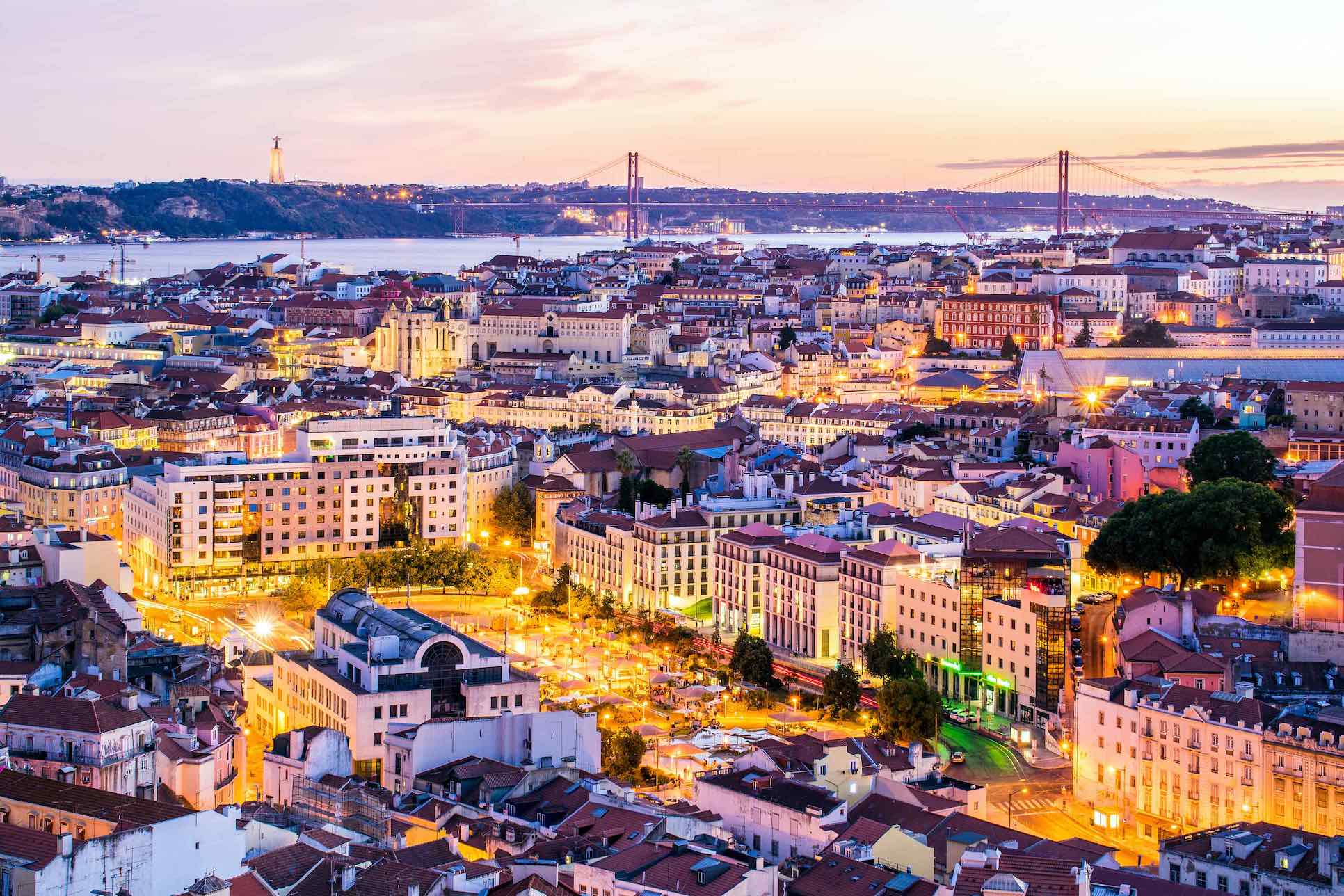 The Graça neighbourhood is a hilltop district set-northeast of the Castelo de São Jorge.  Its location on top of the highest point in Lisbon means it offers breathtaking views over the city.  In Graça itself you'll find many sights worth seeing such as the Jardim da Cerca da Graça – a pretty garden where you'll often find locals sipping coffee during the day or bringing their own drinks and gathering in the evening with friends.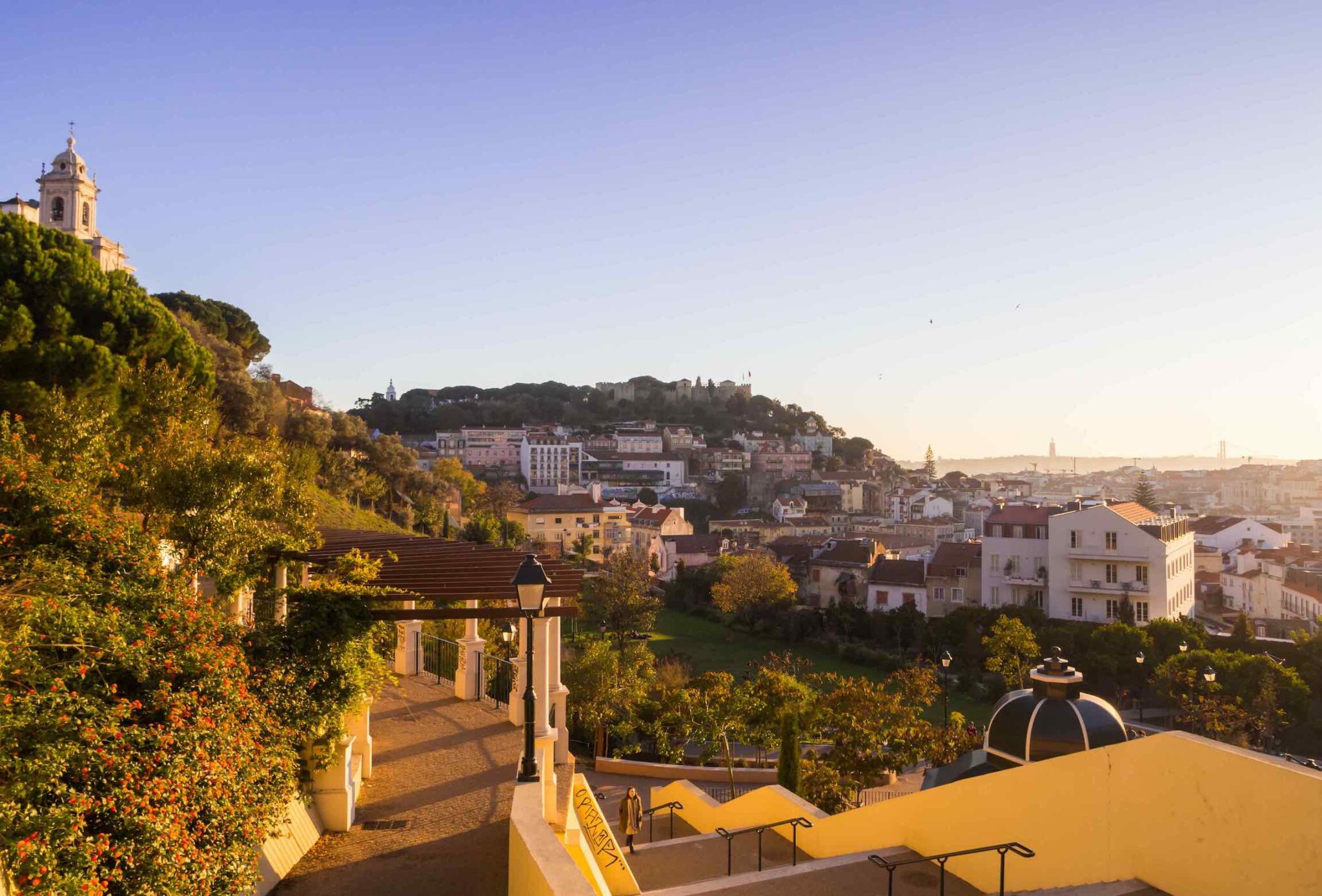 Of course no visit to Lisbon is complete without a visit to the São George Castle – with 18 towers it's visible from all over the city! Graça is not as popular a choice for a stay in Lisbon which means it has a less tourist-focussed vibe, which may suit a traveler looking to rub shoulders with the locals rather than hordes of sightseers.  As with Cais do Sodré, because it's less tourist focussed you'll tend to find more rental apartments here than chain hotels.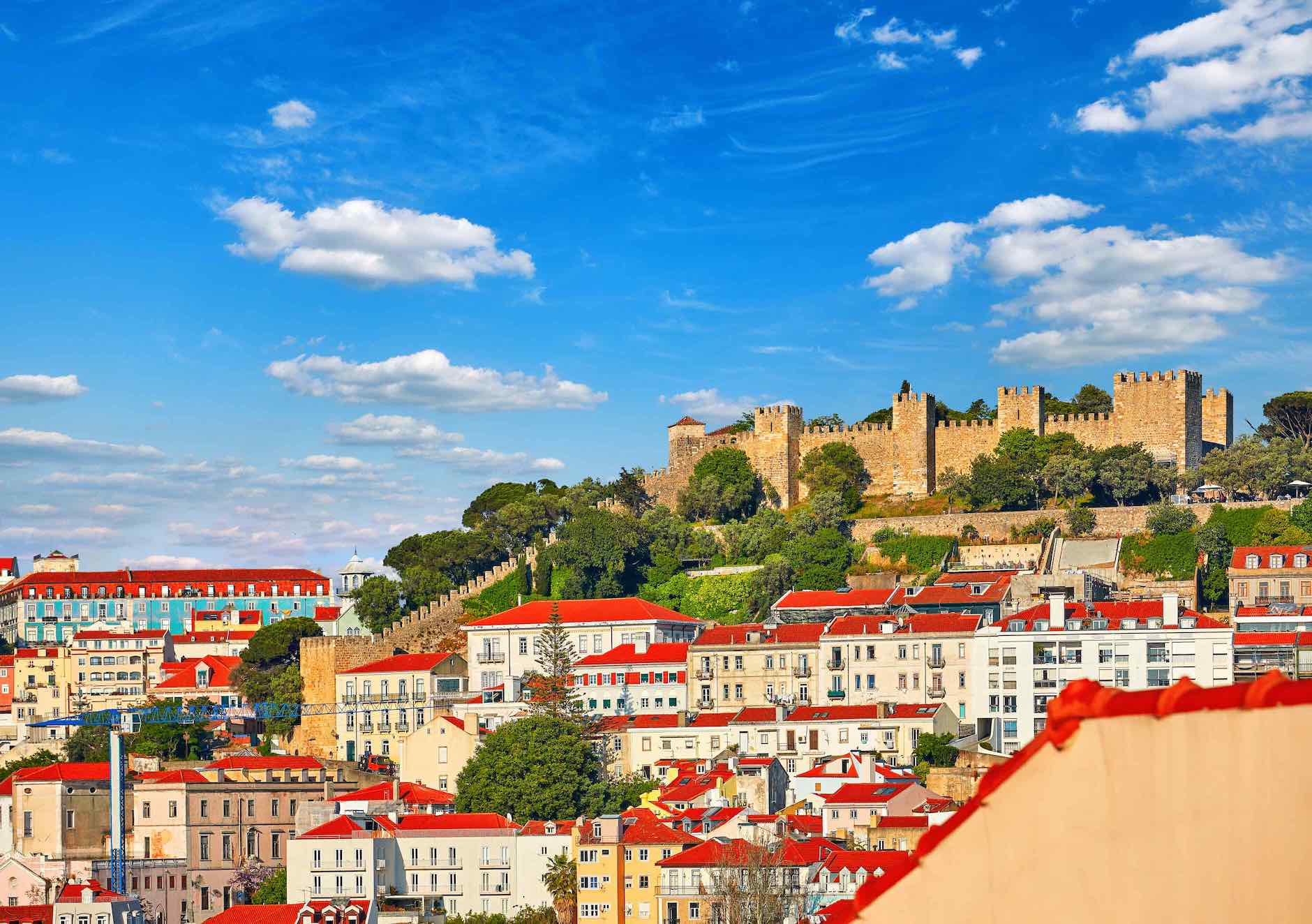 Which neighbourhood is your favourite to stay in if you're visiting Lisbon?