River cruises have a reputation for being short-term and low on excitement. Perhaps a leisurely afternoon spent drifting down the Thames or a sunset float around 
Additionally, river cruises are overwhelmingly attended by retirement age individuals and empty-nesters. 
Some of this might have to do with the funds required to tap into the luxury side of the market, but with so many young adults and digital nomads committing their living to see the world in new ways, we can't help but wonder what is holding the 20-40 range from hopping on this trend. After careful consideration, we've decided that's it all boils down to one simple fact: THEY DON'T KNOW ABOUT IT.
So, Millennials and Gen. X, we're talking to you. What if we told you that there's a whole luxury river cruise market you've been missing out on? These multi-week cruises will take you to some of the most exotic destinations around the world and are absolutely steeped to the core in luxurious amenities. Not to mention, they are everything but boring. You'll be treated to adventurous on-shore excursions, fine dining, unparalleled wildlife spotting, and yes, a little bit of relaxation, but what's so wrong with that? 
Not to mention, you'll have earned bragging rights for visiting some of the least-explored corners of the planet. If you have trouble getting excited about a "river cruise", try reframing it. "I spent twelve days floating down the amazon river looking for pink dolphins and trekking the rainforest" sounds pretty cool, doesn't it?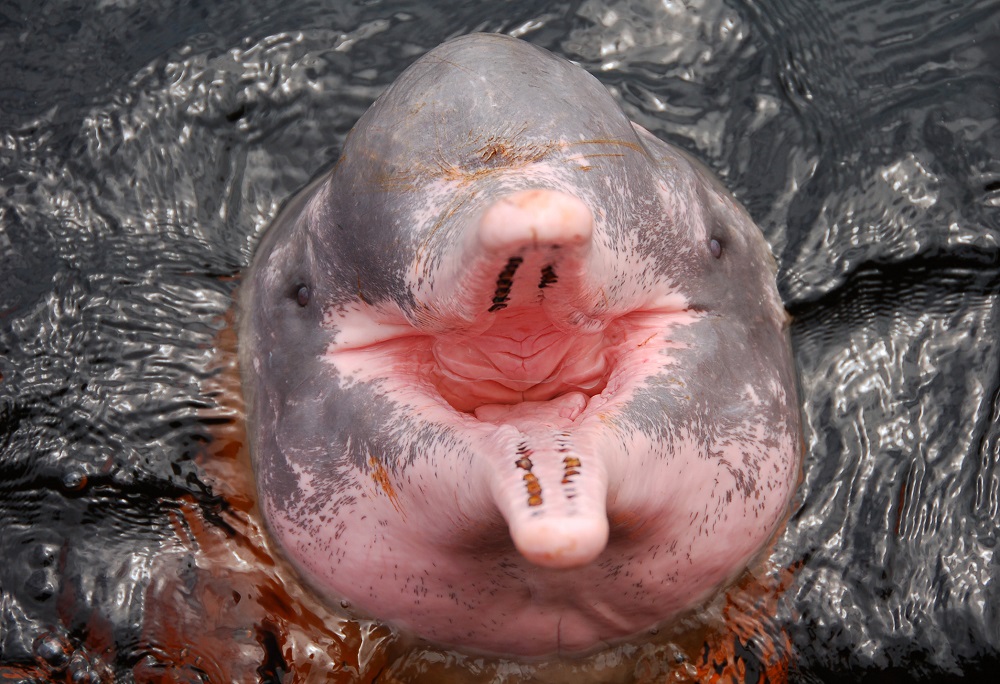 Guntu, Japan
If you love an ultra-modern boutique hotel, then this water-bound luxury stay is about to blow your mind. The ship is exquisitely designed from top to bottom with handcrafted wooden furniture, and personal touches everywhere you turn. Your guest suite comes complete with fresh-pressed ginger juice, cotton kimonos in place of standard resort robe, and books for reading as you float down the river. The Seto Inland Sea might not be your first thought when planning your getaway to Japan, but it absolutely should be from here on out.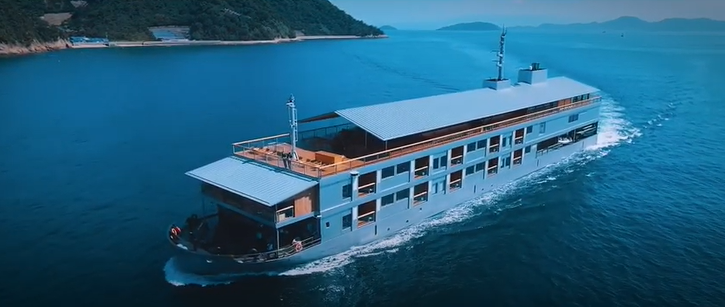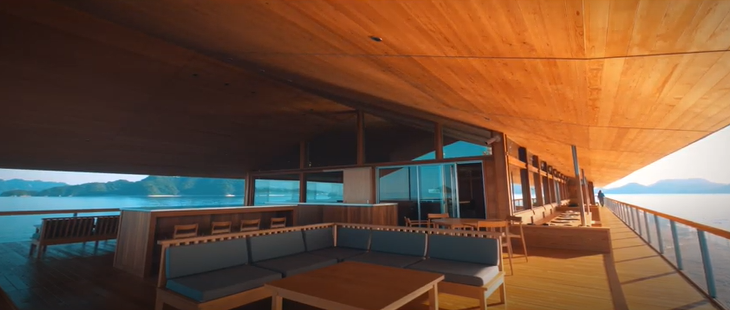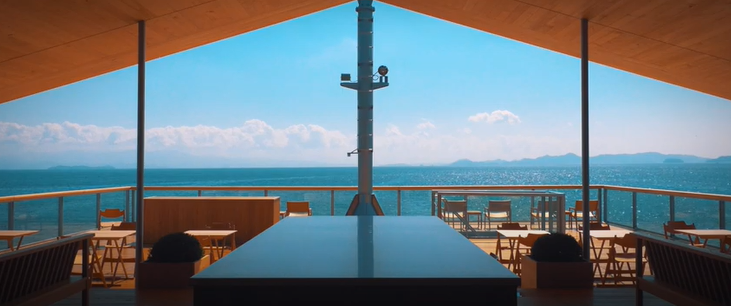 Why We Love It:
Exquisite onboard spa facilities including private balcony tubs, massage beds, and bathhouses

Top chef offering everything from 11-course culinary experiences to sushi-making classes.

Minimalist, modern decor curated by a renowned architect
Steam Ship Sudan
This converted steamship will guide you down the Nile, and through excursions across the top cities, seas, and deserts of Egypt from Cairo and beyond. If you've ever dreamed of visiting the pyramids, this unique and picturesque take on a trip to Egypt that you'll be talking about for years to come. The interior of the ship exudes luxury around every corner from the gilded bed frame to period parquet flooring, so you're sure to feel like you're staying in a five-star old world hotel.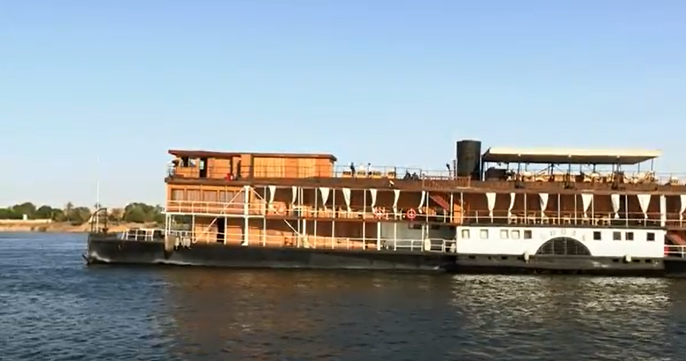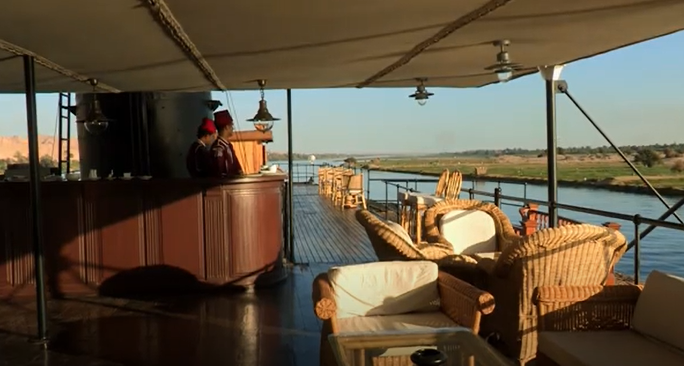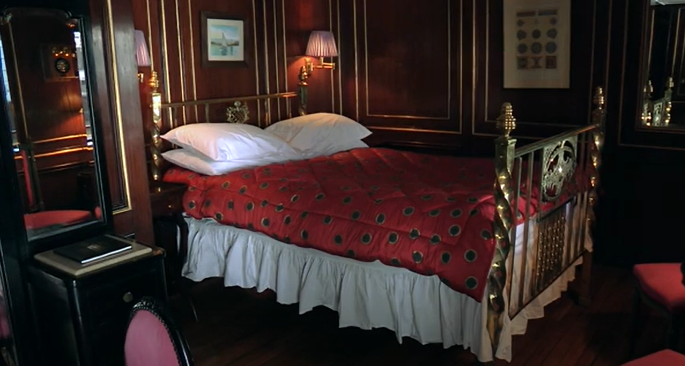 Why We Love It:
Opulent, Victorian-design cabin suites

Shore excursions to the top Pharaonic and archeological sites of Egypt

Small group, personalized experience 
Aqua Expeditions- Mekong
Drift down the Mekong river in style with Aqua Expeditions. You'll explore the waterways of Cambodia and Vietnam, stopping to visit Silk Island, witness cultural ceremonies and ride a traditional ox-cart, rickshaw, and sampan fishing boat along the way. During travel days, you can enjoy the indoor and outdoor bars and restaurants and full-service spa on board before returning to your cabin. Of course, you can also go shopping at the cruise ship's curated boutique of local artisan products, artworks, and jewelry.
The ship employs Michelin star-winning head chef serving up the vibrant flavors of the Mekong and Southeast Asia- he's particularly well known for his vegan and vegetarian menus, so passengers with dietary restrictions will never feel left out. And, if you're traveling with a group, you can request interconnecting suites for a more community-oriented experience. No matter what accommodations you need to make your stay feel personalized to you, you'll find it here.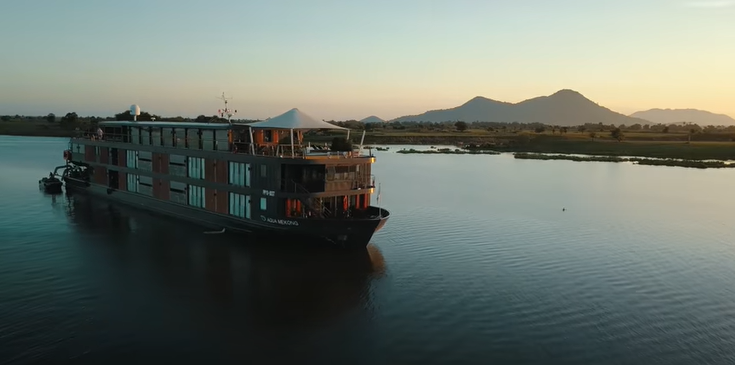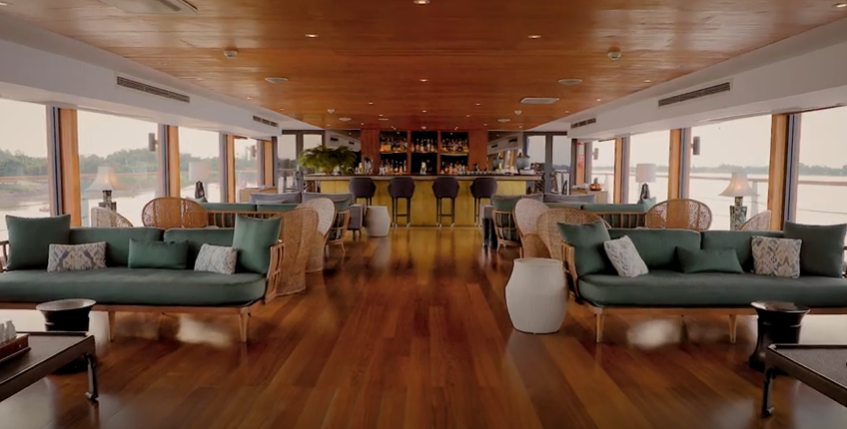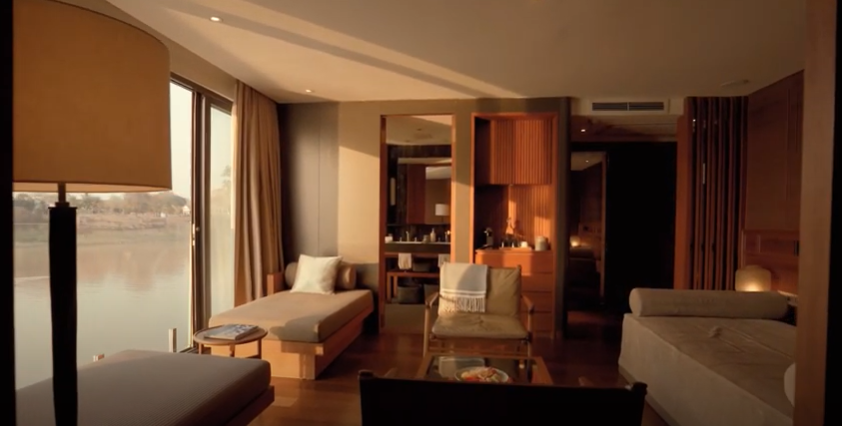 Why We Love It:
Plunge Pool on the top deck with private cabanas

Floor-to-ceiling windows for taking in the views 

Indoor and outdoors cinemas
Aqua Expeditions-Aria Amazon 
Why not take your next vacation to a floating eco-resort in the Amazon? Spend your days sunbathing in the Pacaya Samiria National Reserve and beyond, or on the state-of-the-art observation deck for wildlife watching. When you're not lounging around on deck, you can also participate in once-in-a-lifetime excursions such as fishing, swimming, jungle trekking, Peruvian cultural immersions, and a visit to a manatee rescue center. At the end of a busy day, you'll be able to retire to your luxury guest suite full of refined natural decor and high-end linens.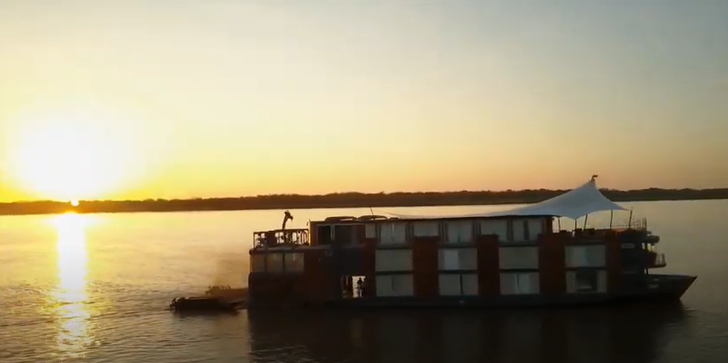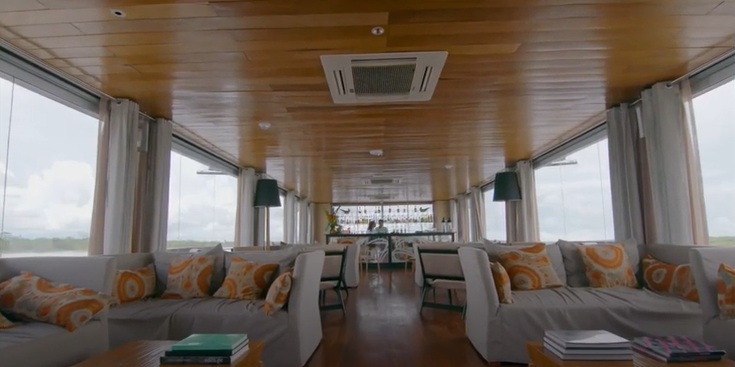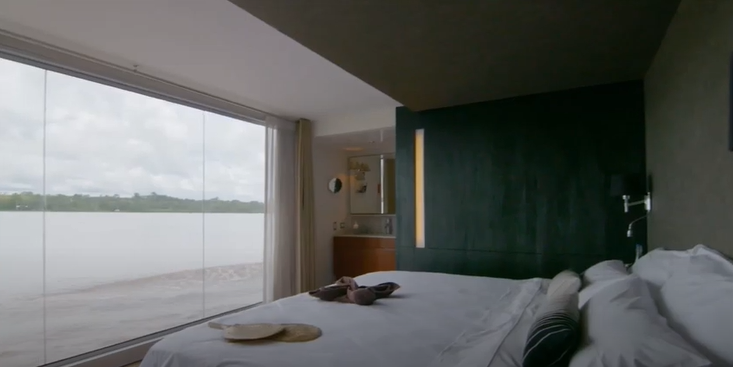 Why We Love It:
Eco-friendly, low impact design for ethical exploration of fragile ecosystems

Floor-to-ceiling glass walls in every cabin

Rainforest-to-table menu comprised of local Amazonian produce
Scenic Aura- Irrawaddy
If you're going to go to an exotic location like Myanmar, why not take it one step further and take a luxury river cruise that will leave you awestruck? This super modern and city-inspired floating hotel is sure to inspire some major wanderlust and possibly some jealousy amongst friends upon your return home. There's plenty to do onboard from planned activities to leisurely wildlife watching, as well as some daily excursions onshore. You might even come across some endangered species you can't see anywhere else in the world like the Irrawaddy dolphin or the Ganges shark.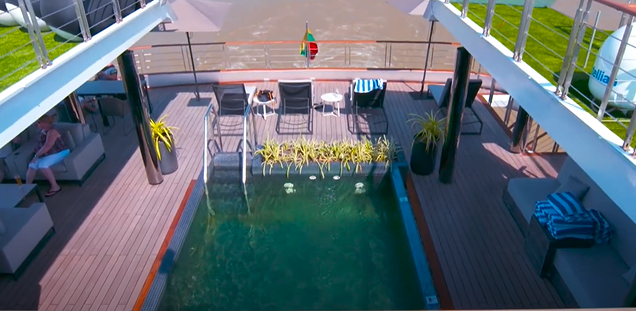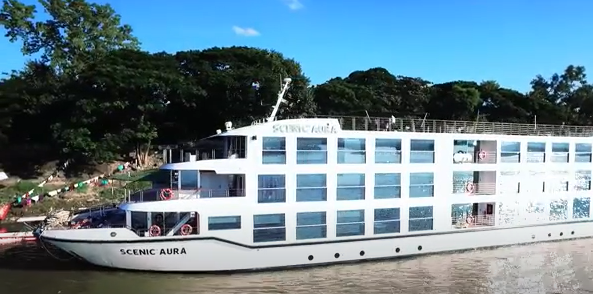 Why We Love It:
1:1 staff to guest ratio for highly attentive hospitality 

 Resort-style pool and full-service beauty salon onboard 

A stunning mix of regional and western cuisine 
Zambezi Queen- South Africa
Travel through the waterways of Botswana and Namibia for a brand new approach to the African safari. You can do plenty of wildlife watching on board and enrich your experience with daily excursions to explore ancient baobab trees or take cultural tours in local villages. Of course, there's no shortage of fine dining on board with five-star English breakfasts, lunch buffets, and plated dinners included in your booking. We're told there's also champagne at sunset, which is the perfect way to end your day under the African sun.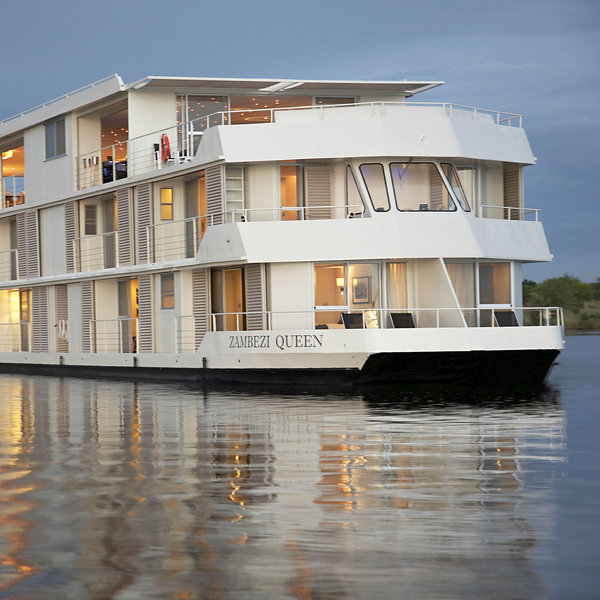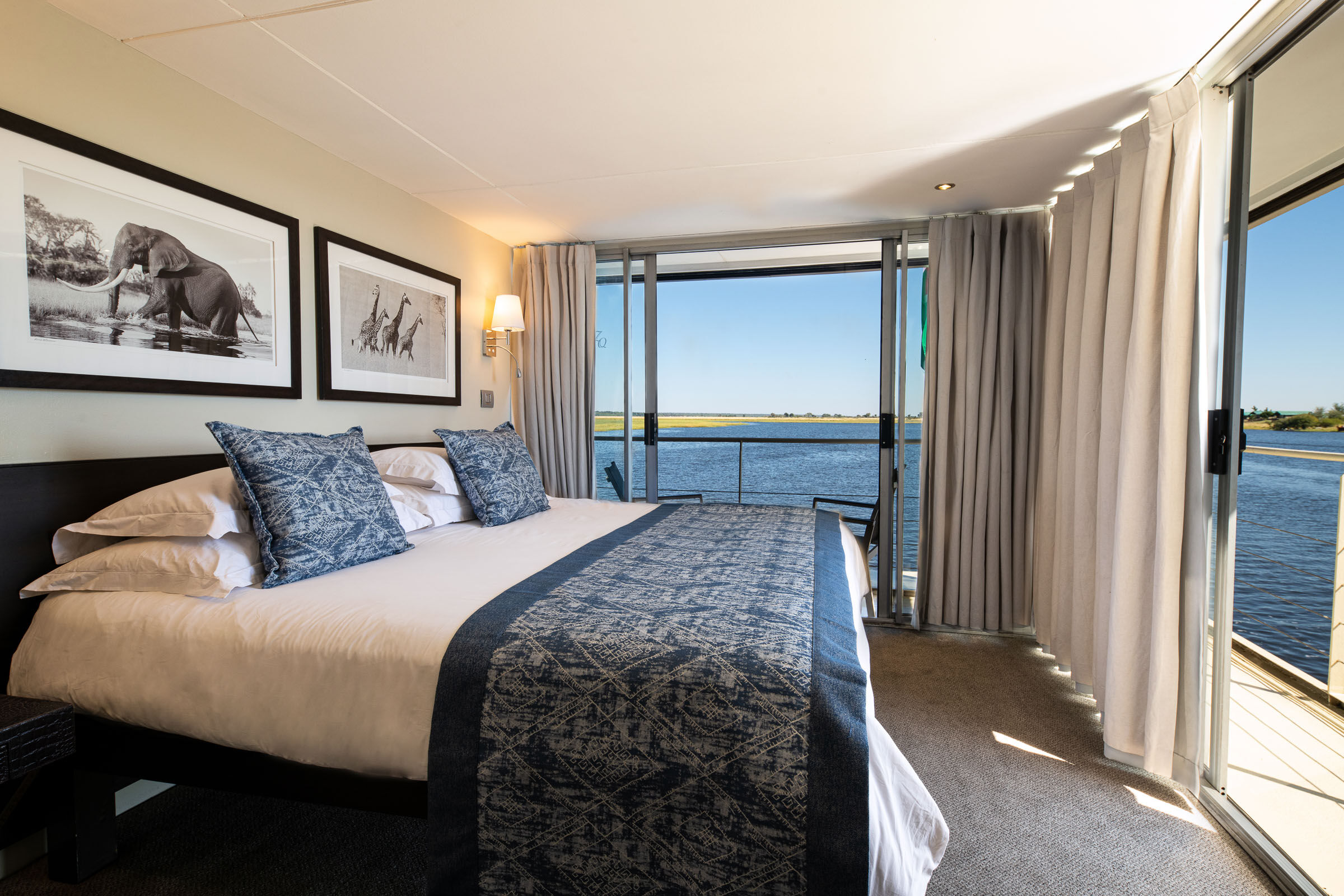 Why We Love It:
An extraordinary range of wildlife, from riverside elephants to water-bound hippos and crocodiles.

Private balcony in every cabin 
Indulgent Namibian kitchen serving local ingredients and cuisines