Hidden away in southeastern Hillsborough County in Tampa Bay, the Alafia River State Park offers a day of mountain bike fun that is unique to Florida. The Alafia River State Park sits above a former phosphate mine. Its location provides the rugged terrain upon which over 20 miles of single-track bike trails were built.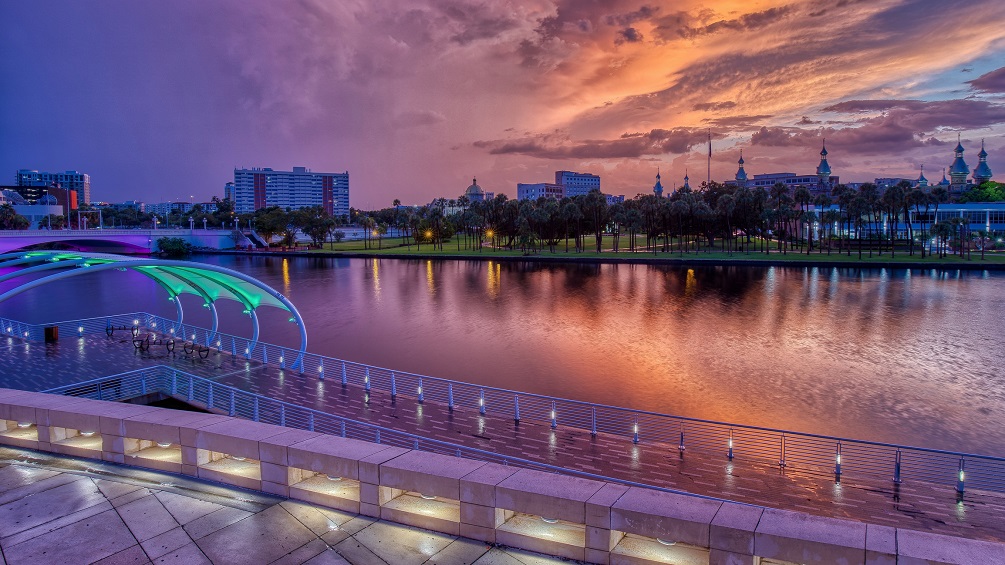 The trails at Alafia River State Park are ranked as the 11th best bike trail in the world and the best trail system in Florida. The trails are packed with rolling terrain, banked turns, wooden bridges, and hillside ledges, along the Alafia River. 
The extensive system includes trails with names such as Rock Garden, Hidden Rivers, Roller Coaster, Scorpion, Twisted Sister, and Rabbit Ears. Trails are marked by color and level like ski trails where green is the easiest and double black diamond marks the expert trails. No matter your skill level or age, if you can pedal a bike, you will have a great day. Most trails are one way and for bikers only, except for Two Turtle Track. It is marked with white blazes, is wider, and is a mixed-use trail with hikers.
The trails meander through lush Florida landscapes complete with riverbanks and ponds. Make sure to pack sunscreen and bug spray (and reapply) for year-round protection. But note, both the sun and insects can be brutal in the summer months. Getting an early start is a smart way to beat the heat. 
A bike shop is located at the trailhead where bike repairs and rentals are offered. Sheltered picnic tables, bubblers, and loos are also available at the trailhead. Additionally, a post-ride pub has applied for a permit to build on the site and soon will provide riders over the age of 21 with the option for snacks and a cold pint following a ride.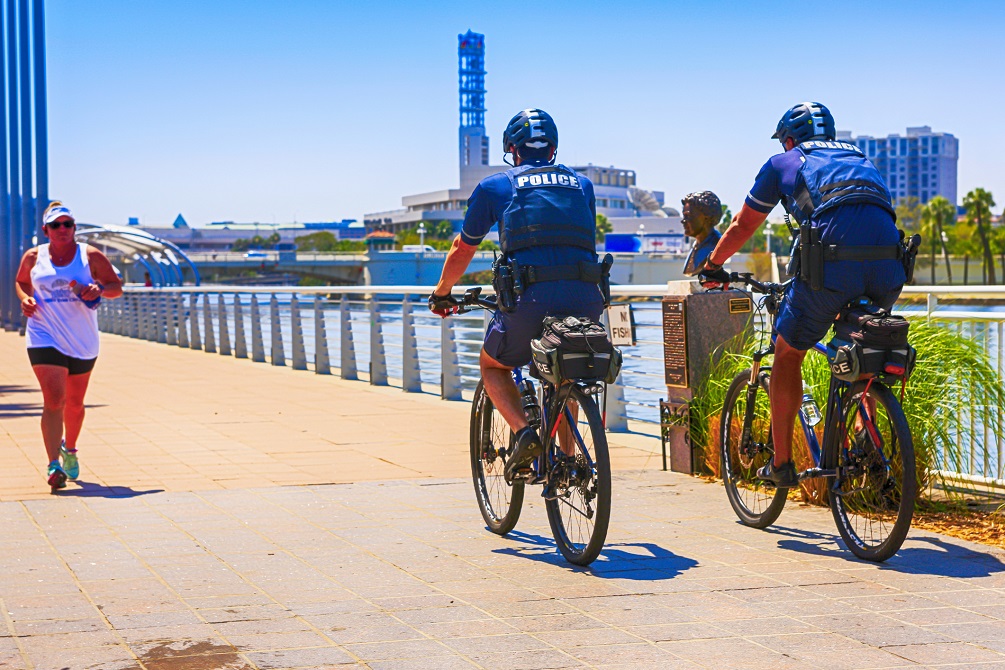 Parking is $5 USD per car (cash or credit card). Bike reservations are highly suggested (rentals include helmets, insurance for the bike is optional) and can be made at ubcbike.com. A trail map and videos of each named trail can be seen at alafiatrails.com. 
Green Trails
If you are a beginner, have younger children with smaller bikes, or are using a city bike be sure to follow the green signs labeled Easy Loop. The Easy Loop is created from three green trails. They link together to form an eight-mile one-way ride through the park. 
The Easy Loop has minimal elevation changes and begins at the trailhead parking lot. Sand Pine is the first trail in the Easy Loop. It is a flat, gentle trail past oak trees and scrubs with minimal shade. The Rock Garden is the next section of the Easy Loop where riders will encounter wooden bridges along a flat, gentle path lined with palm and oak trees. The final portion of the Easy Loop is Hidden Rivers, a flat trail that winds through the park with bridges and the occasional tree root. 
Blue Trails
Blue (or intermediate) trails are designed for mountain bikes and riders with a bit more time on the trails. The blue trails combine to make three sections named Roller Coaster, North Creek, and Bridges (or Lost Meadows). Each blue trail section has black diamond and double black diamond branches, so note the signage as you navigate the trails as the black trails are designed for the most experienced riders. 
The Roller Coaster begins just to the northwest (left) of the trailhead. The name can be intimidating, but the trail itself is rather fun as in some parts you almost fly over the hills. It is a mix of rolling terrain, climbs, steep drops, banked curves, tabletops, and drop-offs. The trail is lined with oak and palm trees as well as scrub and offers a mix of sun and shade. 
Oddly enough, the North Creek section is just to the south (right) of the trailhead. This section of blue trail is a combination of the North Creek and Buzzard Bay trails. The trails include banked curves, bridges, tree roots, rolling terrain, steep drops, climbs, tabletops, and drop-offs. North Creek offers a mix of sun and shade and the trail is surrounded by oak trees, palm trees, and scrub. The Buzzard Bay trail includes several technical portions and sections with tree roots. 
The Bridges (aka Lost Meadows) section is really designed as a combination of blue and black trails for a more experienced rider. The blue trail in the section is Lost Meadow and is found just past the entrance to the North Creek section. Lost Meadow features rolling terrain, climbs, drops, narrow passages, and berm turns. This trail is rather sunny and has a buffer of tall grass before the scrub and trees. The two black trails Lost Meadow combines with to form the Bridges are Meadows Edge and Gatorback (read about them in the Black Trails portion below). At the end of the Lost Meadow trail you also have the option of connecting with the Easy Loop (a portion of the Hidden Rivers trail) if you prefer a more relaxing return to the trailhead.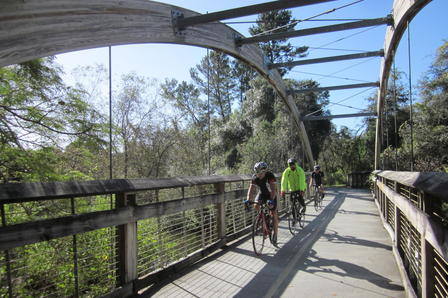 Photo credit to ridewithgps.com
Black Trails
 These trails are the most difficult in the entire park. Single black diamond trails are geared for advanced riders and double black diamond trails are for expert riders. 
Single Black Diamond / Advanced
Double Black Diamond / Expert

Serpent                    

Bridges

Scorpion

Spitfire

Derailed

Rabbit Ears

Meadows Edge

Magic Island

Twisted Sister

Razorback

Thunder Ridge

StarDust

Frankenstairs

Moonscape

Gatorback

Gravitron
All black trails branch off from other trails. They are mostly combined with blue trails, but also break off for a few green ones as well. Be sure to read any sign at the start of a trail, some note jumping skills are necessary and that bailout points are not available. 
Black trails are the most challenging and rewarding at Alafia River State Park. They include jumps, sudden drops, wooden bridges, berm turns, drop-offs, technical climbs, twists, and turns that are fun to ride.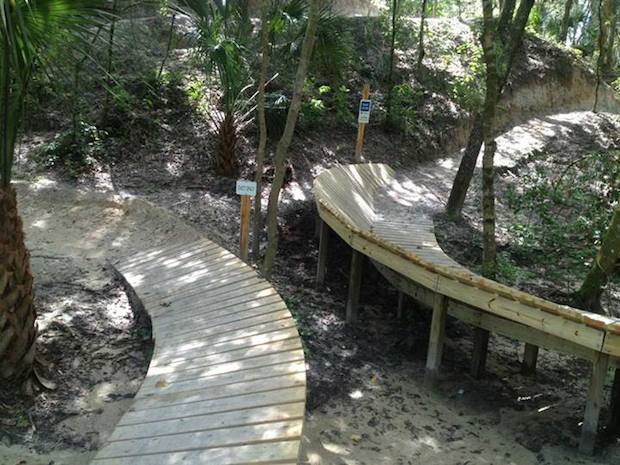 Photo credit to www.singletracks.com