Seen by many as a weekend city break, Madrid also has so much to offer as a vacation destination. Even though it is 200 miles from the nearest beach, as summer holidays go Madrid provides everything else you could possibly want and need. From the beautiful hotels to stay in; the bar, cafes, and restaurants on every corner; the many parks and open spaces to roam and enjoy the weather in; and the countless attractions to spend a day, both inside and just outside the city, Madrid has it all. And for some, summer vacation is just not complete without a day out at a water park – which luckily for them can also be found here in Madrid. 
Just south of central Madrid you will find Warner Beach Park or Parque Warner Beach. Created in 2014 as a sister park to the already established Warner Theme Park next door, this fantastic day out offers you the opportunity to enjoy the sunshine and warm weather alongside the slides, rides, and great eateries. Modeled towards providing great fun for the whole family, the park offers something great for all age groups.
The park sits approximately 30km south of the city. If you have rented a car great; finding the park is easy and parking is plentiful (it will cost you €11 to leave your car for the day), or you can hop in a taxi for around 60 euros. Alternatively, you can take a train from anywhere in and around Madrid to nearby Pinto (around a 40-minute journey from Sol, central Madrid), and then jump on either the number 412 or 414 which will take you right to the park gates.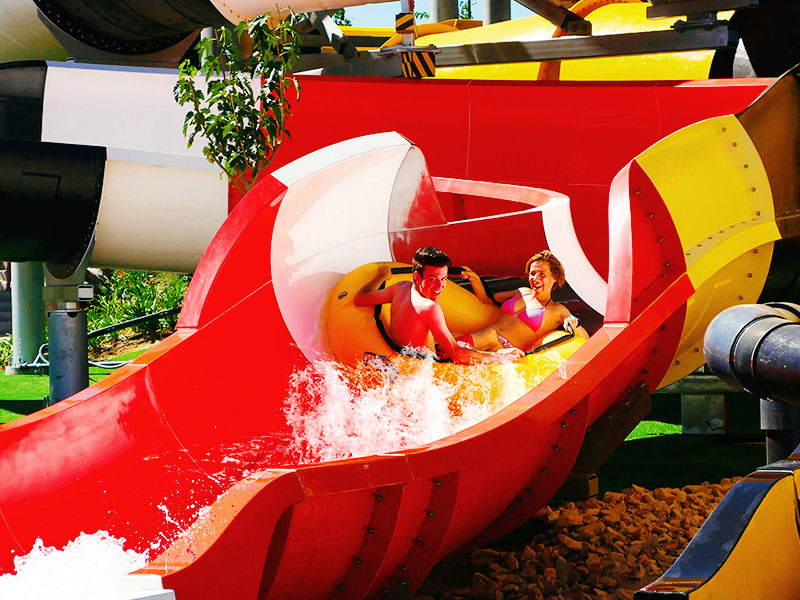 A standard Adult and Junior ticket will cost around €25 when bought online, depending on the day, although there are various discounts and promotions that can be found either online or by signing up to their newsletter. Tickets bought at the park ticket office on the day can be double the cost so make sure you book as far in advance as possible. Children under 100cm go free.
 Once here the short walk from the carpark to the entrance gives a glimpse of the great day ahead, with the familiar Looney Tunes props and characters greeting you along the way. Once inside you are able to cast your eye across the majority of the park, with the main rides to your right, the sandy beach area and wave pool to your left, and the children's area ahead. 
First for the little ones; Warner beach caters to toddlers and children fantastically. Agua Aventura, an island of 14 slides, water spouts, and cascading fountains galore provides hours of fun. Split into two, one half offers a calmer (if only slightly!) section for babies and toddlers to splash about in, and another 'island of slides' for older children. Don't expect to stay dry here for a single second, with water flying at you from all directions.
Also perfect for the younger guests is the Baby Olas wave pool, right next to the beach and main wave pool; where babies and toddlers can splash in the shallows overlooked by the Looney Tunes and their beach huts.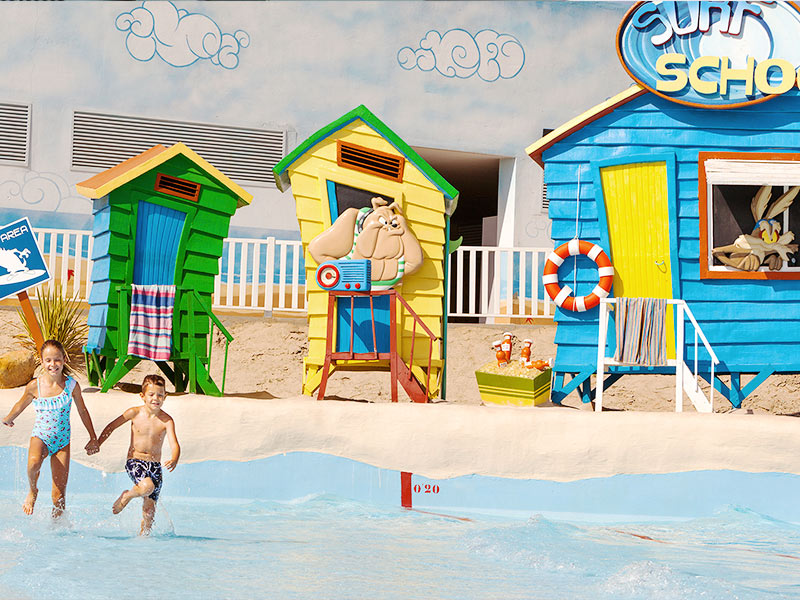 For the older kids and adults, Warner Beach has 6 slides in total. 4 of these are rubber ring rides; The Batman ride and Harley Quinn, both where up to 4 people can fly down the flume in darkness, accompanied by flashing lights and sound effects; Wonder Women: Jump to Paradise where two people share a double ring; and the Joker where you are thrown down the chutes solo. 
Superman: El Veuolo takes everything up a notch, where you will race side by side, head first on a mat against your fellow racegoers.
The final and most exhilarating experience at the park belongs to Wonder Woman: El Lazo Mágico, which requires you to enter a perspex capsule and wait nervously for the floor to drop out from under you where you will then hurtle down the flume at speed.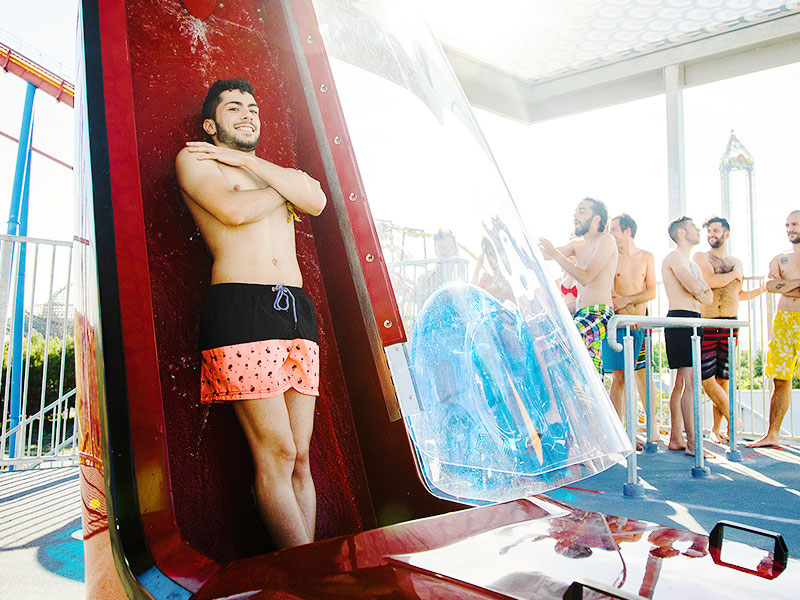 The other attractions away from the slides include the wave pool, Playa Malibu, next to the beach section, and the Rio Loco. The latter will in no way be the laziest river you will ever ride, what with its cascading waterfall, however, you will still be able to relax back on the rubber rings whilst you snake around the park.
Like most parks, great weather and weekend crowds can make for a busy day. Queues for the main rides can build up with lines of up to an hour, so if possible choosing to visit Monday-Friday can make for a much calmer day, where you can enjoy the slides over again. Alternatively, Warner Beach does offer a flash pass for a cost of only 17 euros, which allows queue jump, and for those super busy days is well worth the money.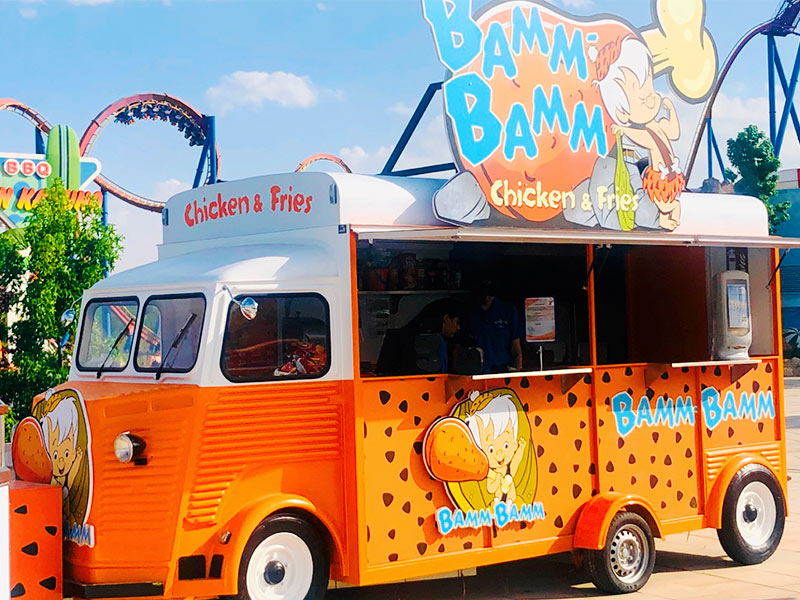 With all the energy needed to sustain you for a whole day of excitement, refueling with some food and drink is obviously a must. Dotted around the park are various themed 'food vans'; Bamm Bamm Chicken & Fries, Scooby-Doo Naam Naam, offering sandwiches and pizzas, and DinoDogs. In addition to these, there are three other cafes, offering everything from french fries and the usual fast food, to BBQ food, salads, plates of pasta, and desserts. For adults, the park does sell beer and cocktails if you fancy an afternoon cerveza in the sun. Expect to pay usual theme park prices for fast-food standard cuisine and, as is for most parks, you aren't able to bring your own food or drink into the park (excluding water and baby food) and they do check bags on entry.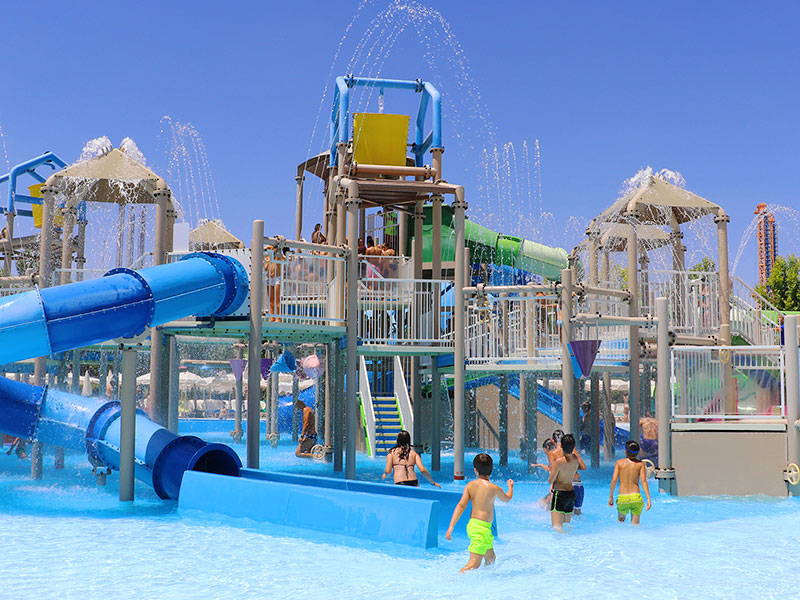 Throughout the park, there are sunbeds and parasols in abundance and you are able to base yourself wherever suits; whether it be next to the children's section, on the beach next to the wave pool, or to the far side the pool behind the lazy river. On entry, you are given a band with which you can tie around the sunbeds to show that they are occupied, although leaving towels on the beds whilst away from them seems enough. There is also a VIP section within the park where overlooking the wave pool, you can relax in exclusivity. Purchasing this VIP ticket for €80 also provides you with a flash pass, complimentary food, and drink, premium lounges, and lockers.
Overall the Warner Beach offers everything you could want from your waterpark experiences. Absolutely this does not compete with the likes of Blizzard Beach and the other Orlando water parks so hopefully, you won't expect it to, but for the price you pay, Warner Beach will give you a day of fun and memories and is well worth visiting as part of your holiday in Madrid.