Miami is a vibrant, beach-bound city with a Latin flare. Over time, it's gained a reputation for being party-central, particularly as a stomping ground for college spring breakers. If you associate Miami with wet t-shirt contests and swarms of inebriated youngsters, you're not alone. 
But Miami is more than just a college getaway. It also has a luxurious side full of five-star resorts, fine dining, and designer fashion labels. If you want VIP lounges, martini bars, and exclusive itinerary activities, look no further. If you know where to look, you can have a celebrity-worthy vacation far, far away from the spring break crowd. 
Here, we've put together a comprehensive guide on how to have the ultimate luxury experience in Miami.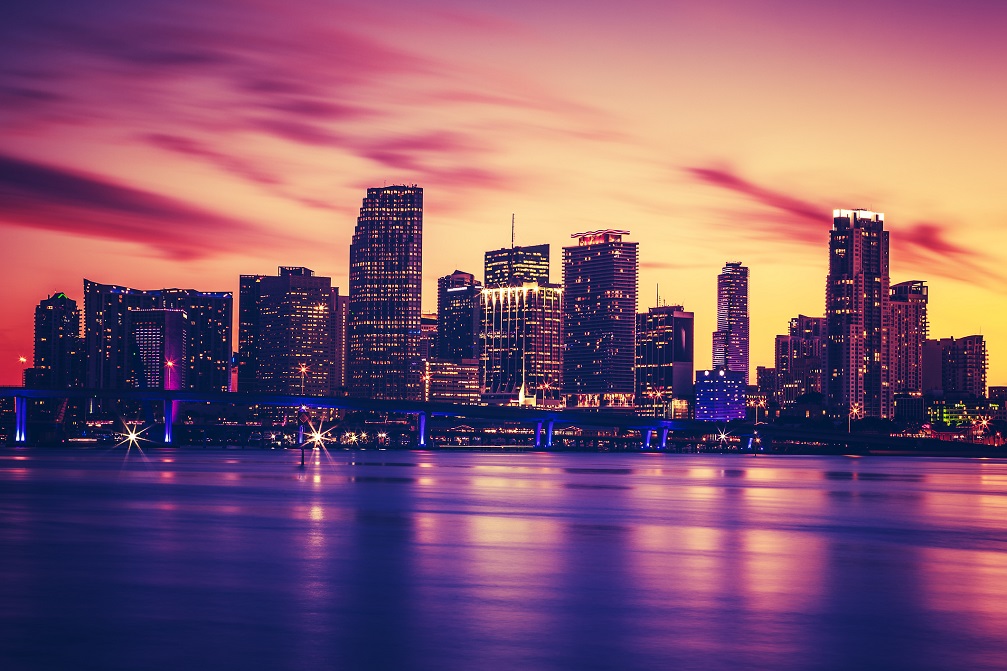 Stay
While it might seem obvious, if you want to avoid the college-aged party crowd, don't stay in places they can generally afford to stay. The budget hotel will be packed full of young travelers. For similar reasons, avoid all-inclusive resorts- these are magnets for college students looking for a week of drinking and cheap nightlife. Instead, choose to invest in a luxury hotel, particularly smaller boutique hotels. 
Nautilus by Arlo 
If you love a hotel with a little bit of old-world charm and glitz and glamour, the Nautilus is for you. It even has a barbershop on-site that converts to a speakeasy at night. It doesn't get much better than an extravagant cocktail in an exclusive venue. When you're not at the beach, you can lounge by the pool in a day bed or a cabana, which each come with a dining table, bar, and entertainment system.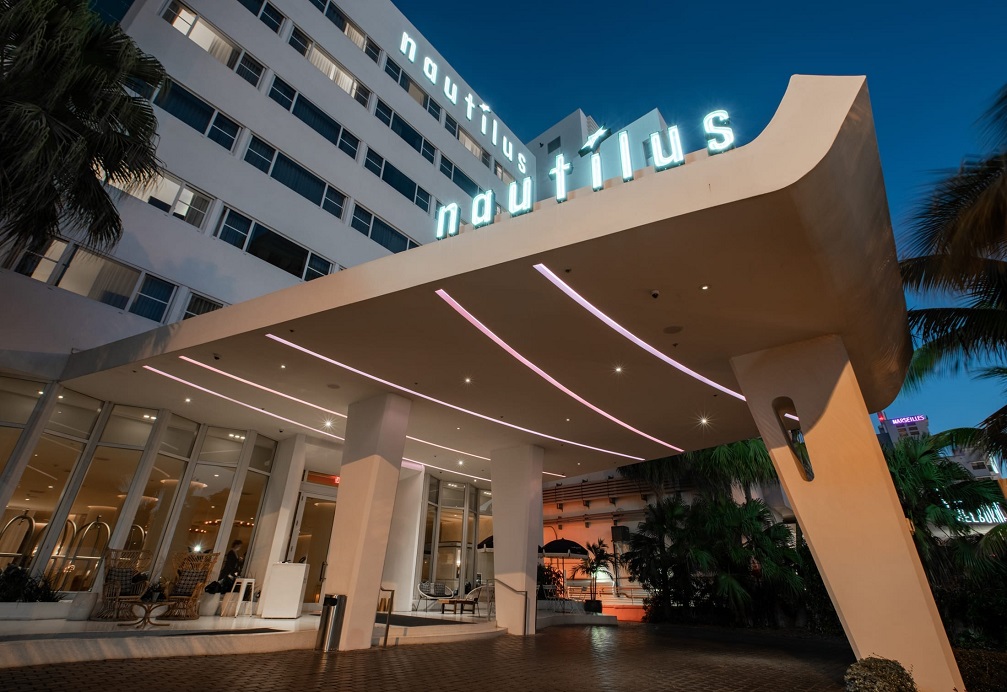 credit to the owner: (hotel front) https://www.arlohotels.com/nautilus-miami-beach/gallery/
The Surf Club 
This stunning Miami Beach hotel has a jazzy and historic, Cuban vibe with cobblestone walkways, high vaulted ceilings, rows of giant palms, and a Gatsby-inspired bar. The guest rooms are equally as stunning, boasting a beachy atmosphere full of clean lines, light woods, and pastel tones. Corner rooms have two glass walls for maximum views and most rooms feature a balcony with daybeds. This hotel has a start-studded past with a guest book full of names such as Frank Sinatra and Winston Churchill, so it's guaranteed to be a hit with even the pickiest of travelers. 

credit to the owner: (hotel Entrance) https://thesurfclub.com/the-surf-club.php
1 Hotel South Beach
Whether you want a stunning home-style suite with a luxurious twist, or a classic hotel stay featuring floor-to-ceiling windows for endless views of powdered beaches or the Miami cityscape, 1 Hotel South Beach is an excellent choice. It's impossible not to relax here amongst the modern, naturally-inspired décor. You can bounce around between their numerous private lounge areas or any of their four pools for a less crowded, more relaxing poolside experience. They even have an adults-only rooftop infinity pool.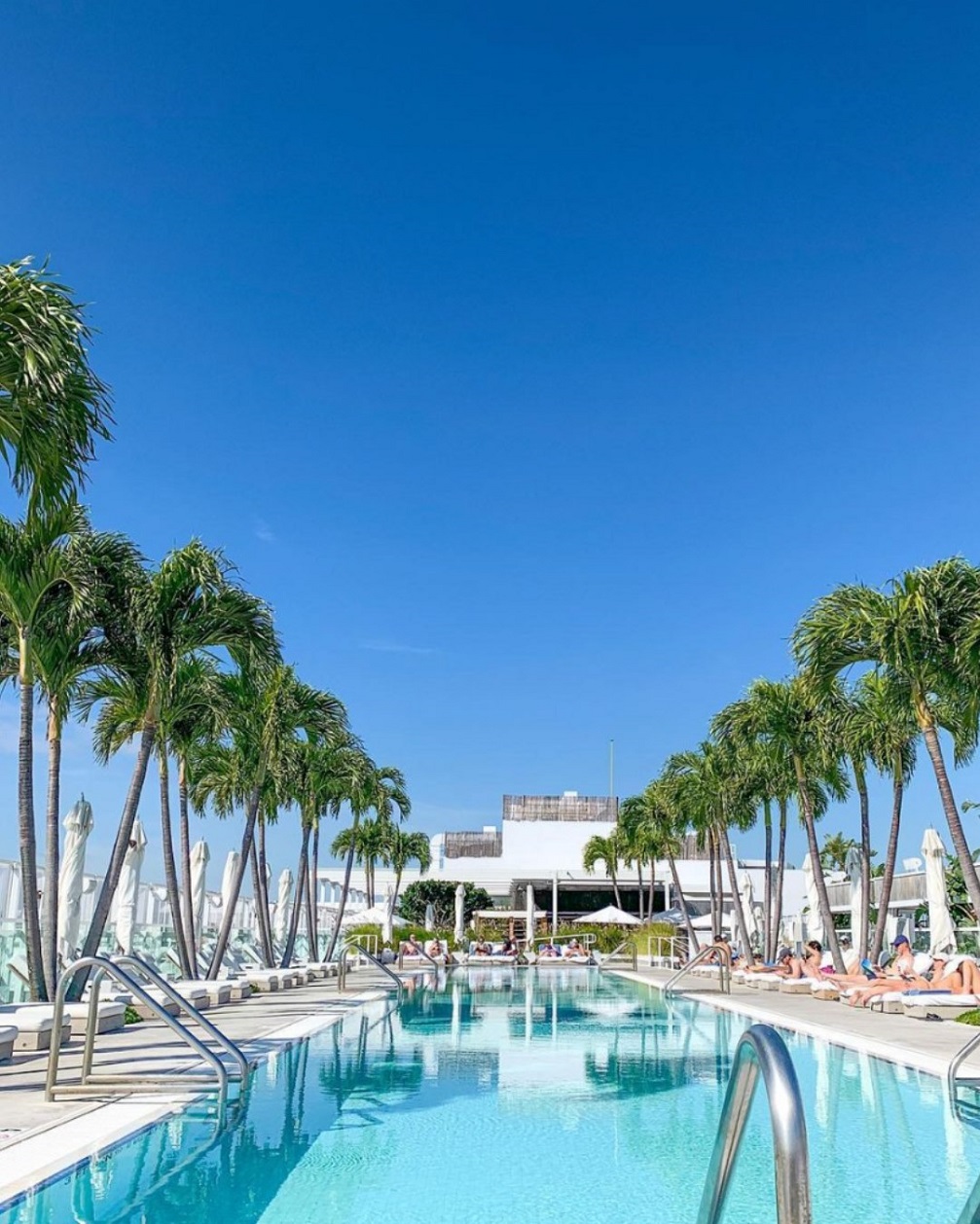 credit to the owner: (hotel pool area) https://www.facebook.com/pg/the1rooftop/photos
Eat 
Wondering what the best fine dining spots are in Miami? We've got you covered.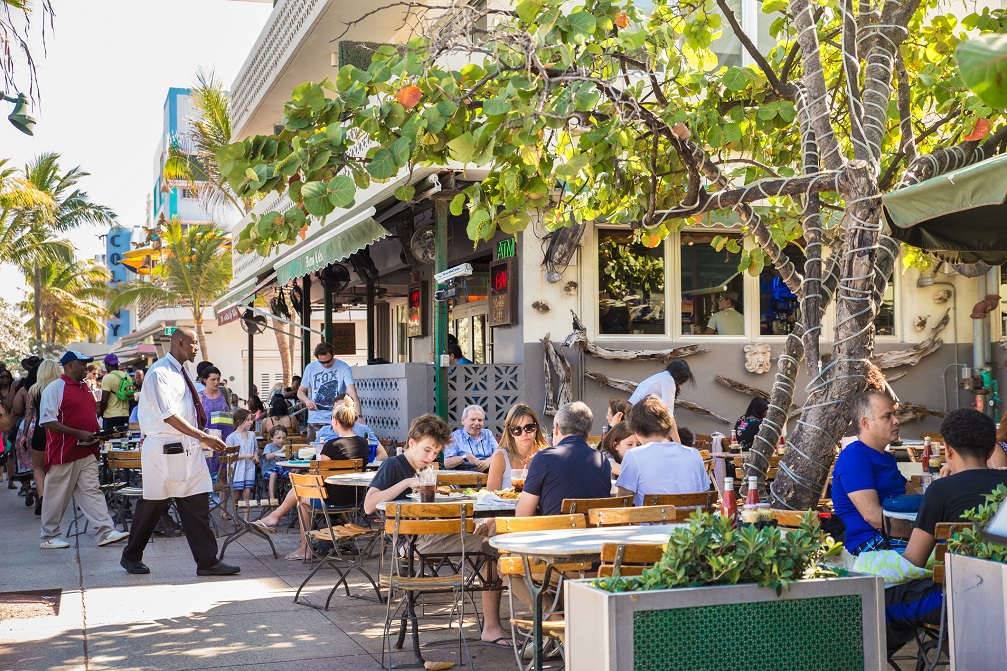 The Forge
Visit Miami's most iconic steakhouse. An experience like no other, you'll revel in reinvented steakhouse dishes, exquisite and eclectic design, and the largest wine cellar you've ever seen. 

credit to the owner: (dining area)    https://www.facebook.com/pg/forgerestaurant/photos
Pao by Paul Qu
This legendary Asian-fusion restaurant is an absolute must while in Miami. Its location in the Faena hotel will make you feel ultra-cool from tan leather booths, mahogany bars, and tropical palms. You might just feel like a whisky and cigar for dessert.  
OLA Restaurant
This award-winning Latin-Peruvian restaurant is the perfect place to be if you're looking for five-star food that pairs with a casual night out. With warm-toned, classy furnishings, the restaurant is meant to mimic a quiet cocktail bar, but you can always request a private dining room if that tickles your fancy. 
Juvia
This hyper-modern rooftop restaurant will have you debating what is more impressive- the dishes or the views. Depending on the type of dinner you're looking for, you can enjoy your meal from an air-conditioned glass room or an al fresco table on the balcony. Plus- the menu is an expert combination you've certainly never tried before- French, Japanese, and Peruvian. 
Do 
The key to building a high-end luxury vacation is to fill your itinerary with exclusive experiences. Here are some of the most luxurious things to do in Miami that will have you feeling like a millionaire.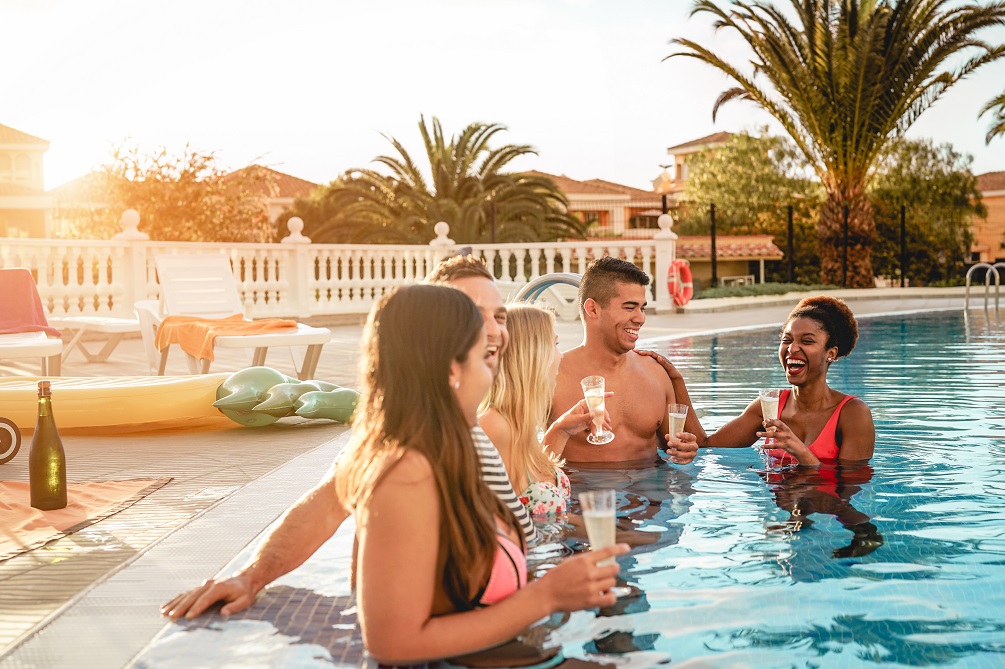 Have a Spa Day at the Tierra Santa Healing House
Nothing is more luxurious than being pampered in rooms full of dim lighting, marble, and crystal chandlers. If you're looking to get a little rest and relaxation on your trip to Miami, then the Tierra Santa Healing House is the place to go. You can indulge in any of the typical spa treatments you would expect from hot stone massages to fancy facials, but you can also enjoy holistic therapies and shaman-inspired healing arts. If you're traveling with your partner, you may also enjoy the sensual experience of a stay in the couple's spa suite complete with body wraps, massage, champagne, and a couple's soaking tub. 
Go Shopping 
No vacation is complete without a little international shopping spree. Thankfully, Miami has hundreds of high-end independent boutiques, as well as luxury shopping districts with all of the biggest brands in fashion. A trip to the Miami Design District will grant you access to Cartier, Louis Vuitton, and Prada, while a trip to Bal Harbour will give you Dolce & Gabbana, Armani, Jimmy Choo, and of course, Tiffany & Co. These are just a few of the major designers you can find in Miami, but realistically, you can find almost anyone if you know where to look- Miami is a great place for fashionistas.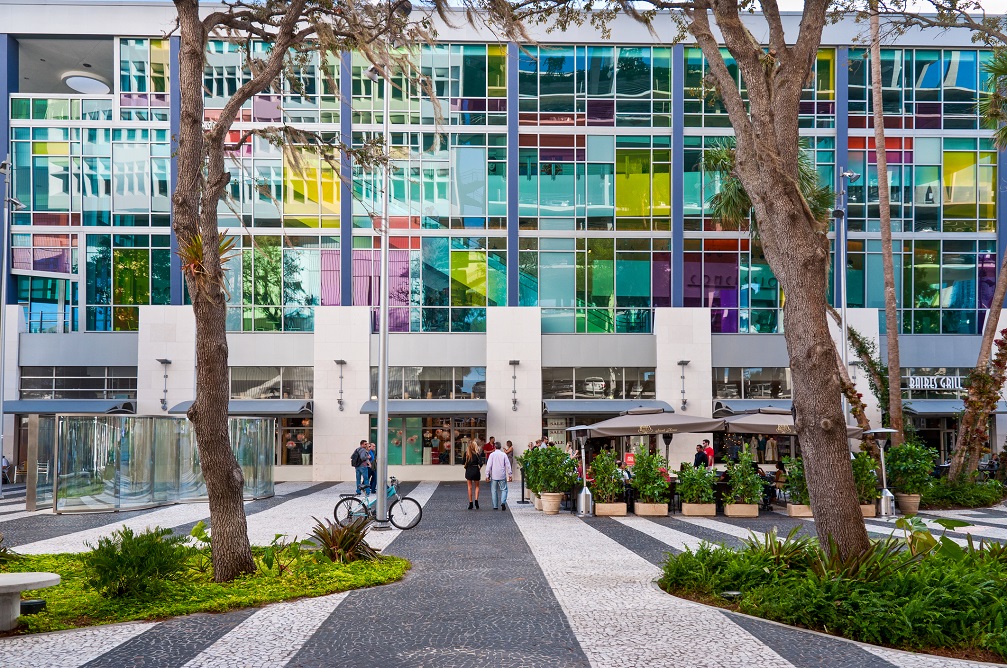 Lounge at a Luxury Beach Club
If you're trying to avoid the rowdy crowds on Miami beach for a more tasteful and relaxing experience, we recommend splurging on a day bed at one of the many luxury beach clubs along the waterfront. Joia, Baia Beach Club, and Nikki Beach are all known for their high-end bohemian vibes, synonymous with Tulum, as well as stunning cuisine and cocktail service. 
Afternoon Tea at the Biltmore
Why not get fancied up and treat yourself to a high tea? This French-inspired hotel packs a big punch with an al la carte or all-inclusive tea experience in a dramatic, opulent environment. You'll be able to taste exquisite pastries, listen to live harpists, and of course, sip some teas. This is a great choice for a classy, laid-back afternoon activity, particularly if you happen to get a rainy day or two during your stay.  
Go Sailing at Sunset 
Nothing says luxury quite like a private sailing charter and crew. Biscayne Bay is the perfect place to do this in Miami. You can book a trip during the day, but many companies will encourage you to do a sunset cruise, or even an overnight experience, for an added touch of the high-life. Fine dining is usually available on deck, so be sure to check what kind of cuisine is on the menu, and request champagne or premium liquor if this is something that would enhance our experience.