Namibia is home to the oldest desert in the world and over thousands of years, most of the country has stayed largely unchanged. Small settlements pop up every few hundred miles and the desert is still king. The mighty Namib derives its name from the Nama word for "vast place" and this vastness is what draws people here.
It is characterised by red dunes, scorched trees, and majestic antelope galloping over the sandy mountains. Apart from this magnificent desert, a holiday to Namibia provide an opportunity to see fascinating attractions that will bring you close to mother nature and dive back thousands of years into life in a simpler time. These are the places you simply cannot miss in this desert domain.
Namib Desert
Arguably one of the biggest attractions in the country is its namesake desert. This thin stretch of desert lies along the coast of the country and dunes tumble into the Atlantic as these two mighty forces meet. The Namib is home to the world's largest dune, the aptly names "Big Daddy". The dune is nearly as high as the Empire State Building and stands at 325m tall.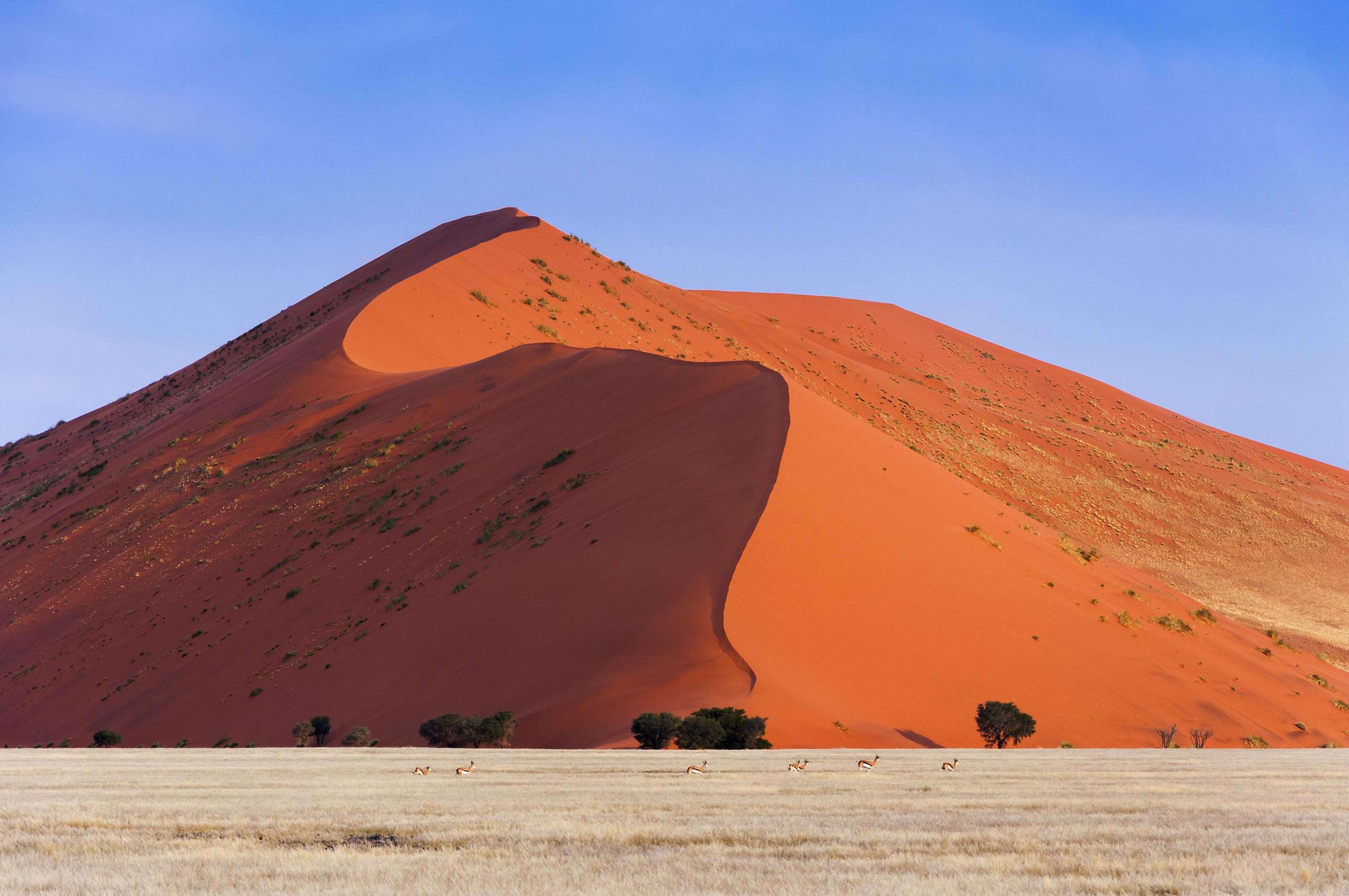 These majestic red dunes are found in Sossusvlei in the central part of the desert. This is also where you can see Deadvlei where camelthorn trees have been petrified by the scorching sun. These zombie-like tree fossils add an eerie majesty to the grand surroundings. Contrary to the name, not all is dead here. You will see the iconic Oryx antelope, ostriches, and Springbok roaming around.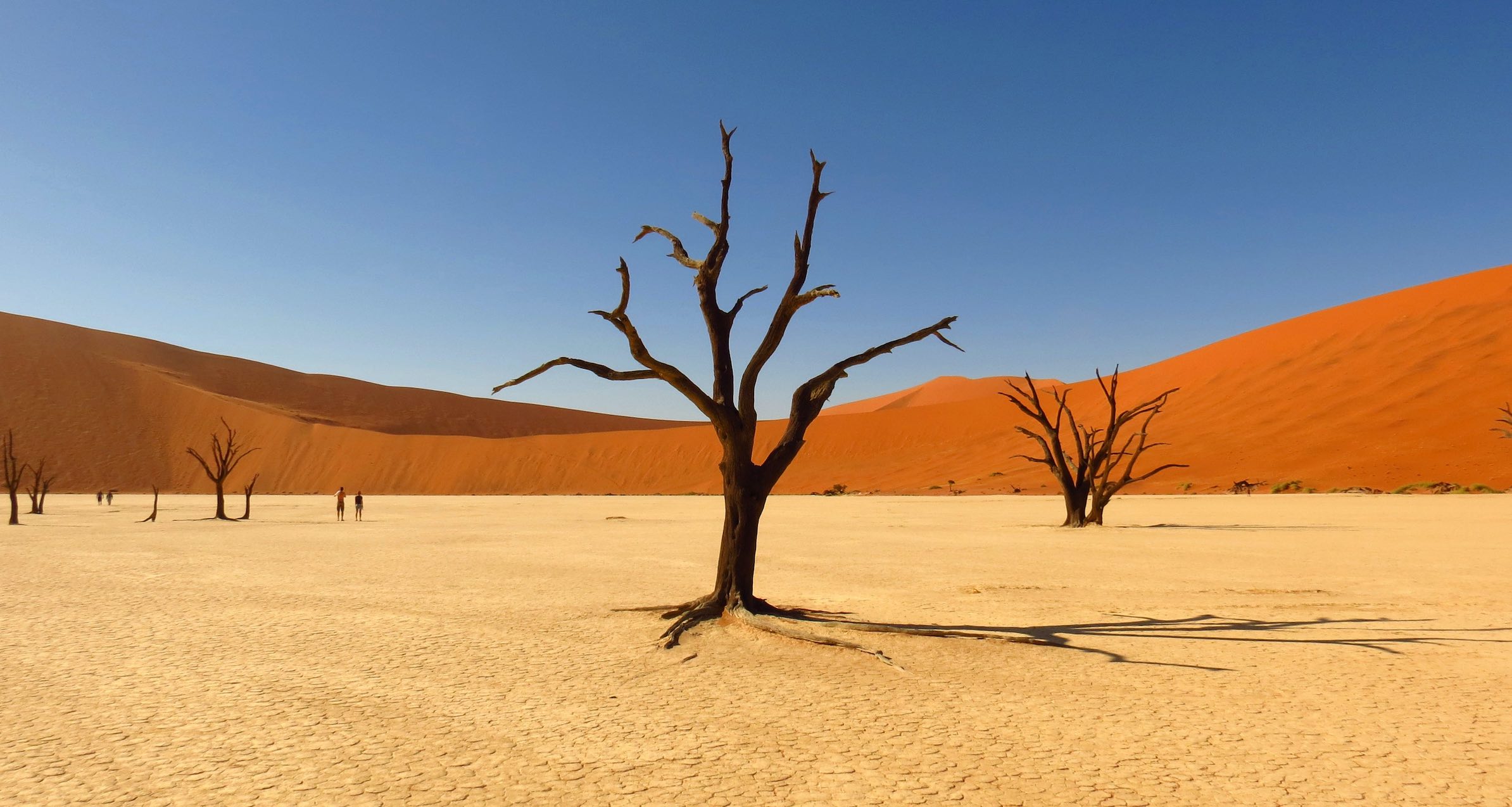 Kolmanskop
Outside the small city of Lüderitz is a ghost town entombed in the sand. Kolmanskop was once a German mining town but was abandoned in the 1950s as miners sought riches elsewhere. Nature slowly crept back in and today the desert spills into the windows and doors of these desolate houses to create a post-apocalyptic playground.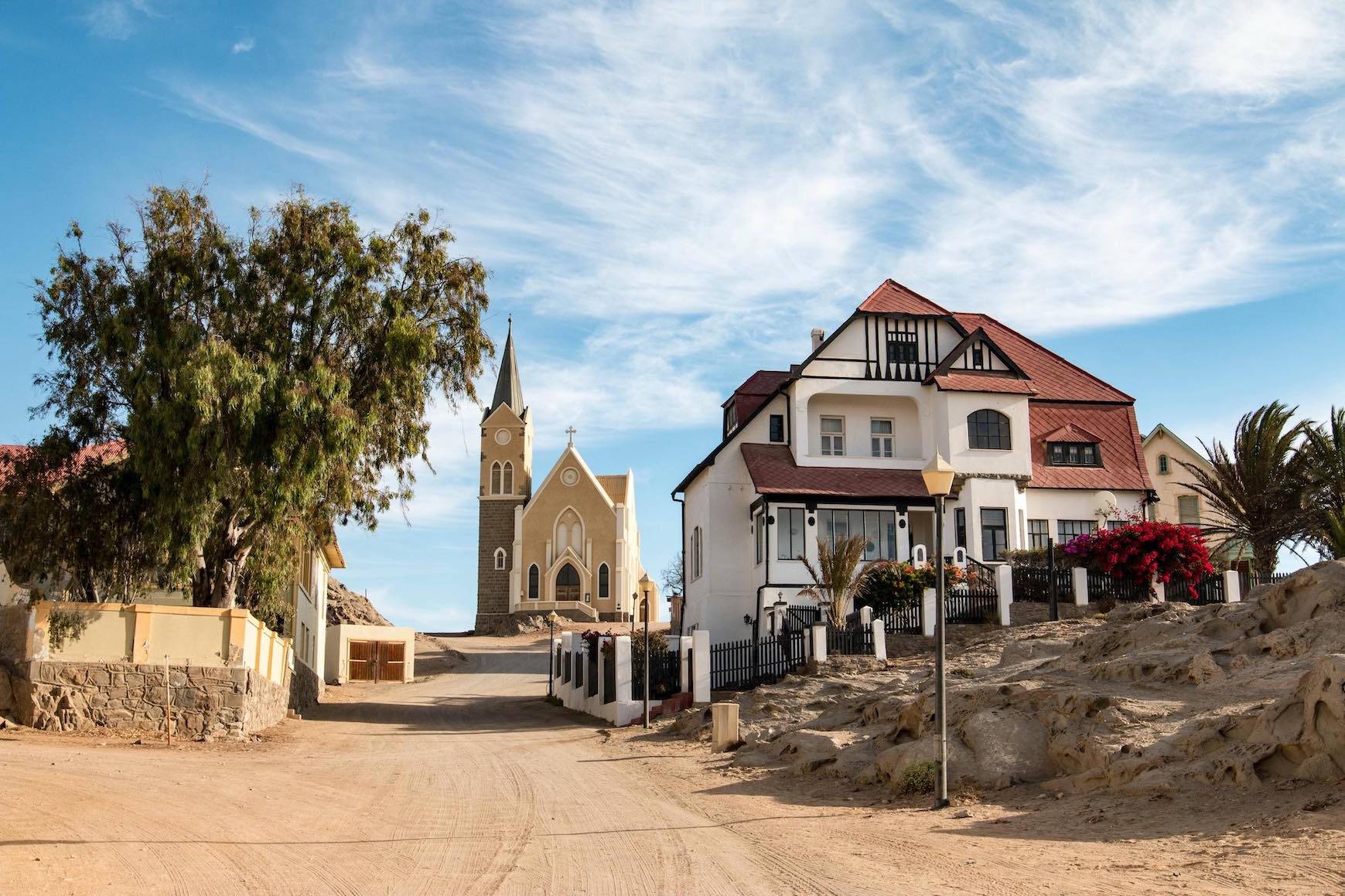 Amateur photographers get to buy special permits to enter the town during allocated hours. If you simply wish to enjoy the unique scenery you can purchase a cheaper permit for entrance before 13:00.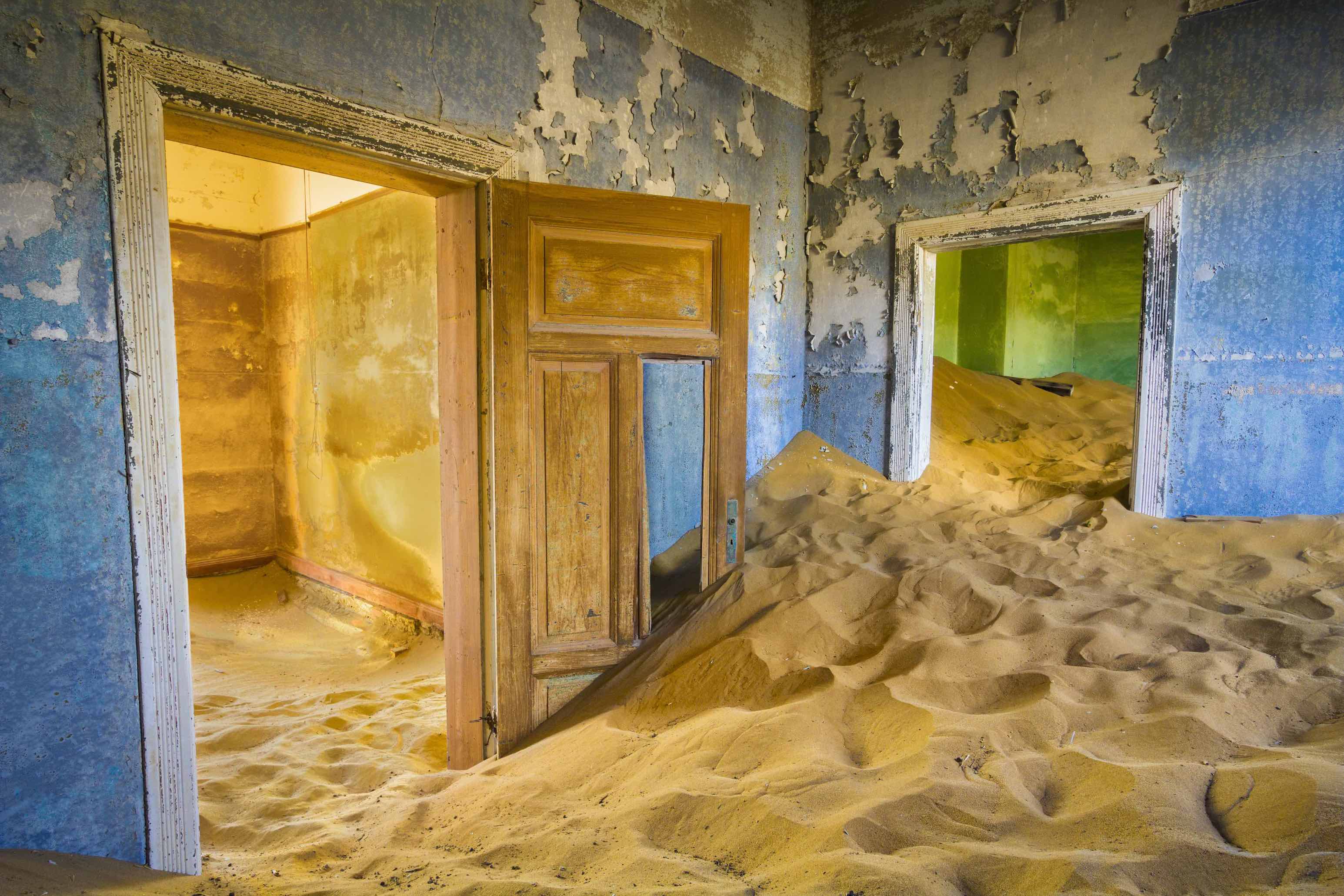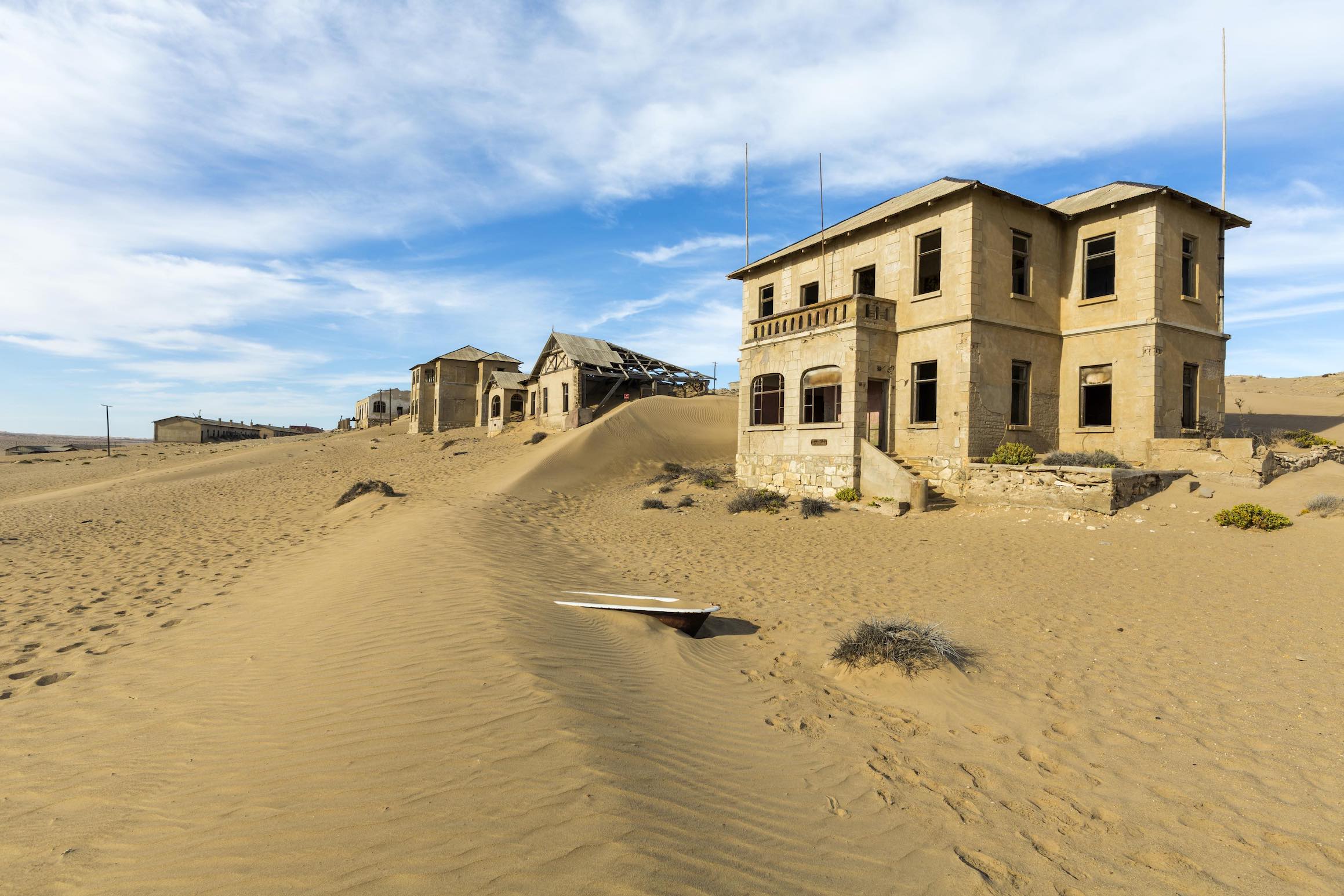 Fish River Canyon
The Fish River Canyon is the second largest canyon in the world and is nothing short of spectacular. It winds through the desert floor for over 160km and at its widest point, it is more than 25km across. You can get a bird's eye view of this 500-million-year-old phenomenon by taking a helicopter ride.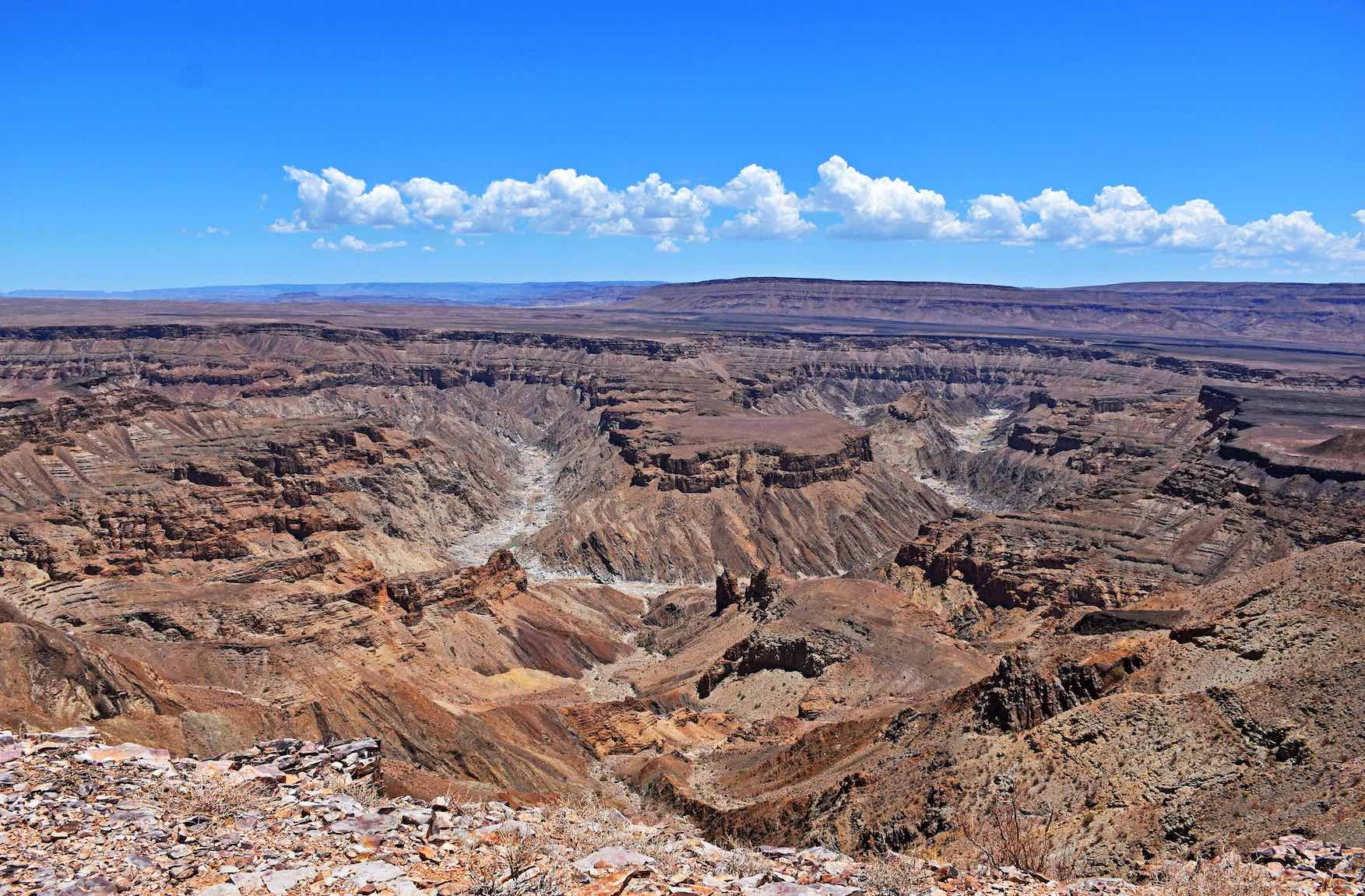 The hiking trails are also a big attraction but are not for the faint of heart. The 4-day Fish River Canyon Trail will take you through more than half of the canyon but can only be attempted if you are declared medically fit by a doctor. You will be rewarded with unparalleled scenery and remoteness like never before.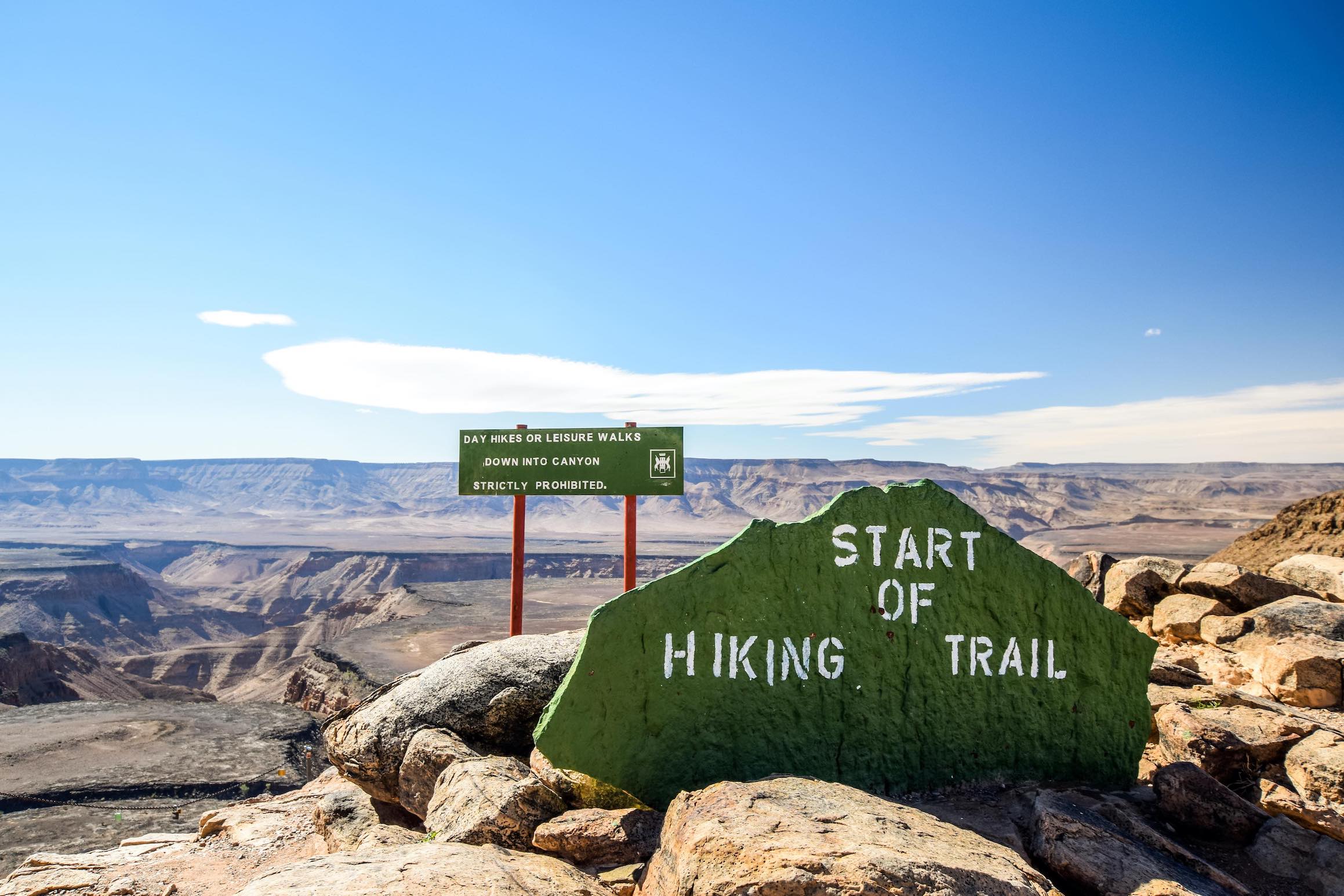 Etosha National Park
No holiday in Africa is complete without a decent amount of game viewing. In the north of Namibia lies the Etosha National Park which is uncontested as the best place to see Africa's magnificent creatures in the most breathtaking setting. Etosha is in actual fact a large salt pan and the name translates to "great white place". This creates a unique environment where wildlife is thriving.
Watering holes have been added to the barren lands and attract animals in search of sustenance. These spots are magnets for even some of the most elusive African animals such as Leopards and Rhinos and at night the watering holes outside the camp fences are lit up for nocturnal game viewing.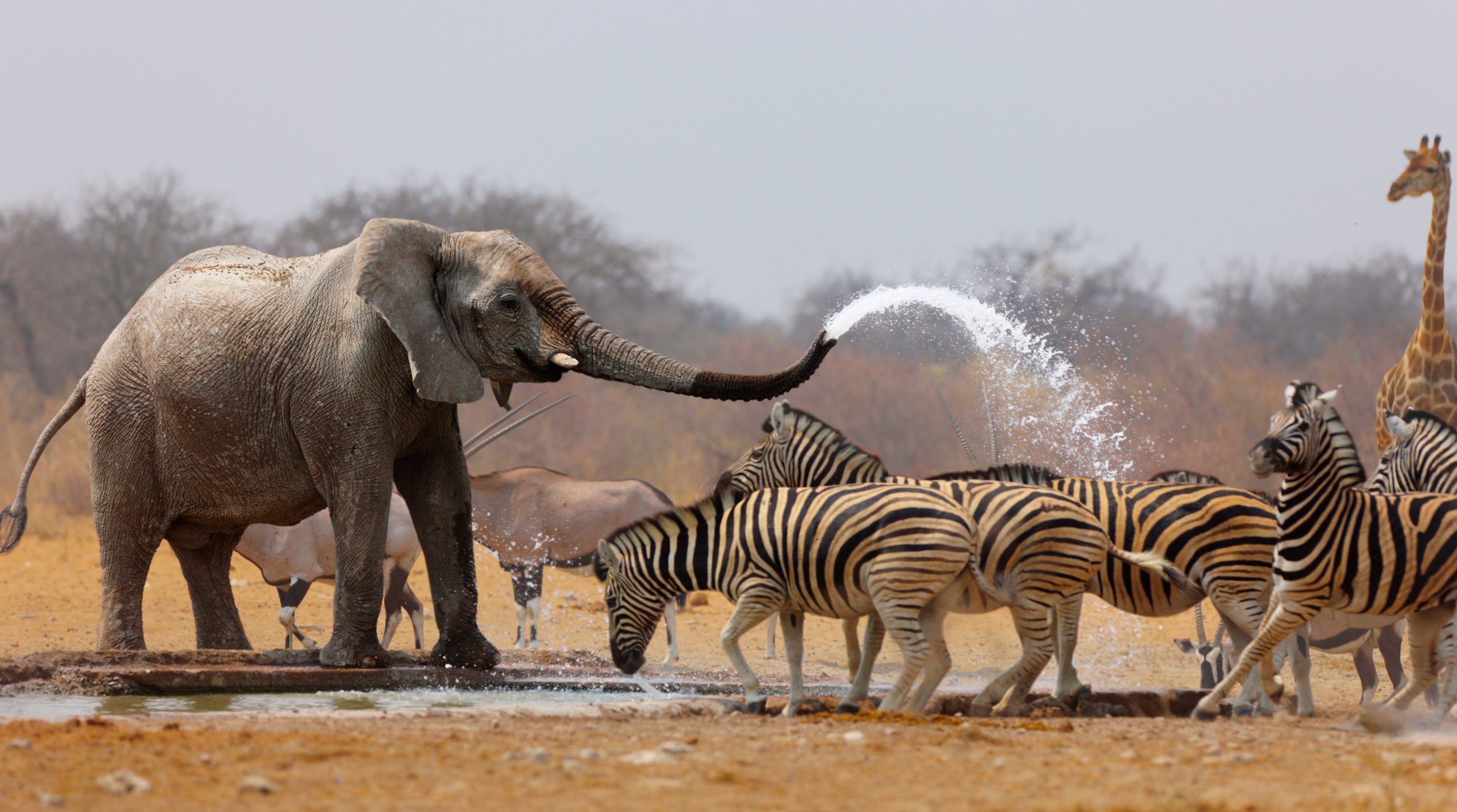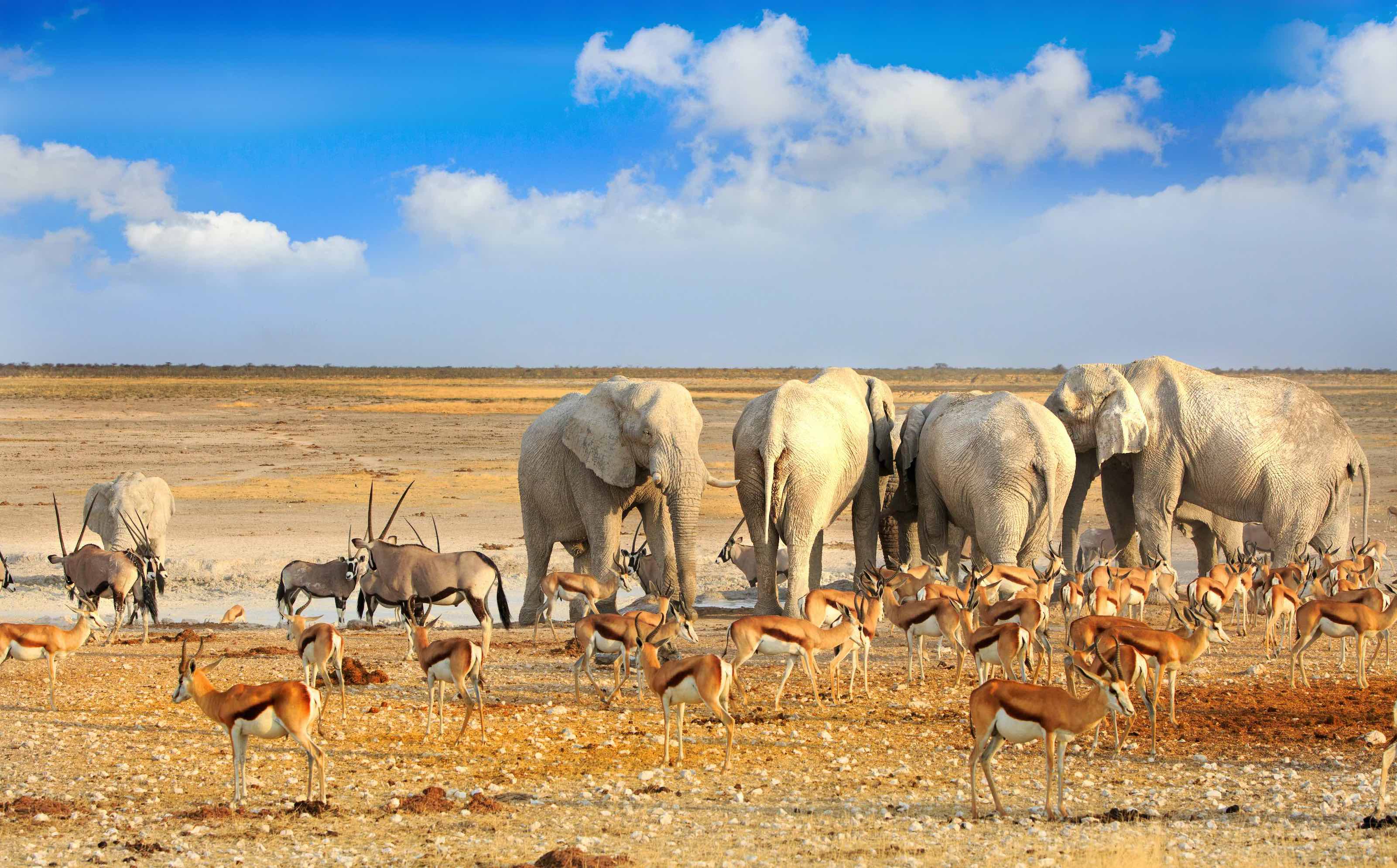 Animal Colonies
Two fascinating animal colonies are thriving in the central regions of the country. In Walvis Bay, you are treated to a pink spectacle where thousands of Flamingos congregate on the saltpan. The Walvis Bay Lagoon is home to more than 40,000 of these fantastically feathered creatures but you can also spot a variety of other birds including Pelicans.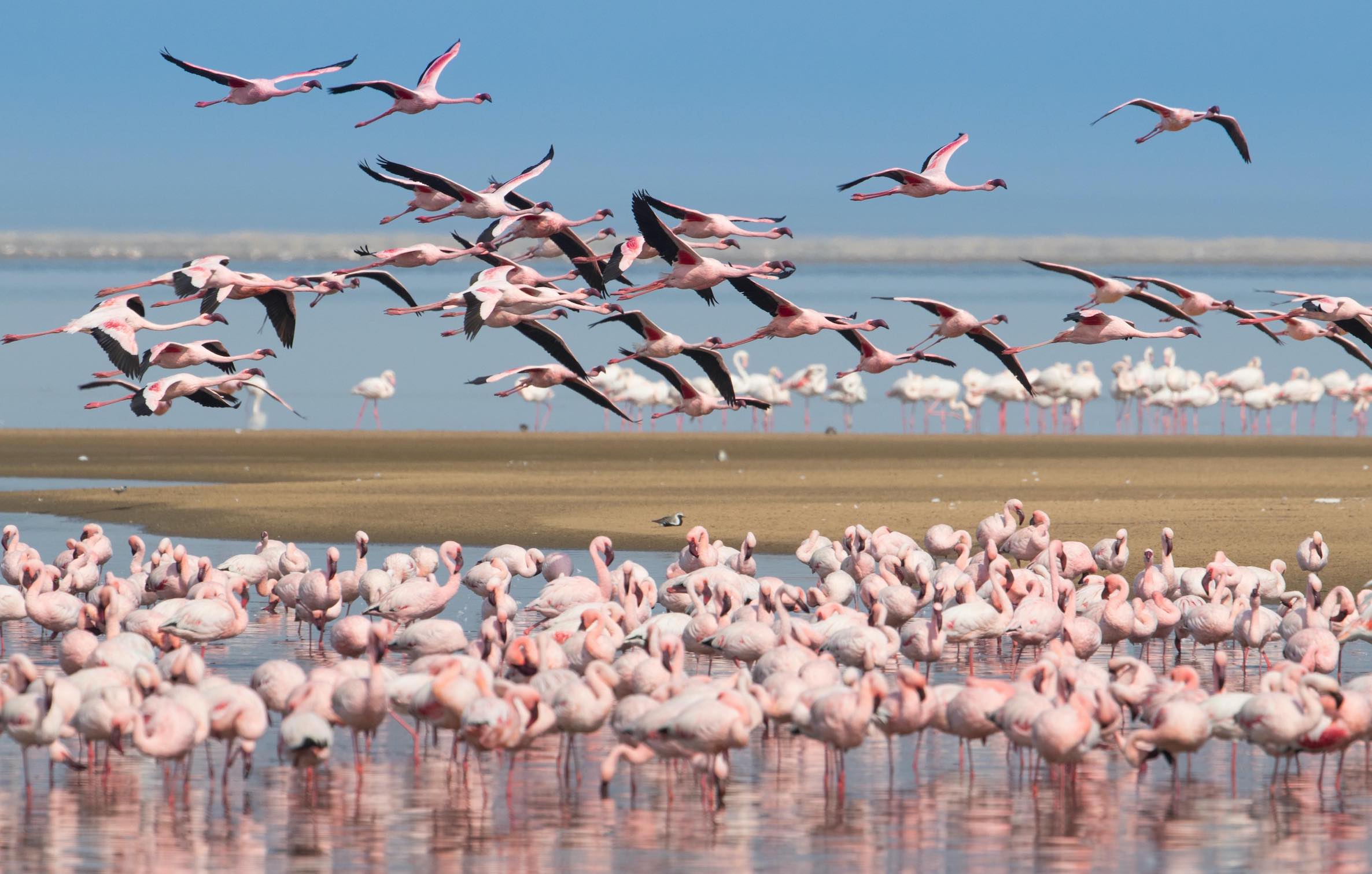 A little north of Swakopmund you should also pay a visit to the Cape Cross Seal Reserve. Here nearly 100,000 Fur Seals lay strewn across the beach catching some rays. Seal behaviour is a fascinating encounter and their migratory calendar runs like clockwork. In October males battle it out on the sandy shores for prime mating territory. Pregnant females arrive thereafter and give birth to adorable pups. You can see nature's greatest miracle up close from viewing platforms. Hyenas and Jackal are fierce predators in the area and their hunting behaviour is also something to behold.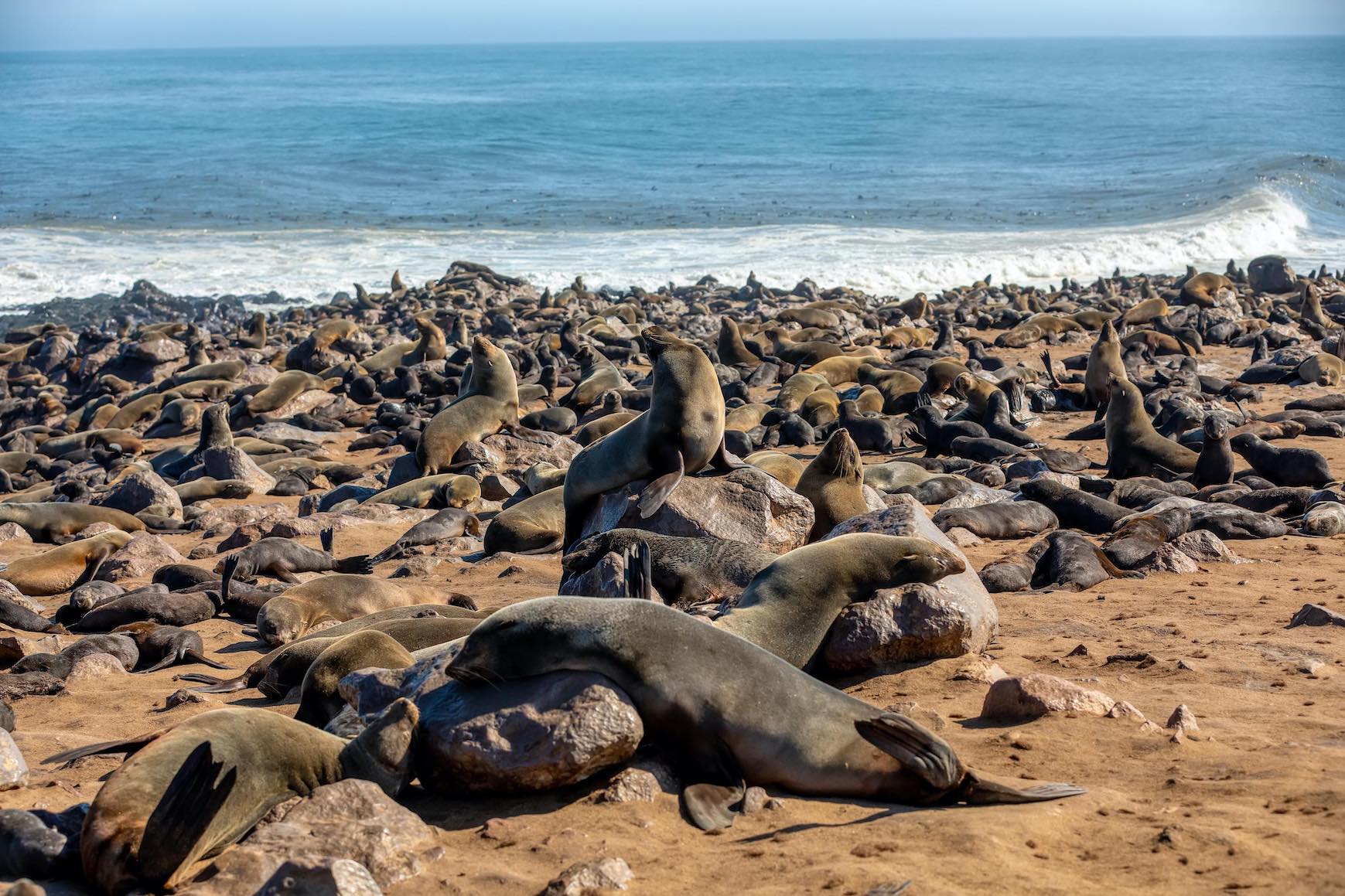 San Influences
The San people (or Bushmen) are one of the indigenous hunter-gatherer tribes of Southern Africa. They leave a fascinating legacy as these people lived in harmony with nature for thousands of years. One of their greatest treasures is the San rock-art that can be seen in caves and mountains across the country. Twyfelfontein in the north-west is a UNESCO World Heritage Site with well over 2000 documented rock art pieces, some of them dating back nearly 10,000 years. You can only visit these sites with a local guide who can pass on insightful knowledge about these evocative works of art.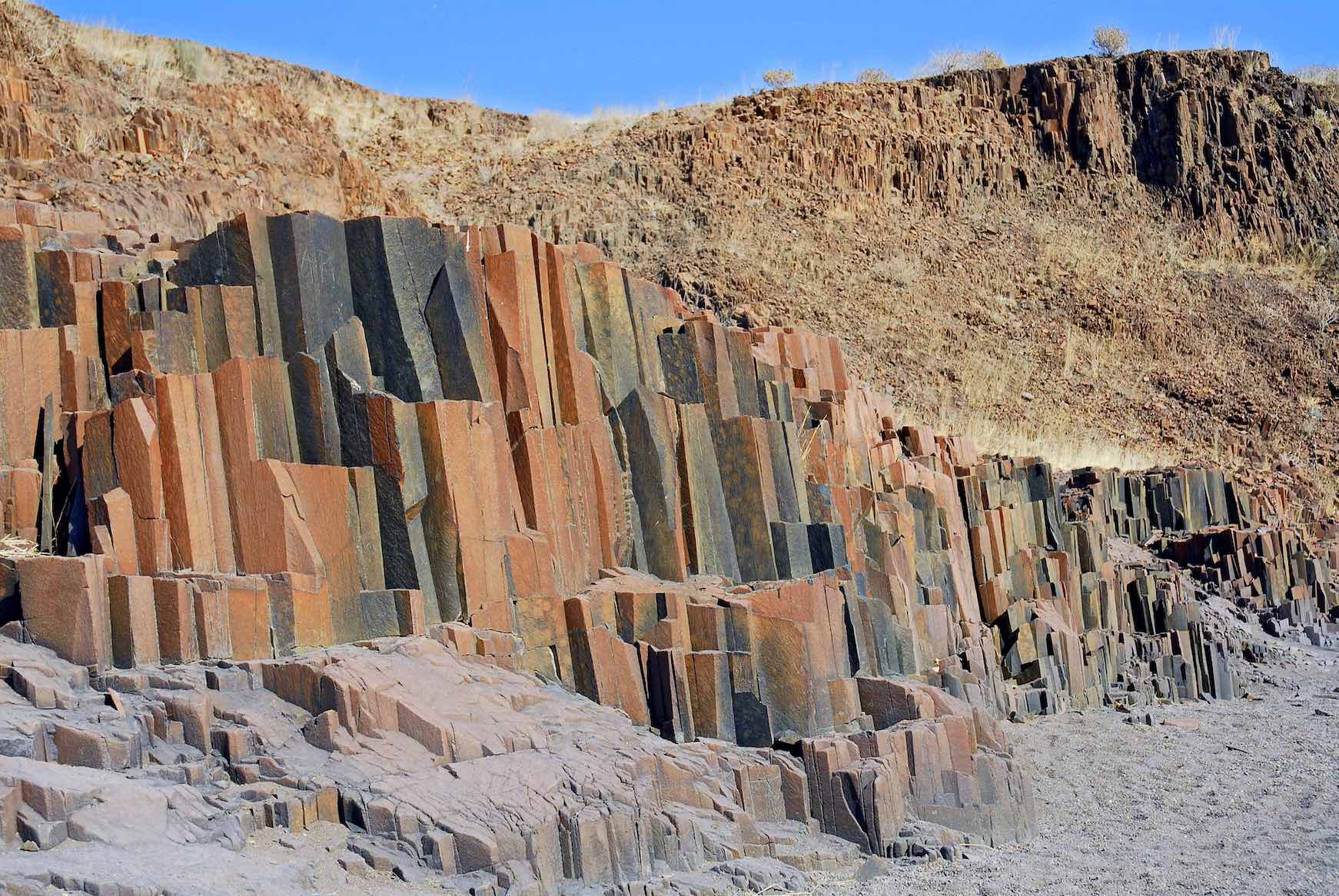 We have much to learn from these first nations regarding their harmonious co-existence with nature and their sustainable use of plants for weapons, medicine, and food. Quiver trees are a national treasure used by the San for, you guessed it, quivers. The Quiver Tree forest in the north consists of more than 200 of these glorious trees. This species of Aloe grows to be centuries old and up to 30 feet tall in some cases. They sprout out between inhospitable dolomite openings and visitors can take hikes through this mesmerising landscape.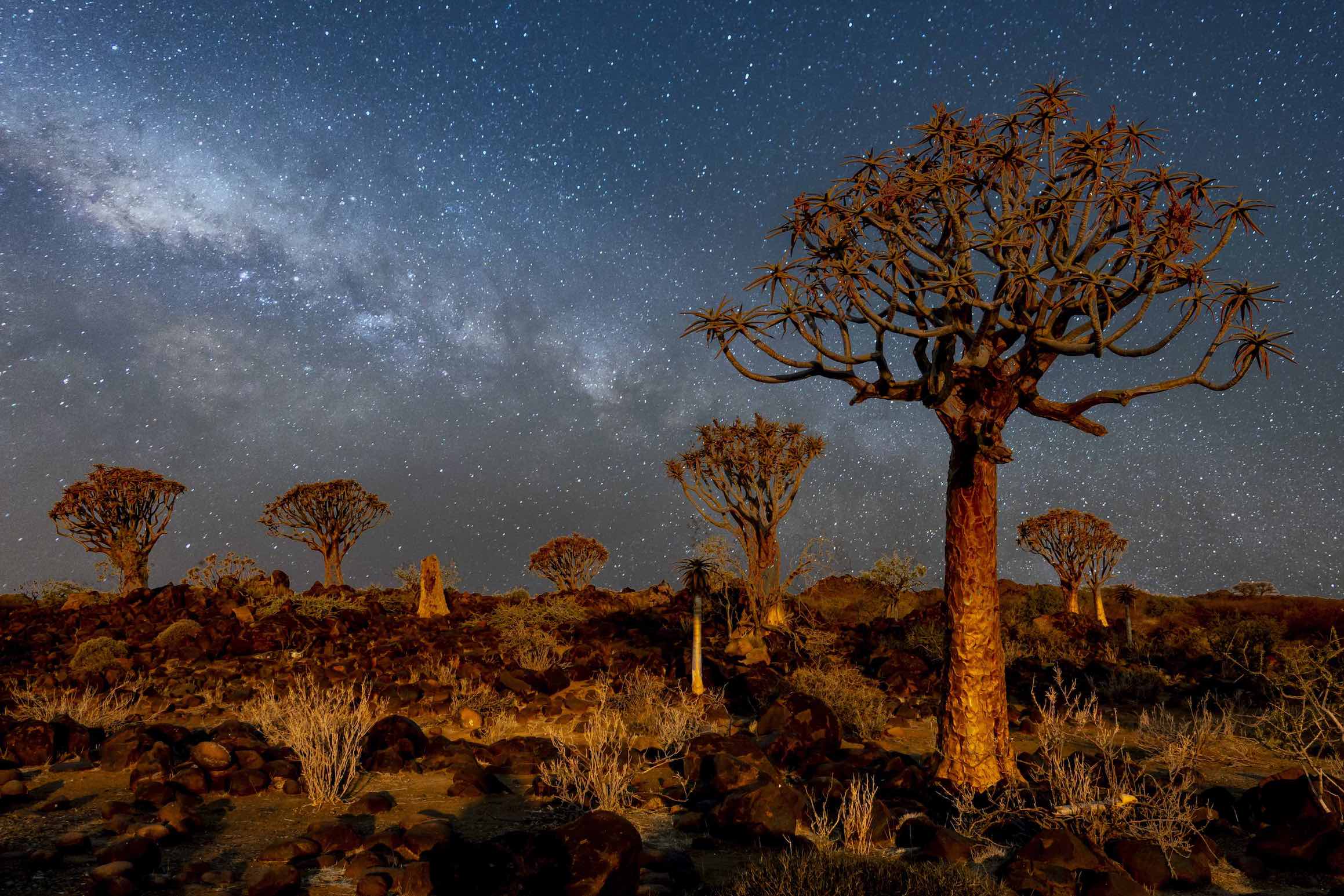 You can visit San tribes in the Erindi Private Game Reserve.