If you're like me, you've always dreamed about going on holiday to a place that reminds you of paradise. White sand beaches, a turquoise-colored sea, a light blue sky. The natural elements, together with a great service were exactly what I was looking for.
I found all that in my Maldives holiday at Adaaran Prestige Vadoo Hotel. This Hotel ticked all the boxes in terms of quality, price, perks, and ambiance.
Just by looking at the pictures online I was convinced. But we all know pictures can be deceiving and sometimes reality isn't the same. With the Adaaran Prestige Vadoo Hotel, though, the reality was even better than expected.
When arriving at this hotel by speed boat, I immediately got the feeling I had made the right choice. The light blue sea and the welcoming service were two key factors that surprised me.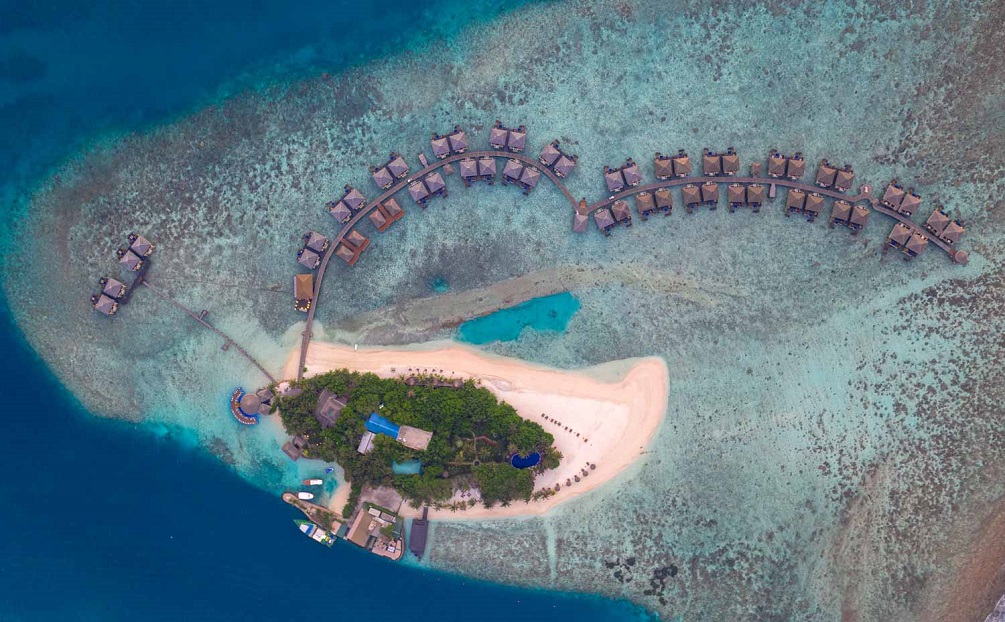 The Adaaran Prestige Vadoo Hotel offers a personalized experience, from start to finish. Since vacationing in the Maldives is all about living the full "island life" vibe, this Hotel knows how to make it happen. The best part is that I got the Adaaran Prestige Vadoo Hotel discount, exclusive for those who book a package holiday offer.
This was the holiday of a lifetime to me, and so it can be to you. If you'd like to book Adaaran Prestige Vadoo Hotel for your next trip, read my review first. It will help you decide on which room to choose, and if you should opt for the all-inclusive package as I did.
The Rooms
There are three types of villas, and each has its benefits. I chose the Luxury Sunset Water Village because I wanted full privacy. Also because I've always loved sunsets more than sunrises. This one has a wonderful ocean view that looks like nothing else I've ever seen.
Sunrise Water Villa:
It's the most affordable room and it offers almost as many perks as the other ones. Since it's not facing the ocean, it's facing the island, it lacks a bit of privacy. If that's not a deal-breaker for you, it's still an amazing option – with a private infinity pool.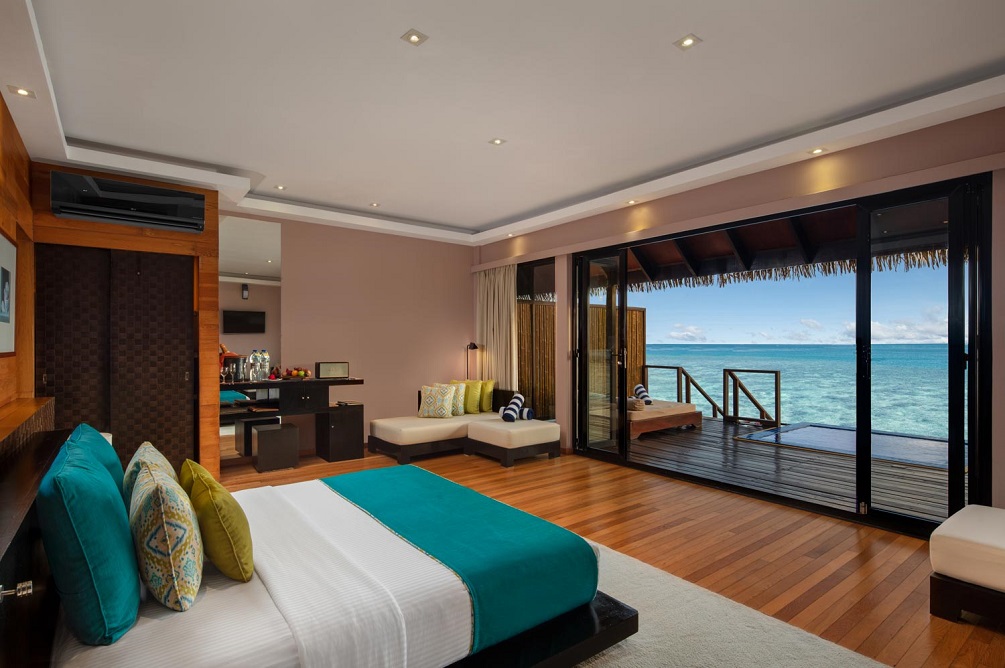 Sunset Water Villa:
Facing the ocean and benefiting from full privacy, this room gives you the impression that you're all by yourself on a paradise island. The sunset colors, with vivid pink and orange, make the most beautiful pictures. It also has a private infinity pool.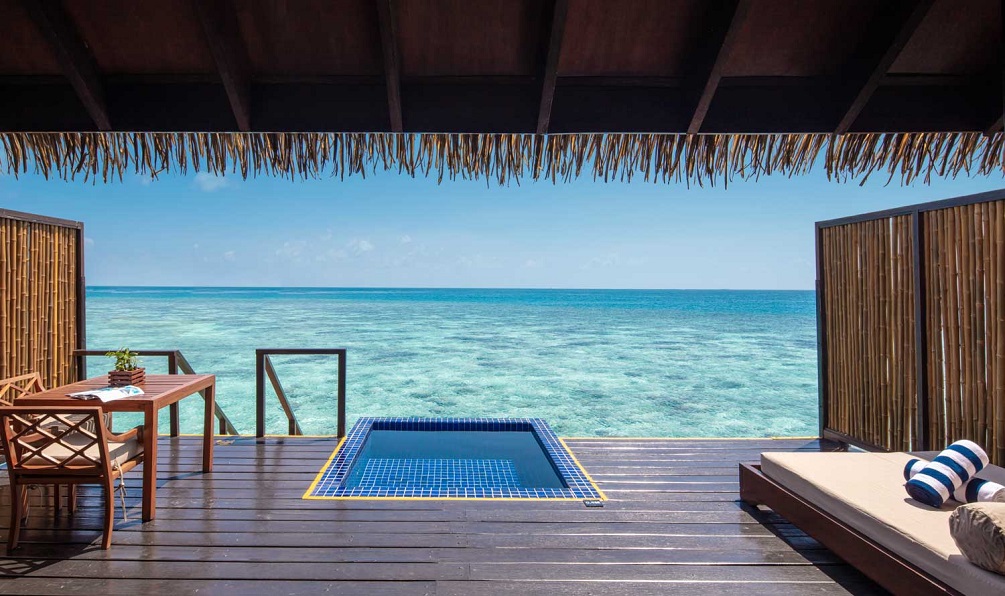 Honeymoon Villa:
Larger in size and with extra benefits included, this is a special Villa. The pool is slightly bigger, making it the perfect option for honeymooners.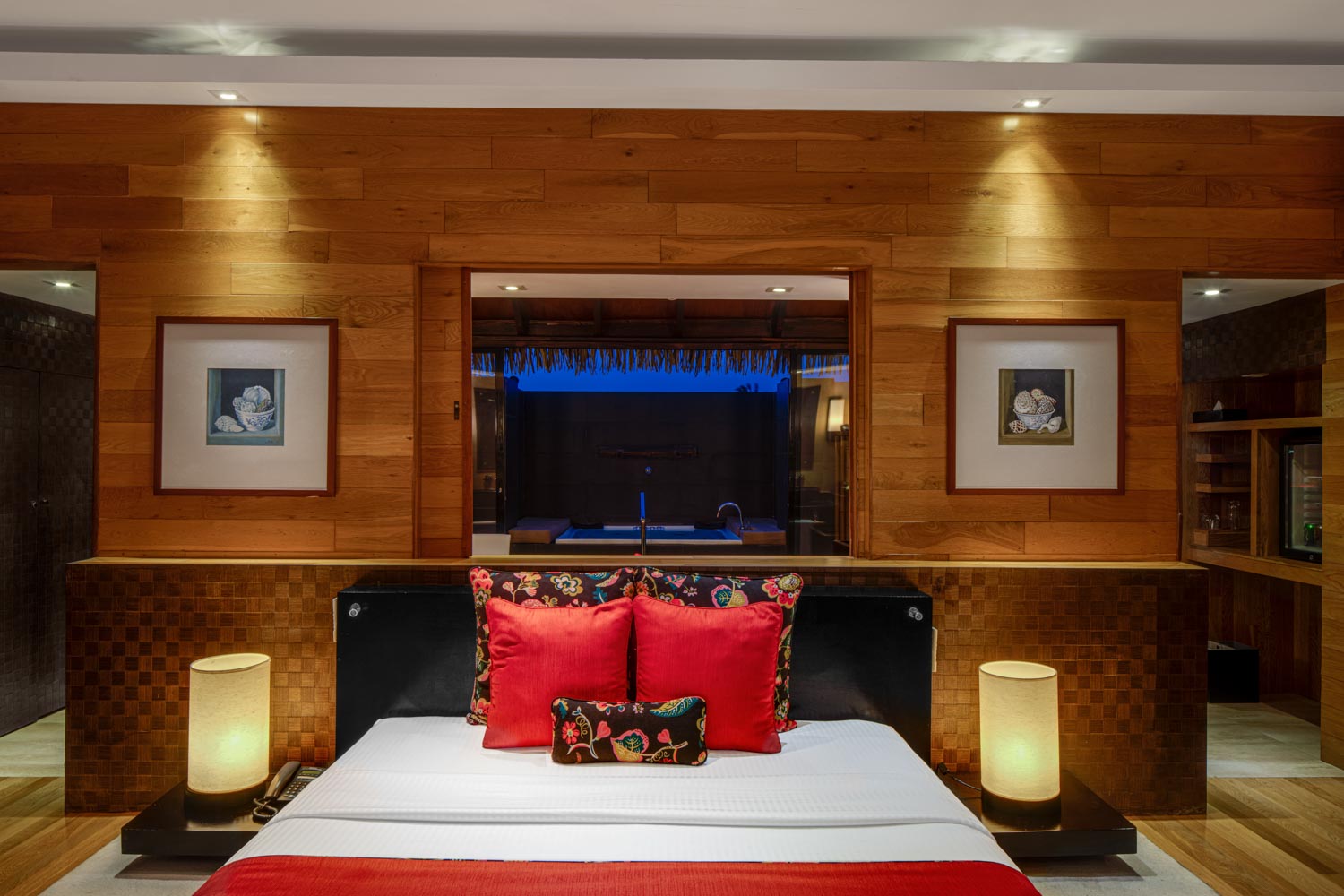 Included Extras:
All three rooms include extras that I wasn't expecting to get and that can only be found in a true luxury hotel. The ones that impressed me the most were:
-Pillow Menu – You can select your favourite pillow and choose from different levels of firmness;
-24 Hour Butler Service – As soon as you check-in, you'll have at your disposal a Butler, 24 hours available for you, for anything you might need. The Butler is someone who you can trust with all your concerns and doubts about the Hotel.
That surely is the type of holiday offer I wasn't expecting. Especially because it's included in the price you pay. Also, it applies to all room types and any holiday package;
-Private Dining area on deck – Perfect if you'd like to enjoy a romantic dinner at sunset;
-Private Pool – Every room benefits from a completely private pool, just next to the ocean;
-Jacuzzi in the bathroom – At the end of the day, it's one of the most enjoyable baths you can have;
-Television in the bathroom – You can relax with a bubble bath while watching TV.
Available Packages
My idea of holidays in paradise includes unlimited food & drinks. After exploring all the options I knew all-inclusive would be the option for me. Many of my clients are apprehensive at first about paying a fair bit more than the price of bed & breakfast. What you have to remember is that you are stuck on an island and you can grab a bite from the local KFC or snacks from the nearby grocery store! If you order room service or pay for meals à la carte, you will end up spending a lot more money than the upgrade cost of all-inclusive.  
If you are still unsure about whether to go for an all-inclusive holiday offer or not, just look at the photos of the meals on offer. From the extravagant breakfast spread to sumptuous lunches and dinners, you will not be disappointed and you will certainly not go hungry! If 3 meals a day is too little, the resort will also offer you a traditional high tea spread between lunch and dinner. It simply makes sense to go all-inclusive.
Remember, the all-inclusive deal doesn't leave anything behind. It includes four main meals a day and all-inclusive drinks, alcoholic and non-alcoholic.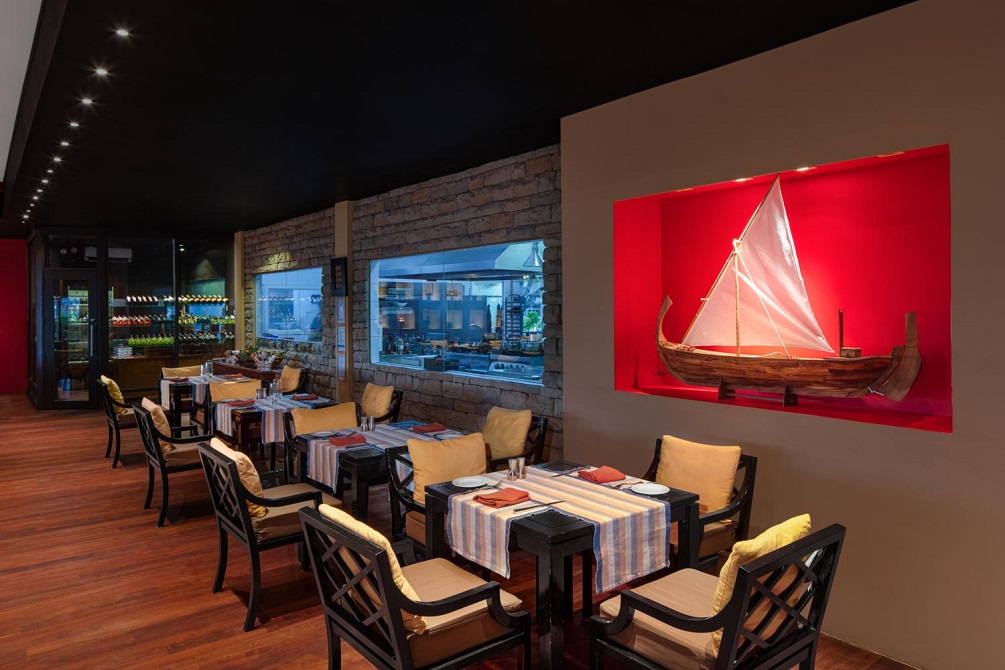 The other types of packages are as follows:
-Breakfast Only
-Breakfast & Dinner
The all-inclusive package includes some unexpected extras which even I didn't know about before booking. I'll leave this as a surprise for you to find out during your stay.
Final thoughts
I found everything I knew and didn't know I wanted in the Adaaran Prestige Vadoo Hotel in the Maldives.
The white sand beach with turquoise blue ocean, just 20 minutes by boat from the airport – conquered me. It's a mistake to think one has to go to the farther islands of the Maldives to truly get the vibe of this beautiful place.
I got the full experience during my Adaaran Prestige Vadoo Hotel holiday in the Maldives. I snorkeled, I ate typical Maldivian and Indian food, I enjoyed the sunrise and the sunset. For an all-inclusive resort, this was a luxury experience like no other. One I'll never forget – and all for good reasons.