Central America is a biodiversity hotspot. Typically, hotspots are biogeographic regions with high levels of biodiversity, from colorful fungi to giant whales. Unfortunately, these hotspots are often at risk of human-induced threats. 
Paving the way for species conservation and protected land is the small Central American country of Costa Rica. With over 33% of the land designated as National Parks and reserves, Costa Rica is undoubtedly one of the best places to visit to see thriving wildlife in its natural environment. With a wealth of ecosystems, from coral reefs to cloud forests, the country boasts approximately half a million species. This is a substantial quantity, in a geographic area of just 51000km². 
Other countries in Central America are beginning to follow suit. The landmass of Nicaragua consists of 17% protected areas, which are important breeding grounds for many exotic bird species. In the North, the government of Belize is investing significant resources into the protection and conservation of marine ecosystems and promoting ecotourism. 
Owing to the tropical climate around the equator, any destination in this Mesoamerican region will reward you with a plethora of wildlife encounters. For some, you won't even need to leave the comfort of your accommodations to see. Read on to explore the rich variety of some of Central America's most iconic animals. 
People across the globe are sloth crazy. We can't help but fall in love with their almost comical, slow-paced life. Recently, Costa Rica has announced the sloth will appear alongside the white-tailed deer as the National Animals of the country. These sleepy mammals can spend up to 20 hours a day snoozing high up in the canopy, so don't forget to look up when you're exploring the National Parks. Interestingly, sloths only venture down to the forest floor once a week or so, primarily to defecate, which has long baffled scientists. 
There are 2 different species of sloths found throughout Central America, with a few other subspecies dotted around. Most people just know them as the two-toed sloth and the three-toed sloth. Besides the obvious morphological differences in "toe" numbers, slight differences in the species include diet and habitat. In Costa Rica, some of the best places to spot sloths in the wild are in the National Parks of Manuel Antonio and Arenal.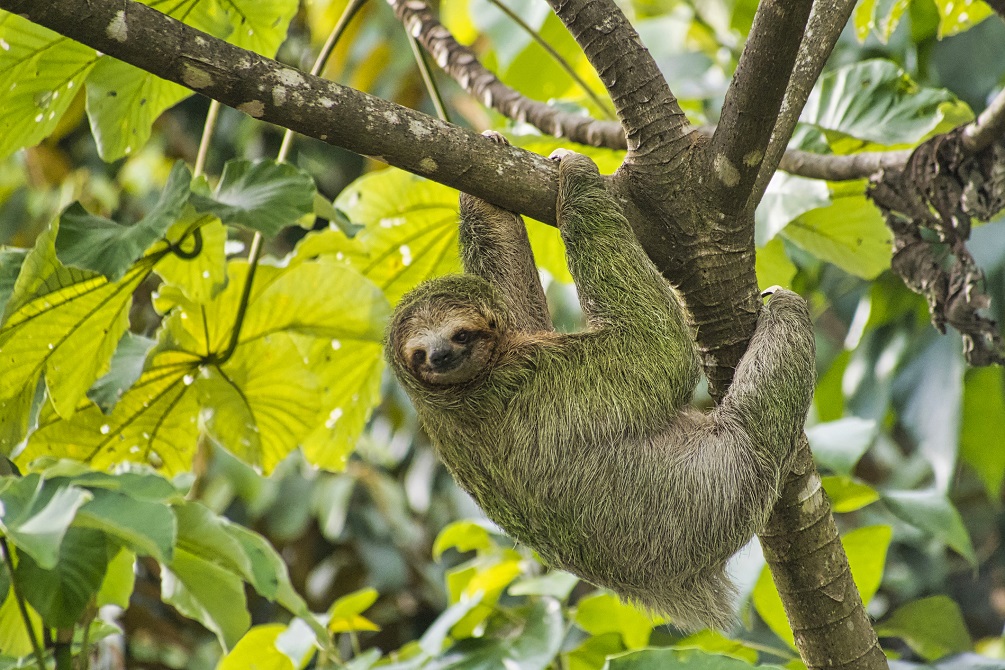 If the rest of the world is sloth crazy, I am monkey crazy. Their energetic personality and high adaptability to jungle life are captivating. Throughout Central America, at least 7 species of monkeys can be found, as well as subspecies. 
As well as being one of the largest New World primate species, Geoffroy's spider monkey is also the only primate to be found in all Central American countries. The howler monkey comes in at close second, occupying at least 5 countries. Incredibly, howler monkeys are one of the loudest animals on the planet, with males exhibiting a deep, glutaral roar to ward off potential male rivals and to claim their territory. Capuchin monkeys can be found in 4 countries and are thought to be the cleverest of all the New World primates. Despite their large ranges, most species of these primates are threatened with extinction, due to habitat loss and the exotic pet trade. 
Panama is one of the best countries in Central America to spot monkeys, as they have the highest diversity of primate species, including 3 that can only be found within the jungles of Panama, including the Panamanian night monkey.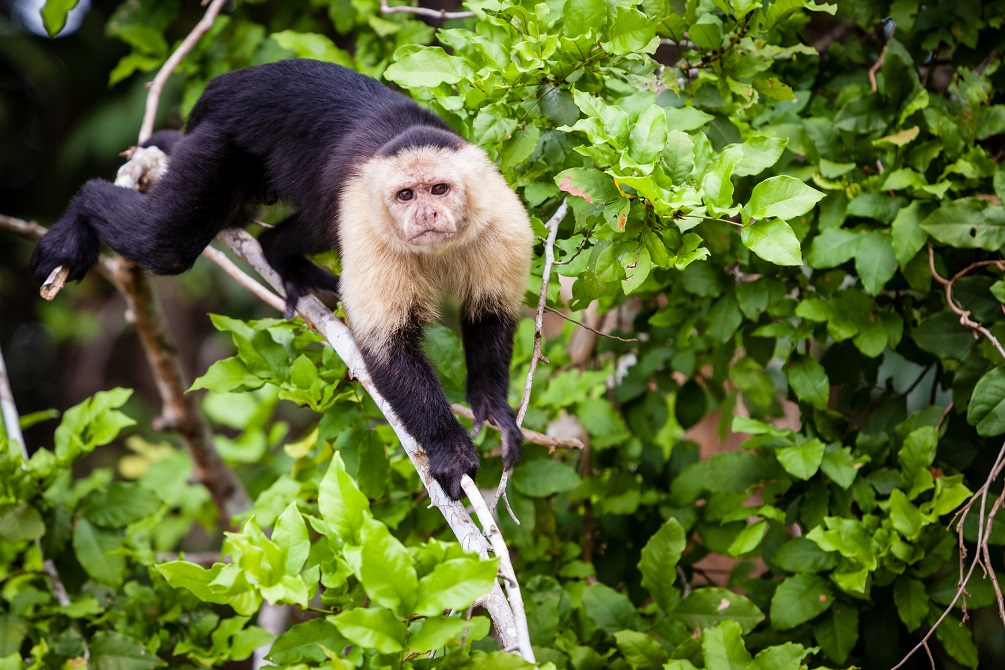 Related to raccoons, and indeed sharing a few of the same characteristics, coatis have a large range, stretching from North America all the way down to South America. These highly adaptable mammals have colonized many areas and are a popular tourist attraction. Be careful though, as their sharp teeth can give you quite the nip if you get too close. In the wild, their use their elongated snout to sniff through the undergrowth and decaying wood matter, and sharp claws to break apart detritus or digging for prey. 
They are interesting animals, loosely resembling a cat. Typically, you can find them in big groups of up to 25 individuals, scurrying through the undergrowth and squeaking noisily as they go. One of the adaptations they share with their raccoon cousins is the ability to rotate their ankles 180°, to aid in climbing down trees.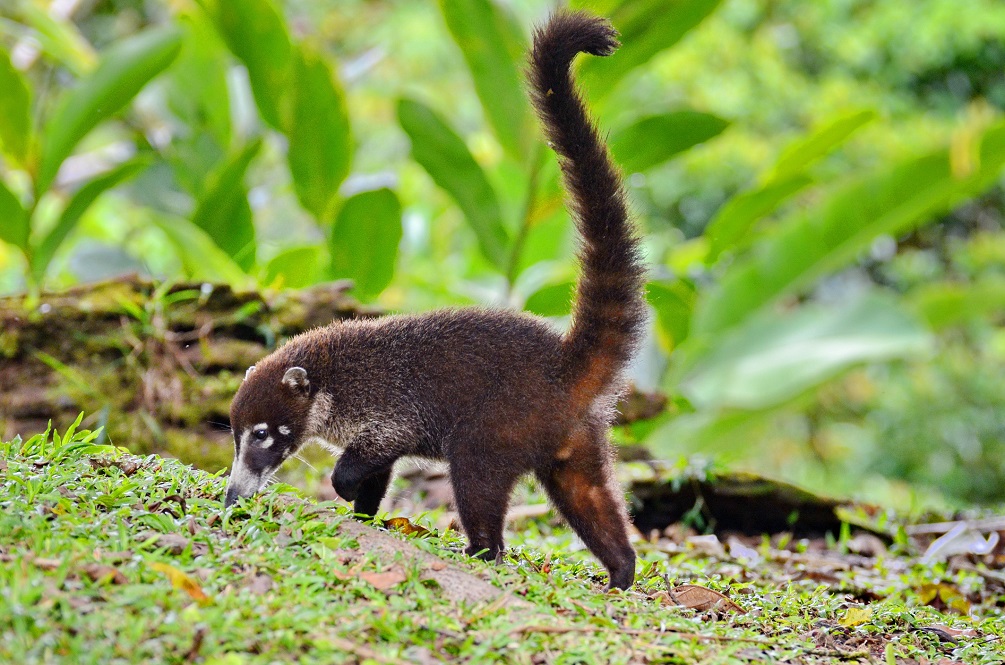 These prehistoric giants are a rare treat to find. Once a common sight through much of Central America, their populations are now dwindling and are now thought to be critically endangered. Nicaragua, Costa Rica, Panama, and Guatemala are just some countries that have biological reserves that help protect the species. In many places, specialized rangers patrol the beaches and collect as many eggs as possible, to keep them in controlled environments to prevent poaching. All 5 species of sea turtle eggs are highly sought after across Central America and consequently, their numbers have drastically dropped. 
Out of the 7 species of sea turtles found across the world, leatherbacks are undoubtedly the largest. These oceanic giants spend much of their lives at sea, migrating huge distances across the Atlantic and Pacific Oceans. The best way to see them is by booking turtle tours and watching them come ashore to lay their eggs.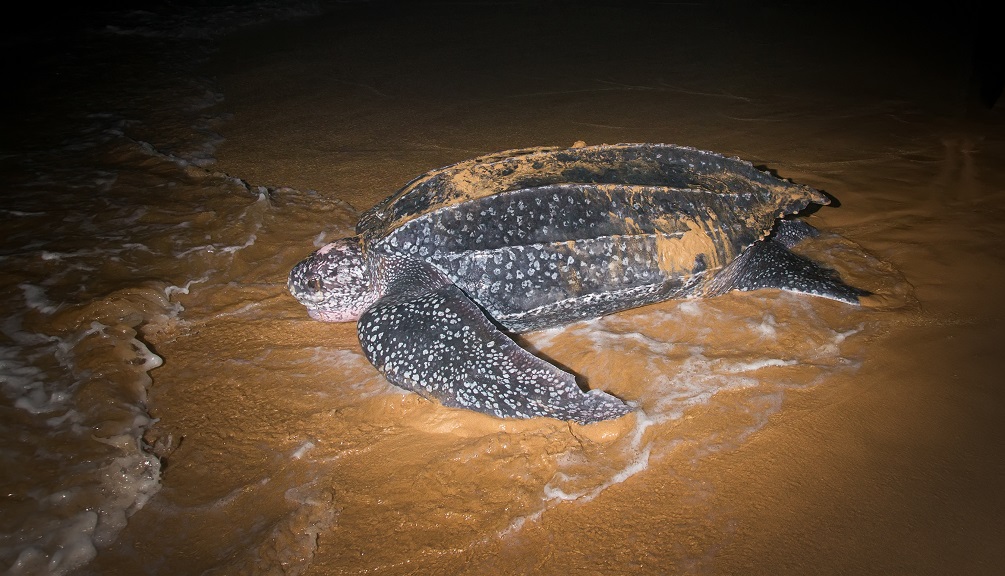 With its unusually shaped beak and disproportionate size, the toucan enters the list as one of the more peculiar-looking birds of Central America. Across Central America, there are quite a few different species of toucans, including aracaris and toucanets. But these colorful characters hide a dark secret: they are cold-blooded killers. That's right, toucans have a ferocious appetite for anything that will fit in their beak, from tarantulas to other birds. 
One of the most beautiful of all toucan species is the keel-billed toucan or rainbow beak toucan. As the name suggests, the beak of this bird consists of a variety of colors, such as reds, greens, yellows, and blues. They have a very distinctive call, almost sounding like a croaking frog high up in the canopy.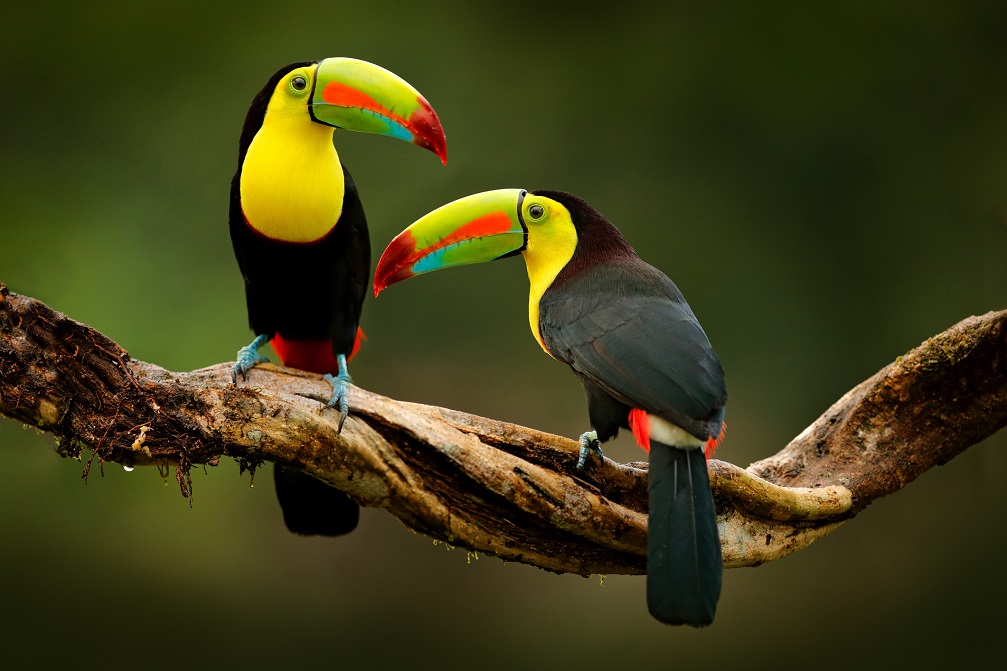 If toucans are peculiar-looking, quetzals are outright spectacular. With the word "resplendent" in the name, you know you're in for a treat. Quetzals are brilliantly colored, with striking greens, blues, and reds, and are revered in Central American history, with many chiefs of ancient Mayan and Aztec civilizations wearing the feathers of quetzals to be connected to the God, Quetzalcoatl. In fact, quetzals are considered to be one of the most beautiful birds in the world. 
Thanks to the large areas of protected land, Costa Rica is one of the best places in Central America to spot quetzals, though there are still populations in Mexico and Belize. Monteverde, just a few hours from the Costa Rican capital of San Jose, is one of the best places to spot quetzals in the wild and is thought to be one of the most diverse forests in Central America.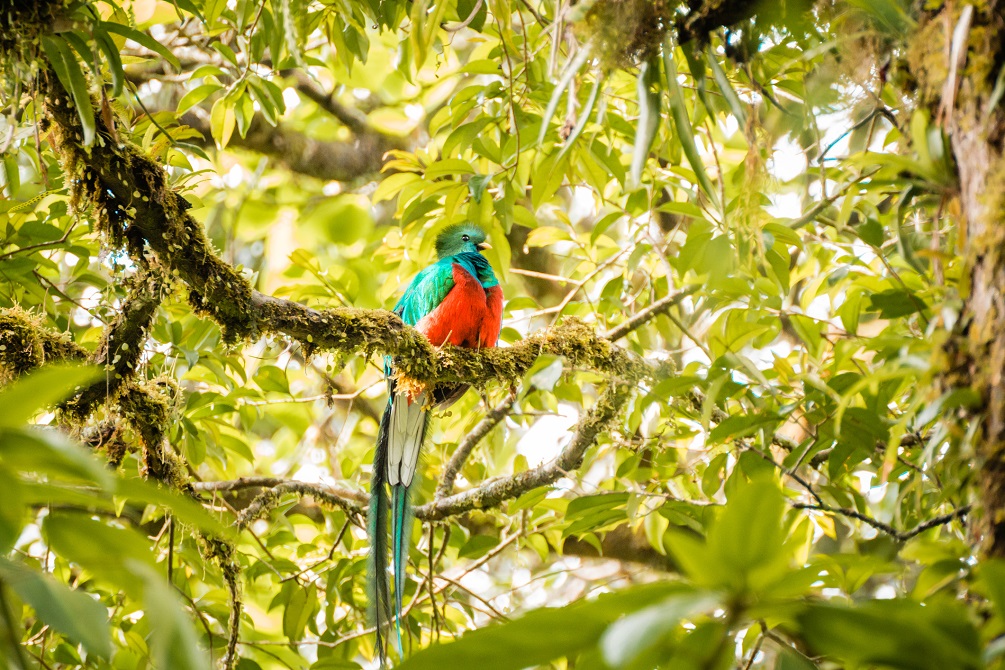 The largest animal to make it onto the list, and one of the largest in the entire Central American region, meet the humpback whale. Whale watching is one of the biggest draws to coastal areas around Central America, especially Costa Rica. During 10 months of the year, two separate populations of humpbacks (Patagonia and the Artic), migrate to the warmer, tropical waters around Central America to breed and mate. In Costa Rica, one of the best places to watch whales is off the coast of Uvita. It is thought that some individuals partake in journeys of over 5000 miles!