The Dubai Miracle Garden is one of the most amazing attractions in all of Dubai, every year you see lots of visitors heading to Dubailand to take in all of the sights from the hughe 72,000 sq m flower park.
Boasting a range of over 150 million flowers in more than 120 different varieties, it really is a bucket-list spot for both residents and tourists alike.
The stunning Dubai Miracle Garden reopened on Sunday November 1 for the 2020 season that runs until 31st May. So when your country's travel restrictions are up, make sure to add this to your travel list.
In its is its ninth season, the Dubai Miracle Garden has the record for being the largest natural flower garden in the world. Some of the flowers have never even been cultivated in the region before. This season the park has focused on enhancing the night time experience for its visitors, with sculptures fully kitted out with twinkling lights. The amphitheatre was also revamped, now featuring an observatory to enjoy live entertainment and also panoramic views of the garden.
There's now a 400m walking track to take in all the flower art, where there will be floral parades, street performers, Zumba sessions and even more.
Previously famous attractions that are at the Dubai Miracle Garden include the record-breaking Emirates A380 display as well as an 18-metre floral structure of Mickey Mouse. Mickey stands 18m tall and was the first-ever Disney character floral display in the whole of the Middle East, earning a Guinness World Record for World's Largest Topiary Structure in February 2019. It has nearly 100,000 flowers overall and weighs a massive 35 tonnes. This isn't the only Guinness World Record in the Dubai Miracle Garden, their are another two! One is the largest vertical garden, which it achieved in 2013, and the other is the world's largest floral sculpture forming the shape of an Airbus A380 in 2016.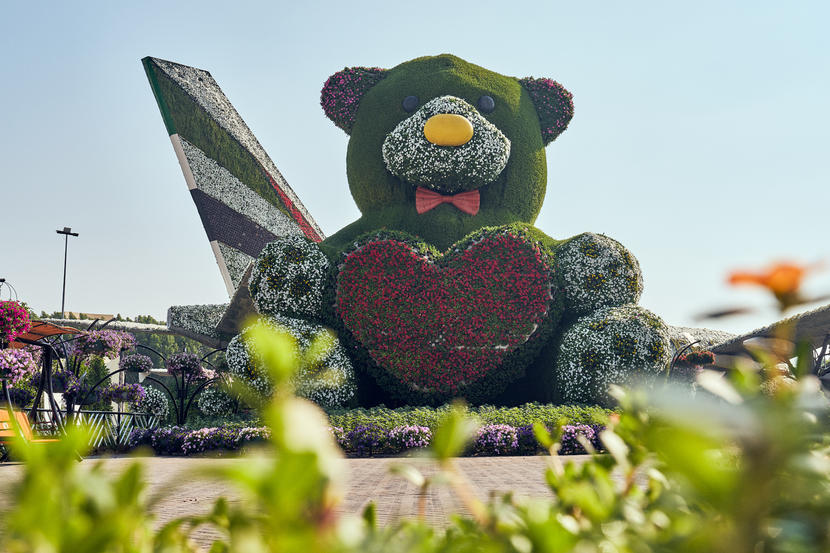 Also returning this year are the Floral Castle as well as the Caribbean and Asian hammocks.
There's also a massive 12m-high teddy bear holding a heart, and a 15m-wide floral clock.
One of the most popular sights from the Dubai Miracle Garden is the Hearts Passage. This is a series of hearts that are made from thousands of flowers which commonly feature on Instgram.
"Every year, we challenge ourselves to create new and distinctive displays to keep Dubai Miracle Garden close to the hearts and minds of our visitors, giving them an experience worthy of sharing between friends and family members," said Engineer Abdel Naser Rahhal, Creator and Co-founder of Dubai Miracle Garden. "This distinction that we bring to our visitors, season after season is the result of the creativity, commitment and hard work of our team, whose aim is to achieve the highest level of recognition for Dubai Miracle Garden and highlight Dubai as a leading tourist destination."
Please enjoy the full gallery of photos below: