There are a number of long-haul flights from the UK which require you to switch to a connecting flight in Bangkok, such as Australia, New Zealand, and Bali, not to mention when traveling on to other parts of Thailand, like the islands of Phuket and Koh Phangan. It is very easy to see your transfer here as an arduous task and simply a delay to the start of your holiday. But instead, and with a little planning, you can incorporate this into part of your trip and turn it into an opportunity to see a city you perhaps might not have ever visited otherwise.
Bangkok's main airport is called Suvarnabhumi, and is one of the biggest airports in Southeast Asia. Around 65.5 million passengers passed through in 2019, with 830,745 traveling from or back to London Heathrow. For passengers who are staying in Bangkok or those with a layover, Suvarnabhumi has a number of hotels to choose from right next to the airport. Options available include those that are within short walking distance from the terminal, through to those that are located 1-2km away. Whilst selecting a hotel slightly further away can be preferable due to the lower cost, in order to best maximize your layover, the nearer you can get to the terminal the better.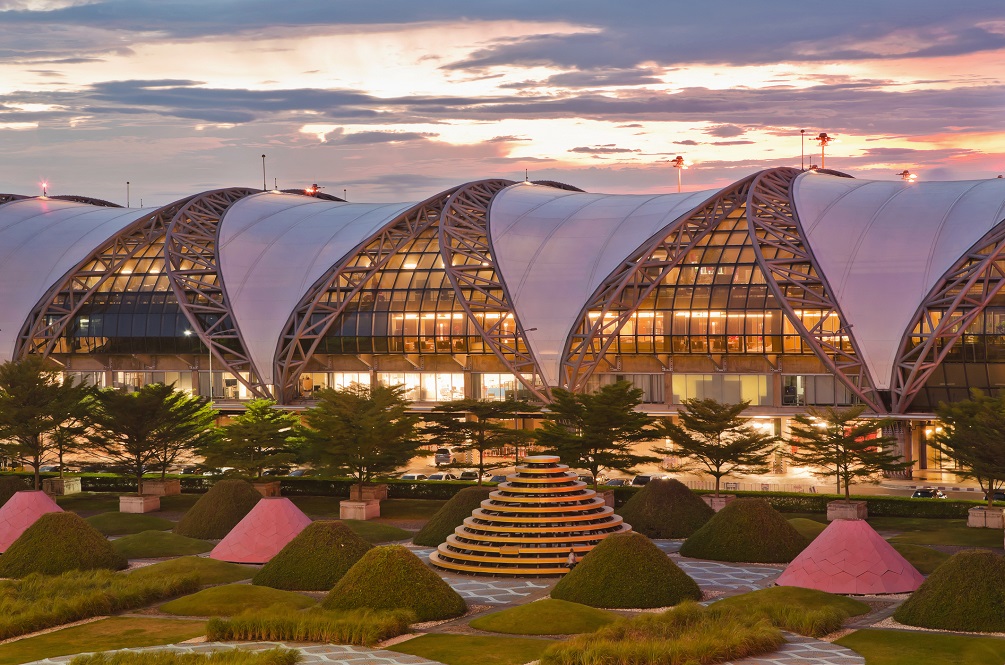 The Novotel Bangkok Suvarnabhumi is the closest you can get, with a 5-minute undercover walk from the terminal, making it easy and safe. A great benefit of this hotel is that you can check-in at any time, and check out 24 hours later, which means you can take maximum advantage of both the hotel and the city whatever time your flight lands. Once here the hotel offers the opportunity to relax and unwind after your flight, either by lounging next to the outdoor pool or in the gym. You also have an option to visit the onsite spa, with a range of treatments and packages to help combat that jet lag. 
For food and drink, you can choose between a number of restaurants and bars, including an authentic Thai spot, a Chinese restaurant, the main lobby restaurant offering international cuisine, a sports bar or the swim-up pool bar. The lobby restaurant serves food 24 hours a day and breakfast starts at 3 am so perfect for those with an early flight time. 
Rooms are basic but clean and spacious, with a large comfortable bed, all that you really need to get some rest and recharge your batteries.
The airport and hotel are 18 miles from the center of the city. In order to get from the hotel to the city center, you can either jump in a taxi for around 6 pounds or opt for the train which will cost no more than 2 pounds. Known as the ARL (Airport Rail Link City Line), it will take you straight into downtown Bangkok in around half an hour.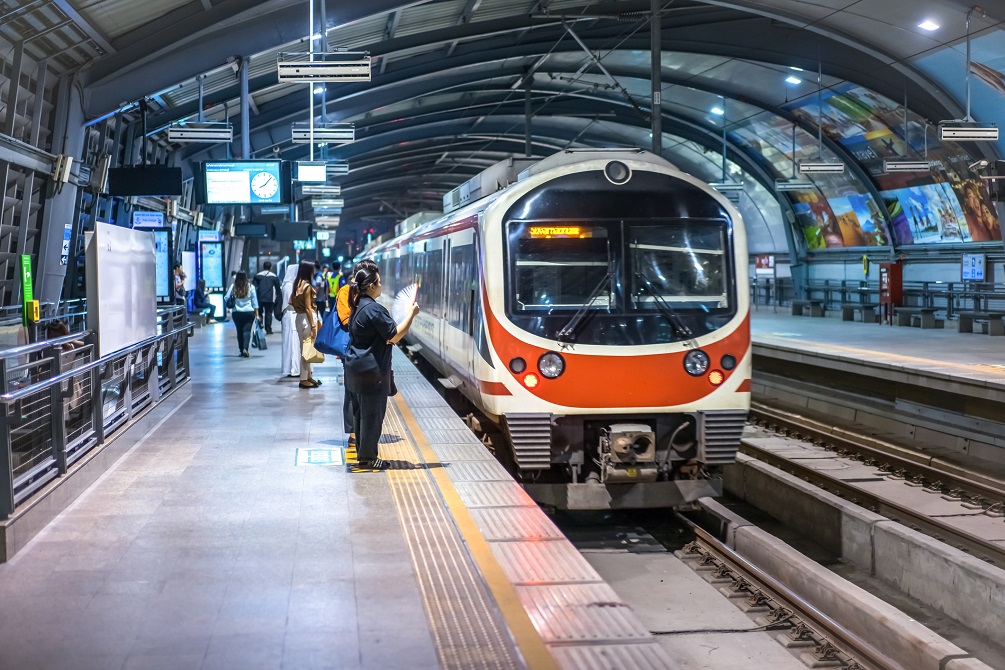 The great thing about Bangkok is that the city literally never sleeps, so you can fit in a visit regardless of your layover time. As with all cities, it is worth mentioning that thieves and pickpockets do linger in the area so keep a close eye on your belongings and refrain from taking your wallet and phone out too often. This should in no way put you off from visiting the area, as although Bangkok will never be everyone's cup of tea, the sights and smells (!) might be an experience unlike any you have had before.
Khao San Road, a street located in the downtown area of the city has long been synonymous with the authentic Bangkok experience. Once the city melting pot of backpackers from all over the world, Khao San Road is now packed to the rafters with street vendors and traders selling everything from a tourist memento to a pair of counter fit designer sunglasses, and food stall after food stall. Here you can have your first taste of Pad Thai or brave a deep-fried insect of your choice! If Thai food isn't your thing you don't need to worry though l, as the street is lined with western cafes and restaurants to cater to every and all tastes. During the day you can spend time here shopping and eating but by night things really come alive and the dancing and drinking can begin. Drinks in the bars are very reasonably priced and if you are in a group you can get your hands on a beer tower or cocktail bucket for the same price as one drink back at home.
Whilst Khao San Road is a lot of fun for many, for those wishing for a calmer and more peaceful day in Bangkok you do not need to worry. Despite the city being busy, bustling, and densely populated with its 8.2 million residents, you will find tranquility in Lumphini Park, an oasis of trees, playgrounds, and a boating lake. Wandering through you may catch a glimpse of people doing Tai Chi, a form of martial arts used for relaxation and meditation.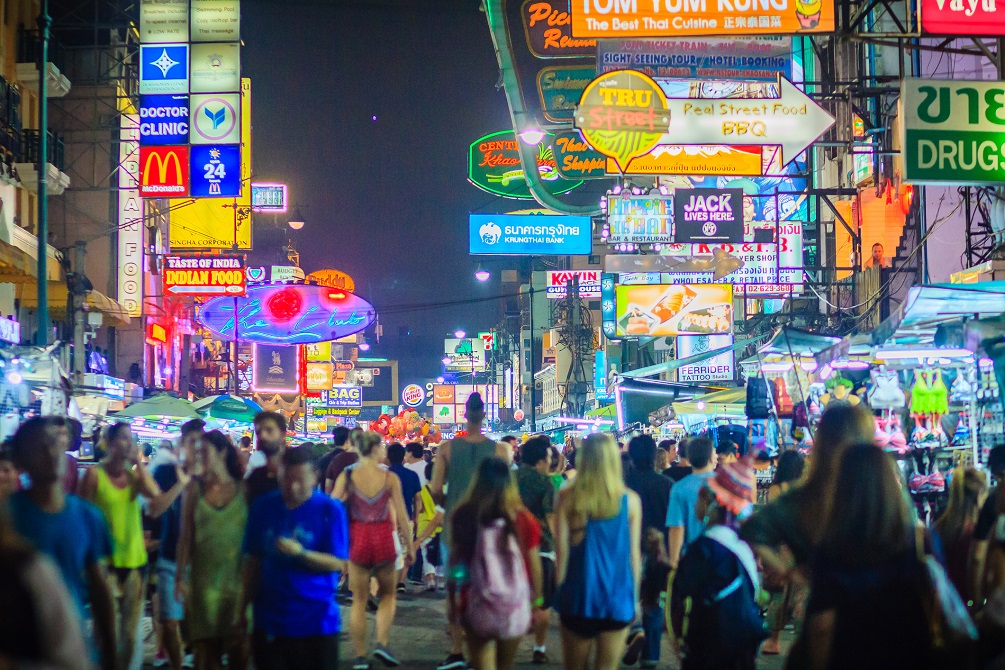 If you are looking to experience some traditional culture, the Grand Palace and two temples; Wat Pho and Wat Arun are all situated fairly close together and make for a wonderful couple of hours of sightseeing. The Grand Palace, once home to Thai Kings for over 150 years, now hosts many ceremonial events throughout the calendar. The Palace is beautiful to see from the outside but if you are keen on looking inside be mindful that entry is around 11 pounds and there is a dress code in place to respect tradition; men must wear trousers and a t-shirt and women will be asked to cover their shoulders with a scarf. These can be purchased at the palace gates if you forget. Just next door to the palace is Wat Pho, or Wat Phra Chetuphon, the most famous temple in Bangkok. Known as the Temple of the Reclining Buddha, the majestic figure is 46 meters long and covered in gold leaf, with mother of pearls embedded in the souls of its feet. Last and by no means least is Wat Arun, the Temple of Dawn. Standing at 270 feet tall, the highest temple in Bangkok, the shrine glimmers in the sunlight due to its iridescent exterior. From the Grand Palace and Wat Pho temple, Wat Arun can be found on the other side of the Chao Phraya River and can be reached via a short boat ride.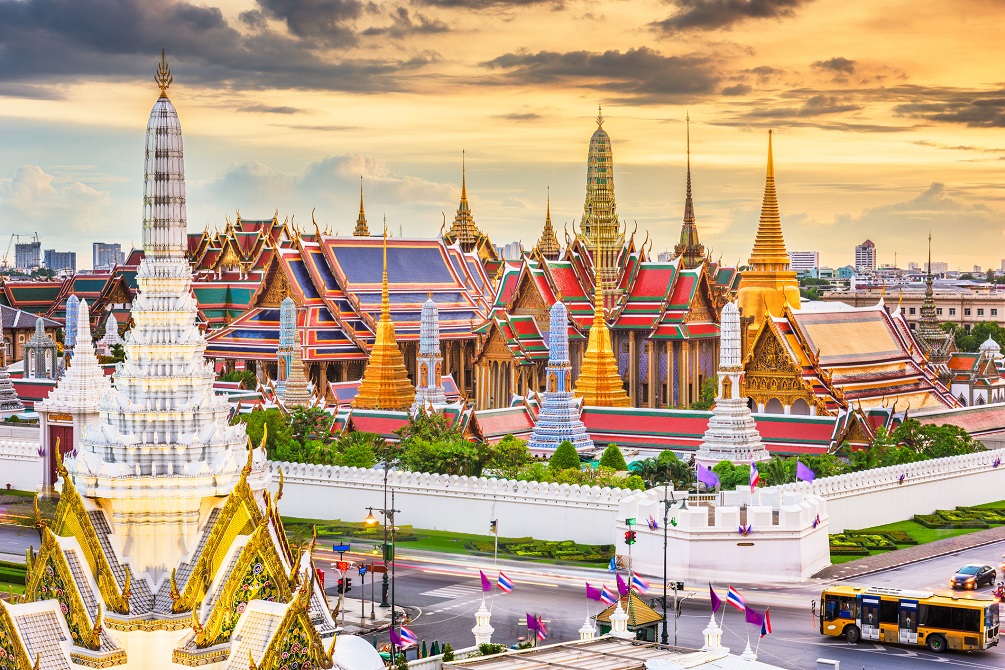 The last recommendation and a fabulous way to end your day in Bangkok are to visit the world-famous Sky Bar. About 5km south along the river from the temples and the Grand Palace you will find the Lebua Hotel at State Tower. The outdoor bar which is located on the 46th floor will impress all and the views will take your breath away. A perfect time to visit is just before sunset, where you can sip a cocktail whilst watching the cities landscape change from dusk into twinkling twilight. Drinks prices compared to the rest of Bangkok are as expensive as you would expect but for the views and the atmosphere, the markup is definitely worth it.