Annandale: Coastal Farm Escape & Luxury Villa Collection 
Hotel Overview
Annandale is bringing luxe design and superior customer service to the modern farmstead experience. We can assure you, you've never seen landscapes quite like this before, and now you can live amongst them for a week with just you, your loved ones, and a covet-worthy boutique hotel. Annandale's personal brand of luxury is understated – no gaudy glitz or glamour here. Just a humble taste of the finer things that we know you'll fall in love with the moment you see it. 
While Annandale is marketed as a gathering place for families or a quiet hideaway for couples, it's also the ideal place for the solo traveler; offering a respite from the real world, a chance for artists to realign their creative minds, a scene to inspire the next great poet and a calming atmosphere for the overworked businessman. 
We can hardly wait to introduce you to the Annandale Experience!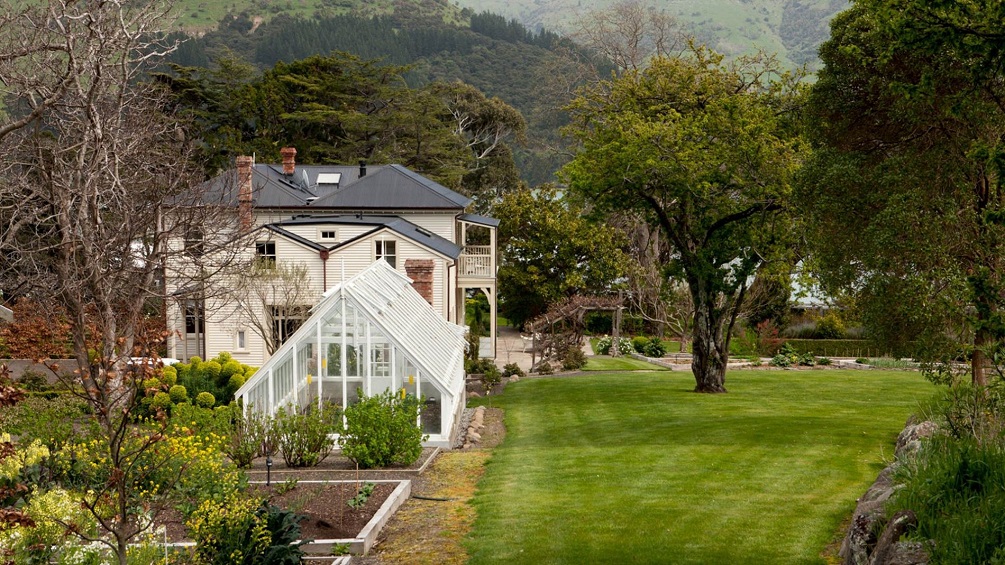 Memorable Moments
-Peruse the Victorian-inspired gardens, including a prize rose garden 
-Watch sheepdogs start their morning herding routine over the rocky horizon
-Take a mental snapshot of the picturesque landscape of Akaroa
-Enjoy a glass of bubbly under an expansive network of constellations- completely unimpeded by light pollution
-Hand-pick fruit from Annandale's orchard
-Listen to waves lap the shore as you fall asleep
Guest Villas – Overview
This exclusive villa collection has only 4 striking villas and one private loft along the Banks Penninsula of South Island. With a maximum of 34 guests on the 10km coastline and 4000-acre homestead (yes, you read that right) at any given time, you'll be able to unwind in total isolation and set your vacation to your own pace. 
All rooms feature: No matter which Annandale villa you decide on- you're guaranteed a luxury experience from top-to-bottom. Beyond exquisite interior design, high-end linens, and striking views, what basic amenities can you expect? All guest villas come with complimentary high-speed Wi-fi access, smart TVs, and laundry services by request. 
The Homestead
This homestead is where it all started. This fully-refinished 1800s farmhouse is the quintessential cottage core getaway with an undeniable infusion of luxury. You'll be right at the heart of the Annandale property meaning all the amenities and experiences you could ask for are just a few steps from your front door. 
-5 Bedrooms; Up to 8 guests included (9-12guests allowed with surcharge)
-Lush private gardens and Victorian fernery at your disposal: Owners encourage you to cut a few blooms to brighten up your guestrooms or pick lemons to garnish your breakfast
-Several verandahs and covered balconies 
-Rooms with views of the ocean, bay, mountain, farmland, and rose gardens- choose your own adventure
-Access to lap pool + spa, tennis court, and fitness center.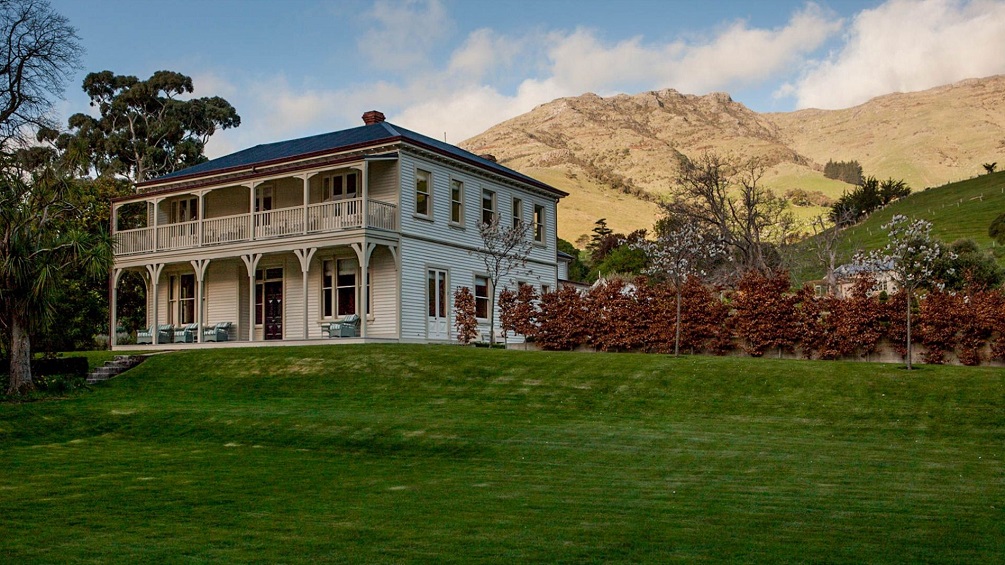 Scrubby Bay
Scrubby Bay is the prized jewel of the Annandale villa collection. Completely remove and settled between two cliffs and a private bay, this Scandinavian Hygge influenced home is ready to impress groups of up to 14. 
-6 Bedrooms; Up to 8 guests included (14 guests allowed with surcharge)
-Indoor/outdoor open-air living space with stone fireplace
-Private swimming and spa pools
-Chef-grade Kitchen
-Soaking bathtub for two with floor-ceiling ocean views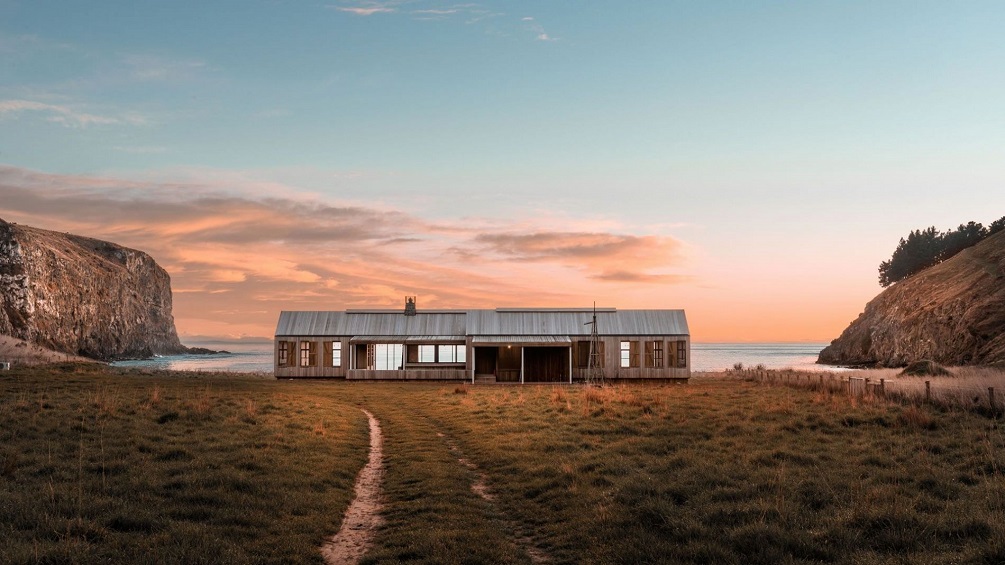 Seascape 
If you're a couple looking to turn up the heat with a private getaway to NZ who prefers the rugged coastline, this ultra-modern luxury villa is the better choice for you. The furthest from the homestead, you'll need to take a 40-minute helicopter ride over the cliffs and valleys of Annandale to get here. Seascape is a naturally inspired and integrated space with its grassy roof nestled into the hillside. A bonus? Pods of dolphins and seals frequent this private bay, and you'll likely be able to spot them from your perch several times a day. What a relaxing place to settle in with a glass of regional wine or a morning cup of tea. 
-1 Bedroom; Up to 2 guests
-Indoor and outdoor fireplaces
-Private bay-front spa tub
-Sprawling sundeck, chaises, and daybed
-Exposed stone walls
-Super-king sized bed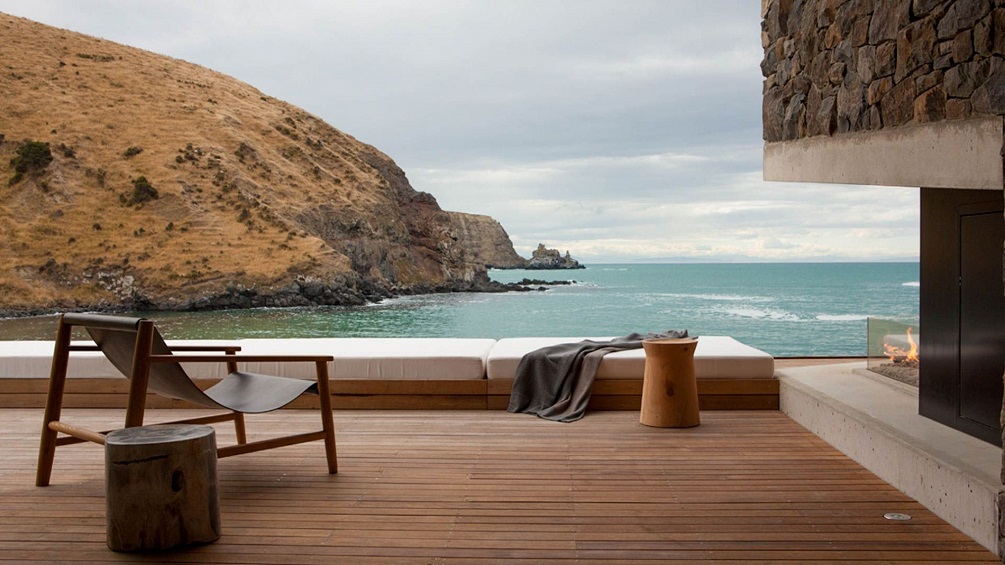 Shepherd's Cottage 
Designed with couples in mind, this little cottage is the perfect getaway for the couple always planning an escape from the hustle and bustle of their daily lives. Cozy, and quaint amongst neverending fields of roaming sheep, Shepherd's Cottage is the rural counterpart of Annandale's seaside villas. It's also totally secluded; you'll need to embark on a 30 minute trip from Annandale's main homestead. 
-1 Bedroom; Up to 2 guests
-Gorgeous, original open fireplace
-Genuine sheepskin furnishings
-Private gardens
-Romantic outdoor bathtub under the stars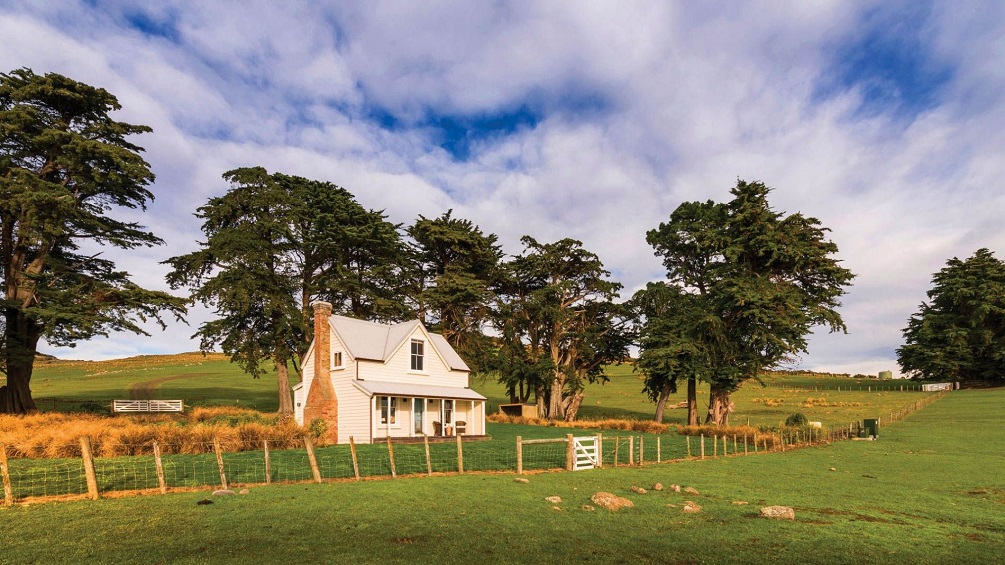 The Stables
For a balance of seclusion and proximity to amenities, consider this luxury loft atop Annandale's original horse stables, tucked away in the homestead's gardens. While maintaining some privacy, The Stables loft is more accessible than the collection of secluded villas; simply drive onto the property-no additional travel is required. 
-2 Bedrooms; Up to 2 guests included (4 guests allowed with surcharge)
-Simple design with modern luxury in mind
-Fully-equipped kitchen 
-Access to lap pool + spa, tennis court, and gym.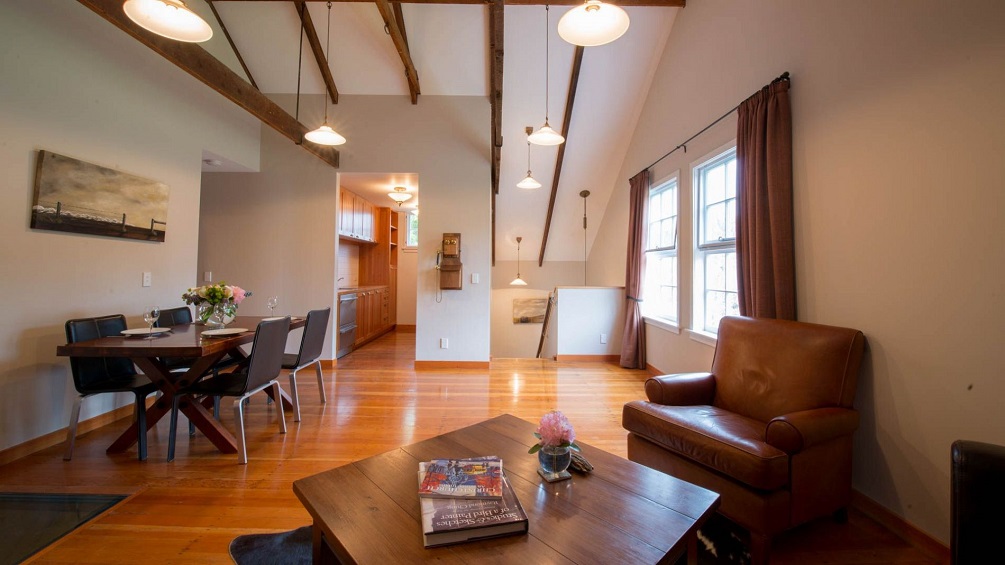 Hotel Dining
"We Create, You Serve" 
Due to the secluded nature of each of Annandale's villas, they have redefined fine cuisine and curated a farm-to-table dining experience that can be enjoyed from the comfort of your own space. "Morning riser" breakfasts, picnic lunches, and 3-course dinners (included in your nightly rate) are all offered as "We Create, You Serve", meaning Annandale's chef will send over stunning presentations of garden-grown ingredients and all you need to do is decide how you'd like to enjoy it- from your ocean-view dining table, or alfresco at the top of a mountain. Guests have gone so far as to say that the kitchen here deserves a Michelin Star so this hotel is worth a stay for every foodie out there. 
Private Chef Hire
If you want to up the ante for a special dinner during your stay, you can hire one of Annandale's chefs to come out to your villa and prepare a custom restaurant-style plated 3-course, or grazing-style menu just for you. This is a great way to take care of that one special craving you have, or if you really want to live it up, you can hire the chef to prepare your meals exclusively at a discounted rate. 
Bespoke Experiences Menu
Locavore
Meet the chefs of Annandale and get to know the gardens more intimately with this private culinary experience. You'll help harvest ingredients, watch a live showcase of top-chef techniques, and receive an education on expert flavor combinations, all leading up to a fabulous shared lunch and regional wine pairing. 
Mountain Peaks and World-Class Winery 
Spend a guided half-day gallivanting between this mountainous region's best vineyards for an assortment of fine-dining canapes, a three-course dinner, and several award-winning wine tasting experiences. 
Private Art Instruction
Looking for a thoughtful and everlasting souvenir to bring home? Annandale will arrange for an acclaimed local artist to come to your villa for the day. Here, she will help you to capture your favorite view in pencil, charcoal, or chalk pastels. You'll get to bring home your artwork, and a curated box of art supplies so you can practice your new skills back home. 
Aoraki Mt. Cook and Lord of the Rings
Did you know that Aoraki Mount Cook, New Zealand's highest peak, and the 27 other peaks in this alpine range had a starring role in The Lord of the Rings? Edoras, the capital of Rohan, was filmed here and now you can transport yourself into this fantasy land with a private helicopter tour. 
Fishing expeditions in Canterbury Rivers
Meet Chappie- a local fisherman who can't wait to show you the fruits of New Zealand's best clear-water rivers. Spend the whole day at one site or bounce between several, you'll be chasing brown and rainbow trout varieties to bring back to the farmstead. 
Wildlife Encounters
Annandale has several ethical wildlife encounters on their menu, including whale watching, swimming with wild Hector's dolphins, a visit to Pohatu Marine Reserve, a flora + fauna nature tour, and visits to other local coastal farms. 
All photos credit to www.annandale.com